How to Attract Customer and Increase Foot Traffic for Your Store
---
Want to increase foot traffic?
To Be Or Not To Be? Wait, that's not the question.
Ask not what products you are selling or who you are being but…
What experience are you creating?
Why Experience Matters
It is not just about what you sell but the end result of how your customers will feel with the products you sell. What change will your products bring to their lives?
What is going to bring your potential customer into the store when they could buy something similar online? How did you get customer traffic? It's the experience you create.
You start creating an "experience" first with your copy.
"Copy is a direct conversation with the consumer." Shirley Polykoff
A great example of how this works in effective copywriting is J-Crew's "Cool Girl" jeans.
"You know the vintage jeans you go on an all-out search to find after seeing them on some cool girl? Well, these are those jeans—with lots of attitudes. They're made in LA, the capital of denim, in a wash with a worn-in feel that usually takes years to earn. This pair is made from light Japanese denim that packs easily in a suitcase (can you tell we have a vacation on the brain?) but still feels substantial enough for chilly weather. As for the fit? Higher rise, easy through the hip and thigh and a straight, cropped leg with a slight kick. Now you're that girl."
How's that for a product description! You see how they describe who the wearer can be rather than just focusing on the product?
The jeans are so popular that they are currently sold out.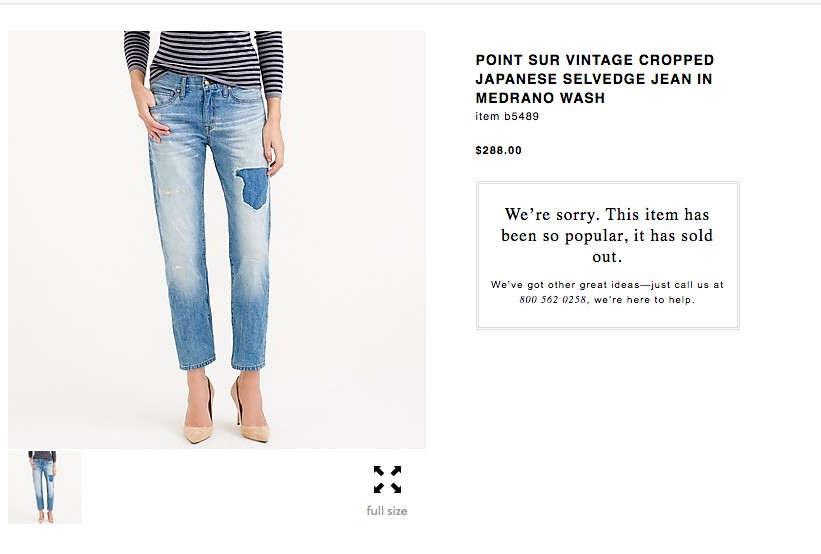 Want more foot traffic in-store?
Have a look at the copy you are creating on your product descriptions and all your campaigns both in store and online.
Next, you continue that "who will you be" " who is your retail store foot traffic" experience in store by staying on brand.
Anthropologie takes this experience thing even further than their descriptions and copies by creating a whole store experience that is super targeted to their audience. That's why they have such amazing brand loyalty without all the traditional marketing.
"One of our core philosophies," explains Anthropologie president Glen Senk, "is that we spend the money that other companies spend on marketing to create a store experience that exceeds people's expectations. We don't spend money on messages — we invest in execution." Fast Company
Walk in any Anthropologie store and you cannot help but be engulfed with the esthetic.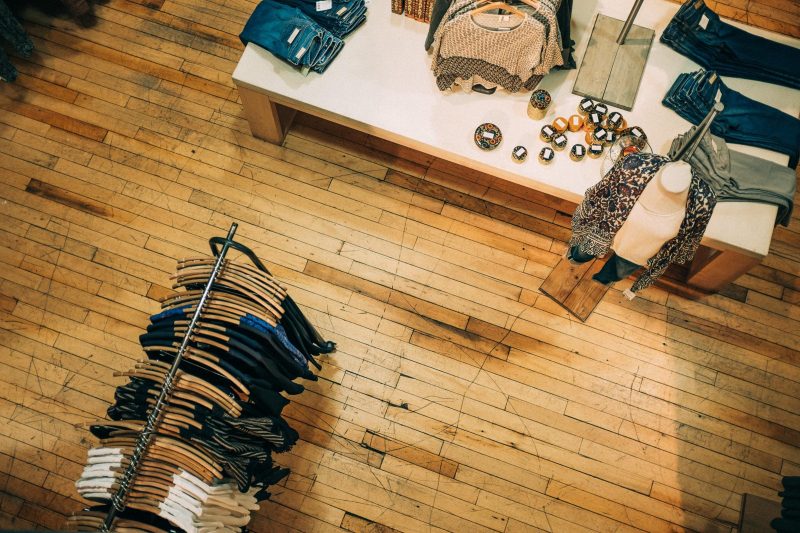 Photo by Ashim D'Silva on Unsplash
"People spend money when and where they feel good." Walt Disney
Use your store space, marketing strategies, and copy to make your customers and potential customers feel good.
Which leads us to…
Design
From the logo that represents your brand to the flyers you hand out, you are sending a message. Design matters. Design contributes to your customers' experience.
Click the Photo to Edit
Like anthropology, you want to make sure your store design is on brand and creates an experience for all who enter. From layout to window displays. Like the old adage in real estate- location, location, location. Turn window shoppers into foot traffic and buyers with your window displays. They are prime real estate.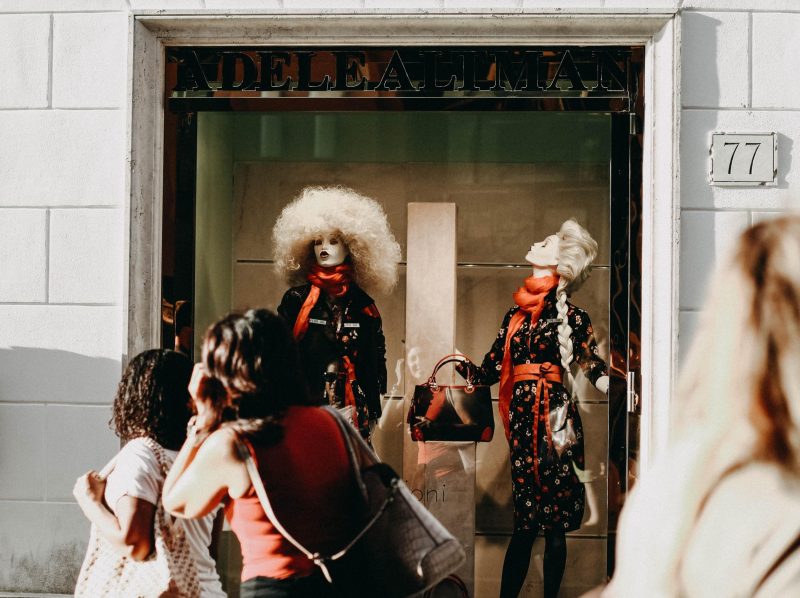 Photo by Anna Utochkina on Unsplash
Once you have customers in the store, engage them by appealing to the senses. Touch and smell contribute greatly to a superb shopping experience. Getting products in customers' hands and letting them feel the different textures creates a sensory experience too. You can use inviting scents like vanilla throughout your store to welcome customers and make them want to stay and shop longer.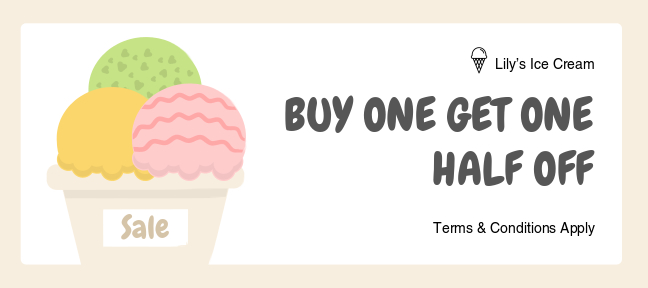 Click the Photo to Edit
"Our jobs as marketers are to understand how the customer wants to buy and help them to do so." Bryan Eisenberg, speaker and online marketing pioneer
Which brings us to our…
Target Market
To create that great design and experience we've already talked about you have to really get your target market. Care about your audience. Learn about them. What are their hopes, dreams, and desires?
"The best marketing strategy ever: CARE." Gary Vaynerchuk, entrepreneur, speaker & marketing expert
We are all humans and have some similarities but many differences too. There are generational differences, cultural differences, different family dynamics. Do some research. Care about knowing who your target market really is and then focus on adding value to them.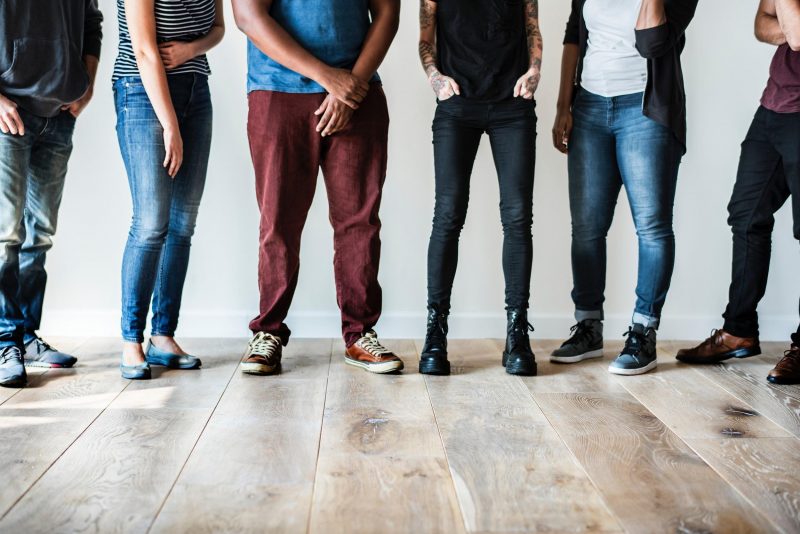 Photo by rawpixel on Unsplash
How do you do this?
How do you find your target market and understand them? Look at your current customer base and any the customer base of competitors to discover who is interested in what you sell. What are the demographics? Age, location, income, marital status, and education are a few factors to observe.
Once you know the market you are reaching, you can survey them online to see how you may better serve them. See what types of questions they are asking in forums. Check product reviews on items that are similar to yours and see what people like and do not like about the products.
Then you can solve their problems and add value.
"Today it's important to be present, be relevant and add value." Nick Besbeas, former CMO of LinkedIn
Once you are really honed in on your target market and how you can create great design and experiences for them, there are some additional tips to increase your store's foot traffic. 
Social Media Graphics
What are Americans doing every 12 minutes according to the New York Post?
Checking their phones!
Phones are for more than calls these days and a lot of that time is spent on social media. Checking in on the go.
If you are going to go where the people are to engage potential customers and bring in more foot traffic, you cannot ignore social media posts and ads.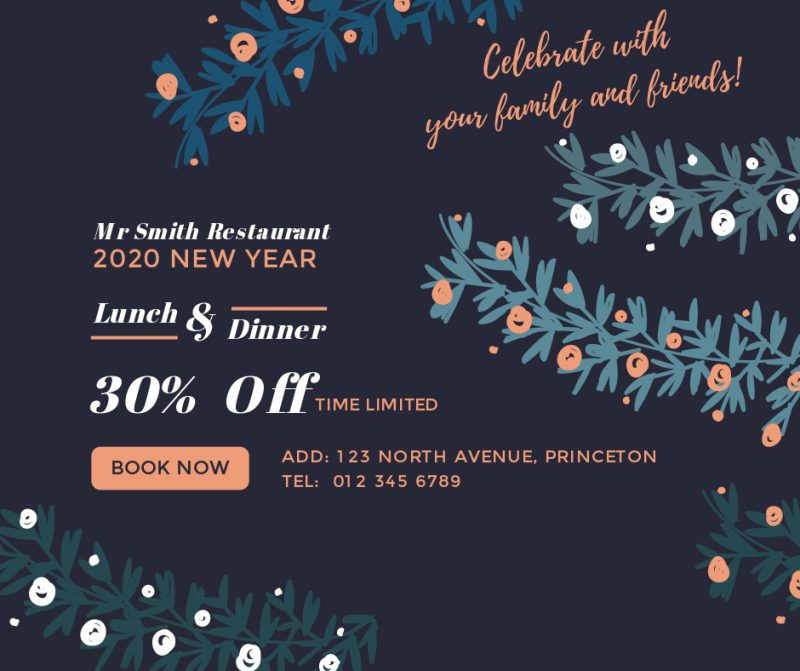 Click the Photo to Edit
"For bricks-and-mortar retailers, being able to drive traffic into stores is important because this is still where the lion's share of their sales are happening. As a result, many are looking beyond simple social advertising and at strategies that combine location and mobile with social for the biggest impact." Retail Dive
Using social media post templates, you can create on brand designs that are optimized for sites like Facebook and Twitter. And don't forget that you can change your banners to reflect in-store updates too.
But, how do you use social media campaigns to increase in-store traffic?
By offering…
Sales and Deals
You can use social media to tell customers about in-store specials or offer them coupon codes and gift certificates. This increases the likelihood of them actually coming in for a visit to the store.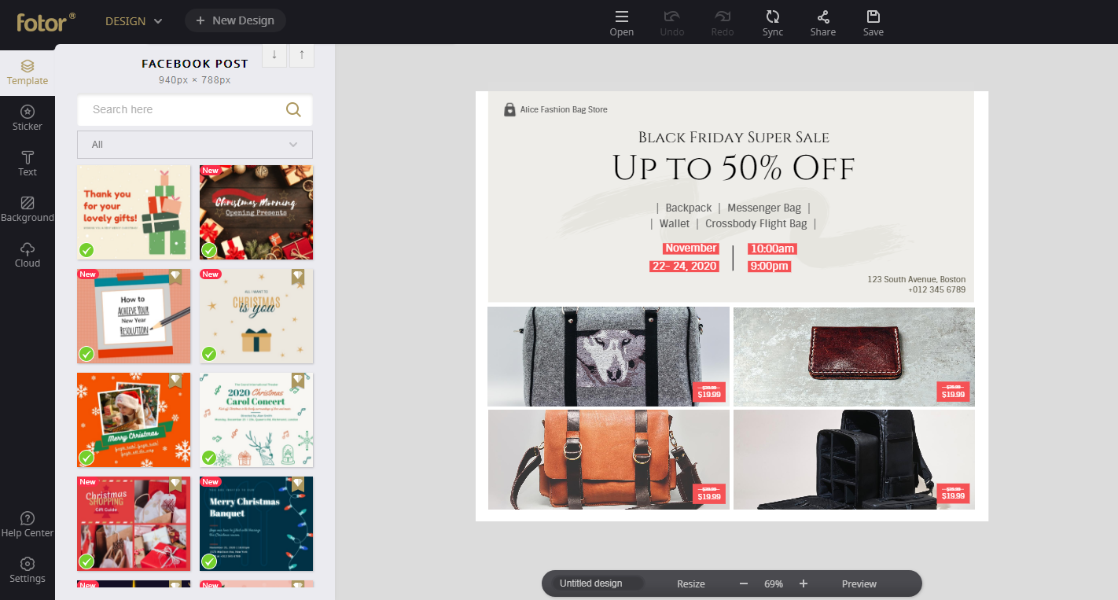 Click the Photo to Edit
You can also post a behind the scenes collage or show off new products. You could even post some user-generated content of customers in-store buying what you have for sale. Make it fun by having customers in the store share photos on their social media accounts with a store hashtag. You could do this by setting up a fun photo op or booth with your products as props, a unique product wall, or by hosting a selfie contest, perhaps with one of your mannequins. Get creative.
Get your in-store customers engaging an online audience to draw more people in.
QR Codes
A QR code is a black and white square that you can link to an array of information.  Create a QR code that links to an in-store coupon deal, other discount strategies or goes directly to your store website. You can use the QR code on flyers and posters that you share around your city. And could add a poster with the code to your store window so passers-by can scan and then come on in.
You can use a free site like QRCodeMonkey to generate your own.
Potential customers can scan the codes with their smartphones and engage with your online presence. This will make them want to come into the store for more if you have done your online marketing correctly.
Or you can make the in-store shopping experience more engaging using codes for purchases and payments.
"Mobile payment applications go hand in hand with QR codes. Retail stores use them by allowing their customers to purchase products in-store without having to waste time in queue lines. Also, users can compare products, read reviews and access special information, all through their mobile devices." uQR.me
Amazon Go works around customers each having a unique QR code to shop in store. Their QR codes allow customers to checkout free shopping.
Email Marketing
Don't just get customers in the store once. Build relationships and get them in your store over and over again.
"Strong customer relationships drive sales, sustainability, and growth." Tom Cates, chairman and founder of The Brookeside Group
One of the best ways to build relationships is through your customer's inbox. Email creates a greater level of intimacy with your audience than other types of marketing. Subscribers have to allow you into their inboxes. Even if you have given them an incentive to do so, it creates a connection with a more focused viewer.
You can use email to engage your audience and keep them up to date on what is happening in the store. Be sure to include in your emails:
Your locations
Hours
Phone number/contact info
Make your emails feel more personal and not like any other standard "newsletter."

Click the Photo to Edit
Because it is more personal, email can deliver a far higher ROI than other tactics.
"Email beats social by 40x for customer acquisition." Campaign Monitor
Many people prefer to receive promotional content through email rather than on their social media feeds. But you need to make sure you are sending the right emails to the right people.
"If you want to use email to attract more foot traffic to your store, you want to make sure you're only emailing those customers who are interested in actually coming into your store." Shopify
In other words, be sure that you are segmenting your list. When you create emails about your store and promotions you want to send the right emails to subscribers who actually live in your area.
Athletic retailer, Finish Line, segments their email subscribers based on a number of different behaviors. They did this by tracking the items that viewers were interested in on their website. They offer deals and special promotions to their list this way that is targeted.
Email is a great way to stay top of mind with your current customers while also attracting new customers. You can share more in one email than you can in a social media post. But a great social media graphic and offer are wonderful to get more people on your email list along with offering bonus coupons.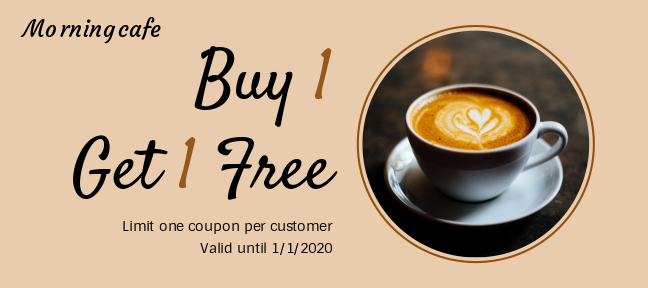 Click the Photo to Edit
"Online marketers often get so focused on web conversions that they forget how email can powerfully connect customers with physical retail locations. Many shoppers like to check out products in person. Some retailers operate only online, but many others have physical store locations, or larger brick-and-mortar retailers carry their products. Email allows retailers to integrate their on- and off-line efforts." Campaign Monitor
You can use your email list to share behind the scenes fun and promotions just like with social media but you could also invite your subscribers to new product reveals and testings or to meet and greet events. Remember that you want to use your marketing opportunities to draw people in and build a sense of community. People shop where they feel welcome.
"Email automation helps marketers keep customers updated with the most pertinent information, and can encourage them to make more purchases." Campaign Monitor
You could create a series of automated emails to welcome new subscribers. Eye-catching email headers, welcoming words and the perfect email format can get more clicks.

Click the Photo to Edit
Automated emails can also encourage more store visits. Start with a welcome email offering your new subscriber something cool, encourage them to come in the store for a visit, and then build the relationship from there.
Conclusion
Right to increase foot traffic for your store by using the power of technology and online platforms. Focus on the bigger picture of building long-term customer loyalty and creating an engaging experience both online and off.
Develop a marketing plan and be consistent. Customers are more likely to keep visiting your store if they get accustomed to hearing from you on a regular basis. Aside from your own website, do not forget to take advantage of Google too. Consider creating a Google local business listing so potential customers can find you who are searching online.
Word of mouth advertising is the best and if you nurture your customers and make yourself available you will get it for free. Design beautiful graphics, connect with your people and create an amazing customer experience.

---
Related Posts :
Leave a Reply :