Nowadays, Instagram Reels have become a popular way to share short videos with friends, family, and followers.
However, you may have noticed that Instagram adds a watermark to each Reel when you downlaod Instagram Reels, which can be distracting or unwanted in certain situations.
Luckily, there are several methods available to remove the Instagram watermark from your Reels.
In this article, we will explore why Instagram adds watermarks, as well as provide you with step-by-step instructions on how to remove Instagram watermark and even download Instagram Reel videos without any watermark.
Why Does Instagram Add Watermark to Reels
Before learning about how to remove Instagram watermark, it's important to understand why Instagram adds watermarks to Reels in the first place.
The primary purpose of watermarks is to protect the intellectual property of the creators and discourage unauthorized use of their content.
It is Instagram's policy not to allow users to steal and repost videos without credit. By adding a small Instagram logo and the username of the account that created the Reel, Instagram aims to promote accountability and ownership.
It also serves as a branding tool, connecting the content directly back to the Instagram platform.
Although this is a good method of protecting original content, it can be frustrating for those who wish to share their videos on other platforms without the watermark.
How to Remove Instagram Watermark from Instagram Reels
Instagram provides you with a simple platform in which you can create and save video content. The watermarks added to Reels are automatically applied by Instagram to attribute the content to the original creator and increase the visibility of the platform.
Now that we have a better understanding of the purpose behind Instagram watermark, let's explore some effective methods to remove Instagram watermark from your Reels without losing quality.
Crop the Instagram Watermark Out
The first method to remove Instagram watermark from Instagram Reels is to crop it out.
You can do this using various video editing apps and software available for both mobile and desktop platforms.
If you want to download a new editing app, you can follow the instructions of the editing app to crop the video.
Here's how to crop to remove Instagram watermark in the same way on iOS and Android.
Open the app and import your Instagram reel.
Use the crop tool to remove the watermark from the video.
Export the video without the watermark.
Use An Instagram Watermark Remover
It is also possible to remove Instagram watermark from Instagram reels by using a watermark remover app.
These apps are specifically designed to remove Instagram watermark from videos. Various Instagram watermark remover apps are available for iOS and Android devices, including Fotor, InShot, Adobe Photoshop and WatermarkRemover.io.
Fotor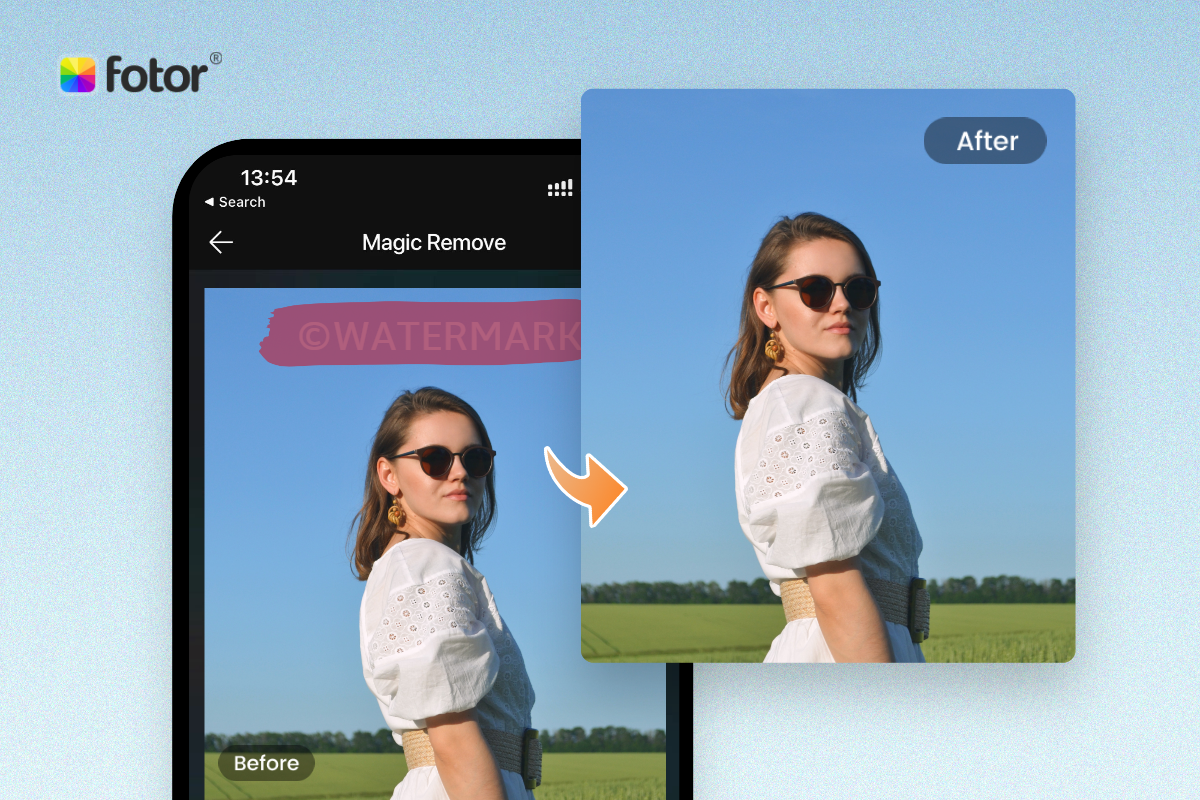 Fotor is a popular photo editing application that offers a wide range of features and tools to enhance and transform images.
One of its outstanding features is the ability to remove unwanted objects from photos.
You can use it to quickly remove people, text, and other distracting elements you want from photo backgrounds easily and quickly.
Fotor offers a amazing Instagram watermark remover. Users can easily remove Instagram watermarks from Reels with just a one click.
The application uses advanced AI algorithms to detect and remove Instagram watermark, leaving a clean and professional looking image.
In addition to the watermark removal feature, Fotor App offers a range of other tools to edit and customize images, including filters, frames and text overlays. Users can even make designs using the 100,000+ templates and materials in Fotor's library.
Key Features:
Remove Instagram watermark
Wide Range of Image Formats
Advanced Algorithms and Artificial Intelligence