500

Million+

Users Worldwide
190

Countries

User Territories
3

Million+

Social Media Fans
Fotor's Development Timeline
2020 Launched a new Design version, adding 40+ new graphic design dimensions to support user creativity, offering 100,000+ templates, stickers, and fonts, along with 1,000,000+ licensed HD stock photos to create exclusive designs.

2019 Launched a new Editor version, providing more advanced editing tools and optimizing user experience.

2018 Published a new website for royalty-free stock images, enriching design material.

2017 Launched HTML 5 technology, ensuring perfect editing performance.

2015 Published online graphic design tools, and thousands of templates to choose from, giving everyone the ability to design.

2012 Launched an all-in-one, photo editing suite, bringing an unprecedented level of editing control to anyone and everyone.
Powerful Photo Editor
Fotor is a well-known online photo editor that is recommended by the BBC. Along with its advanced photo editing tools, such as image cutout, beauty touchup, 200+ photo effects, and professional HDR, the web platform allows you to easily beautify your images quickly with an optimized user experience.
Edit a Photo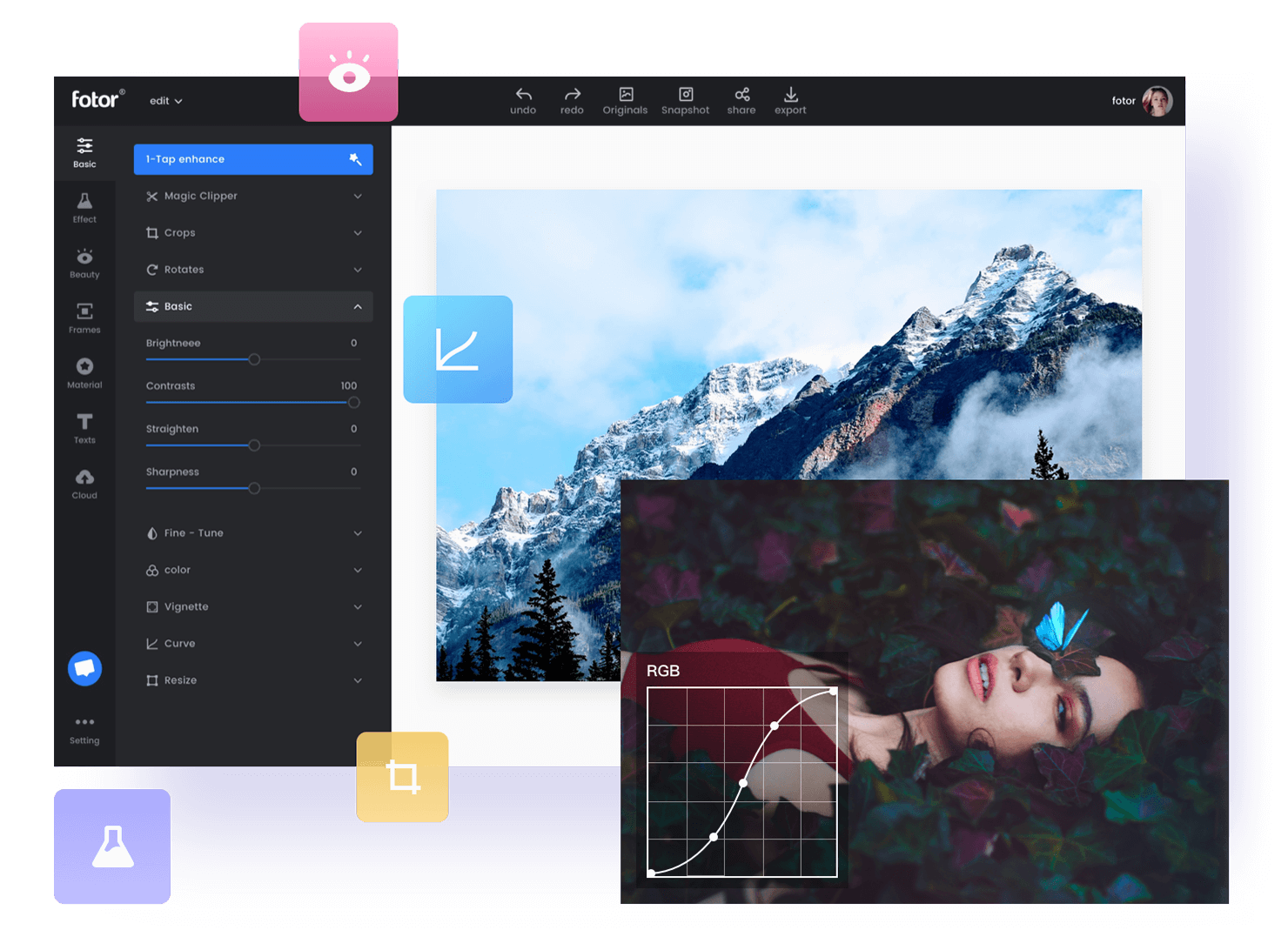 Amazing Design UI
The Fotor graphic designer has been updated with a new UI and design elements. With this simple, smooth, and beautiful interface, users can easily access whatever elements they need for graphic design and complete their visual designs quickly.
Create a Design
Rich Design Material
More than 40 new design dimensions have been ready for you such as Tumblr Graphics, Instagram Story, Presentation, Brochures, Announcements, Facebook story, Calendar and other popular design sizes. Over 100,000 templates, stickers, and fonts are available for you to create your own designs without needing to worry about copyrights. Explore your creativity and make wonderful graphics easily.
Create a Design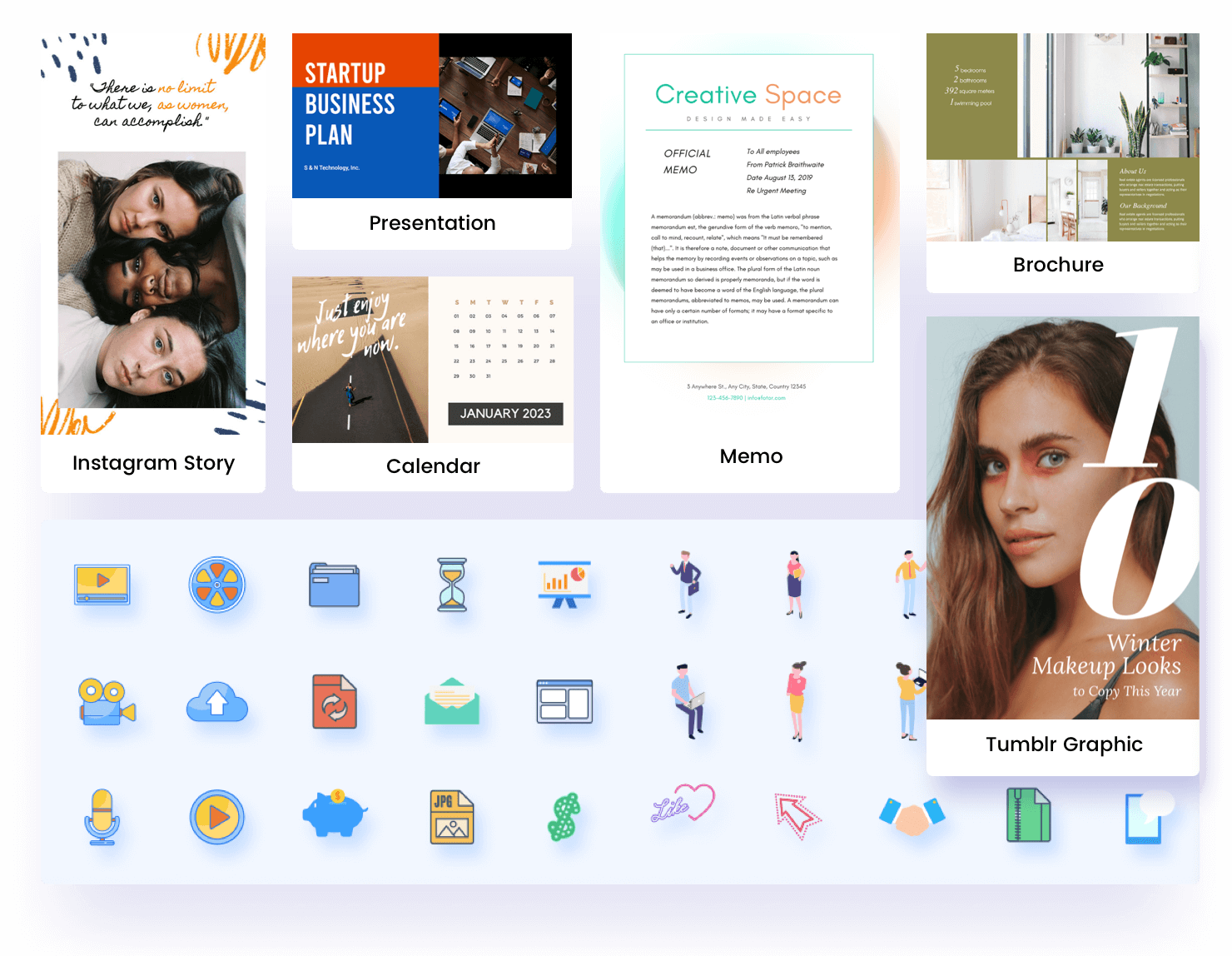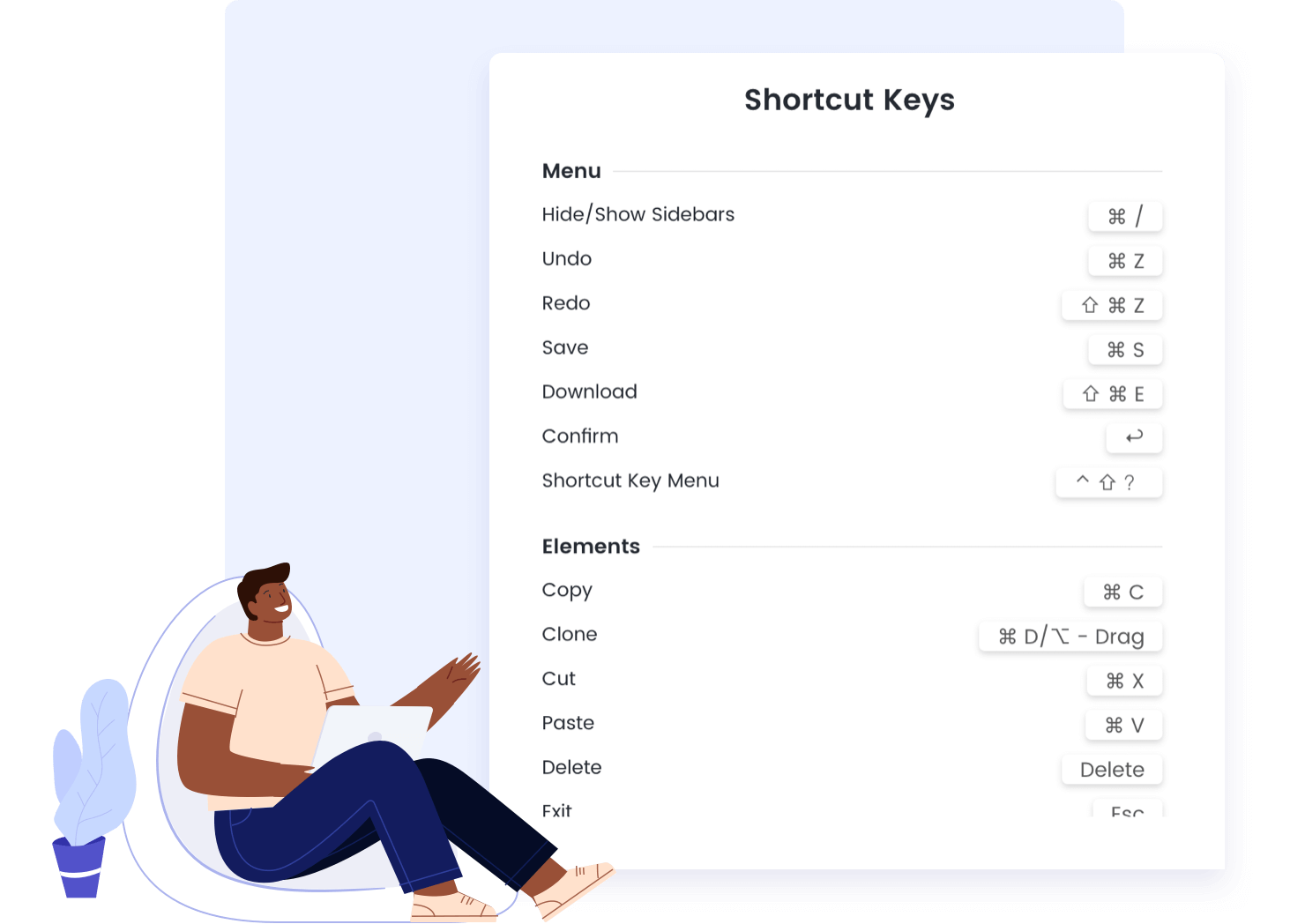 Shortcut Keys
Fotor offers you more shortcut keys. No matter what the operation is, saving, downloading, moving, selecting and more, almost all of them can be carried out through shortcut keys. It will give you a more convenient design experience.
Create a Design
Millions of Stock Photos for Personal and Commercial Use
Fotor's team handpicked every photo to ensure that everything on Fotor is real, compelling, and high quality. Over 1,000,000 stock royalty free and high-resolution photos from Fotor allow you to transform visual beauty into branding power. An entire library of high-resolution photos can meet all of your personal and commercial needs.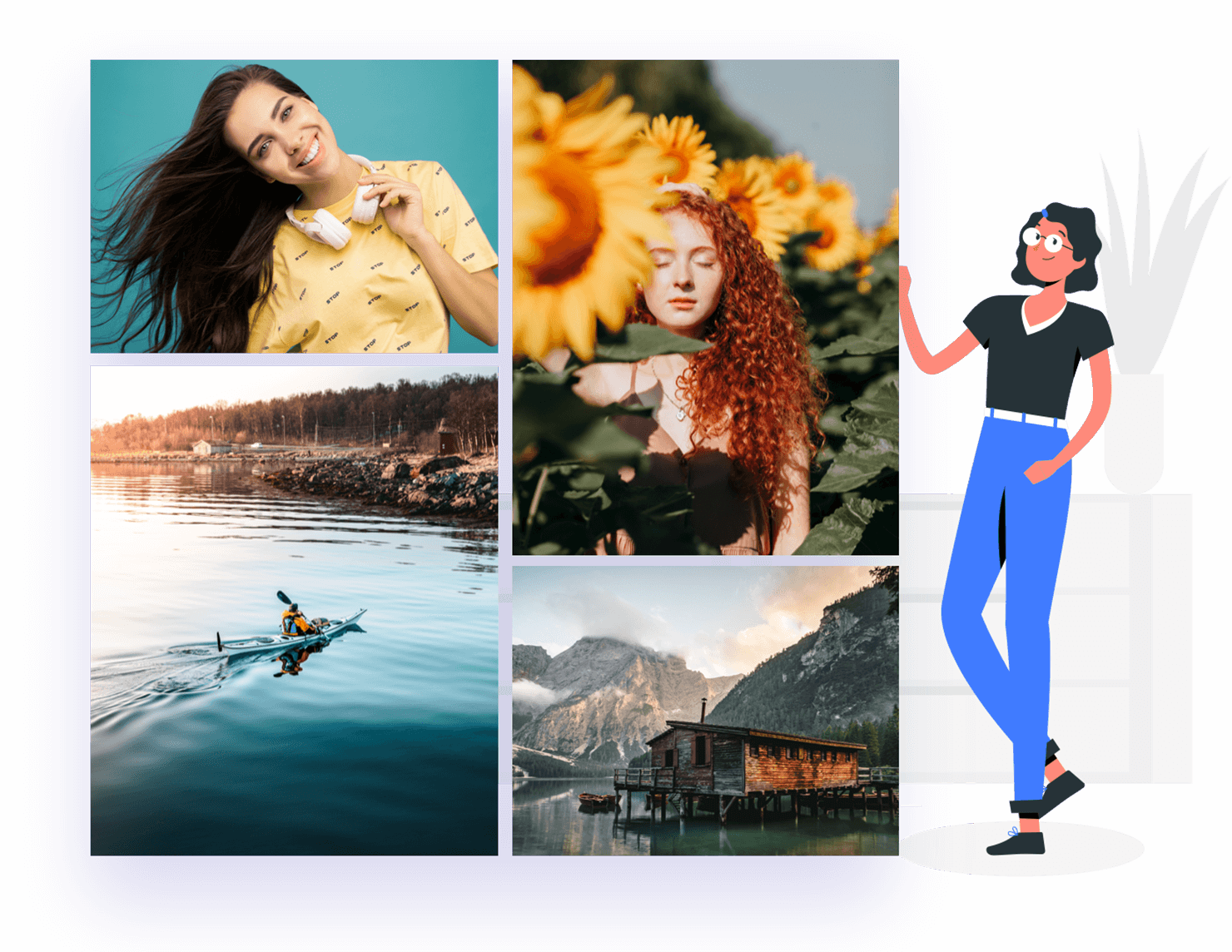 Stylish Stock Photos
Say goodbye to boring photos that are obviously from a stock website. Our global community of contributors are passionate photographers with diverse styles, allowing you to choose from stock photos about special events to daily life, from animals to scenery, covering all manner of themes and subjects.
Create a Design
Covering All Platforms, Meeting All Needs
In addition to the online platform, Fotor covers all others platforms, such as Windows, Fotor iOS, and Android. Our platforms offer users a great opportunity to edit their images and finish their works across different platforms due to cloud storage, suitable for all kinds of occasions.
Free Download

for Windows

Free Download

Fotor iOS and Fotor Android
Contact Information
For press inquiries and demo requests, please contact partners@fotor.com
If you are not a member of the media and have questions about using our product, contact info@fotor.com