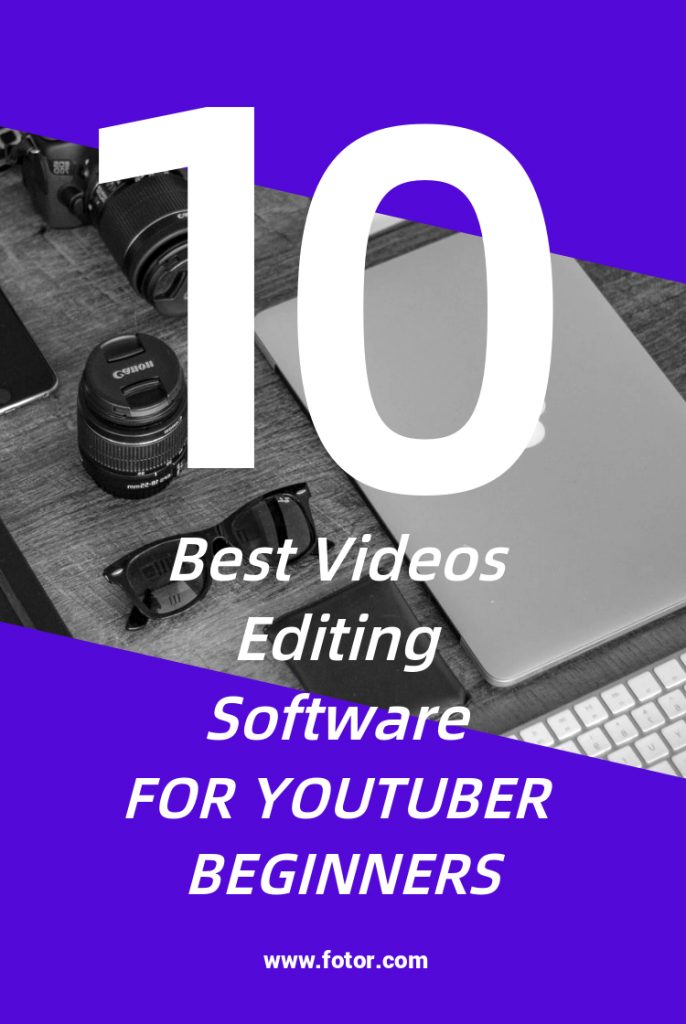 With the technology development of internet speed and people's interest, video marketing is exploring on the way.
And if you want to make your own videos and share with more people, looking for some best video editing software for YouTube beginners, I think you are in the right place.
In this post, you will see a list of top video editing software for YouTube beginners. What's more, we have put together tools with incredible assets and simple interfaces in this collection. So, you don't need to buy any courses or be a tech-savvy person to get started.
Video Trends
Now Youtube has over 2 billion active users who watch 250 million hours of videos per day. The best part about Youtube, unlike TV, is that you can choose what kind of content to absorb. More and more brands are adding video content to their marketing strategy. If you are not an expert and don't know where to start, professional high-quality video editing software can keep your content strategy ahead of the curve.
Do you know that people spend more time watching videos than reading any text or photos? Over 85% of the US internet audience watches videos online every day. Videos are one of the simplest types of content to consume, because:
it's easier to watch a video recipe than read it, for example;
video is great content to engage users and share ideas.
Regardless of all the advantages that accompany pushing video content on the web, it's less competitive than text and pictures. Usually, video creation sounds scary to most people, despite the fact it's not that difficult.
Top 11 Best Video Editing Softwares for YouTube Beginners
It is an excellent free video editing software that can work on Windows, OS X, and Linux. The shortcut has the same principle of work as its expensive analogs – you place video and audio fragments on the timeline and apply effects and captions. Then you can convert the result in a video file.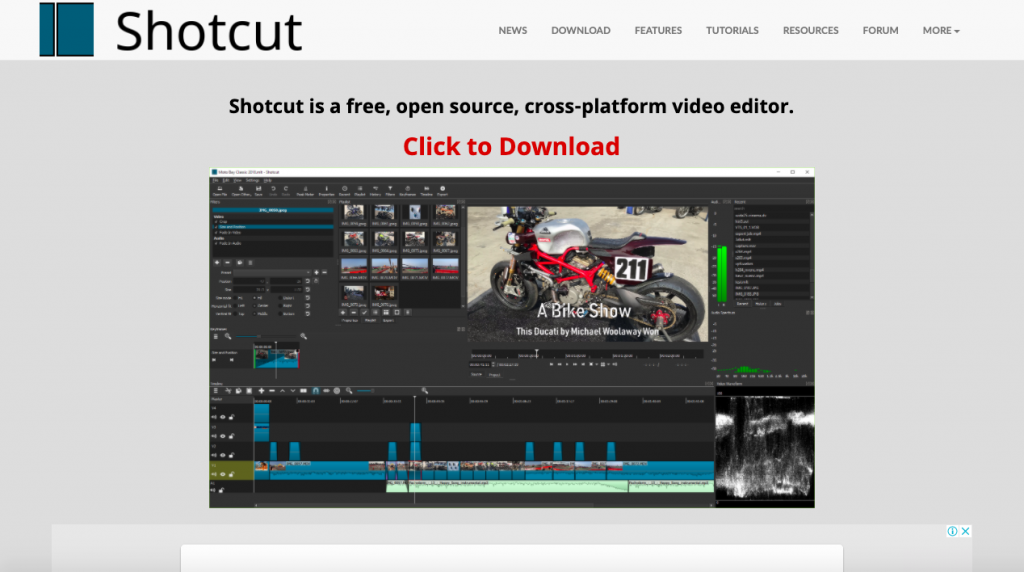 First, they designed this app for Linux users, and only after a few years of work decided to create versions for Mac and PC users. That's why the Shortcut interface is a little bit strange. They have many intuitive features, such as dragging a file to import them into your project.
Pros:
Customizable menu;
A wide selection of modifying options and filters;
Mobility of tasks, for example, return to any stage of editing;
Automation of all work processes for user requests;
Configuration on multiple monitors.
Cons:
It is not possible to preview filters.
It is a popular video editor, which can easily modify the video, adjust colors, and process audio. A unique set of features for video editing allows processing any type of multimedia content in the original format on desktop PCs and mobile devices.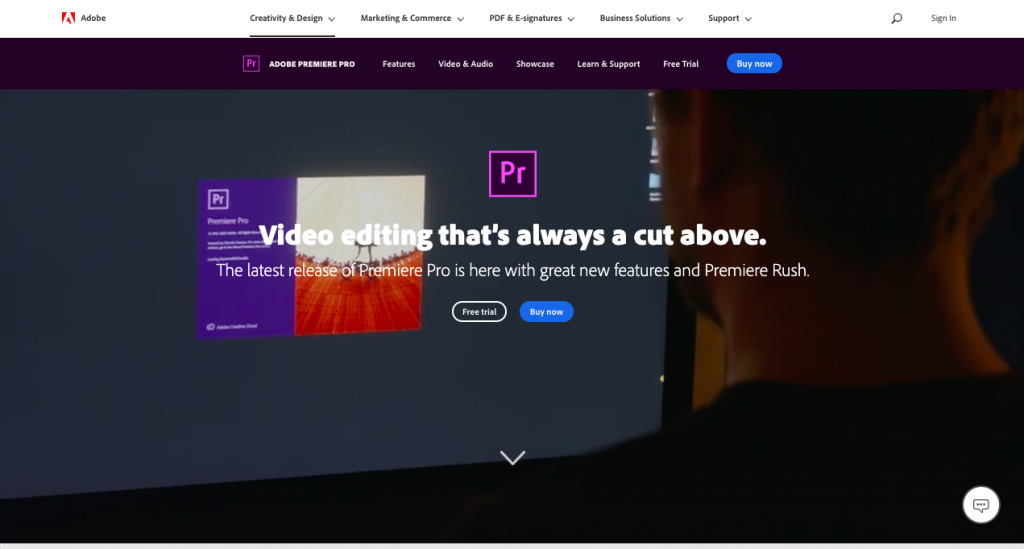 This software can be used for iOS, macOS, and Windows. You can subscribe just to Premiere Pro or get it as part of the Adobe package. They offer 360 VR and 4K support that makes it a professional tool to edit any kind of video. It's the most complete tool in this list for both experts and newbies.
Pros:
Plenty of customizable features, options, and plugins;
Very convenient user interface;
Ability to export a finished project in any of the existing formats;
Integration with other Adobe products.
Cons:
Adding and editing titles is rather tricky;
The very high cost of an official license.
EaseUS Video Editor is an easy to use, yet professional video editor, that allows you to create amazing YouTube videos that stand out and make your channel more successful. With it, you can trim, cut, split, merge, rotate, mix video clips, accelerate or slow down your video speed as your like. The tool incorporate an array of visual effects, filters, and transitions enabling you to add a professional and stylish touch to videos. EaseUS Video Editor is all you need to start a YouTube career. If you are going to record tutorial videos, you might as well try their screen recorder - EaseUS RecExperts, which is also an amazing tool for YouTubers.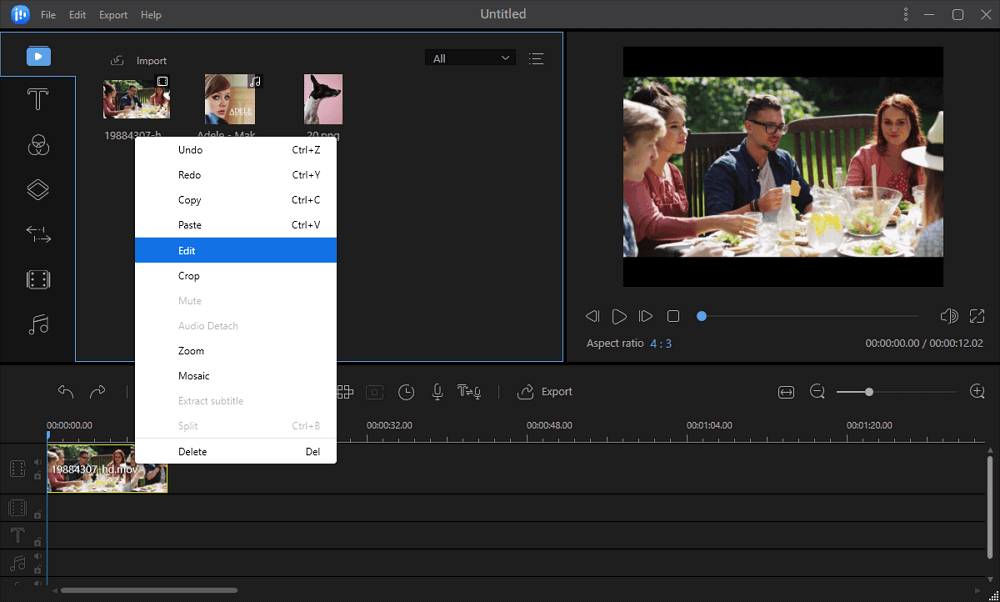 Pros:
Extremely easy to use and intuitive interface
Wide range of transitions and effects
Decent selection of overlays
Ready-to-use video templates
Enables multiple video and audio tracks
Cons:
Only applies to Windows users

If you are looking for elegance and simplicity, iMovie is the best choice for you. It is one of the most popular editors for Mac OS, iPhone, and iPad. It includes eight themes with music, transitions, and titles, ten video filters created by Apple, and a lot of different effects: image in the image, slow motion, split-screen, and fast forward.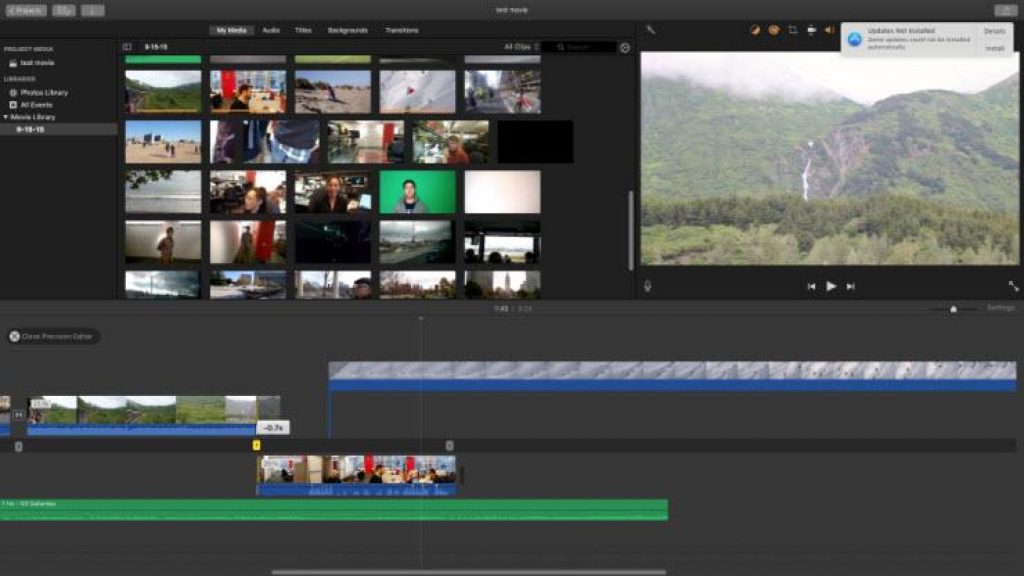 The application also has tools for creating soundtracks. One of the best features in iMovie is their 'green screen' That allows you to place your subject in any exotic location, let's say Bali or Greenland.
Pros:
User-friendly interface;
A rich selection of tools for working with sound;
Theater mode for sharing video with various devices from Apple;
Support for working with 4K video.
Cons:
Not enough features for motion tracking and 360-degree video;
Lightworks is a free software option for video editing tools. The program works on Windows, Linux, and macOS. It is a perfect platform for camera operators, editors, sound engineers, bloggers. It can be used in advertising and for personal purposes, for creating home video archives and filling social networks.
Lightworks is a perfect option for small or no-budget projects. You can import and render your footage on the background, drag editing windows around, and set custom keyboard shortcuts to simplify your working process.
Pros:
Cross-platform feature;
3D video processing;
Multichannel support;
The ability to edit and crop the timeline.
Cons:
Hard-to-understand editor management system.
Apple developed this video editor for their Mac OS. The interface is very similar to iMovie. It has a vast selection of effects: video, audio, transitions, title effects, and it is possible to add additional ones. It integrates uploads to YouTube, Facebook, and Vimeo, as well as a wide range of video output formats.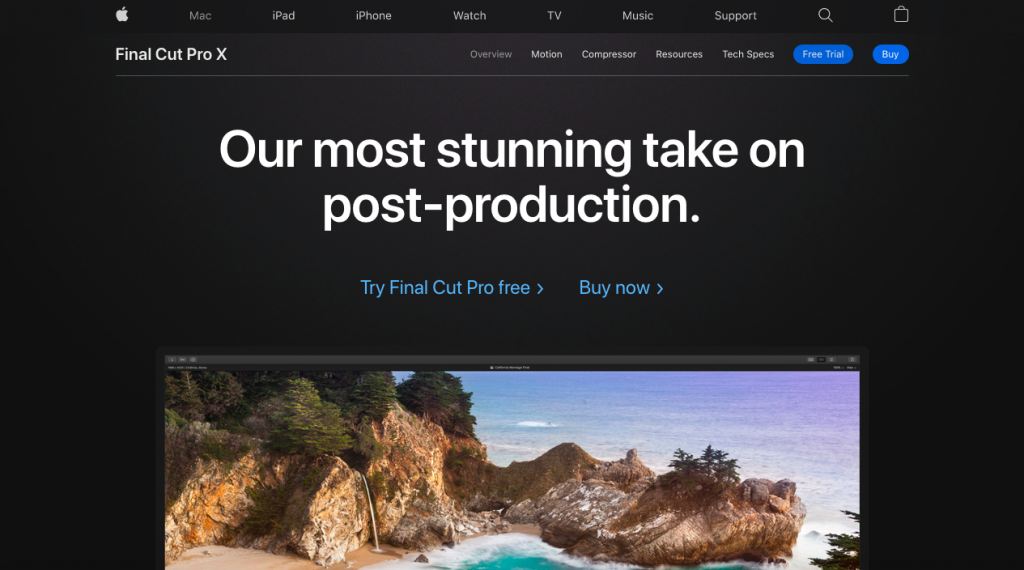 Final Cut Pro costs $300 that seems like a lot of money, but this software is packed with a lot of amazing features. You can add audio and title effect to your footage, use color-code for identification, group video, and another element so that you can move them together.
Pros:
High resolution of output projects;
The presence of libraries and the ability to create a keyboard collection;
The ability to preview a particular effect without applying it to a file;
Effects with scaling, without loss of image quality;
Format flexibility;
Cons:
It is costly.
This free-to-use software is designed for those who need a compelling set of tools for video processing. It offers plenty of useful features and many built-in templates, enabling you to edit video content with no effort. After creating a video, you can quickly export it in high quality.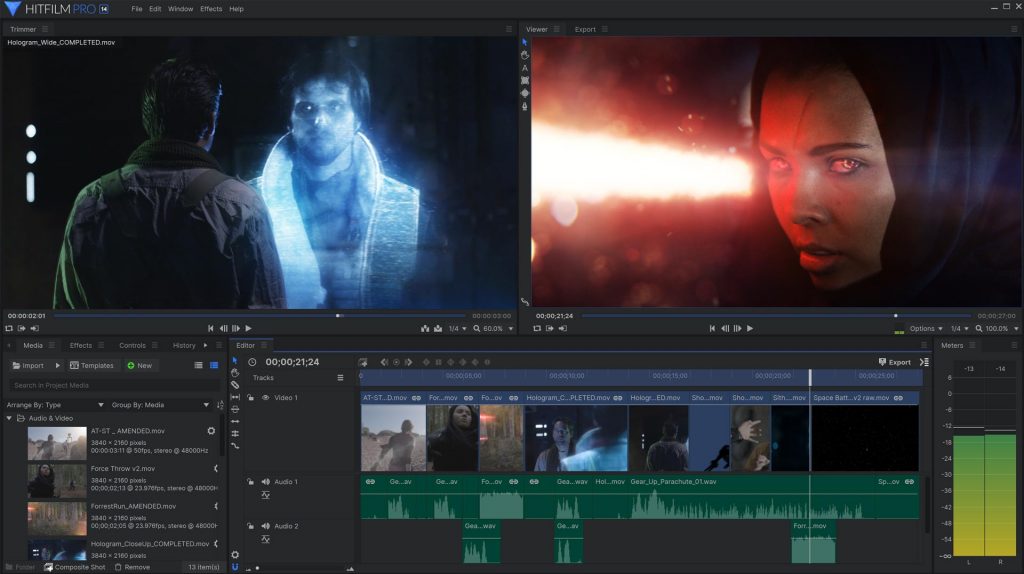 HitFilm allows you to easily trim clips, adjust colors, and export your footage to any video format. Beyond that, this free tool also lets you create custom video masks, set green screen chroma keys, and produce powerful footage with a range of 3D compositional features.
Pros:
Reliable timeline editor;
Intuitive, flexible export features;
Support for 360-degree and 4K video;
Work on Mac and Windows.
Cons:
This app for editing on mobile phones and tablets was previously released for iOS.
Premiere Rush is a simplified Adobe Premiere Pro CC program. Their target audience is content creators for YouTube and video bloggers. It offers the possibility of color correction, video resizing, working with audio, and other features.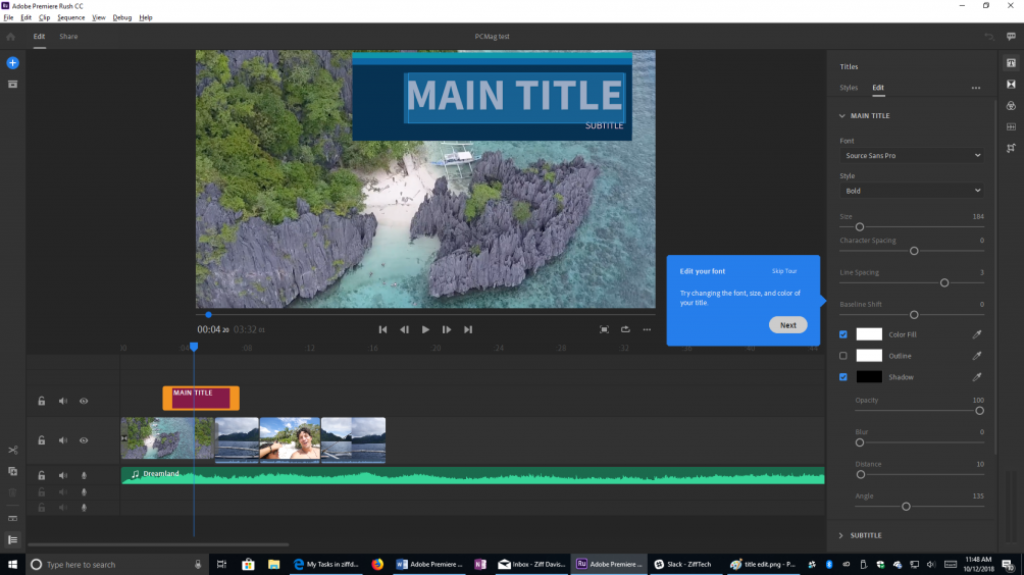 The app features professional templates that allow you to create amazing title effects and then share it on social media in a few clicks. It is a convenient tool to work with videos that you capture with your smartphone.
Pros:
Quick and easy editing;
Optimization for social networks;
Easy-to-use interface;
Useful features for sound editing.
Cons:
Not enough features for professional video processing.
Filmora Video Editor is considered a decent alternative to Windows Movie Maker, which has everything you need to manage your video.
With it, you can easily create any type of professional video or movie with different visual and audio effects, including filters, transitions, overlays, custom captions, and elements, etc.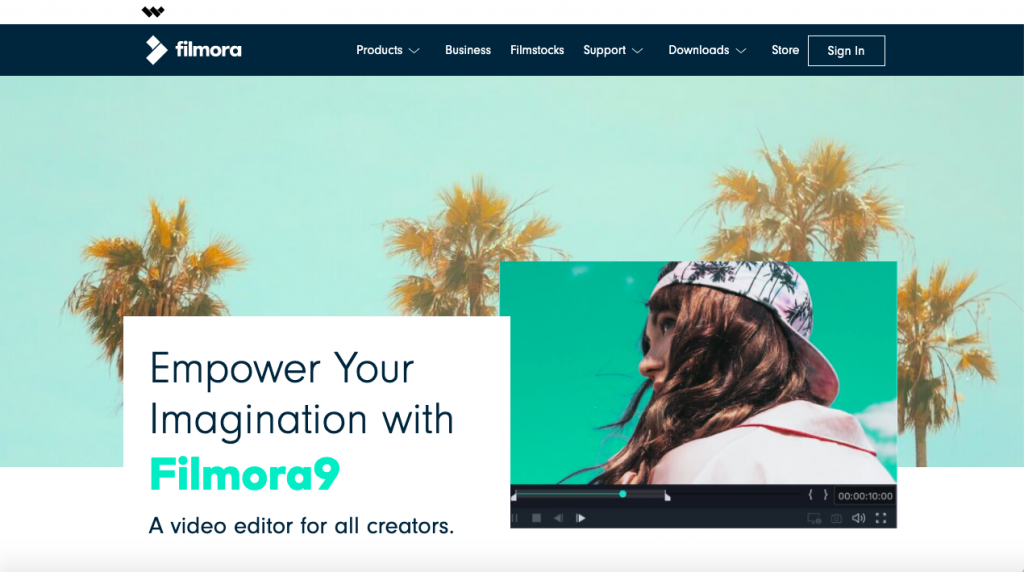 They also offer Filmora Go that is designed for mobile editing and Filmora Scrn that lets you capture and edit videos of your screen. It is a useful tool for Youtubers who share any sort of video tutorials.
Pros:
Support various formats;
Easy to use;
Sound and music library;
4K support;
Cons:
In the free version, all your videos will have a brand watermark on them.
This application offers an extensive and diverse set of video editing tools that are simple, even for beginners. It has plenty of video editing features, such as video collage templates, which allow you to merge multiple videos into a single layout and eliminate distortion on action camera videos. You can edit 360-degree video with its further direct export to YouTube.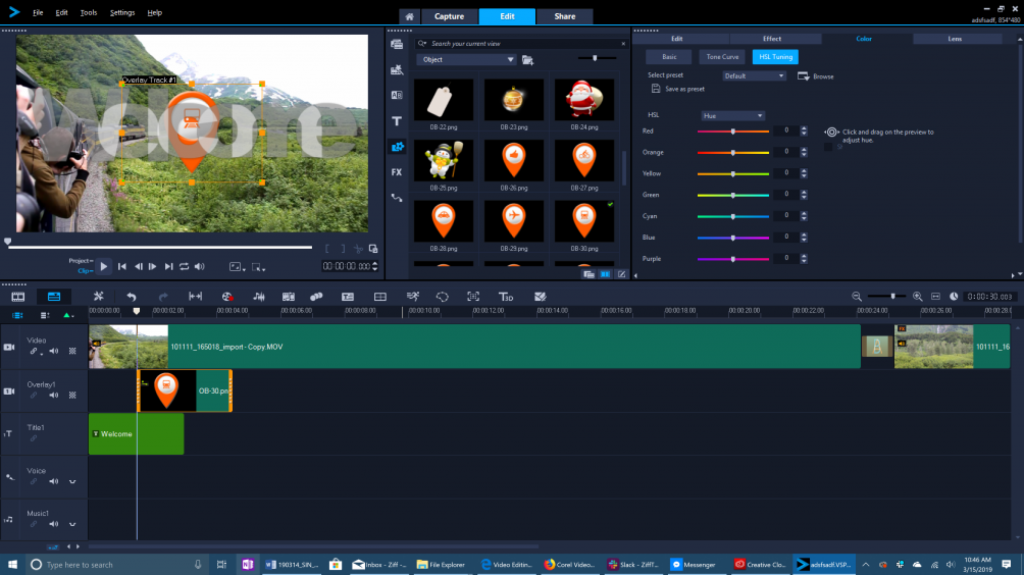 This powerful tool is equipped with many features, such as 360-degree VR support, motion tracking, 4k support, and Multicam. Besides, it's the fastest product on the market in terms of rendering.
Pros:
A wide range of essential features;
4K video support;
Multicam editing;
Music library;
Affordable price;
Cons:
Not enough features for professional use;
It is a free editor that is mainly used for three-dimensional graphics. Thanks to its cross-platform characteristic, open-source code, availability, and functionality, the package became very popular not only among beginners but also among professional 3D modelers.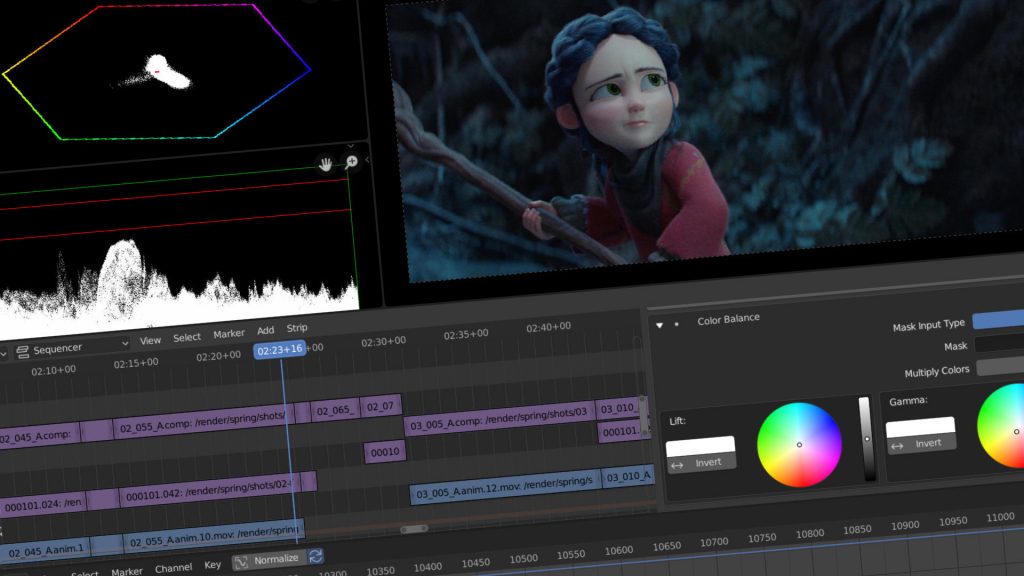 Video editing is not the main feature of this application, but it is powerful. Blender works pretty good on Mac, PC, and Linux. However, it lacks control when it comes to exporting videos and support file types.
Pros:
A detailed and intuitive timeline;
Audio mixing;
Live preview;
Many fancy transitions and filters;
Affordable price;
Cons:
Some issues with video/audio synchronization.
Tips on Improving Video Quality
Light makes a huge difference when you create a professional video, so make sure your footage is taken with enough light. If you don't have a professional softbox, use sunlight. The soft light in the morning or the evening will be the best for a video.
Messy background can break your video and distract viewers from you or your subject. A wall or clean backdrop paper will be the best option for a 'sit and talk' video, for example.
Audio matters. Most people could watch the video with grainy footage, but they will shot the tab shortly after they hear a terrible sound. So, a good microphone if the first piece of equipment you need to buy.
Shaky footage is another reason a viewer may click the back button when is watching your video. You can use a tripod or place your camera on a steady surface to record a video.
Choosing a proper video editing program with a simple interface, yet many useful features is another key to creating a professional video for Youtube. Please select one of the best video editing software from our list above.
Font In order to attract your viewers to view your video detail, the YouTube video thumbnail is a very important part to catch people's eyes. The eye-catching fonts are good for that.
Learn from Video Making YouTubers
One more way to learn how to create high-quality videos is to watch professional Youtubers. Among the top 11 best Youtube filmmaking channels are Cinecom.net, Justin Odisho, Kai W, RocketStock, and Peter McKinnon.
Make a Series of Videos Consistent in Styles
One of the most powerful ways to stand out on Youtube with your video is to create a stunning video thumbnail. It should be eye-catching, relevant, and high-quality. The thumbnail should display what the video is about. Here are some YouTube thumbnail design trends for your reference.
Besides, making a series of videos about the same topic can help you increase the number of views, and as a result, earn more money on the ads. Place a number on the thumbnail to help your audience understand what video to watch next.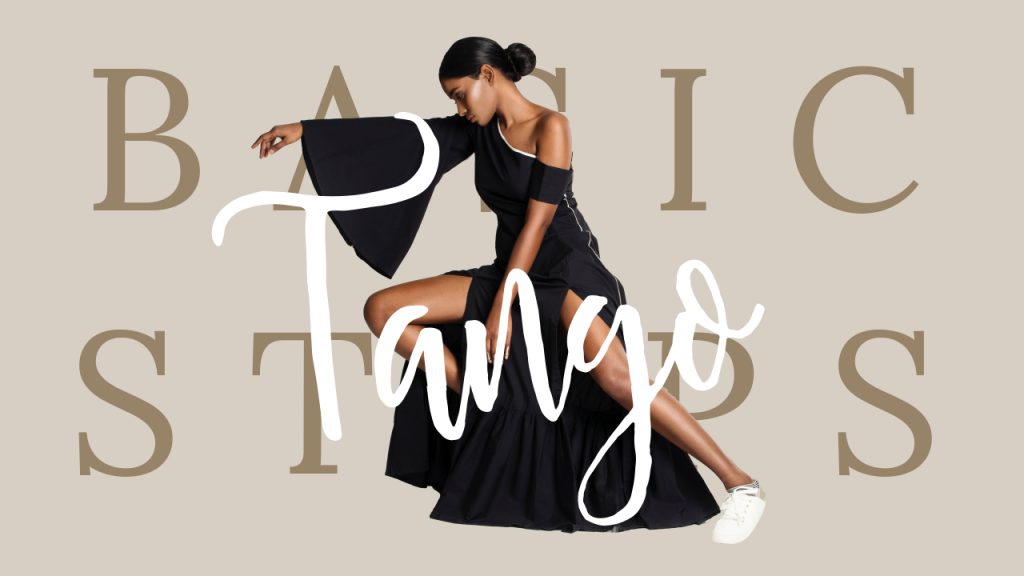 Clik the Image to Edit
Whether you want to create a video thumbnail for a series of videos or just one, you can use a secure online editor Fotor. They offer a vast number of modern, beautiful Video thumbnail templates that you can use and customize in a minute.
Moreover, Fotor allows you to create a perfect Youtube cover for your channel. The first impression is significant to impress your followers and share your call-to-action. You can encourage them to subscribe to your channel with a beautiful cover, like this one.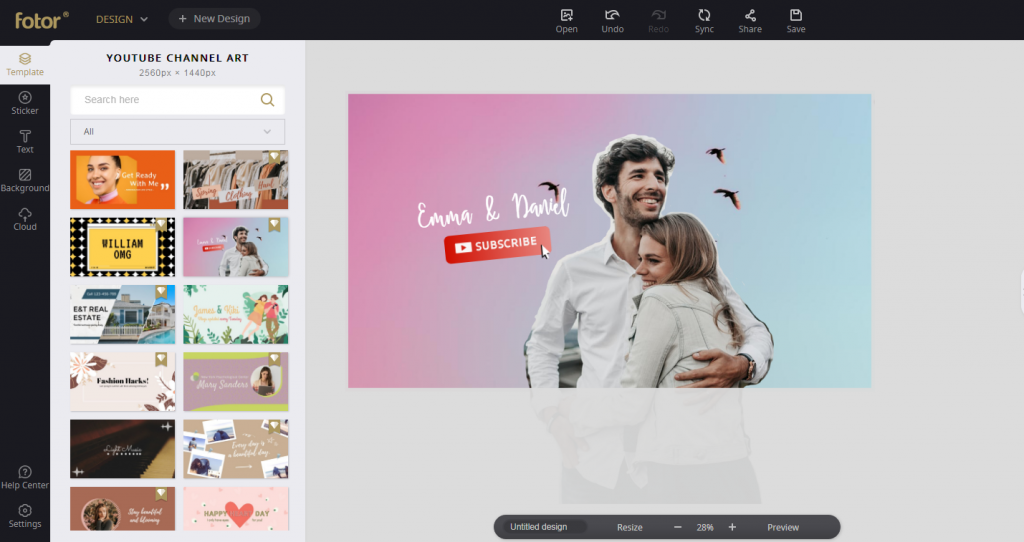 Click the Image to Edit
FAQ
Here are the answers to the most common questions about video editing software.
What do most YouTubers use to edit their videos?
As I previously mentioned, the three most popular programs that Youtubers use to edit their videos are iMovie, Final Cut Pro, and Adobe Premiere Pro CC. A first option is a perfect tool for beginners. If you are a complete newbie, you can use iMovie on Mac OS.
What skills do video editors need?
Some basic programs, such as iMovie, do not require any photography, tech, or design skills. All you need to have is video footage from any device and a computer to edit the video.
What are the primary functions of editing?
Usual video editing software includes tools that help to convert file formats, join clips, re-sequence clips, cut segments (trimming), rotate or crop footage, add sound, change brightness/contrast, or add transitions and special effects.
What are the steps in video editing?
The five main stages of video editing include logging, first assembly, rough cut, excellent cut, final cut.
How can I improve my video editing skills?
Practice is the best way to improve your skills in anything, including video editing. Please choose one or a few tools from this collection, install them, and start practicing. You can get started with simple videos from your smartphone.
Over to You
Your brand will only benefit from a professional, smooth, beautiful video. Making a high-quality video will take some time to learn, practice, and an excellent video editing tool. Enjoy the Best video editing software for YouTube beginners above and share your feedback with us. And don't forget about the perfect Youtube cover and video thumbnail.
About Us:
Fotor is a free online picture editor and graphic designer, allowing you to use online photo editing tools, such as add filters, frames, text, stickers, and effects…and apply design tools to make creative photo designs and graphics. Online photoshop and graphic design software have never been so easy! Also, if you want to get more helpful and inspirational tips, please visit our blog home page to extend your reading.