With the explosion of short videos, more and more people want to edit the videos they just shot on their mobile devices. The best video editing apps for iPhone and Android allow you to create engaging content on your mobile device. Just download these video editing apps, and you can edit and trim your videos flawlessly and upload them on Facebook, Instagram, Twitter, or YouTube.
This article focuses on the 16 best video editing apps for Android and iPhone, helping you edit professional-looking videos on the go.
Table of Contents
Adobe Premiere Rush
Adobe Premiere Rush is one of the best video editing apps. Adobe calls the free video editing app "designed for online video creators."
It's lightweight, simple, and easy to use, with a pleasantly simple interface and regular enhancements. You can sync your video to the beat of your chosen soundtrack. The app comes with thousands of royalty-free original soundtracks, sound effects, and loops to help you bring your videos to life.
Adobe Premiere Rush is also capable of handling multiple video tracks. This allows you to easily create impressive effects such as picture-in-picture and split view.
In addition to standard video editing features, you can apply video effects, change colors, create pan and zoom effects, add custom animated titles, and more. The app has a built-in camera feature for capturing high-quality video.
Premiere Rush is multi-platform and fits easily into almost any creative workflow. With Creative Cloud support, you can edit video on Android, iOS, and desktop without missing a frame.
Features:
Two modes: fully automatic mode and custom mode
Drag and drop clips and photos
Adjustable exposure, lighting, and sound levels
Automatically mix music volume during dialogue
The paid version supports 4K export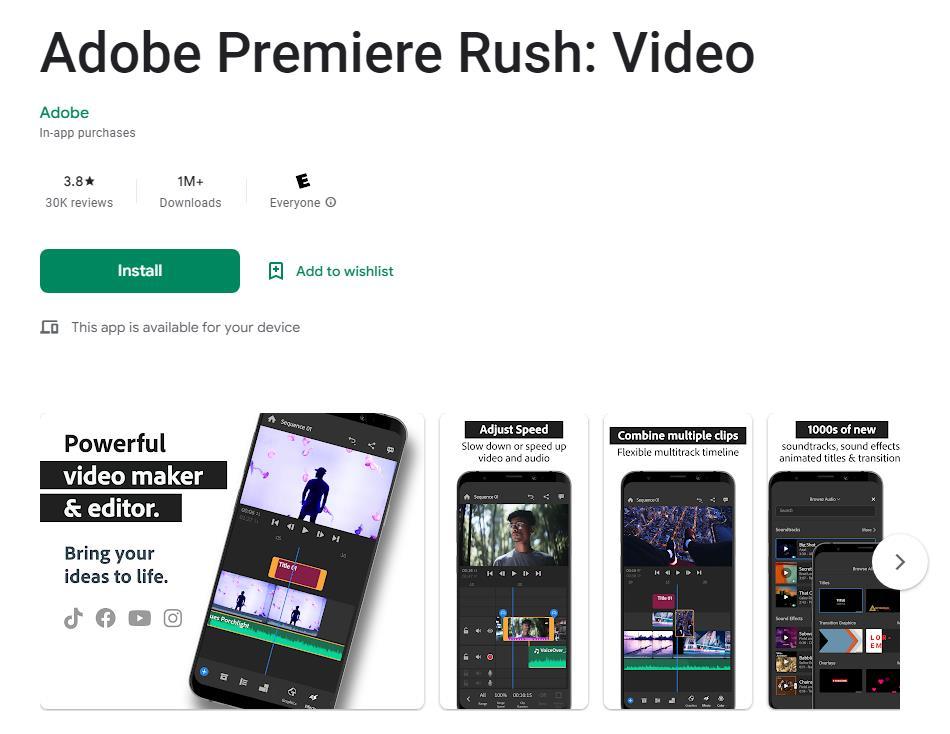 VideoShow
VideoShow is undoubtedly one of the best video editing apps for Android on the Google Play Store. It has an easy-to-use interface. In addition to the basic features, you can also enhance your videos by adding text, effects, music, and sound effects, or performing live voiceovers.
There are over 50 different themes available, and you can reduce the size of your videos by compressing them. The video will not lose any quality and there is no video duration limit.
Features:
50 detailed themes for beautifying videos, vlogs, and slideshows
Blurred background, options to adjust sound speed, and sound enhancement
Multiple background music can be added to the video.
The audio track of the video can be converted to mp3.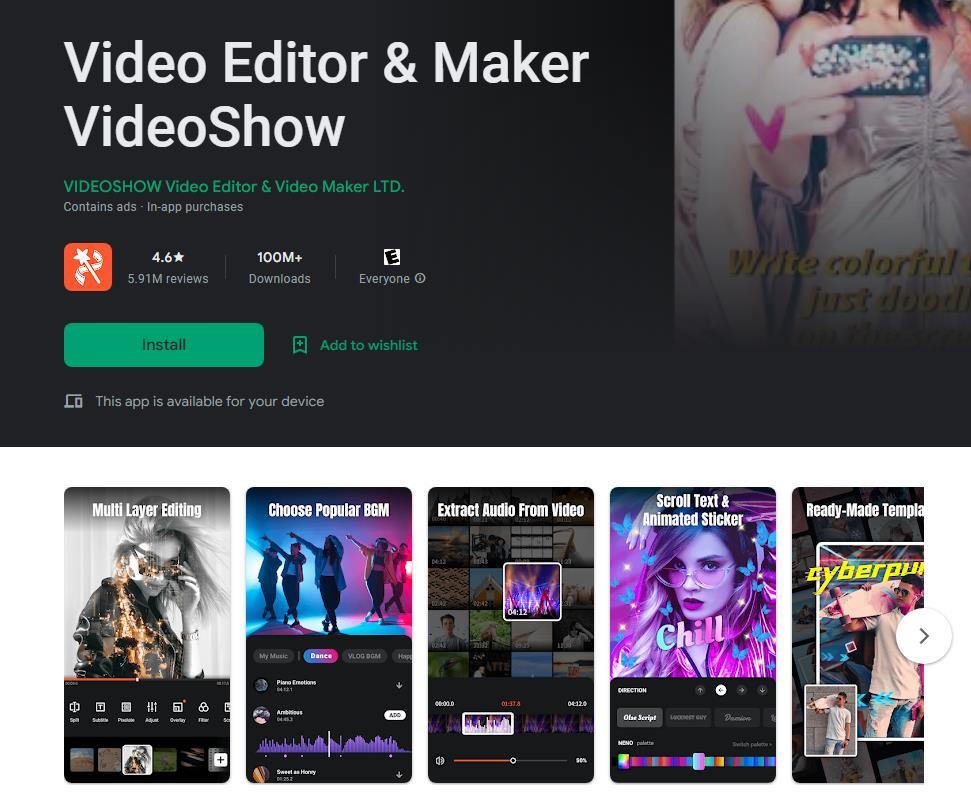 Quik
Quik can make editing videos as easy as retouching pictures. You only need to upload local videos and photos and fill in your favorite titles and transitions. Then you can sit back and enjoy and harvest a beautiful video.
Quik can algorithmically find the highlights of a video in the shortest amount of time to add special effects and transitions. And sync the footage to the beat of the music. In addition to the built-in 24 video styles, you can also choose music and 13 filters from the library.
Once you've created a video, you can save it to your camera roll in 1080p or 720p. Or even share it directly on social media. It's reliable and doesn't show any annoying ads. Quik deserves to be featured in this list of the best free video editor apps because of its features and convenience.
Features:
Transitions automatically sync to the beat of the background music.
Videos can be saved at 60 frames per second for smooth playback.
You can save your edited video as a draft to finish editing later.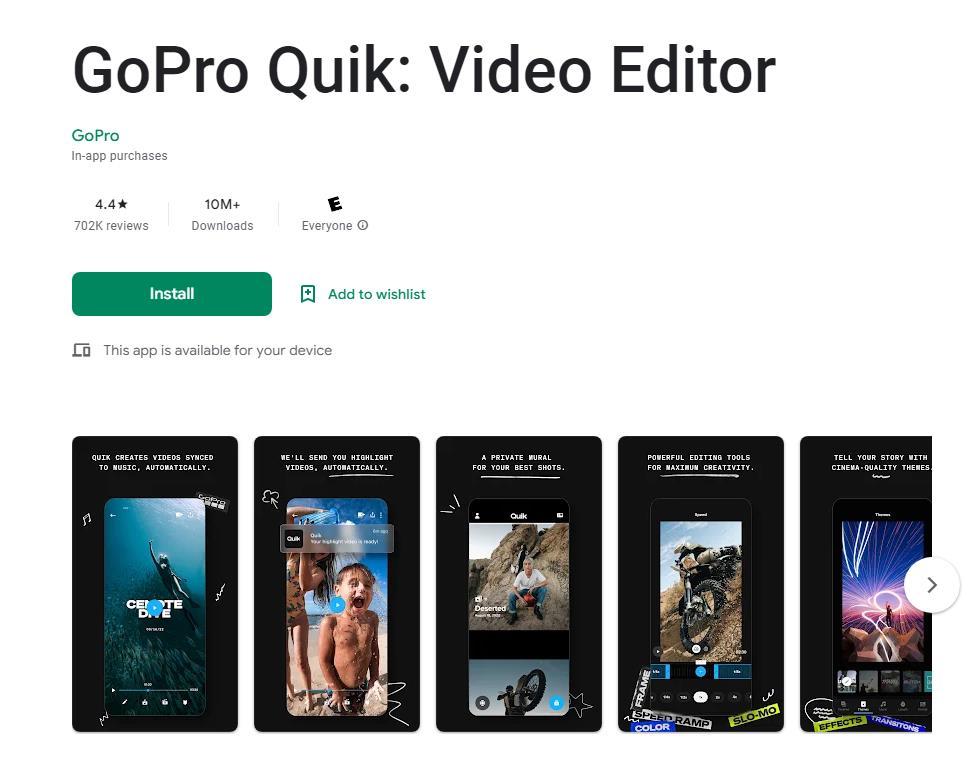 Lumafusion
LumaFusion is a powerful video editing app for iPhone and Android, allowing you to get the video editing experience on your computer. With the media library, you can create video files of various sizes by browsing media directly from photos, GNARBOX, and WD Wireless Pro / SSD drives.
The app supports 6 video tracks and 3 audio tracks for making photos and videos. You can edit and adjust these tracks at will, or click to enter the detailed settings. And set the picture, sound, speed, and filter for each track's movie individually to create high-quality video.
Although LumaFusion has more functions, it is not difficult to get started. Basic functions can be found in the software interface, and 6 different work layouts are also supported. Even beginners in video editing can use it.
Features:
Multitrack clips. Currently, support 6 video tracks and 3 audio tracks.
Layer blending. Set the blending effect of different tracks.
Audio processing. There are various sound processing tools.
Project files can be backed up.
Videobearbeitung
Videobearbeitung is a full-featured video editor. It has an easy-to-use timeline interface, but it can take a while to get used to the controls. However, once you become an expert with this app, you can create professional and impactful videos in seconds. It has over 30 different effects and transitions to choose from and add to your videos.
With this best free video editing app, you can create stunning green-screen videos. Most of its features are available in the free version. But upgrading to the full version removes watermarks, and ads, and even extracts 1080 and 4K videos, supported on Android 4.3 and above.
Features:
Supports exporting 4K videos.
Can create slow-motion video effects.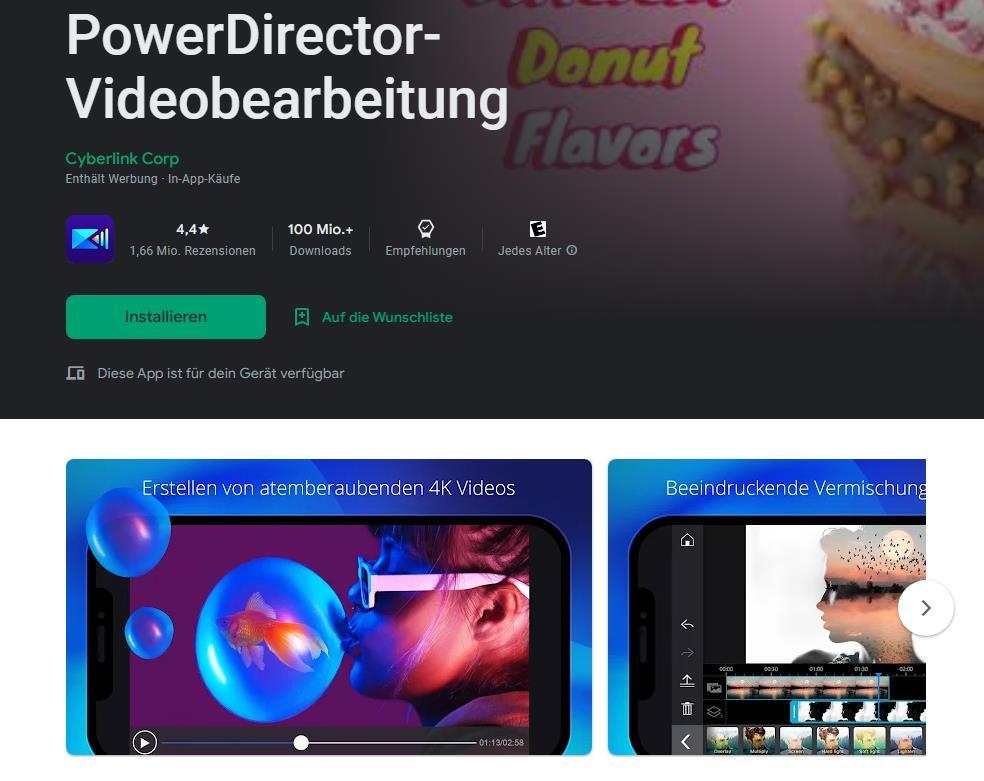 KineMaster
It supports drag-and-drop technology to import different media files easily. KineMaster's high degree of control over the editing process can quickly create professional videos. You can add different types of transitions between parts of the video, or insert groups of text or subtitles.
However, watermark removal and full access to premium assets are only available with the purchase of the pro version of the app. Also, most of the features are in the free version.
Features:
Multiple layers of video, images, text, effects, overlays, stickers, and handwriting can be combined.
Instant preview feature for editing views.
Precise volume control every moment of the clip.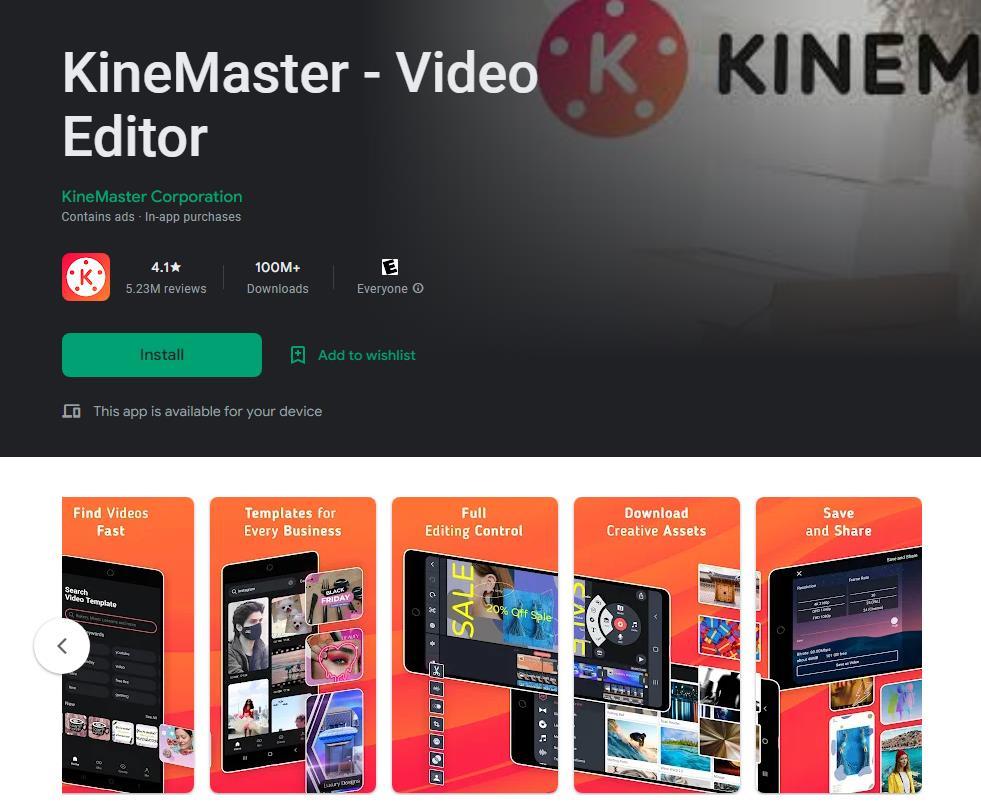 Filmorago
FilmoraGo is a great video editing app for Android that is loved by many users. It can easily perform all the basic functions like trimming, cutting, adding themes, music, etc. You can also create 1:1 square videos for Instagram and 16:9 videos for Youtube. Make reverse videos, and add transitions, slow motion, text, and more to beautify your videos.
FilmoraGo also offers many exciting editing options, such as adding multiple songs to one video, adding subtitles, stickers, GIFs, and more. Users can also draw on their videos.
Once you're done editing, you can save the video to your gallery or share it directly on social media.
Features:
Can preview clips in real-time.
Pictures and videos can be imported from social media sites like Facebook, Instagram, etc.
Extensive templates and effects.
A set of professional editing tools.
Can extract other video music.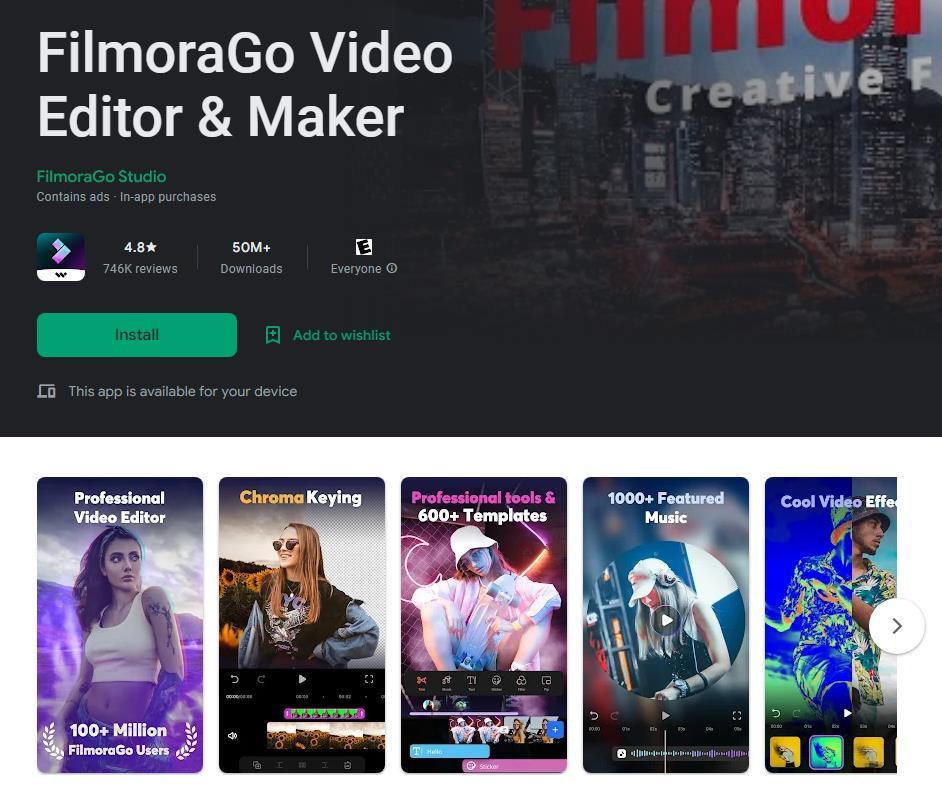 VivaVideo
VivaVideo has a lot of great video editing features. The app has been carefully designed to help you create professional-looking videos right from your mobile device.
You can choose from hundreds of easy-to-use effects, from stickers and filters to animated clips and titles. Basic functions such as cutting and pasting videos, trimming, and merging clips can be easily operated.
With over a million users worldwide, VivaVideo is one of the best video editing apps on Android. You can also share your creations directly on various social networking sites.
Features:
Built-in slow-motion video editor.
Various collage templates and themes to choose from.
Video collage maker for merging videos.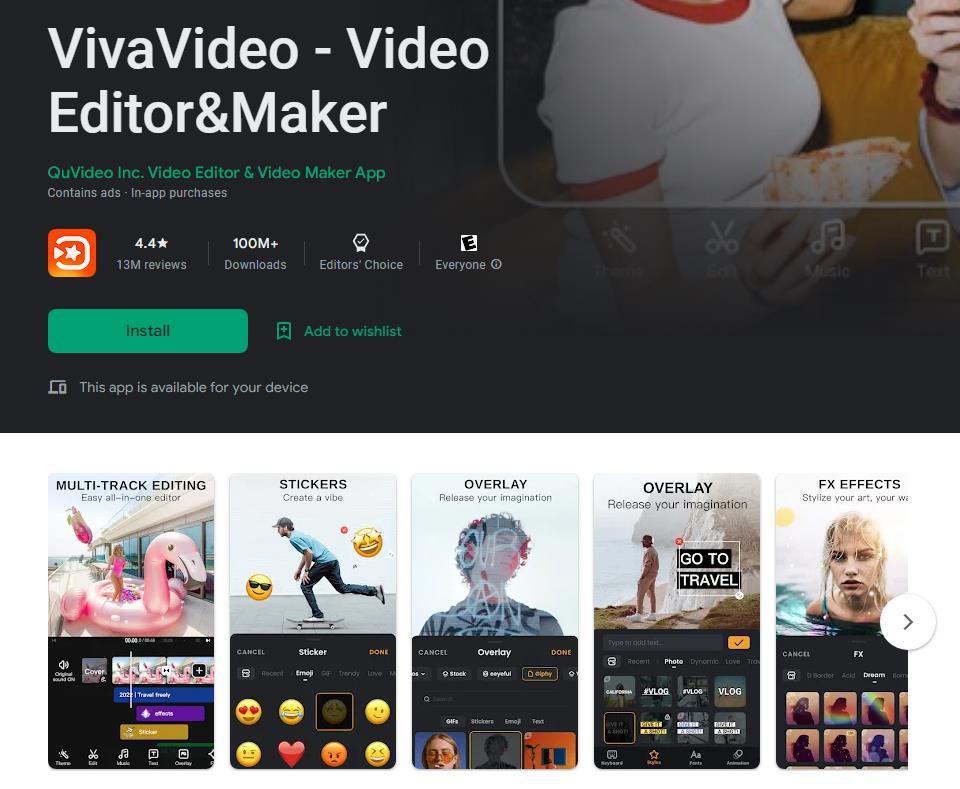 Inshot
Inshot is an artifact of video editing. It can cut the video at will, and support editing effects such as variable speed, flip, freeze, reverse playback, and secondary processing of the video. Secondly, Inshot has a powerful special effect function, which makes the editing video more cool and interesting. Besides, it also has a lot of built-in trendy music, and various styles, all free to use.
In addition to editing videos, this app can also edit photos and collage photos. All functions are available. One app can edit photos and videos, which is super convenient.
Features:
You can choose the size of the video and change the ratio at will.
Support adding local music to video, no format restrictions.
Support high resolution, no watermark video output.
Support one-click sharing videos to Facebook, YouTube, and other major social networks.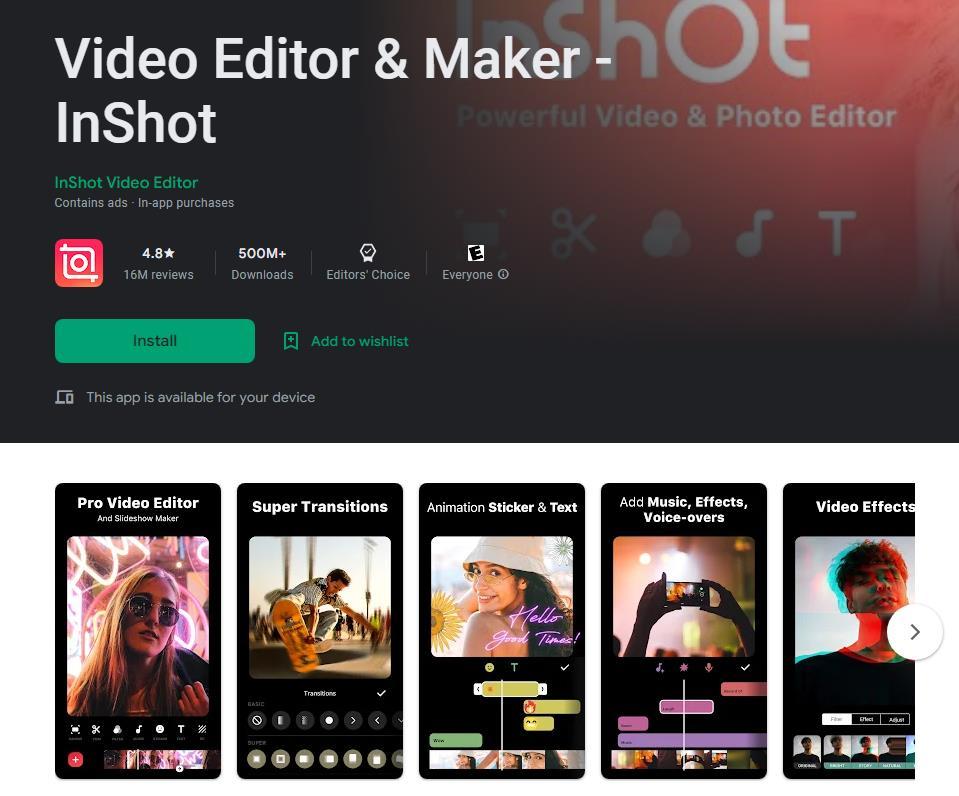 Funimate
Funimate is great for creating fun videos with ease. It instantly turns everyday moments into creative videos and enables automatic sharing options for different social networking sites. It contains over a hundred advanced video effects designed to perfectly match editing short videos. You can even create funny short video loops.
You can also get followers and follow other accounts within it by logging in before using the app. It's one of the best free video editing apps, but the ads displayed can be annoying.
Features:
Over 100 advanced video effects to create amazing videos.
DIY effects from pre-existing photos stored in your smartphone.
Ability to create collaborative videos with friends.
Funimate dedicated video community.
Magisto
Magisto is a great video editor app for those without formal video editing experience. It combines videos, photos, music, text, video effects, and video filters to help you create great videos easily. Just select one or more video clips and a song for the soundtrack, and the app will automatically create a video in minutes.
Magisto's sophisticated artificial intelligence analyzes the video and selects the most interesting parts. It usually produces excellent results in the video industry. If you're new to video editing, this is a great free alternative.
Features:
Excellent automatic editing function.
Direct option to share videos on Facebook, WhatsApp, Instagram, YouTube, and Twitter.
Advanced tools for video bloggers and marketers.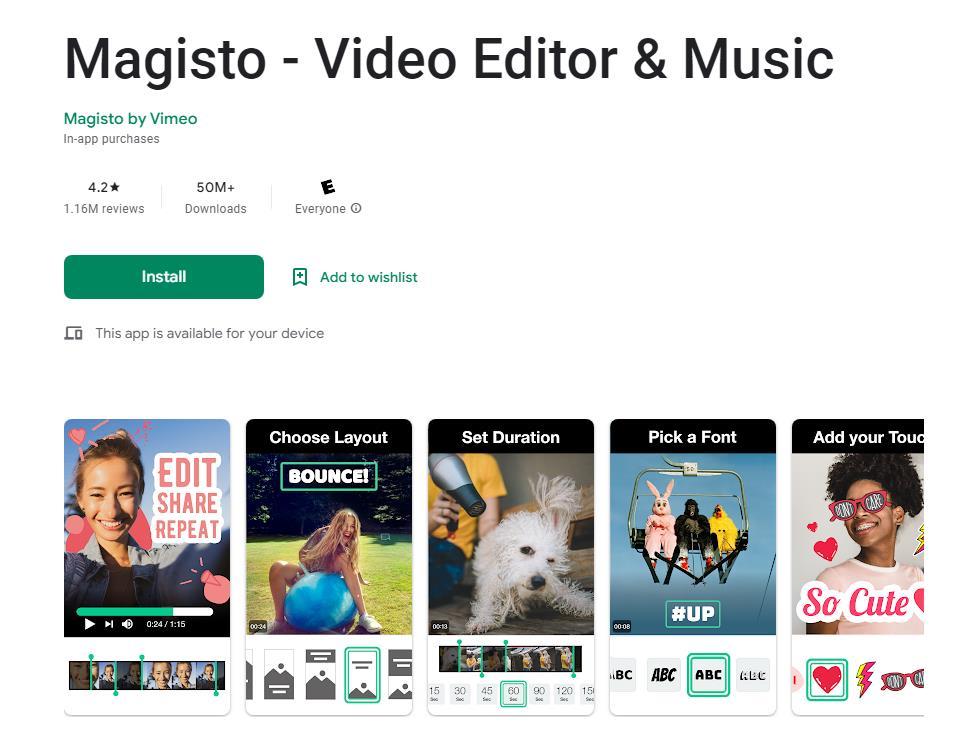 iMovie
iMovie is Apple's own video editing app that supports iPhone and iPad. Although it is not a powerful editing software, it provides enough functions for daily use. You can import your own videos into iMovie, remove redundant clips, and combine multiple videos.
Various templates are also provided in the application. You can use built-in soundtracks and effects, add your own music and narration, as well as transitions, filters, and themes. Trim, split, duplicate, adjust playback speed, and add text and special effects at any time.
For fans of video shooting, iMovie is a good choice. It's completely free and simple enough to get started, allowing you to easily edit the video you shoot.
Features:
Multitrack video/audio clips.
Smoothly edit 4K video (not shot by Apple device).
Built-in software tutorial.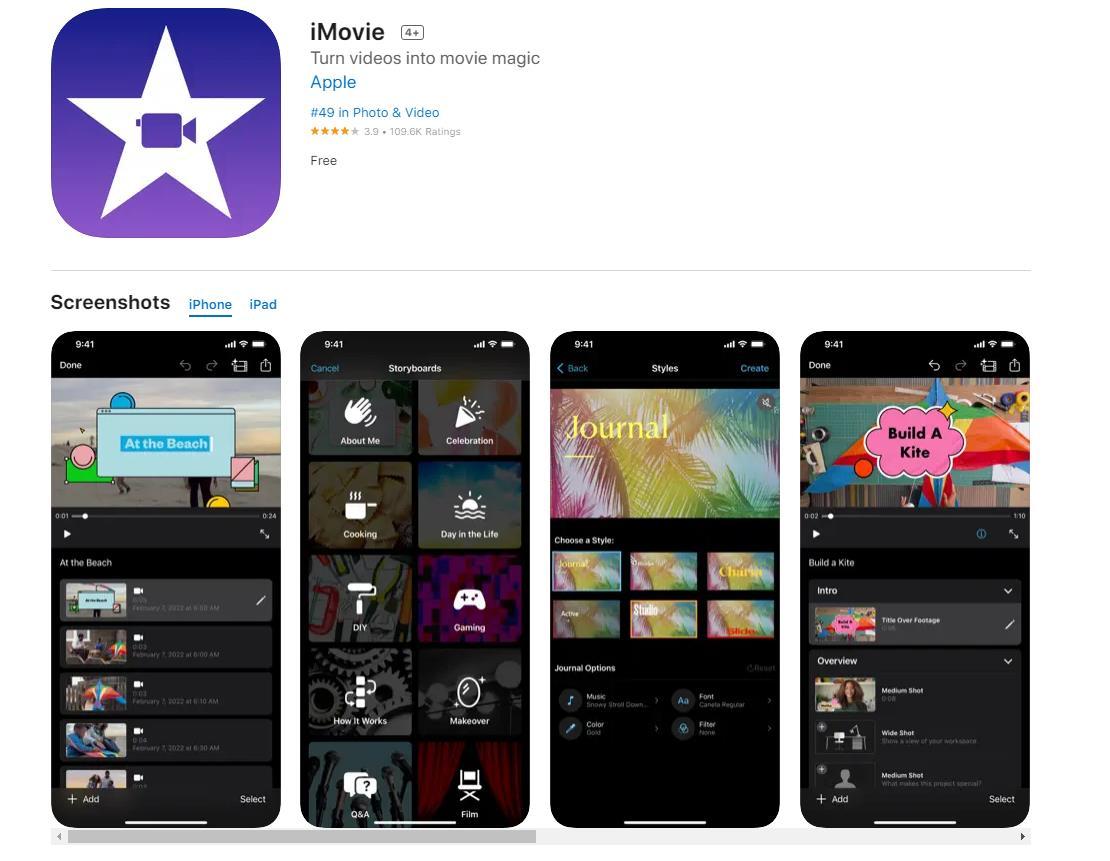 Videoleap
Videoleap is a fun and powerful video editing app with a lot of features. It allows you to mix pictures and videos into creative videos. You can mix multiple files like in Photoshop, using layers to manage edits. Add special effects to pictures with one click.
Convert it into a dynamic video without complicated operations. For those who prefer hands-on, fine-grained editing is possible. Trim, split, copy, flip, mirror, transform, and more on the video. Whether you are a novice or an editor, you can find the functions you want.
With the Videoleap video editing app, you can combine clips, add text, and masks, adjust tone and cinematic effects, and keyframe on your iPhone.
Features:
Many transition effects.
Supports multi-track parallel editing.
Support your own recording.
Green screen function.
Export 4k high-definition video.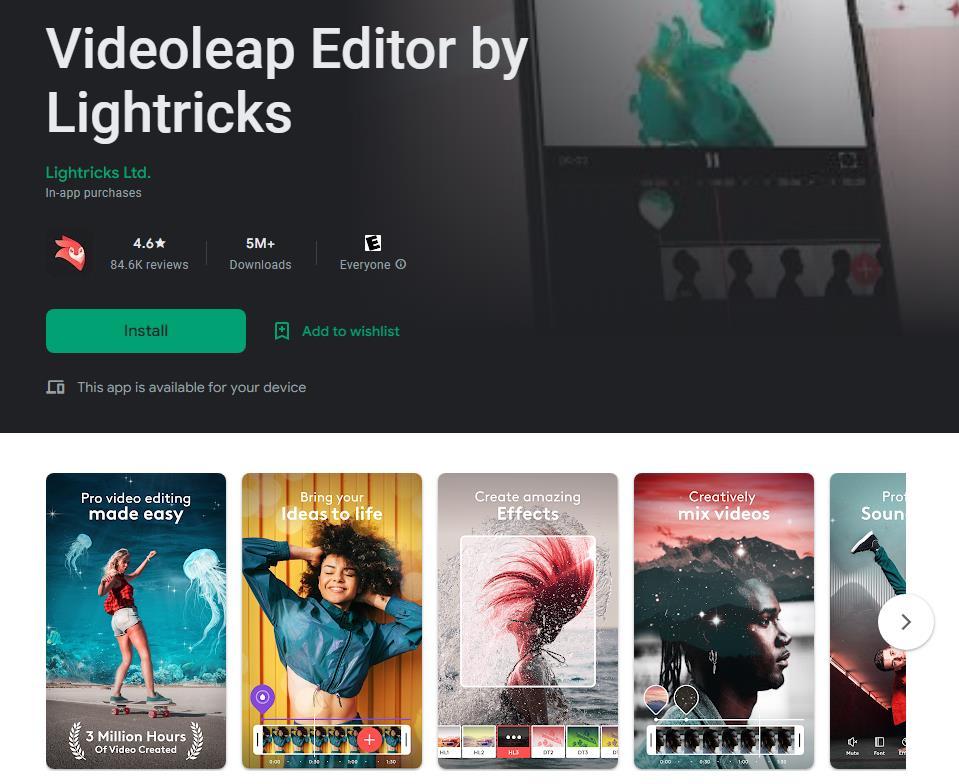 VLLO
VLLO, formerly known as Vimo, is a simple style video editing app for iPhone. It allows you to edit videos on your phone as easily as possible. You can use gestures to operate controls, long-press the video to edit, add filters, background music, sound effects, etc., and customize the aspect ratio. It is a good iOS clip APP.
Adjusting aspect ratio and background color, adding transition effects and Ken Burns effects, moving stickers and text, replacing templates and background music, etc. can be realized with VLLO. You also can remove the watermark for free.
Features:
Remove the watermark for free.
Multitrack editing.
One-click dubbing.
Set keyframes.
Set video size.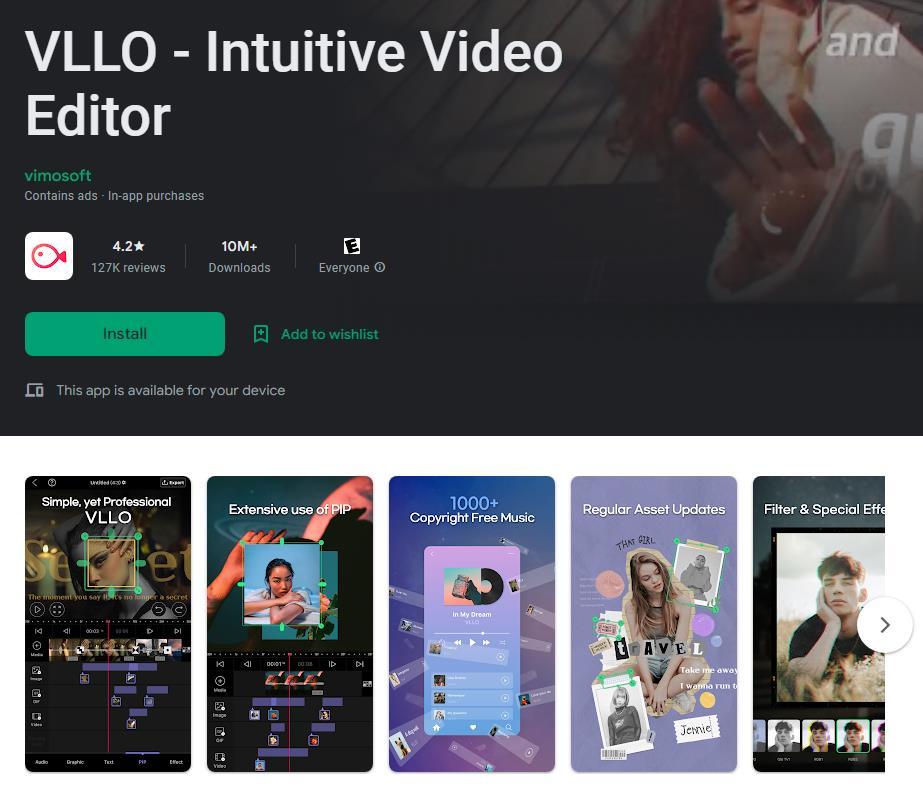 Splice
Splice was named the best video editing app of the year by Lifehacker. Similar to iMovie but with a better experience, it is very convenient to trim videos, add effects and text, change speed, and set transition effects.
In addition to the powerful background music library and music from iTunes, it is also possible to record into projects. It comes with 3 audio tracks, i.e. 3 different background sounds can be added at the same moment. Not only that, but Splice can export videos up to 1080p. It can be said that Splice is an app that can easily achieve professional results with a mobile phone.
Features:
Resize the video to create a 16:9 video.
Support picture-in-picture.
Unlimited video clips.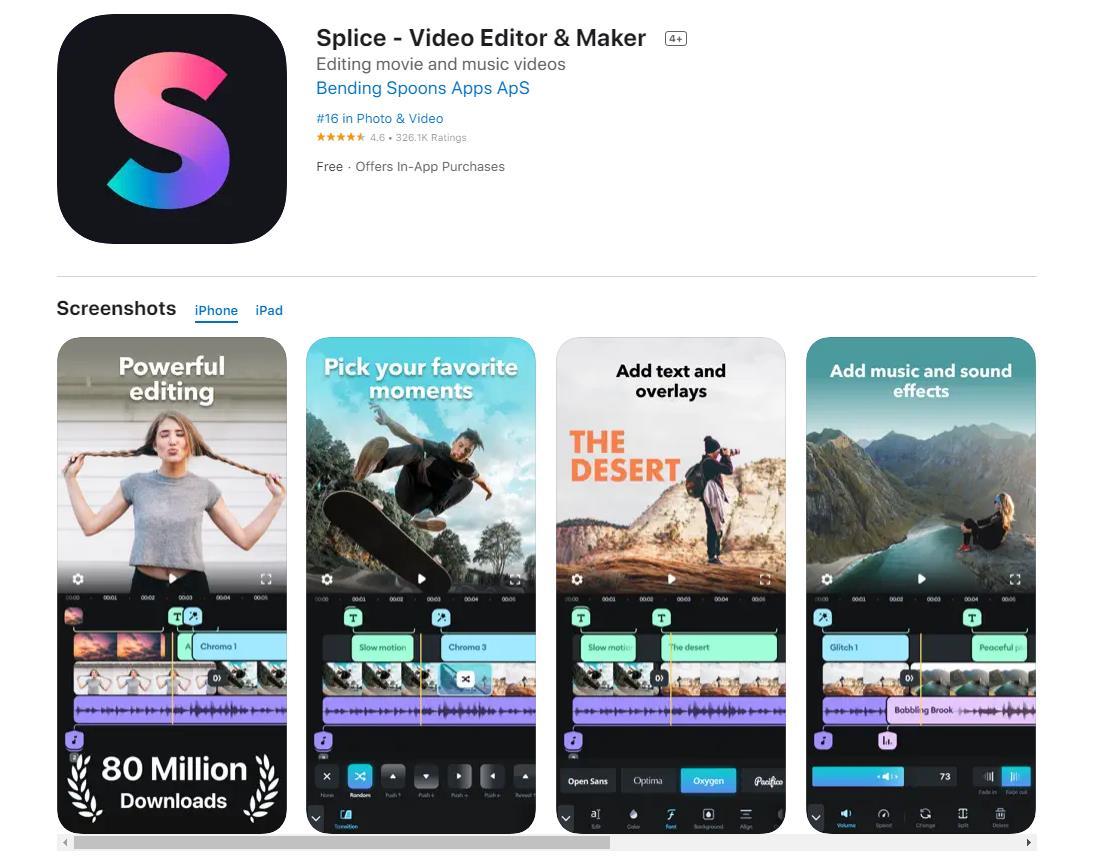 ALIVE
The app is completely free and comes with easy-to-use video editing tools. ALIVE can both import videos and photos, as well as shoot videos on the fly. Scene effects, action effects, and text effects are the biggest features of ALIVE. Just add the effect map at the right time and location.
The best part of the app is that there is a whole community of videographers who share their montages on the Android app. Overall, the app is useful for making short videos. But it shows a lot of ads which can be annoying.
Features:
Motion Path Animation and Text Animation.
Music slideshow feature.
Stickers, filters, and movie effects.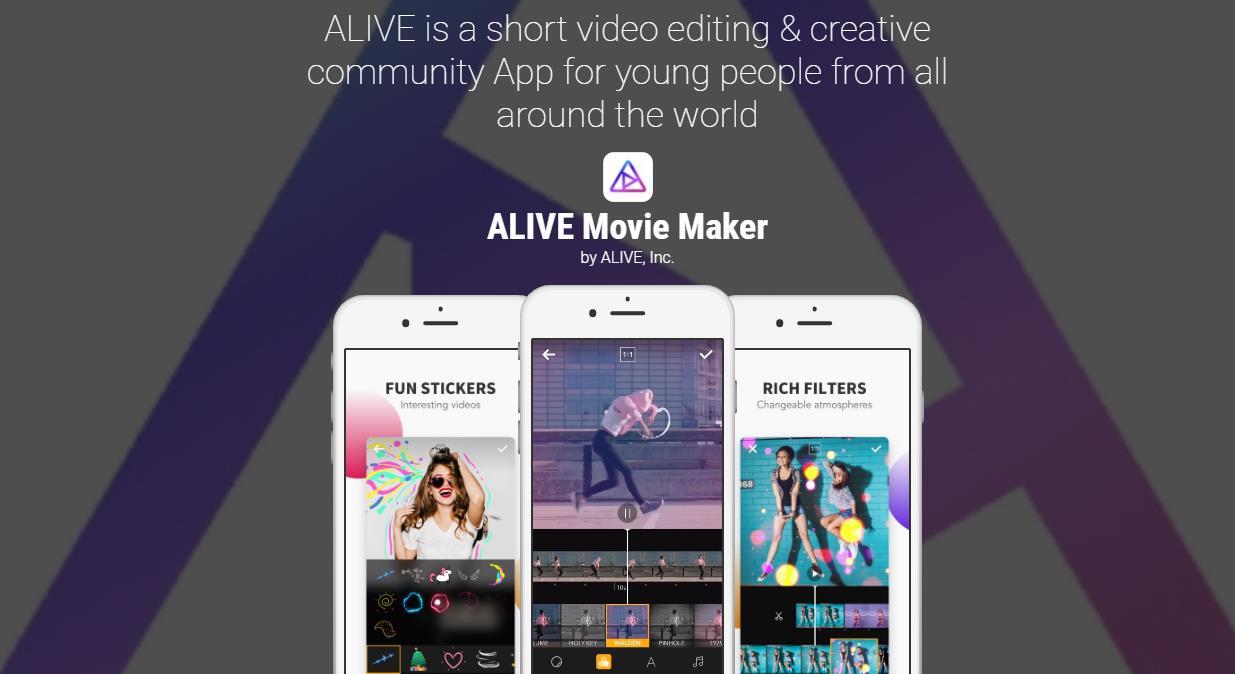 Summary
These are the 16 best video editing apps we recommend. Using them, you can edit your videos anytime, anywhere, and bring explosive growth to your social media accounts.