Key Features:
User-friendly interface: Fotor app features a user-friendly interface that is easy to navigate, making it suitable for both beginners and advanced users.
Batch processing: With Fotor's batch processing feature, you can save time by editing multiple photos at the same time.
Cross-platform accessibility: Fotor is available not only as a mobile application, but also as a web-based editing tool, providing flexibility and accessibility across different devices.
Multiple file formats support: Fotor supports a wide range of formats, ensuring compatibility with a wide range of image files.
How to Remove a Person From a Photo With Fotor App
Download and open Fotor app and upload photo you want to remove person from picture.
Click on AI background remover, choose the object remover.
Use eraser to remove unwanted people, click done.
Preview and download your photo.
Now, you have removed the unwanted part from a photo on iPhone using Fotor app.
Snapseed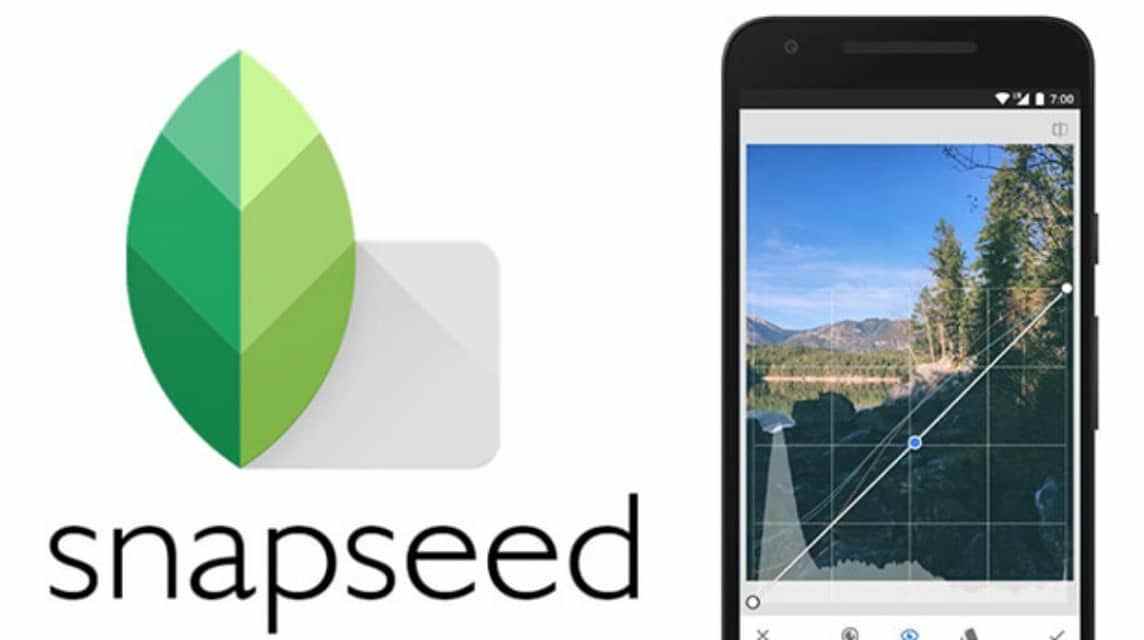 Snapseed is a professional, feature-rich photo editing application that offers a wide range of tools and effects to enhance your images directly on your smartphone. With its user-friendly interface and powerful editing features, Snapseed allows you to remove person from your photos with precision and ease.
Snapseed "Heal" tool is another powerful feature that removes unwanted elements from the background. It intelligently analyzes the surrounding areas and seamlessly blends them to fill in the removed parts, resulting in a smooth and natural looking image after removing the person or unwanted part.
In addition to these tools, Snapseed offers a wide range of other editing options, such as exposure, color adjustment, cropping and sharpening. These tools can further enhance the background and overall composition of a photo.
Key Features:
Professional editing tools: Snapseed offers a comprehensive set of editing tools for professional editor to edit photo on iPhone.
Perspective and crop tools: Snapseed offers powerful perspective correction and crop tools.
Stacking and reapplying edits: Snapseed's stacking feature allows you to save and reapply a set of edits to multiple photos.
Social media integration: Share your edited photos directly to social media platforms or save them to your device.
How to Remove a Person From a Photo With Snapseed App
Download and open Snapseed app and upload photo into tool platform to remove the person you don't need.
Click "Editing" icon on the bottom to get started, choose the heal tool.
Select the area you want to remove manually, and then delete.
Preview and click save option to save your photo edit.
Now, you have removed a person from a photo on iPhone using Snapseed app.
Touch Retouch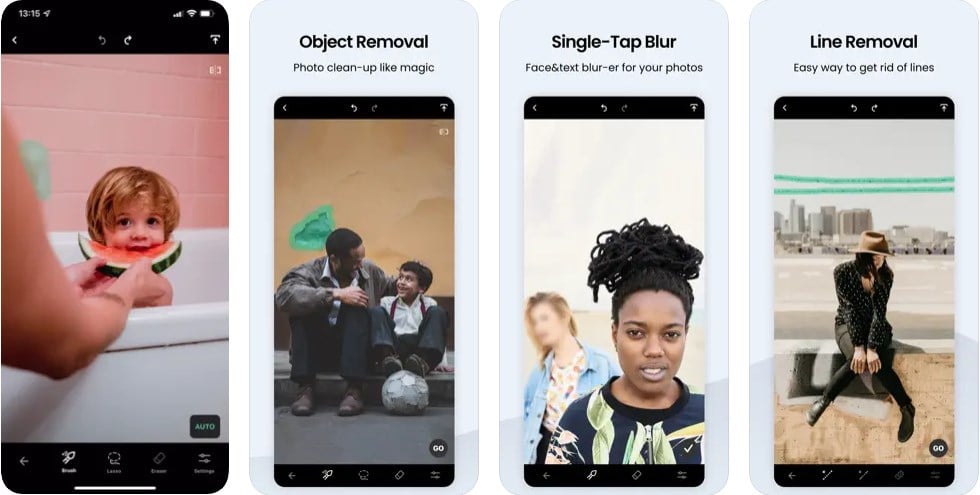 TouchRetouch is a powerful photo editing app, offers a variety of tools designed specifically for removing backgrounds, such as the Object Removal tool, which allows you to highlight and remove precisely any unwanted object. The Quick Fix tool lets you effortlessly clone and fill areas to seamlessly blend the background.
In addition, TouchRetouch's advanced algorithms ensure that the removed areas blend naturally with the surrounding background, resulting in a seamless and realistic final image. The application also supports high-resolution editing, enabling you to work with the most detailed photos without sacrificing quality.
Key Feature:
Quick Fix: It allows you to clone and overlay areas with similar textures.
Line Removal: This app can eliminate these ruined lines, wires or poles when editing photo with just one swipe.
Clone Stamp: great for blending and filling in areas of your background that need adjustment.
Smart Brush: Use the Smart Brush tool to select and delete complex objects in your photos.
Multi-touch support: TouchRetouch supports multi-touch gestures, allowing you to zoom in and navigate through photos for precise editing.
How to Remove a Person From a Photo With Touch Retouch App
Download and open Touch Retouch app and upload your image from your iPhone.
Use Lasso or Brush Tool to select the person you want to remove from image.
If you choose the lasso tool, simply draw a constant line around the object. If you choose a brush, select the brush size and draw over the person to remove them.
Click the Start button at the bottom of the screen to delete the selected object.
Now you have removed the person from a photo on iPhone using Touch Retouch app.
Conclusion
Removing people from photos on your iPhone can be a challenging task. However, with the right apps, you can easily and effortlessly remove people from your photos. In this article, we have shared the best 3 solutions on how to remove a person from a photo on iPhone. The brief introduction and key features of those 3 apps are also covered.