Snapseed | Free Photo Editor for Quick Edits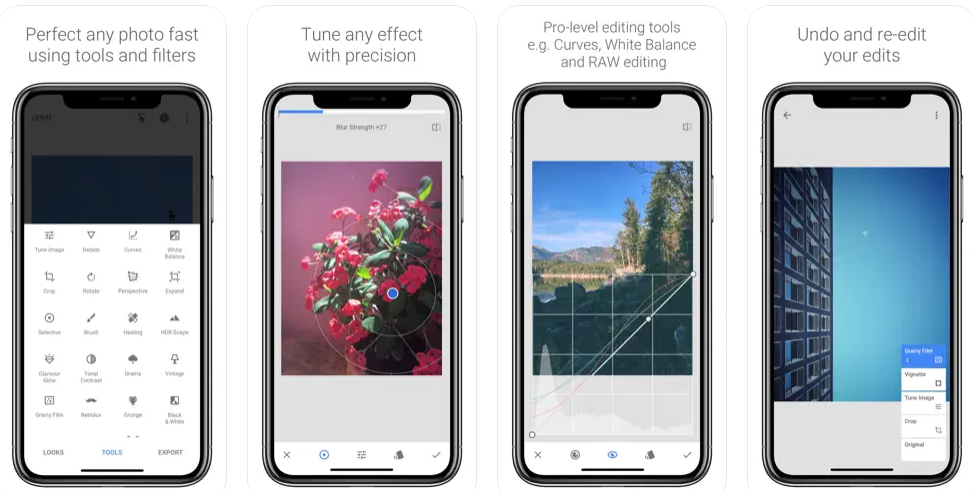 Snapseed, developed by Google, is one of the best free photo editing app that offers a wide range of editing tools and features. It provides precise control over various aspects of your images, including exposure, color balance, and sharpening. Snapseed also offers advanced features like selective editing, which allows you to enhance specific areas of your photos. The app's user-friendly interface and gesture-based controls make it easy to navigate and apply edits. With its professional-quality editing capabilities and the convenience of being free, Snapseed is a top choice for iPhone users.
Pros:
Pro-level editing tools with color curves, RAW editing, de-noise and more
Besides, this best free photo editor app is easy-to-use and this would save you a lot of time.
There'd no advertisement to affect your editing process.
Cons:
Plain selection of editing elements (i.e. photo frames)
Lack of photo collage, stickers, templates. Most decorative elements are absent in Snapseed
Pricing:
Adobe Lightroom | Best iPhone Photo Editing App for Cross-platform Edits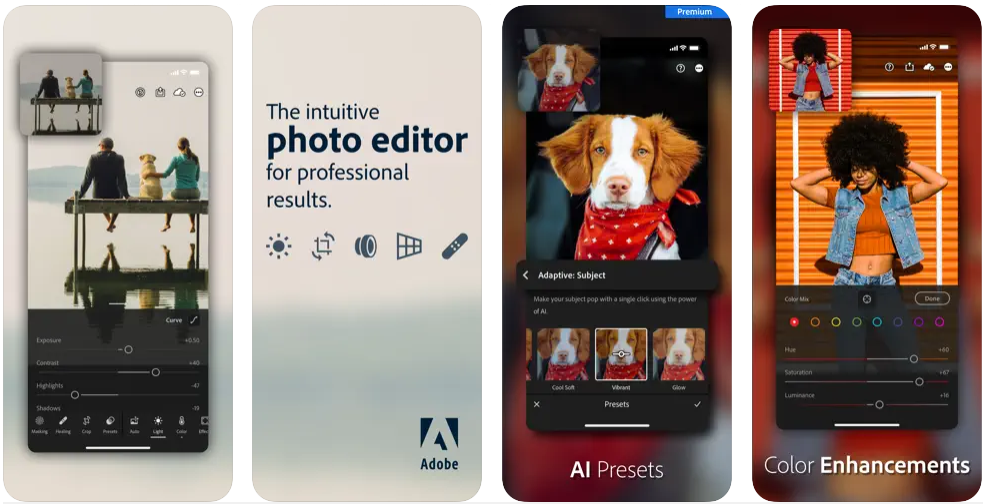 Adobe Lightroom is a feature-rich photo editor that provides advanced editing capabilities on both mobile and desktop platforms. This best photo editing software offers powerful editing tools like exposure, color adjustments, curves, and selective editing. What sets Adobe Lightroom apart is its seamless integration with Adobe's Creative Cloud, allowing you to sync your edits across multiple devices. You can start editing on your iPhone and continue on your computer, ensuring a consistent editing workflow. With its professional-grade editing features and cross-platform compatibility, Adobe Lightroom is a top choice for photographers who value flexibility and editing precision.
Pros:
Pro-level camera (manual adjustments for ISO, Exposure, and more)
Pro-level photo editing features (requires good levels of photography knowledge to make good use of it)
Cons:
Lack of photo collage, stickers, templates, backgrounds. Most decorative elements are absent in Lightroom
Pricing:
Picsart | Free Photo Editor for Inspirational Photo Ideas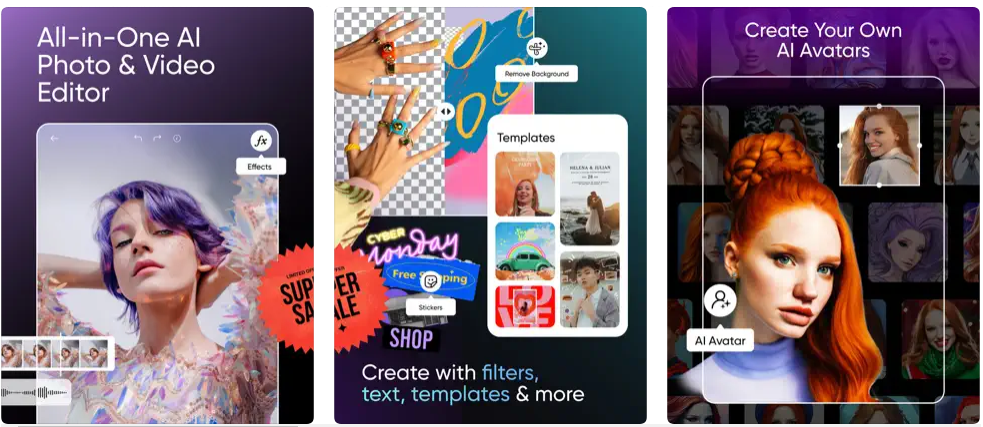 Picsart is an all-in-one photo editing app. It has tons of photo editing options, a huge range of creative tools, and it's also a video editor. It provides a vast collection of filters, stickers, text overlays, and collage templates, allowing you to unleash your creativity and create visually stunning images. Picsart also offers advanced editing features such as curves adjustment, blending modes, and double exposure. With its active online community, you can explore and share inspiring photo ideas with other users. If you're looking for a free photo editing app that sparks your creativity, Picsart is a fantastic choice.
Pros:
Supports creating stickers
Featured recreating edits
Edit images collaboratively
It is also a video editor
Cons:
Most free downloadable content are not professionally made
Live retouch is not available in camera mode
Pricing:
VSCO | Best iPhone Photo Editing App for Filters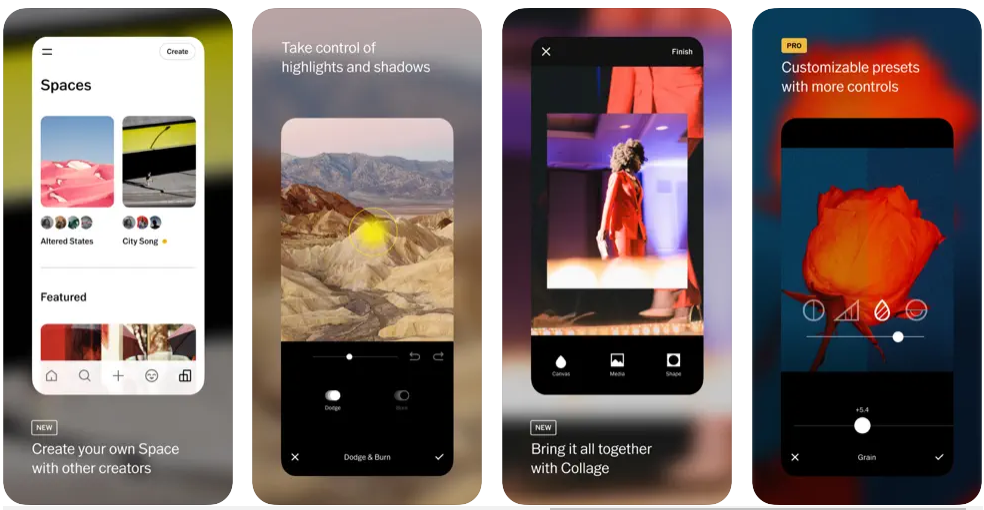 VSCO is a wonderful and best photo editing app, which is renowned for its impressive collection of filters and film-like presets that add a unique aesthetic to your photos. The app offers a minimalist and intuitive interface, focusing on simplicity and quality. Alongside its filters, VSCO provides essential editing tools like exposure, temperature, and grain adjustments. VSCO also functions as a social platform, allowing you to share your edited photos and discover works from other photographers. If you're fond of applying filters and creating a cohesive visual style for your photos, VSCO is the perfect app for you.
Pros:
This best free photo editor bears community platform and more than 200 presets and tools and advanced photo editing tools like filters with artificial light.
a well-defined interface for users and the algorithm could detects your activities to provide relevant suggestions to you then you could find the editing function in a short period of time.
Cons:
There is no dark mode available.
You couldn't get access to the web editing.
Pricing:
BeFunky | Best Free Photo Editing Software with Unique Features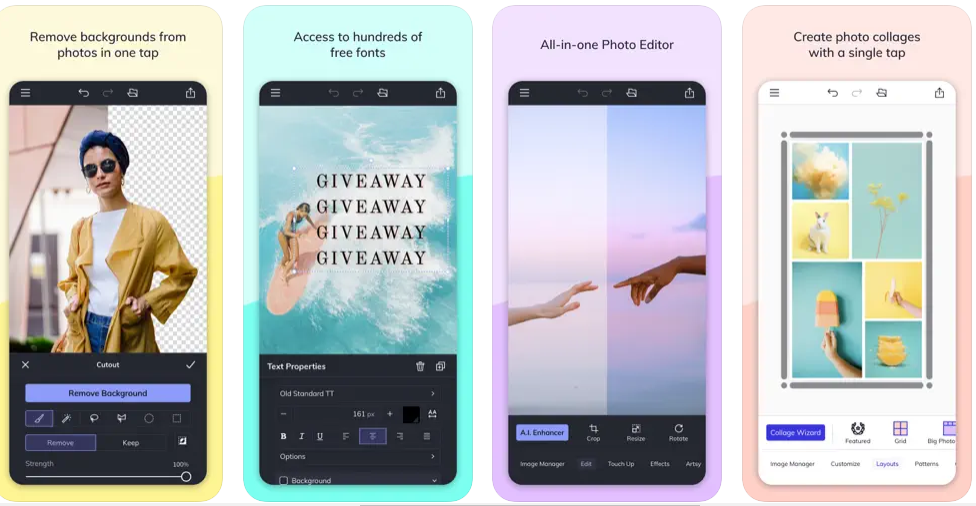 BeFunky is a free photo editing app with unique features that allow you to add color splash effects, design your own graphics, and create custom collages. Basic editing is free, but some features require a subscription. As one of the picture editing apps, BeFunky bears features like AI-powered editing tools that is easy to use and this best free photo editing app provides you with tools at the outset to suit your specific editing needs.
Pros:
This free photo editing software is users-friendly and offers you with free and fast options for editing images.
You don't have to make any registration or account. Besides, you are able to upload several photos at the same time.
Cons:
Too many advertisements and additional editing function for mobile requires purchasing.
Pricing:
YouCam Perfect | Free Photo Editing App for Selfies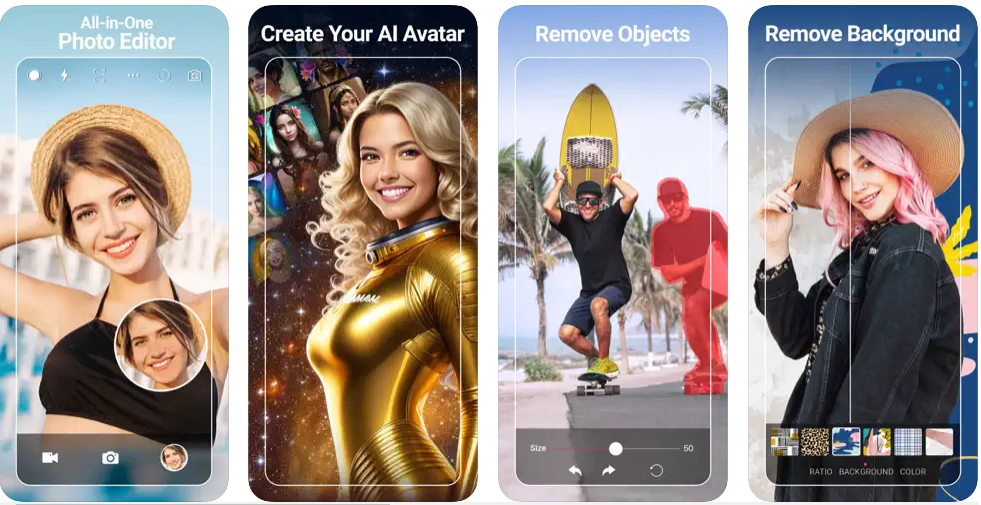 If you're a selfie enthusiast, YouCam Perfect is the perfect photography editing app for you. It offers a range of tools specifically designed for enhancing selfies, including skin smoothening, blemish removal, teeth whitening, and face reshaping. YouCam Perfect also provides various filters and effects to enhance your selfie game further. The app's intuitive interface and real-time editing capabilities make it easy to achieve the perfect selfie with just a few taps. For those who love capturing and sharing selfies, YouCam Perfect is a must-have photo editing app for iPhone.
Pros:
The built-in fashion social network named Beauty Circle in YouCam Perfect provides the make-up, style and fashion of latest trends. You could edit your images there to make fashion photos of your own.
Lots of ready-to-use editing content (i.e. photo frames, collages, stickers, filters and more)
Photo retouch features to beautify selfies in a few taps
Intuitive multi-layer photo editing
Cons:
Not yet supports LUTs filter for professional photography usages
Pricing:
PhotoDirector | Best Photo Editor App for Animations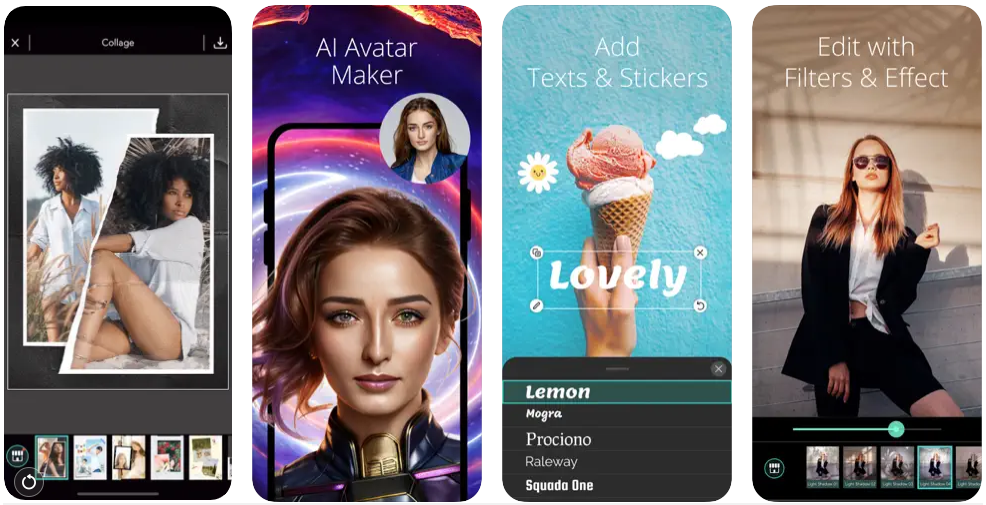 PhotoDirector is a versatile photo editing app for iPhone users that stands out with its animation capabilities. It allows you to create stunning motion stills by adding movement to specific elements of your photos. You can create cinemagraphs, animated overlays, and slideshows directly from the app. PhotoDirector also offers a range of editing tools and filters to enhance your images further. With its unique animation features, PhotoDirector provides a creative and engaging way to bring your photos to life.
Pros:
Light and color adjustment tools
Quick apply filters and effects
Photo and beauty retouch tools
Animation tools and animated overlays
Cons:
Pricing:
Conclusion
In this post, we have talked about how to edit photos on iPhone and recommended the 8 best photo editing apps for iPhone users. Whether you're looking for all-in-one editing capabilities, professional-grade tools, creative filters, or selfie enhancements, there's a photo editor on this list for you. Experiment with these top 8 photo editing apps for iPhone and find the one that suits your editing style and preferences. With the power of these apps at your fingertips, you can transform your ordinary photos into extraordinary works of art.