Nowadays, everyone can be their own photographer with their phones. However, it is more significant to know how to edit the picture in order to get stunning photos taken by yourselves. For most of us, using the best photo editing app is the way to go.
But you may feel overwhelmed over a lot of photo editors in the market and so many options available including paid and free.
To help you out, we will share you the best free photo editing apps for you to select from. Come and check it out!.
9 Best Free Photo Editing Apps
Fotor
Fotor is one of the best free photo editing apps available both on iPhone and Android. The compatibility is pretty good. And this best free photo editor app bears the powerful AI photo editing and beautifying tools for you to master how to edit photos on iPhone or Android.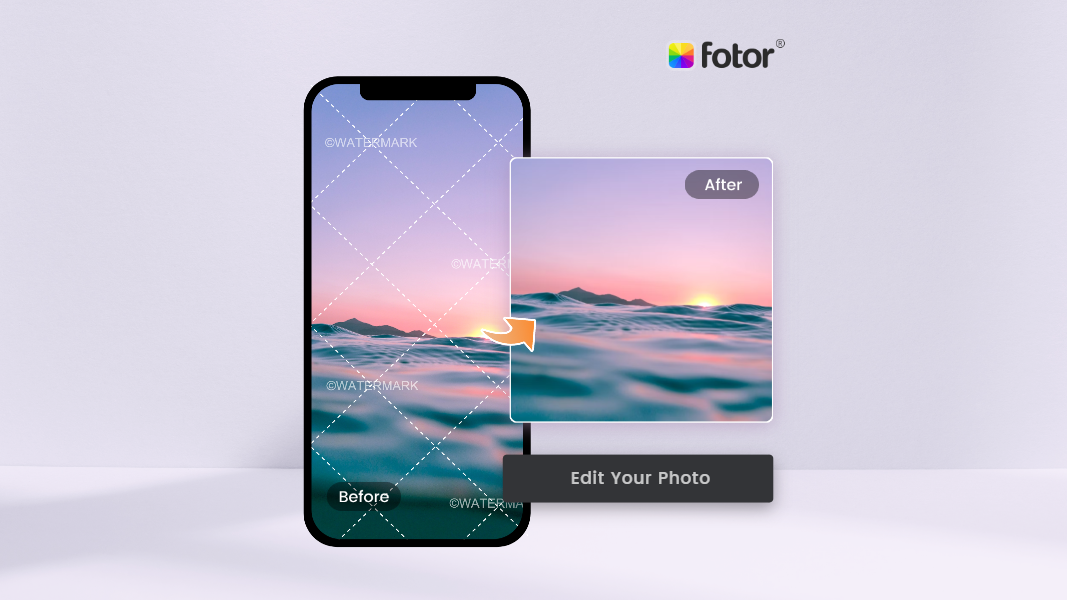 Pros
It's quite comprehensive in offering users different image manipulations including images editing, special effects implementation, filters application and more.
The operations procedure is simple and easy to conduct based on advanced image editing techniques. You could apply background remover, add a vignette, sharpen image, blur image or colorize the images, remove red eyes, adjust brightness, search for perfect contrast, fine-tune the saturation and more.
Powerful AI based features are available within few clicks in seconds such as image cropping and image resizing, background remover, image sharpener, AI image generator, photo colorizer and photo to coloring page maker and more.
More than 30000 stickers and elements provided for you to unlock your creativity and to edit stunning photos to perfection for sharing.
Multiple photo effects like photo to art will turn your image into the style that is stunning and amazing.
Cons
The space of uploading photos is limited to 20MB
PhotoDirector
PhotoDirector is one of the free photo editing apps for both IOS and Android users, too. There are many features available for you to practice how to edit photos on iPhone to look professional or Android device.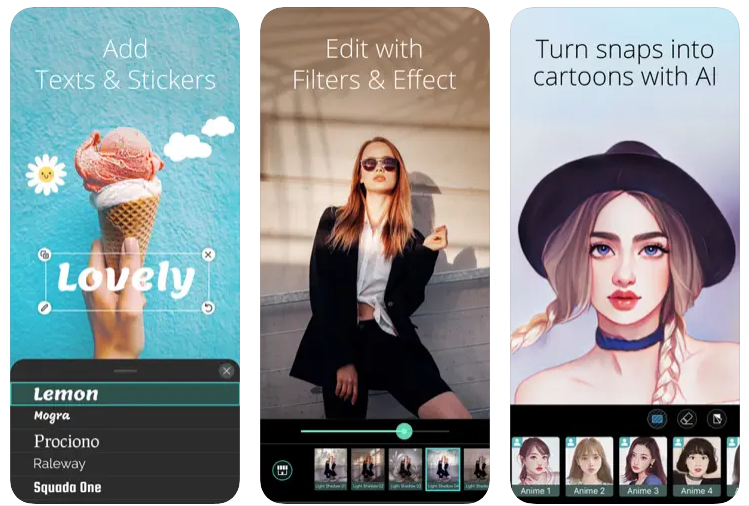 Pros
There are the tools for you to cartoon your image and produce caricatures and the technology powered by AI to remove people and object from photos. Besides beauty retouch tools like photo retouch, eye bags removal, teeth whitening and so on are provided.
You could edit your images easily with the preset collage, filters and stickers. Lighting and color tools are also available for you.
What's more, this free photo editing app bears comprehensive creative control, an easy-to-use interface and a royalty-free stock library.
Its tool for AI avatar creation is easy to conduct within few clicks.
Cons
The noise corrections are weak and the lenses options are not enough.
Besides, the speed of editing images is a little bit low. And the library management is poor.
YouCam Perfect
YouCam Perfect is another best free photo editing app powered by AI photo editing and beautify tools.
Pros
The built-in fashion social network named Beauty Circle in YouCam Perfect provides the make-up, style and fashion of latest trends. You could edit your images there to make fashion photos of your own.
And the skin smoother tool of this best free photo editor software could remove wrinkles and other skin blemishes to product high quality photos. Besides the Eye Enlarger and Eye Bag Remover tools could help you polish the outlook of your images.
Another advantage of this free photo editing software is the Face Reshaper. With this tool, you could improve your facial features by making it more symmetrical or adding contours to highlight the cheekbones and the jaw line.
Cons
This best free photo editor app would require purchasing for advertisement removing.
Snapseed
This best photo editing software is under the flag of Google while it's also the best free photo editing app for iPhone and Android.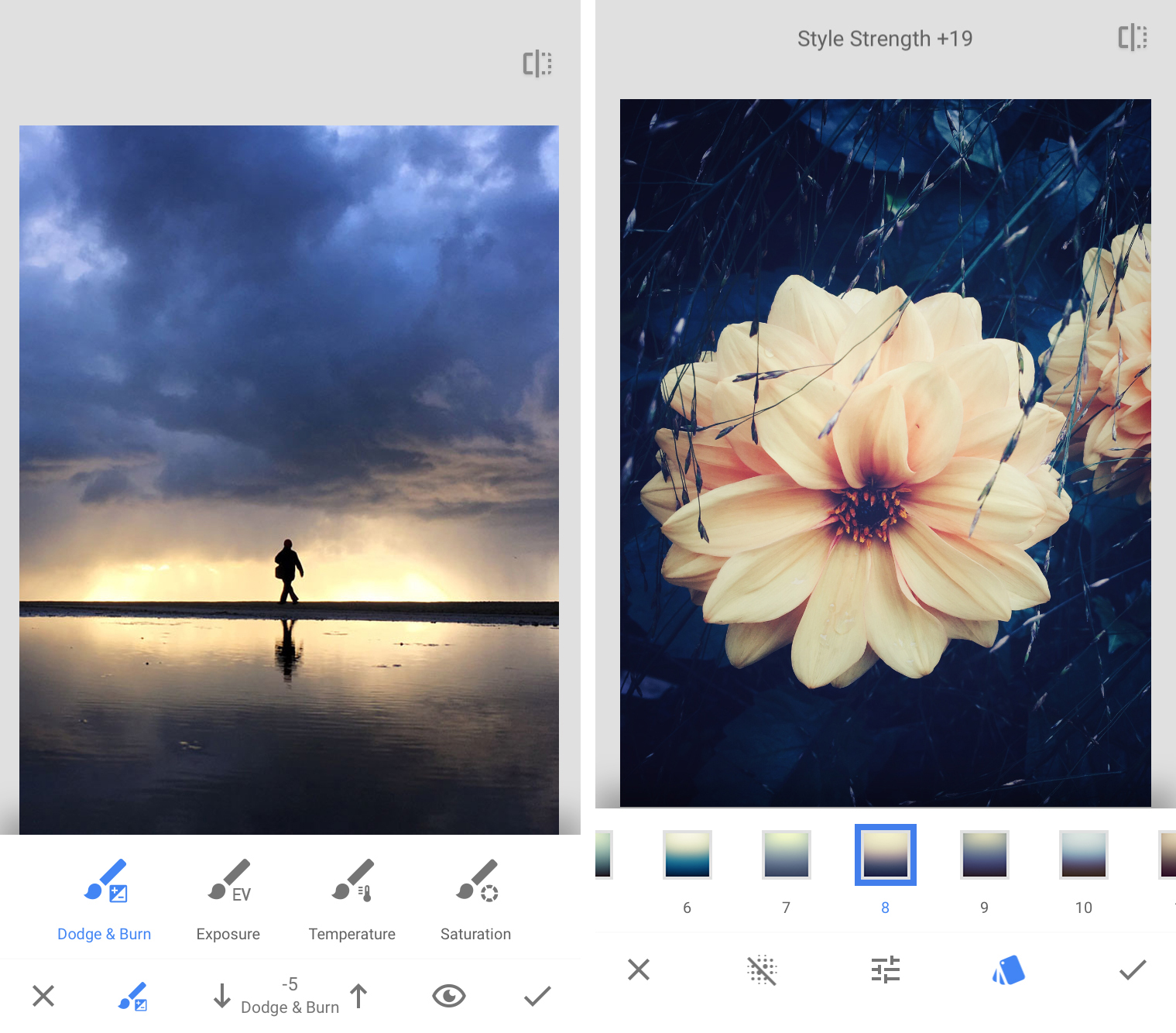 Pros
There are some editing tools of professional grade, especially helpful for inexperienced users. And a lot of features available to you like editing brightness, shadows, curves, contrast. You could use it to improve the look and quality of your photos, add high-definition effects, fix red-eye and add filters.
Besides, this best free photo editor app is easy-to-use and this would save you a lot of time.
There'd no advertisement to affect your editing process.
Cons
You should take some time to learn the process of operation beforehand.
It's not suitable for complete beginners because there's no guidance for initial experience.
To save your editing photos there, you should make sure it's effective.
FaceTune
As the best free image editor, FaceTune bears features that is users-friendly including skin touch-ups, face-reshaping, hair colors changing and makeup as well as Neon filters and light effects.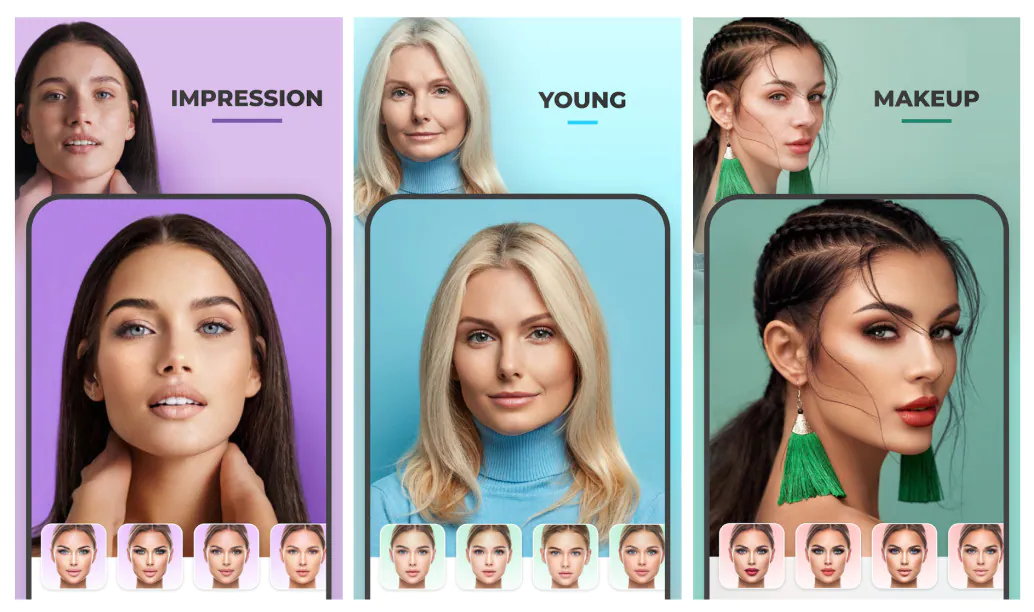 Pros
Free picture editing apps like this offers various tools like different patterns for clothing, with which you could swap the ones you are wearing and change it into the one you want to match the environment.
And the backdrop tool could help you remove the existing background while offering free backdrop templates for you to change.
It's especially friendly for it offers a walk-through for every feature so that users could follow the process easily.
Cons
Facetune doesn't bear its own social network for sharing.
Edited photos from camera bears better visual effect than FaceTune's live preview feature.
BeFunky
As one of the picture editing apps, BeFunky bears features like AI-powered editing tools that is easy to use and this best free photo editing app provides you with tools at the outset to suit your specific editing needs.
Pros
This free photo editing software is users-friendly and offers you with free and fast options for editing images.
You don't have to make any registration or account. Besides, you are able to upload several photos at the same time.
Cons
There are too many advertisements and additional editing function for mobile requires purchasing.
VSCO
VSCO is the best free photo editing app for professional editing available both for iPhone and Android.
Pros
This best free photo editor bears community platform and more than 200 presets and tools and advanced photo editing tools like filters with artificial light.
It bears a well-defined interface for users and the algorithm could detects your activities to provide relevant suggestions to you then you could find the editing function in a short period of time.
Cons
There is no dark mode available. And you couldn't get access to the web editing.
PicsArt
PicsArt is best free photo editing app for iPhone and Android users who are looking for striking and bolder editing app.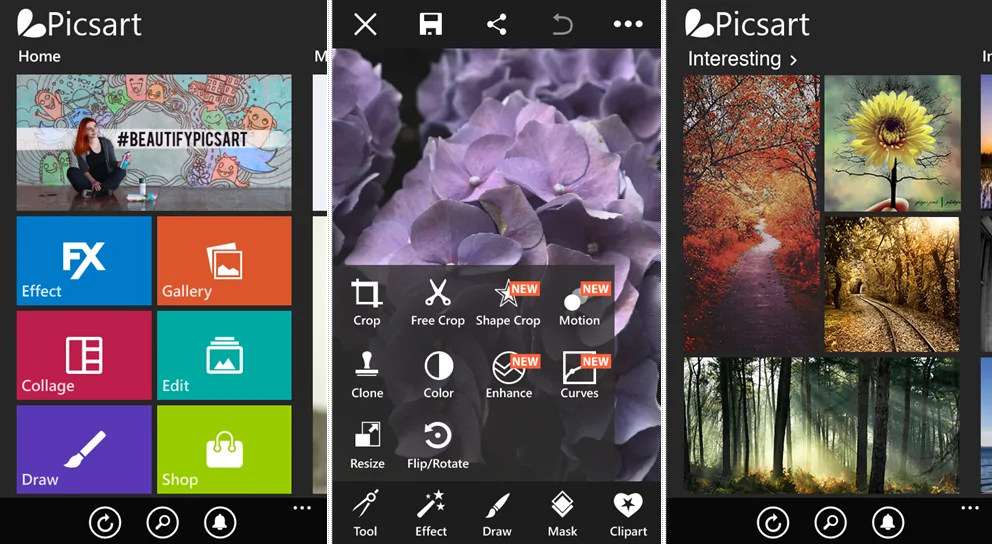 Pros
There are pre-designed templates, image Images resolution customization for you. And there's no watermark on free version
Cons
Sometimes the app would stop during the editing process and it's not very friendly to complete new users for no tutorial of basic editing is available.
Besides, there's no auto save option for you.
Adobe Photoshop Camera App
Adobe Photoshop Camera is one of the free photo editing apps for iOS and Android. This app could help you add the best filters and effects on photos in real-time.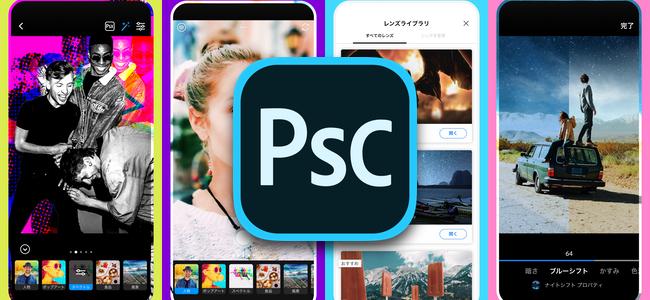 Pros
There are more than 80 Filters available for you including portrait, studio light, pop art, natural skies, double expo, prism, mixed media and more.
The auto-Tone and Content-Aware Recommendations could help you choose the proper effects to apply to gain the best result with AI.
And the portrait controls like Bokeh, Face Distance, Face light and FACE Relighting are for you.
Cons
This free photo editing software requires high processing power. That means you should have a new Pixel, Galaxy and other powerful device to edit photos with this app.
What is the Best Free Photo Editing App
When choosing the free photo editing apps to retouch your photos, you may wonder what can be called the best free photo editing apps and what's the criteria to test them.
The users' experience and the function of the best free photo editor should be taken into account.
For beginners, photo editing apps that could offer great preset filters and fun animations would be better. While for experienced editors, best free photo editor app with advanced settings and ability to store pictures would be your good choice.
Besides, to suit the specific needs for different categories, users would make overall ratings and reviews based on some factors like the compatibility with mobile devices and the interface that is clear and easy-to-use or not, the quality and diversity of features, the updating speed, the stock content etc.
Fotor is the Best Free Photo Editing app that is qualified to retouch your photo to perfection accoding to all factors mentioned above!