Peachy | Body Editing & Face Slimming App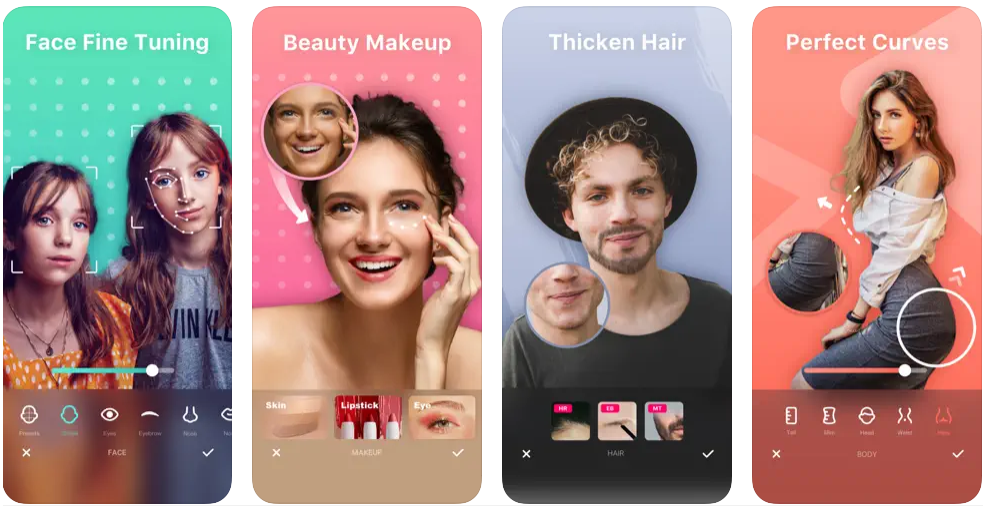 Peachy is a popular body editing app that specializes in slimming down body features and enhancing facial appearance. It allows users to reshape the body, slim the waist, enlarge or reduce specific body parts, and even retouch facial features like removing blemishes or wrinkles. It helps you meet the best version of you, smooth skin, whiten teeth, reshape face, fix blemishes, remove wrinkles, become taller, add makeup, tattoo, muscles & filters and so on. With its easy-to-use interface and powerful editing capabilities, Peachy offers a quick and effective way to achieve your desired body shape. Use its slider to enhance or slim each area to create stunning curves, or try its manual tool to refine any areas that need small adjustments.
Available for: iOS/Android
Key Features:
Reshape your body and facial structure
Refine a specific area of the selfie, for example, arms or facial features
Bloat your breast, enlarge muscles and facial features
Elongate your legs and become taller
Enhance your body both laterally and longitudinally
Pricing:
Offers in-app purchases
YouCam Perfect | Selfie & Body Editor App
YouCam Perfect is a versatile app that not only offers powerful selfie editing tools but also includes body editing features. With YouCam Perfect, you have unlimited Photoshop-like editing options so you can make necessary adjustments to maintain a natural look. Play around with the settings and have fun experimenting with different body shapes. YouCam Perfect is the best choice if you want a body editing app that gives you the most natural results and complete photo editing freedom.
Additionally, it also offers every tool you might need in a single app. It offers 2000+ exclusive effects, frames, filters, stickers, and other powerful and innovative editing tools for you to enhance your snaps.
Available for: iOS/Android
Key Features:
Enhance: Naturally enhance your body shape
Slim: Slim your waist, arms, or legs
Auto Waist: Auto waist detection for quick and natural adjustments
Auto Legs: Auto detect legs for easy editing
Taller: Lengthen your legs in pictures
Pricing:
Everlook | Easy Face and Body Editor App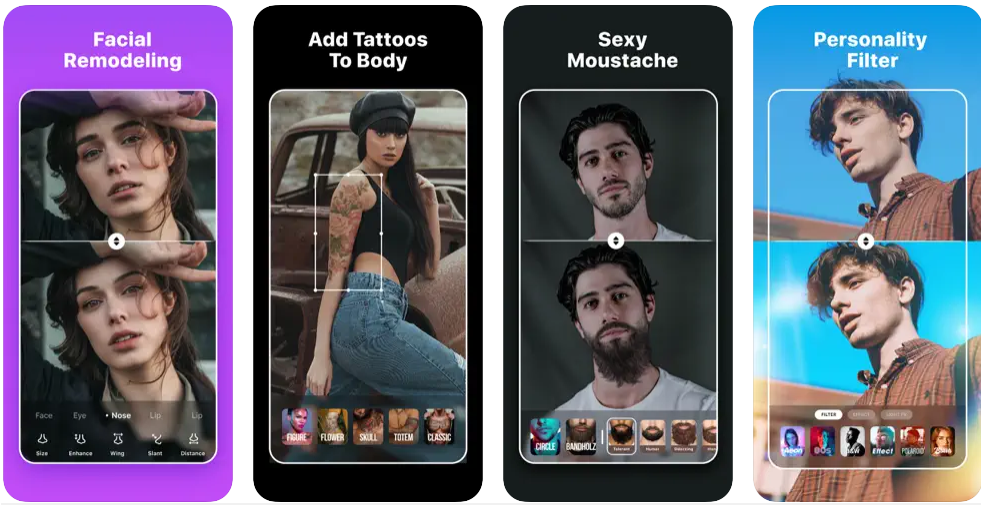 Everlook is an easy-to-use body editing app that focuses on enhancing both face and body features. It offers a wide range of tools to reshape and slim various body parts, adjust body proportions, and smooth skin imperfections. With Everlook's Reshape tool, you tap where you want to edit to slim or enhance your features. Repeated tapping isn't as convenient as a slider, but it offers a lot of flexibility to make more noticeable changes to your body.
Available for: iOS only
Key Features:
Fancy makeup and accessories
Pricing:
1-week subscription: $2.99
1-month subscription: $4.99
1-year subscription: $28.99
Permanent VIP: $69.99 (one-time fee)
Perfect Me | Best for Making Yourself Taller in Photos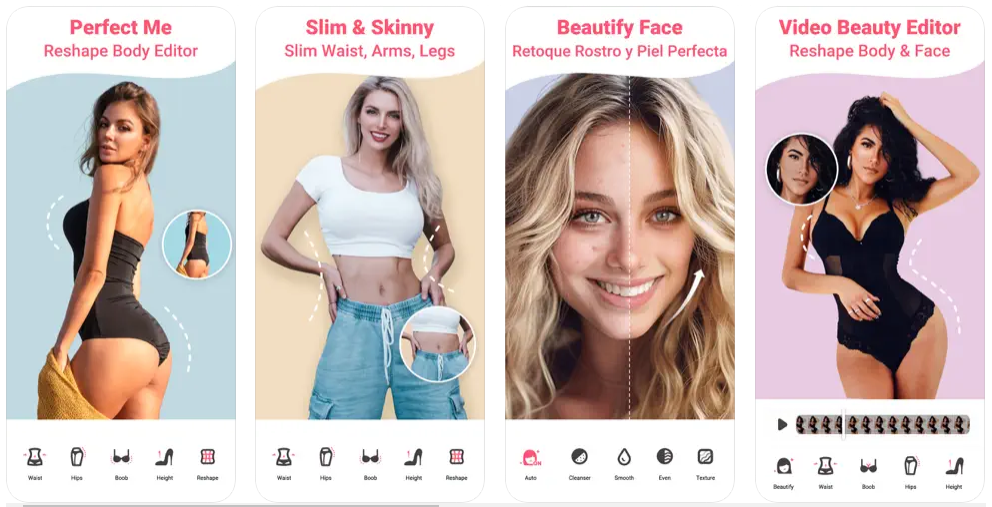 Perfect Me is a unique body editing app. You can almost get a plastic surgery effect from all the features that they provide. Especially in facial features. You can nudge your smile, plump your lips, grow a taller nose bridge, reshape your eyebrows, as well as animate your face. They are particularly keen on their nose editing feature.
The Perfect Me app gives you the option to perfect yourself in any way you want. When you take a photo that ends up looking less than perfect, a few edits can help it stand out.
Available for: iOS/Android
Key Features:
Body retouch options to adjust your height.
Body reshape options to slim down your waist and give you a skinnier body.
Fun options to add skin decorations like piercings and tattoos
Pricing:
BodyTune | Ready-made Filters for Body Correction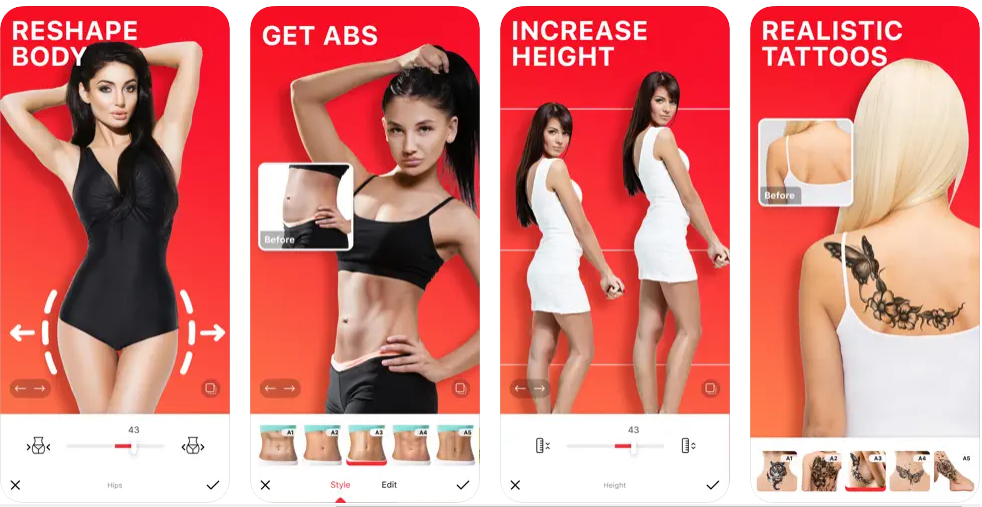 BodyTune is a popular body editing app that offers ready-made filters and presets to correct body proportions and enhance your appearance. Herewith, the app has an auto transportation tool that gives a makeover to your full body. It usually looks quite believable and natural but if want to change anything you can easily do that. Plus, you can lengthen any area on your body — from legs to the neck. You can also change your skin complexion and add tattoos to your body.
Available for: iOS/Android
Key Features:
It can help you reshape body curves with hips enhancement, thigh thinning and waist slimming.
Increase height to look taller in photos
Make your selection from 100+ pre-set muscle designs
Add solid six pack abs muscles
Get wider and larger chest and biceps muscles
Pricing:
Annual subscription: $29.99
Monthly subscription: $4.99
Photoshop Express | All-in-One Photo Editing App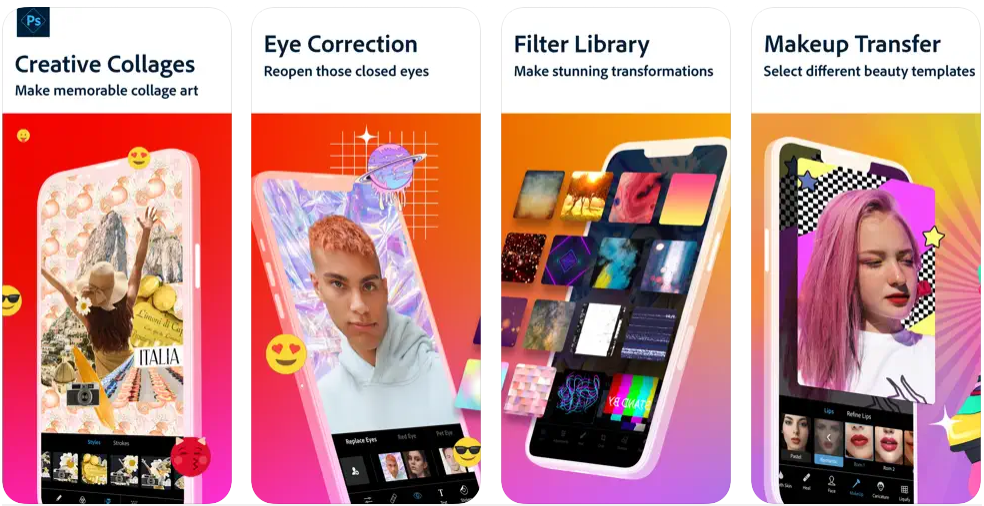 Photoshop Express, a well-known name in the world of photo editing, offers a comprehensive set of tools, including body editing features. With an intuitive interface, this body editing app allows you to reshape and resize your body. This means you can shrink any part of the body or enlarge them as desired. You can also give a finishing touch by applying dramatic filters or cropping photo dimensions. It provides advanced editing options and precise control, making it suitable for users with more editing experience.
Available for: iOS/Android
Key Features:
Retouch skin imperfections
Watch playbacks in the Discover feed to see how someone created a look you like
Pricing:
Conclusion
In this article, we have shared the 7 best body editing apps with you to help you get the perfect body shape naturally. Whether you want to slim down specific areas, adjust body proportions, or enhance muscle definition, the top eight body editing apps mentioned above offer a variety of features and tools to help you achieve your desired body shape. So, go ahead and explore these apps, and transform your photos to reflect your perfect body naturally!