With millions of users, Fotor is one of the most popular photo editors. It has a suite of advanced AI-powered editing features that simplify the editing process. You can enhance photos, fix lighting issues, retouch portraits, remove unwanted objects, change photo backgrounds, and much more- all with a single click.
You don't need to have any prior experience in image editing, Fotor's AI photo editor helps you achieve professional-grade results without any hassle.
If you're looking for an AI photo editor that's simple to use and can help you with complex editing, then Fotor is definitely the one for you.
Platform:
Web app, Windows, Mac, iOS, and Android
Some of the AI-powered features that Fotor includes:
✨ AI Photo Enhancer
Fotor's AI photo enhancer feature will automatically analyze and enhance your photos, fixing common issues like lighting and colors and unblurring images for a more detailed view.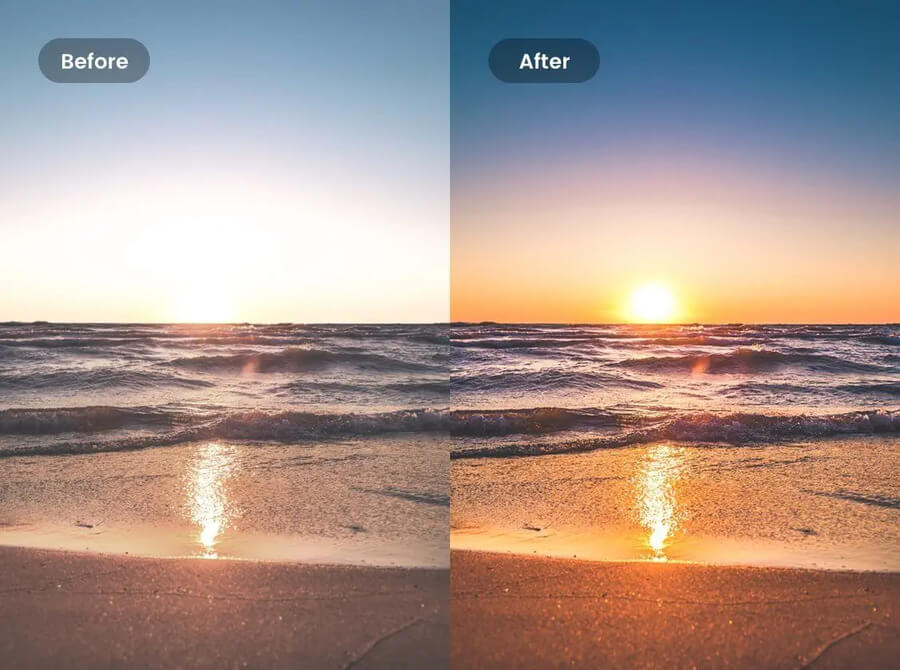 ✨ AI Background Remover
Powered by advanced AI technology, Fotor's background remover feature can accurately remove backgrounds from images in one click.
Additionally, Fotor offers a wide range of preset backgrounds that can be easily applied to your photos- solid color backgrounds, gradient backgrounds, and custom image backgrounds. You can effortlessly change backgrounds to give your photos a brand-new look!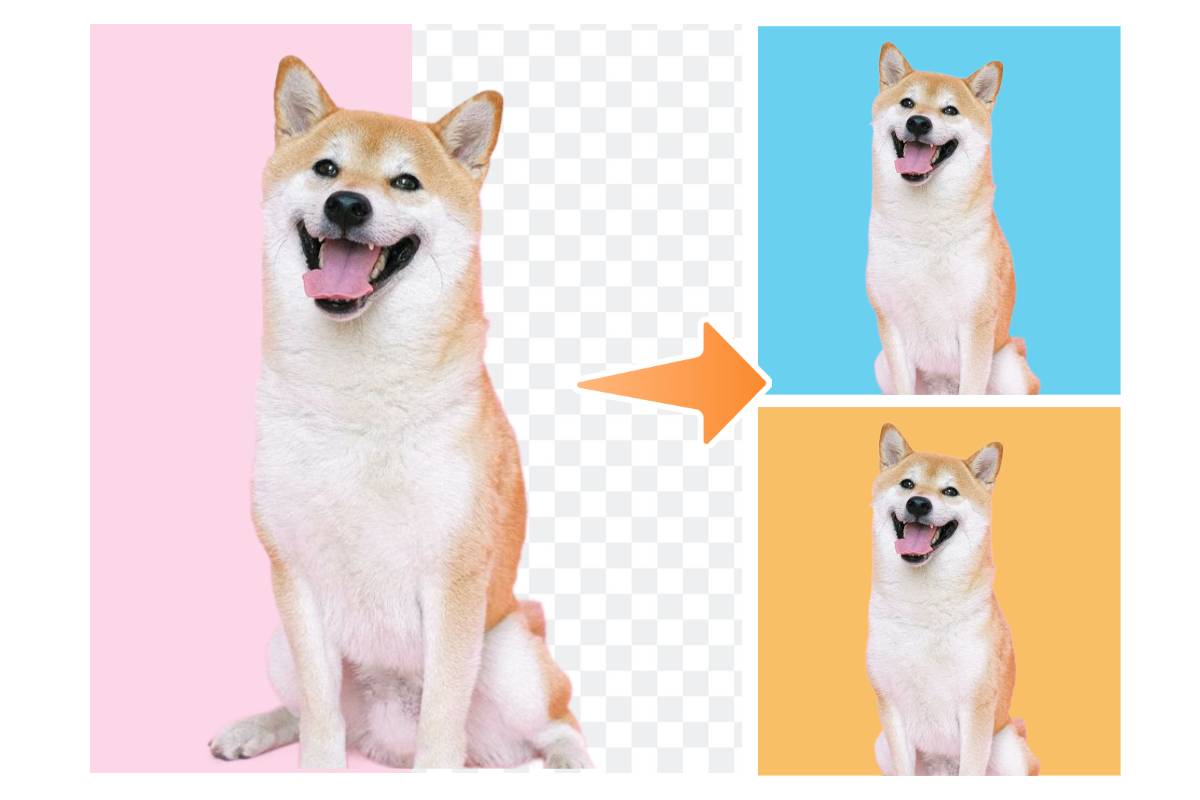 ✨ AI Photo Object Remover
Don't let unwanted photobombs or distracting clutter ruin your photos again. With Fotor's AI photo object remover, you can effortlessly remove unwanted objects from photos, just like they never existed. The process is fast and easy. No Photoshop skills are needed at all.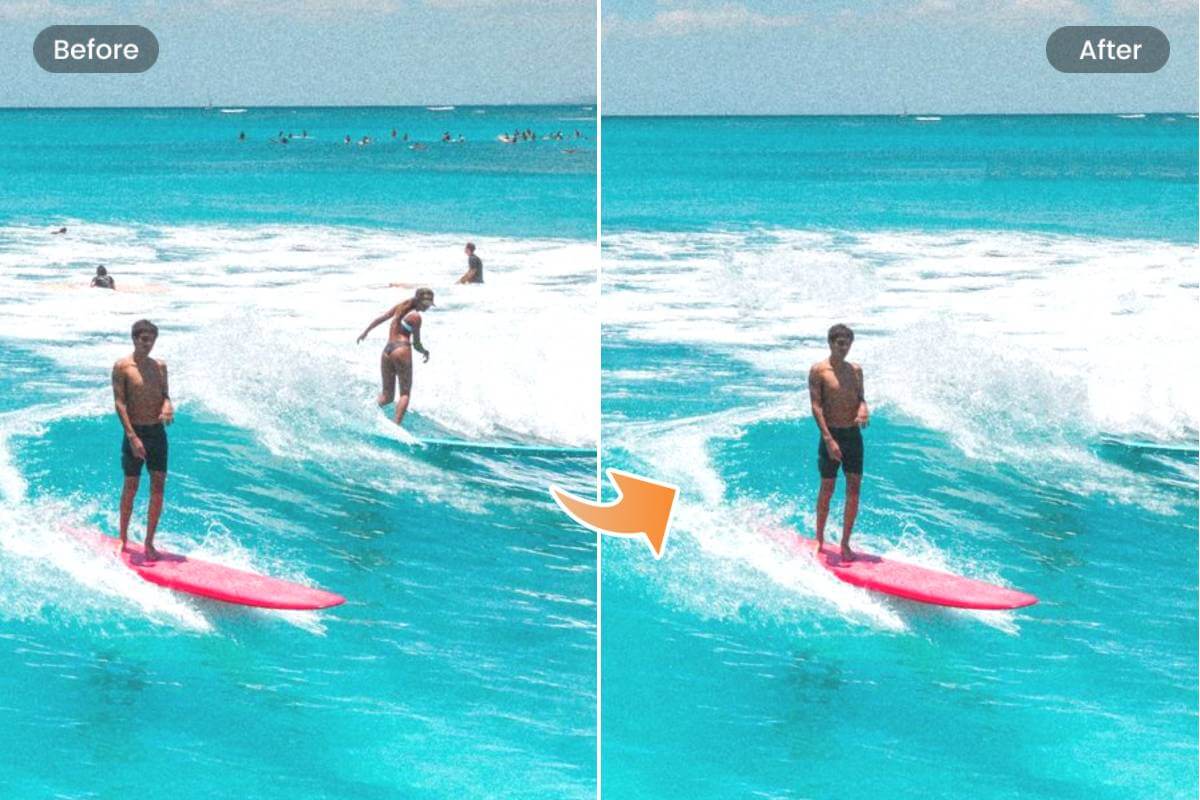 ✨ AI Image Generator
With Fotor's AI image generator, you can turn ideas into beautiful images in a matter of seconds. Just provide a simple text prompt, and the AI will create an image based on your exact description. You can use this feature to generate all types of AI images you want, including illustrations, animes, paintings, 3D renders, realistic photos, and much more. With this powerful feature, anyone can create AI art with ease.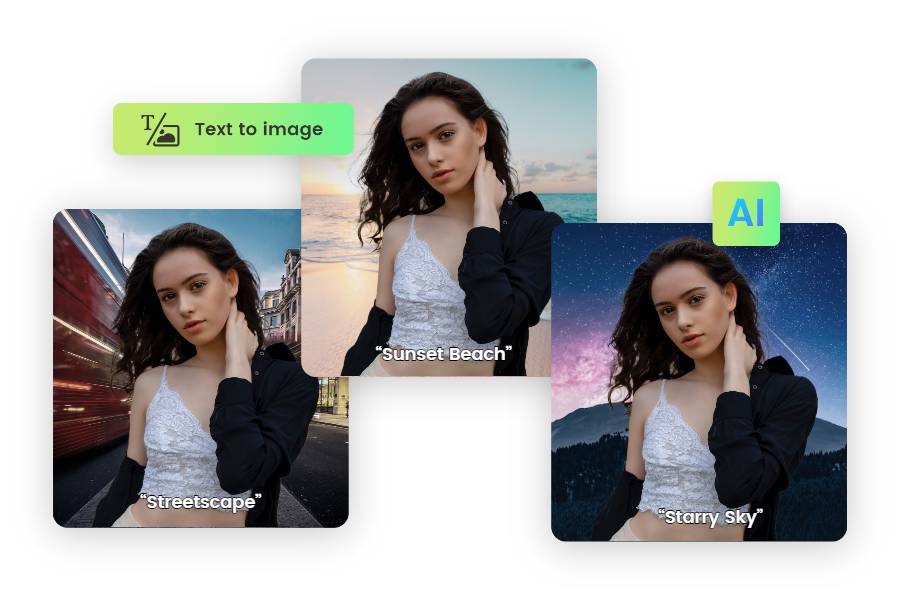 ✨ More AI Editing Tools on Fotor:
Luminar Neo- Best AI Photo Editor for PC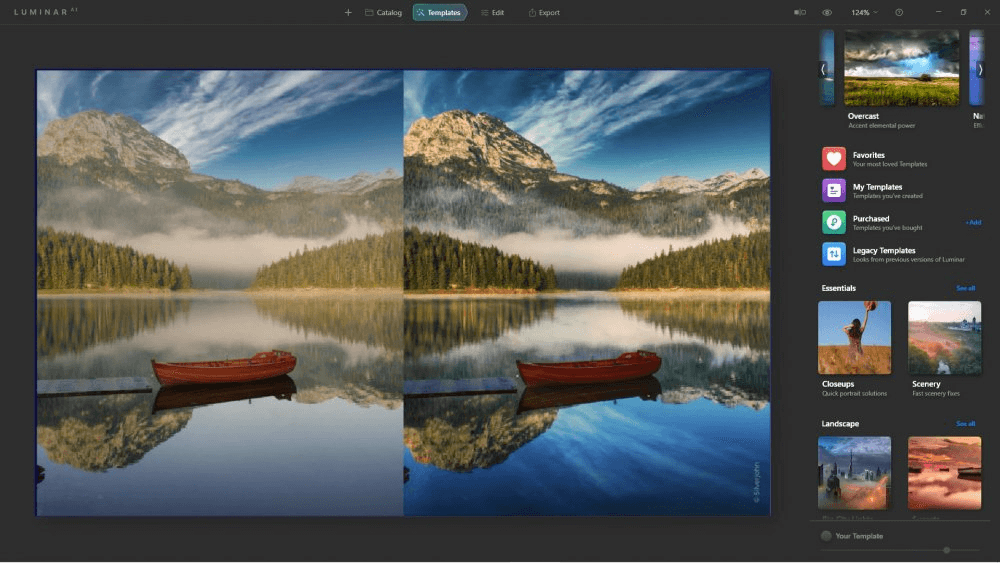 Luminar Neo is an AI photo editing software developed by Skylum. It offers a variety of AI-powered adjustment tools and filters to help you make quick and easy edits.
One of the standout features of Luminar Neo is it can automatically analyze and fix image issues such as noise, haze, and lens distortion. In addition to its automatic correction tools, Luminar Neo also offers a range of creative filters and effects that can transform your photos in no time.
Platform:
Windows, Mac, and Plugin for Photoshop & Lightroom
Some of the AI-powered features that Lunimar Neo include:
Sky AI: Automatically detect the sky in your photos and replace it with a new one in a very realistic way.
Composition AI: Automatically analyze and adjust the composition, crop, and perspective of the photo.
Portrait AI: Enhances facial features and skin for professional-quality portraits.
Enhance AI: Automatically optimizes exposure, contrast, and color balance to bring out the true colors of your photos.
Background Removal AI: Artificial intelligence detects your photo background and removes it automatically and accurately.
Pixlr- Best AI Photo Editor for Creative Editing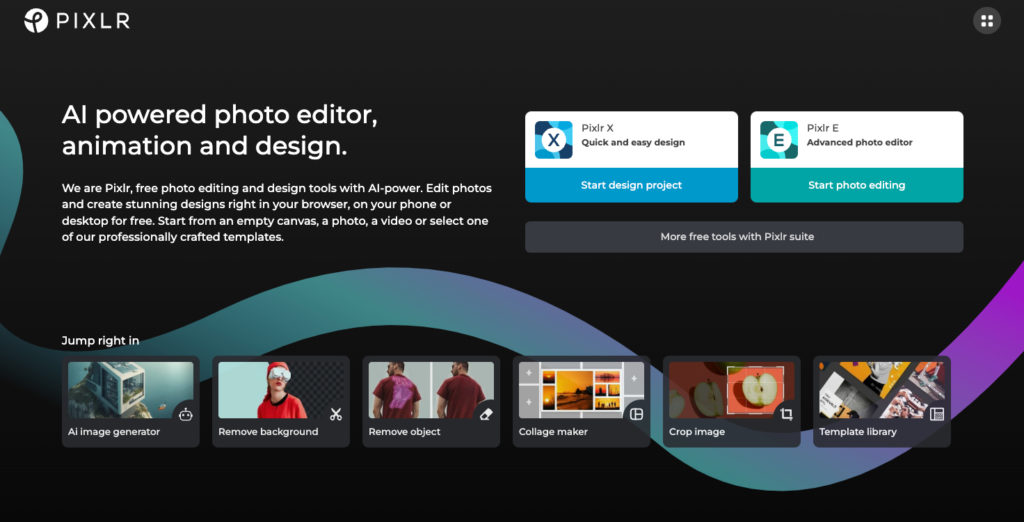 Pixlr is a powerful image editing tool that comes equipped with AI-powered features to help you create beautiful photos. Its auto image adjustment feature is impressive. Using deep learning algorithms, this feature analyzes your photos and instantly makes adjustments to improve their color, brightness, contrast, and saturation. It's 100% automatic. You'll be amazed at how fast it is to edit and enhance your photos with Pixlr.
Additionally, Pixlr recently launched a series of innovative AI features such as an AI image generator and AI Infill which gives you endless creative editing possibilities.
Platform:
Web app, Windows, Mac, iOS, and Android
Some of the AI-powered features that Pixlr includes:
AI Cutout: Effortlessly remove backgrounds and isolate subjects in your images.
Smart Resize: Resize images while preserving the original quality, so you can easily create and integrate photos across different platforms without having to manually adjust the size and aspect ratio of each image
AI Image Generation: Type in words, and the AI Image Generation tool will generate a custom image accordingly.
AI Infill: This tool uses machine learning technology to transform any part of your images.
Let's Enhance- Best AI Photo Editor for eCommerce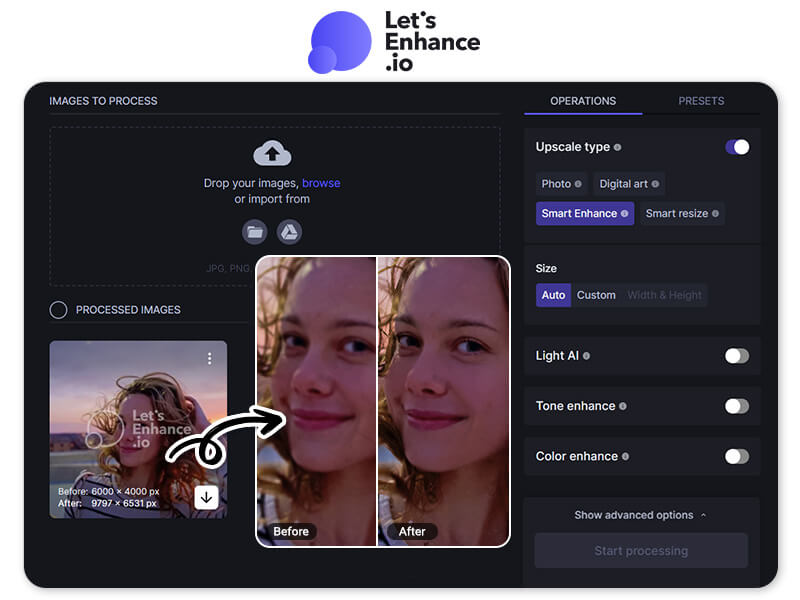 Let's Enhance is a powerful AI photo editor specifically for image enhancement. Its advanced AI technology can analyze and convert low-quality, blurry images into high-resolution images with just a click, and the results are truly stunning.
Let's Enhance lets you enlarge and upscale image resolution by 2x, 4x, 6x, and 16x. It's a very useful AI photo editor for eCommerce which requires high-quality product images.
Platform:
Web only
Some of the AI-powered features that Let's Enhance includes:
AI Image Enhance: Automatically improve the overall quality of an image, restoring lost details and bringing out the true colors.
AI Image Upscaling: Increase image resolution up to 16x without losing quality. Make images ready for large prints and high-resolution screens in seconds.
AI Noise Reduction: Automatically remove noise and artifacts from images, making them look cleaner and more professional.
Befunky - Best Online AI Photo Editor for Beginners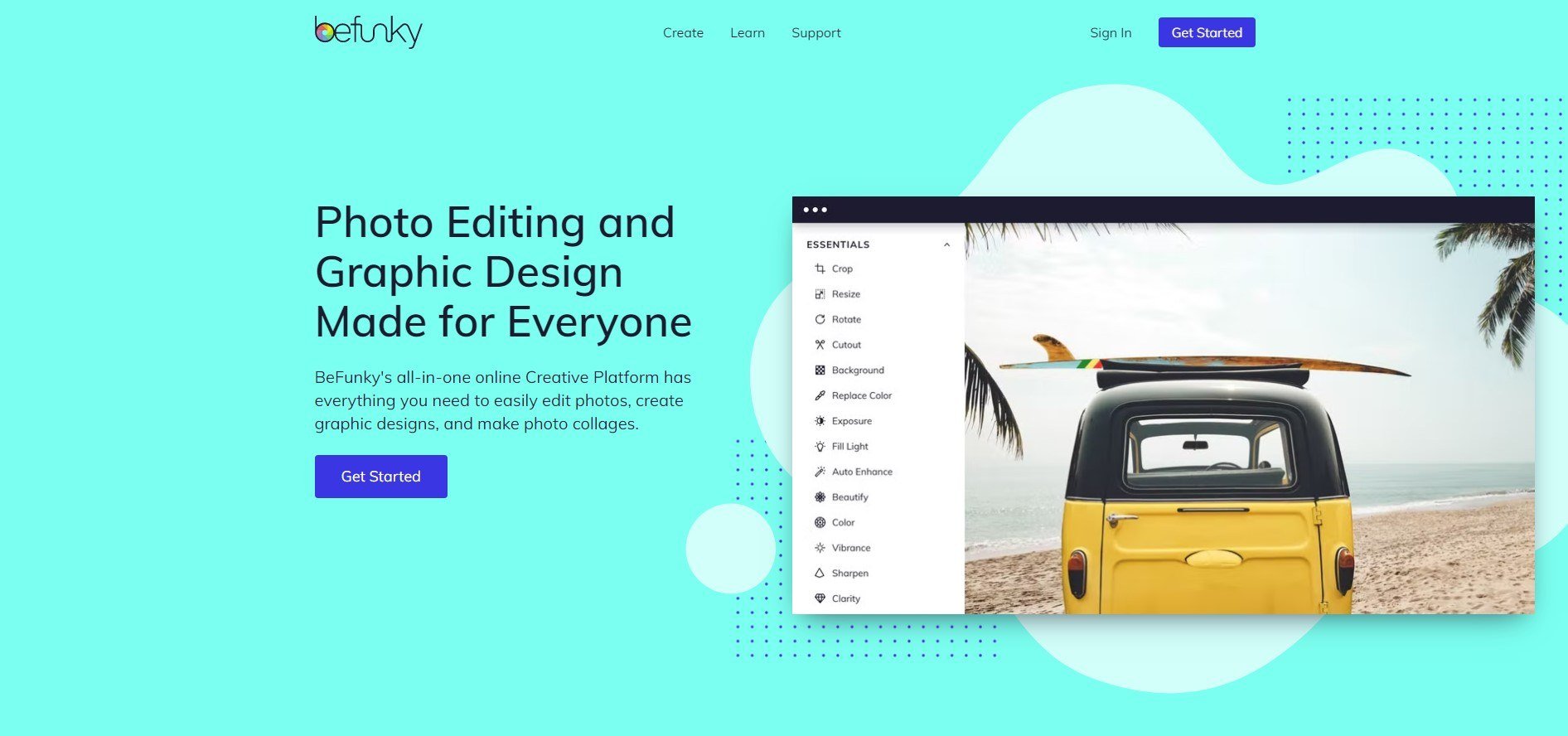 Befunky is a user-friendly photo editor that incorporates AI-powered features to help you edit photos effortlessly.
From image enhancement to skin smoothing and object removal, BeFunky's AI tools automate everything. It can save you a great deal of time and effort over manual editing.
Platform:
Web app, iOS, and Android
Some of the AI-powered features that Befunky includes:
AI Portrait Enhancer: Automatically smooth out skin and remove unwanted acne, wrinkles, and blemishes in portrait shots.
AI Background Remover: Remove backgrounds, create transparent backgrounds, and change photo backgrounds quickly and accurately.
AI Image Upscaler: Enlarges photos while preserving details and minimizing artifacts or pixelation.
AI-Powered Filters and Effects: Vvarious one-tap photo filters and effects for unique and creative image transformations.
Final Words
Enjoy automatic photo editing with these 5 best AI photo editors. By utilizing AI photo editors in your workflow, you can save time and achieve high-quality results. Don't waste any more time editing photos manually- experience the power of AI photo editing today!