When creating a resume, font and size are important design elements that you must consider. The right font for your resume can make a good first impression on an employer or recruiter. With the right font and size, your resume will be readable to employers and stand out from the competition.
In this article, we will share the best fonts for resumes, standard font sizes, and free resume templates that you can use when creating a professional resume.

Why You Should Choose a Good Font for Your Resume?
When designing your resume, you should know that the employer or recruiter will have an overall impression and judgment of you at first glance of the resume design.
The whole design of a resume includes the layout, color scheme, font, font size, and other elements that can determine whether it makes a good impression on the employer. Among them, the font for a resume is the most influential element.
The first thing to consider in choosing an appropriate font for resumes is the readability of the font. And you should make sure that your font for resumes are good for the ATS system. A good resume design is not one that uses flashy fonts, but something that clearly conveys your work experience or job application strengths to the employer.
Then, a good font for a resume can help convey your personality and tell the employer that you have devoted a lot of time and effort to this resume.
So, choosing a professional font for resumes can help you stand out from the competition.
7 Best Fonts for Resumes You Should Try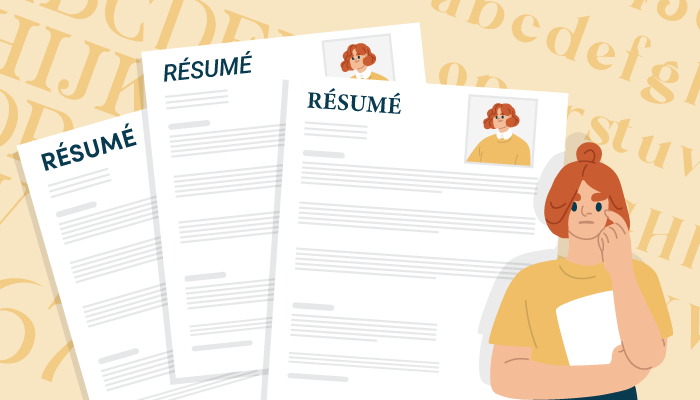 Since you've learned the importance of a good resume font, you can now take a look at the recommended fonts for resumes below. Compare the various resume fonts below and pick up the best font for resume design.
Times New Roman
As one of the classic fonts, Times New Roman has received popularity in resume design. First of all, the readability of the font is its biggest advantage. Even if the text font is small, the content can be clearly visible. Secondly, it is also the most common font in many documents, which makes it naturally familiar to employers.
Arial
Arial is one of the most popular modern fonts. It makes text legible and works well on electronic screens or in printed documents. Likewise, it is one of the widely recognized fonts. This font is often used in branding and website design, and you can use it if you are applying for a job that deals with websites on a regular basis.
Calibri
As Microsoft's default font, Calibri definitely renders well in documents and does not appear to make resumes unreadable. It is worth mentioning that it has won awards for fonts. If you are a cautious person, you can choose Calibri as your resume font.
Georgia
Georgia is a font that you can never go wrong with, and it is widely used, and many websites choose it to carry their content. Its readability and popularity make it one of the best resume fonts as well.
Helvetica
It has its own unique advantages among many resume fonts. As a neo-grotesque font, Helvetica is a gorgeous and legible font. Helvetica is a very popular font in the advertising industry, so you should choose it if you are applying for a job related to the advertising industry.
Didot
One of the reasons Didot is the best font for resumes is because it has both readability and personality. His font is more stylish than other classic fonts, and it has a unique appeal. If you want to find a different way, Didot can help you do it. Also, since very few people use this font, Didot as your resume font will definitely make the recruiter's eyes shine.
Garamond
Maybe you haven't used this font much, but Garamond also has the characteristics of other classic fonts, including readable, modern, attractive, etc. If you don't want to use the same font as most people, it is definitely the best choice for you.
What is the Best Font Size for a Resume?
Similarly, the font size for a resume also plays a crucial role in resume design. Although your chosen text font is legible, you should make sure the resume font size is reader-friendly.
Your recruiter or employer may check out piles of resumes a day, so it is important to choose the proper font and size for resumes that will not impact the readability of your resume content.
Your name at the top should be designed between 18 to 24 pts.
The headings of your resume should be controlled between 12 to 16 pts.
The resume font size for the body should be 10 to 12 pts.
Customizable Resume Templates from Fotor Professional Resume Builder