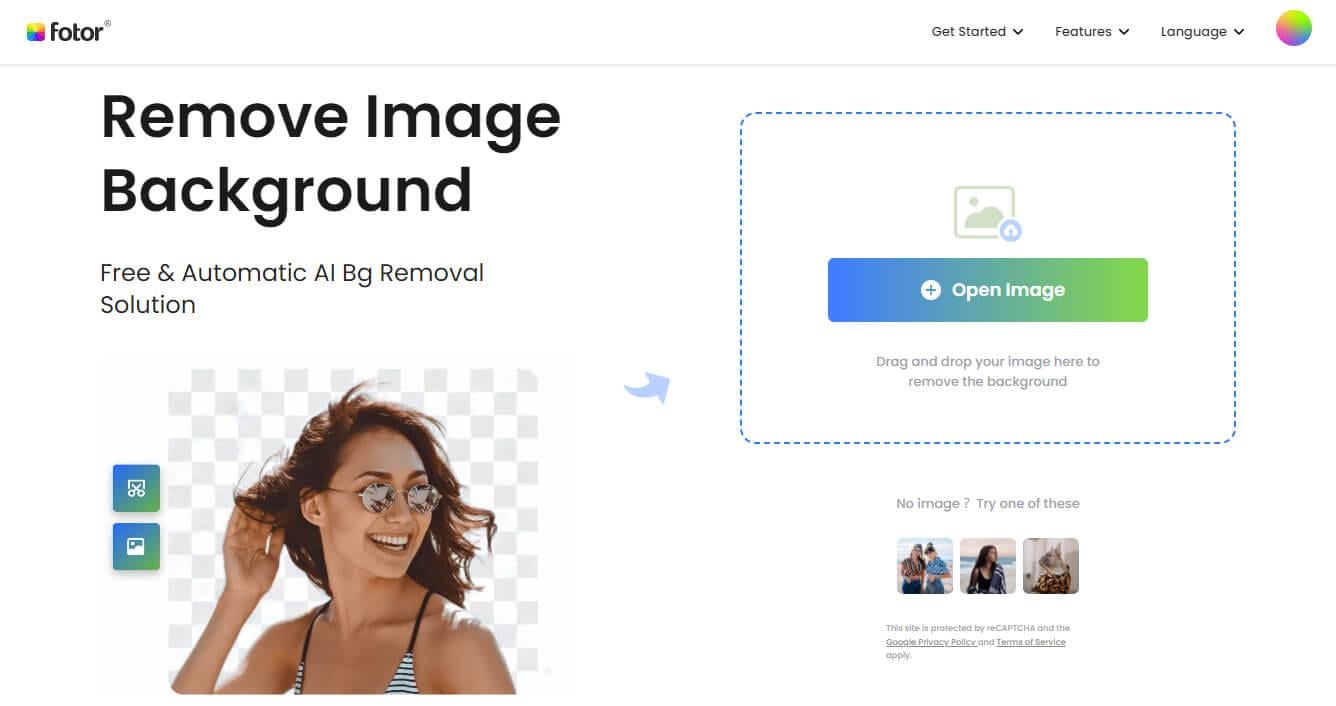 Fotor is a versatile online photo editor that can be used for a wide range of purposes, including removing backgrounds. It uses AI technology to remove the background from pictures, and you don't need any skills to use it. Just upload your picture, and Fotor will automatically remove the background for you. You can choose to output the edited image as a transparent PNG, or you can change the image background with a different color or image of your choice.
Fotor's background removal tool works great with complex images with intricate details, such as hair and animal fur. And one of the best things about Fotor's free online background remover is its ability to refine edges.
Here are steps on how to remove background from picture with Fotor background remover:
Go to the official website of Fotor background remover.
After that, upload the image for which you want to remove the background.
Once your image is uploaded, Fotor's background remover tool will start processing it automatically.
Once done, hit "Download" to save it in PNG format with a transparent background. Alternatively, you can choose to add a new background to your image by clicking on the "Change Background" button and selecting an option from the list.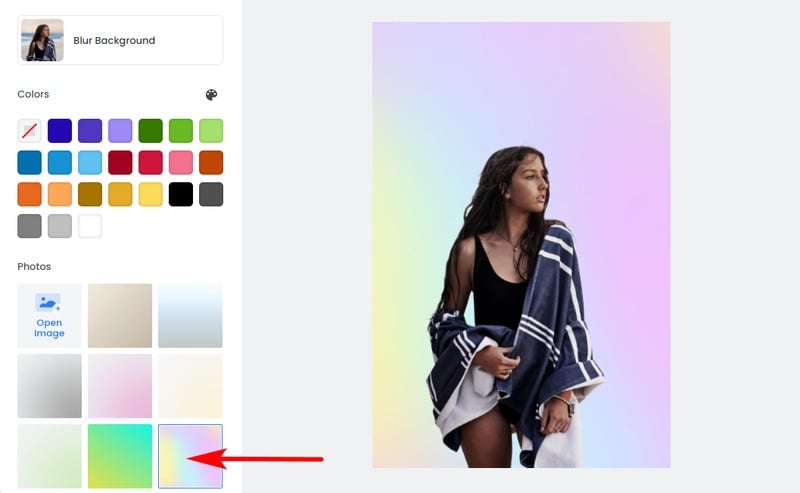 💡Tips:
In case you want to finetune the result, you can click the "Retain/Erase" button at the top right to make further adjustments. You can refine the edges of the image and preview the result in real-time.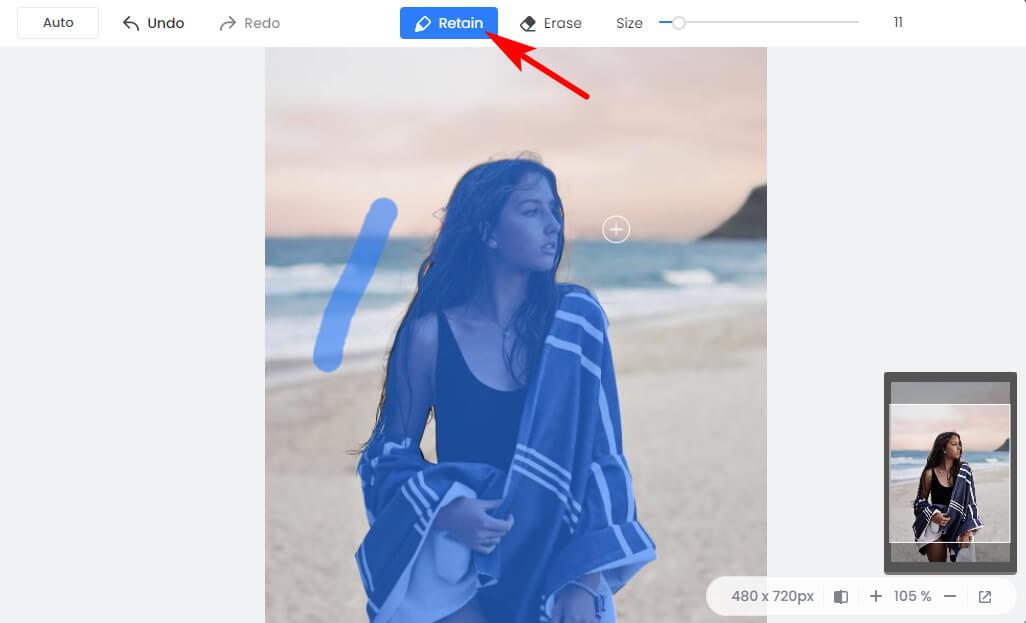 Pros:
Easy to use; 100% automatic
Accurate background removal
A wide range of background options to choose from
No registration is needed to download the edited image
Photo editing tools available
Cons:
Uploading large images can be a bit slow
Remove.bg is a popular and easy-to-use online tool for removing backgrounds from pictures. The process is also quite simple - upload the image, and the Remove.bg will automatically detect the subject and remove the background. Additionally, Remove.bg provides a library of background options. You can use it to change the color of the removed background, or replace it with a new image.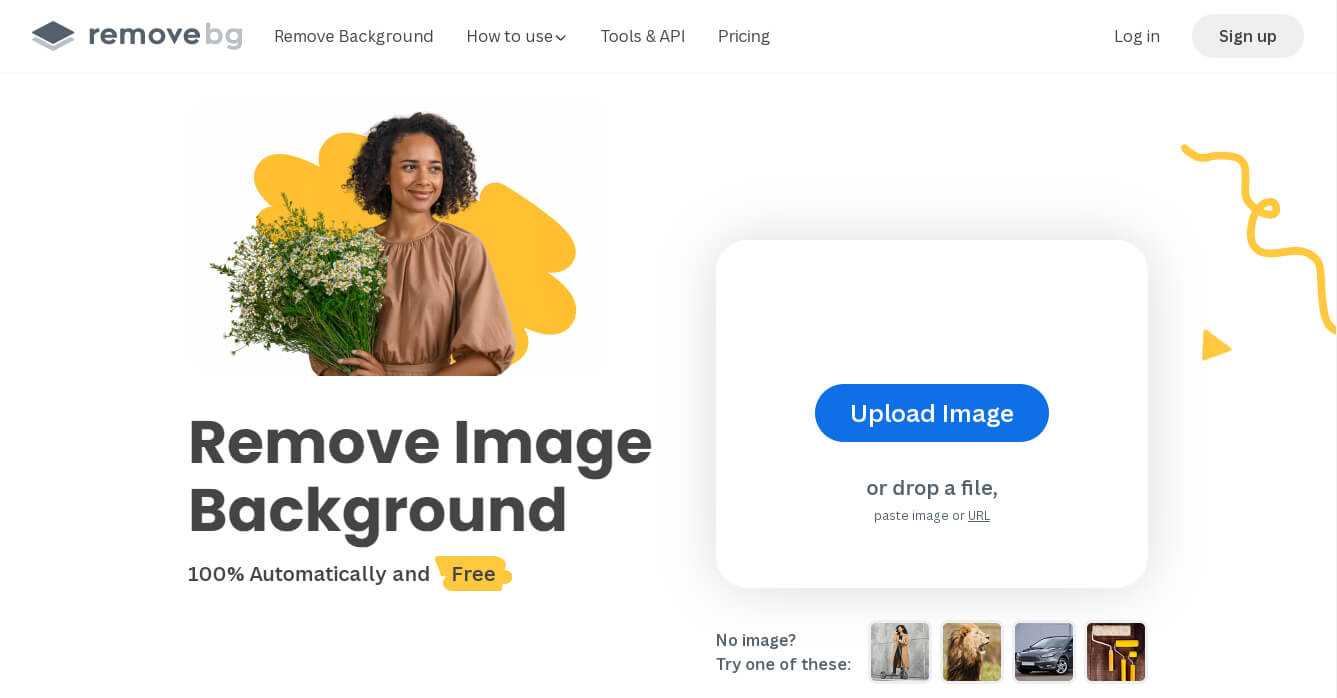 Pros:
Automatic background removal
Fast processing speed
High-quality with transparent or custom backgrounds
Cons:
Sign-up is required to download the edited image
No tools for editing or touch-ups
Photoroom is a powerful and user-friendly online background remover that can help you remove backgrounds from your photos in just a few clicks. It uses AI technology to accurately and quickly cut out the subject from the background and lets you replace the original background with a new one or leave it transparent.
Photoroom also offers a wide range of backgrounds and presets to choose from, making it easy to customize your pictures. While some templates are only available with the paid version, the free version offers plenty of features and tools that can help you create impressive images for personal or professional use.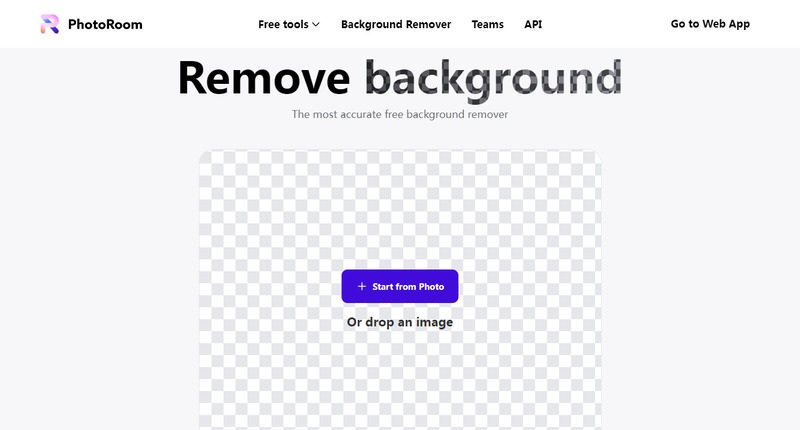 Pros:
User-friendly interface and simple process
AI-powered background removal tools for accurate results
A library of premade backgrounds to choose from
Cons:
High resolution outputs require payment
Loading presets can be a little slow at times
Adobe Express is a powerful graphic design tool that provides an array of features and capabilities. One of the most popular features is its background remover tool, which allows you to cut out objects from pictures quickly and accurately. This tool can save a great deal of time when compared to manual work, making it highly-regarded by many graphic designers. The background remover tool is also very easy to use and has been praised as one of the most useful tools in Adobe Express. Its effectiveness, simplicity and accuracy make it a powerful asset for professional and amateur graphic designers alike.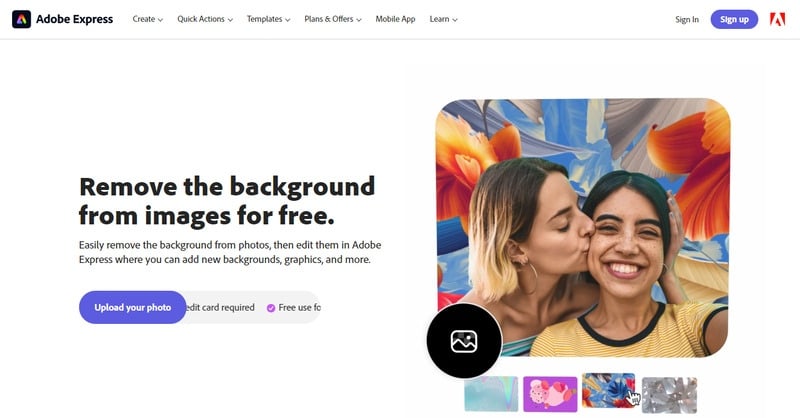 Pros:
Good accuracy and precision
Offers both automatic and manual editing options
A variety of output options are available
Integration with the Adobe Creative Cloud suite
Cons:
Limited free version
Not suitable for complex objects
It can be time-consuming to process large pictures
Remove.ai is also an AI-powered online background remover. It provides quick and accurate results with unlimited background removals. One of the biggest advantages of using Removal.ai is its easy-to-use interface. Even if you have no prior experience in image editing, you can easily navigate through the tool to remove the background from any picture.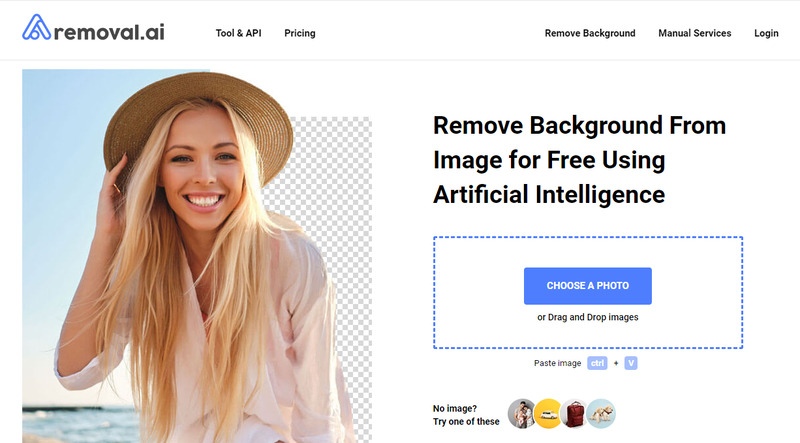 Pros:
Intuitive and easy to use
Ability to adjust the lighting, contrast, saturation, and other settings of your pictures
It offers manual image background removal services by professionals
Cons:
High resolution outputs require payment+
How to Remove Background From Picture on Android and iPhone
Have you ever wanted to quickly and easily remove the background from a picture on your phone? There are dozens of free background removal apps available for both iPhone and Android. Here are 5 of the best free apps you can use to quickly and easily remove background from your pictures on the go.

Fotor is an all-in-one photo editor app that offers a range of editing features, including a background remover tool. Using AI technology, it accurately detects the subject of the photo and cuts it out from the background in no time. In addition, you can take advantage of its extensive range of editing tools to enhance your images. From adding new backgrounds to adjusting lighting and color, or applying photo filters and effects. Moreover, the easy-to-use interface makes Fotor ideal for users of all levels of experience – from novice to professional.
Pros:
User-friendly interface
Available on iOS and Android
Accurate and efficient AI-powered background removal
A variety of editing tools such as photo filters, AI photo object remover, resize and crop, lighting adjustments, etc.
Cons:
Some features, such as high-resolution downloads, require a paid subscription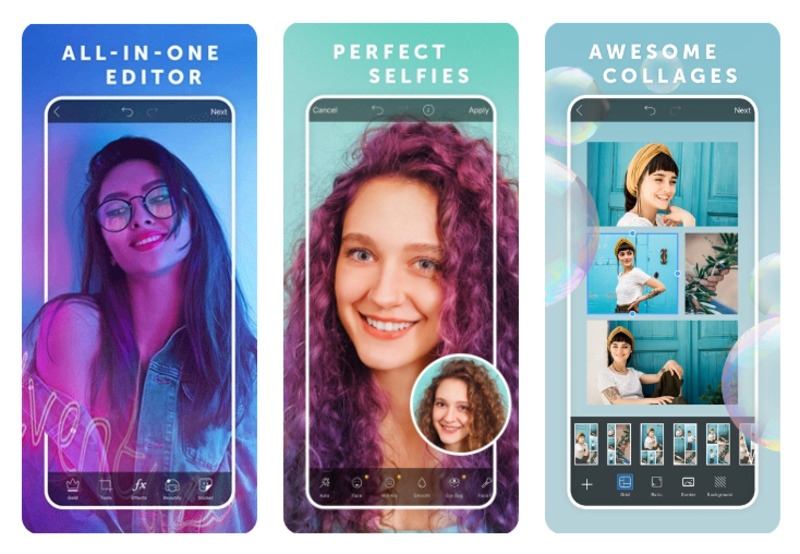 Picsart is a popular photo editing app that offers a range of features to edit photos. One of its standout features is its AI background remover tool, which helps you remove the background of an image and replace it with a new one in seconds.
The Picsart background remover is easy to use, making it accessible for beginners. But it also offers advanced options for more experienced users. Picsart is available on both iOS and Android devices and is a great choice for those looking for a comprehensive photo editing app.
Pros:
Easy to use for beginners
A wide range of editing tools and features
Premade backgrounds and stickers
Available on both iOS and Android devices
Cons:
Some features and assets require a premium subscription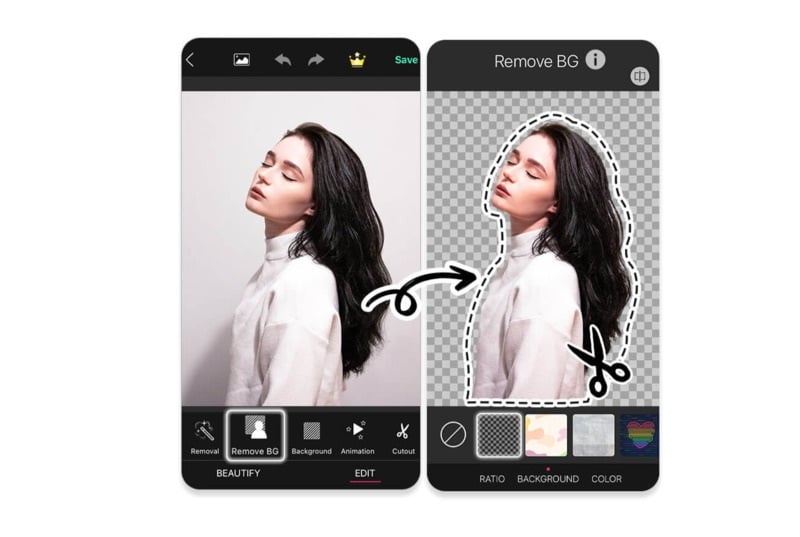 YouCam Perfect is also a comprehensive photo editor app. It allows you to edit and enhance photos with a variety of tools. From basic adjustments to advanced editing, YouCam Perfect got you covered. Its background remover tool utilizes AI technology to accurately detect and erase the background while keeping the subject intact. It also provides a range of customizable options, such as fine-tuning the edges, replacing the background with another image, or choosing from pre-loaded backgrounds. The YouCam Perfect app is user-friendly, making it an ideal choice for those who are new to photo editing. It is also available on both iOS and Android devices, making it easily accessible. Overall, the app is an excellent choice for anyone looking for a straightforward and reliable background remover.
Pros:
User-friendly and easy to use
Customizable options for fine-tuning edges and adding new backgrounds
Offers many advanced editing features in addition to background removal
Cons:
Some advanced features require in-app purchases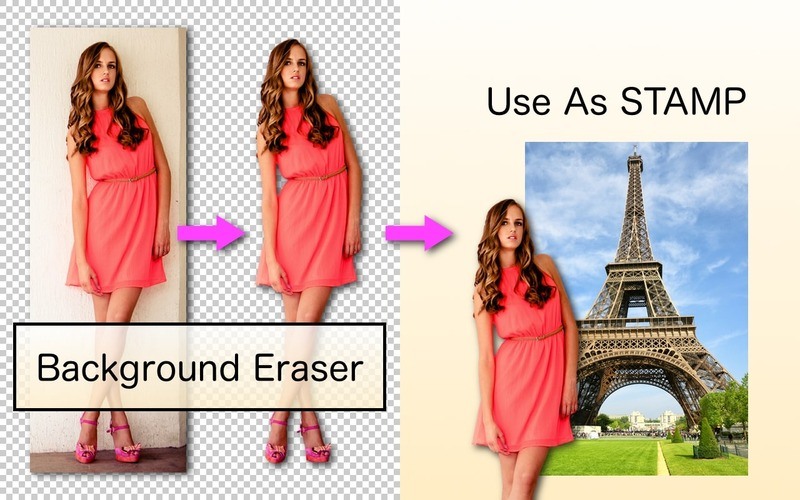 If you're looking for a light app to remove backgrounds from your photos, then Background Eraser would be a great choice for you. All you need to do is click on the AI button and the unwanted background of your image will be automatically removed. It's also very simple to refine edges and make changes to the background of your photo. Best of all, Background Eraser is free, making it the perfect budget-friendly solution for anyone looking to create professional-looking images without spending too much time or money.
Pros:
Easy to use
Lightweight app to download
Automated or manual background removal
Cons:
Limited photo editing features compared to other apps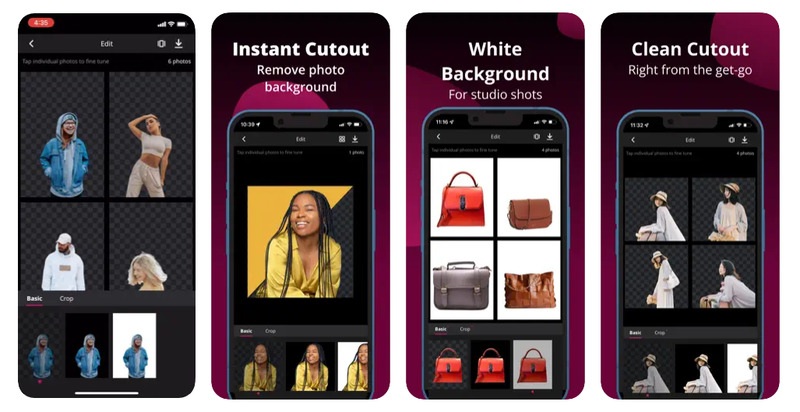 Removing backgrounds from multiple pictures can be a tedious process, but with the Remove Background by Pixlr feature, it's now easier and faster than ever. With it, you can remove backgrounds from up to 50 pictures at once. Not only does this save time, but it also ensures accuracy. Pixlr's background remover is an excellent option for anyone looking to remove backgrounds from their images in an efficient and timely manner.
Pros:
Batch background removal features
Unlimited free cutouts and no ads
Cons:
Conclusion
As you can see, there are many great free background remover tools and apps available that you can use to quickly remove background from pictures. Each one of them has its own unique features and advantages, so it's important to find the one that works best for your needs.
Whether you're looking for a basic background remover tool or an advanced one, there's sure to be something on this list that will fit your needs. So take advantage of these helpful background remover tools and start creating amazing visuals today!