We all know how important a headshot is and how fatigue to take a headshot in person. A professional headshot improves our business and work cooperation. But we need lots of time and energy to prepare for headshot taking. Thanks to the best AI headshot generator, which gives us a more convenient way to make our professional headshots easily.
This article will introduce you 10 best AI headshot generators for professional headshots, also their essential features and prices. With the help of AI, you can easily generate your own professional headshot, read on to find out more.
What Is AI Headshot Generator? What Can an AI Headshot Generator Do?
The AI headshot generator is artificial intelligence technology and algorithms using the photos or selfies you upload to generate your headshot image. It deeply learns through training models to rebuild your facial features from your photos and generate realistic and professional headshot images.
The photos generated by the AI headshot generator can be used on many occasions, including social media, work office, art creation, virtual reality, game development, film special effects, and image editing.
Of course, most people will choose to use it to generate personal professional headshots for various social media platforms, such as LinkedIn, Instagram, Facebook and etc.
10 Best AI Headshot Generators
Fotor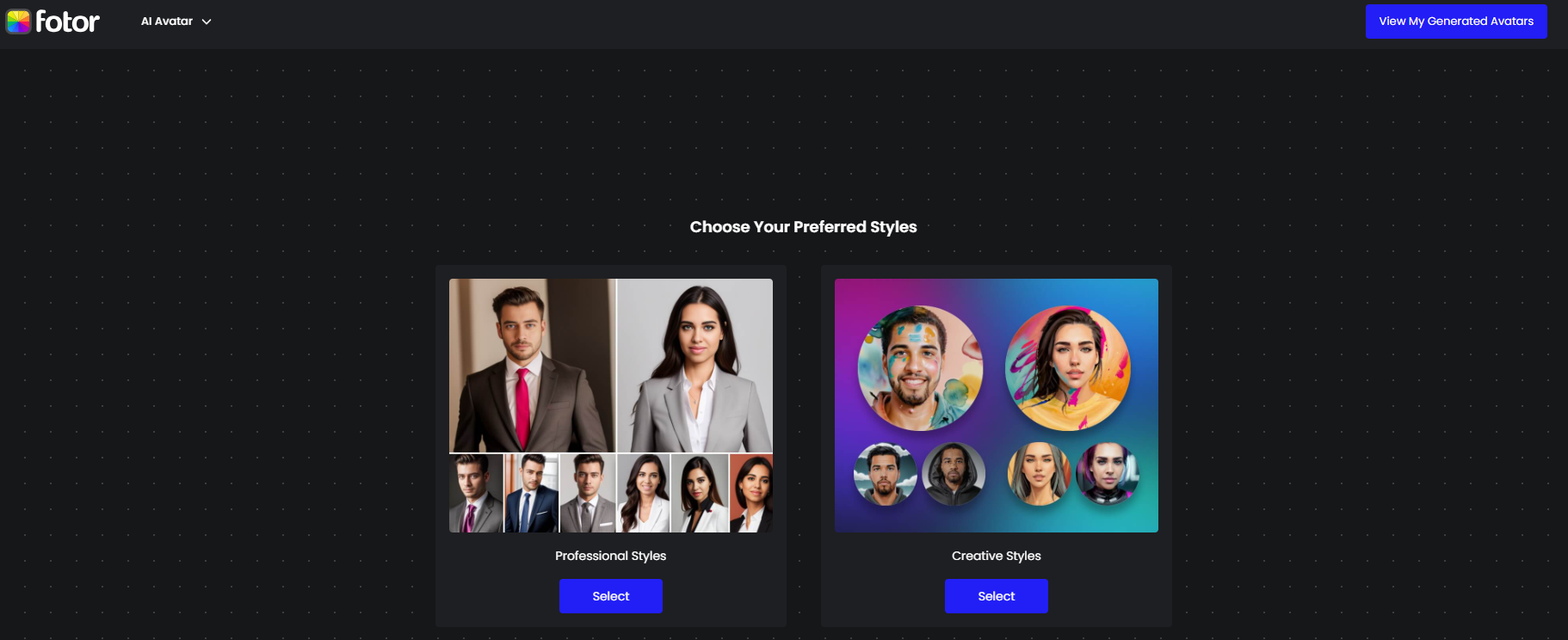 Fotor has an amazing AI headshot generator to create an excellent headshot easily. Whether you need a professional headshot or an avatar for fun, you can choose Fotor AI professional headshot generator to make a headshot with a neat suit and a good-looking background, or you can choose other styles to creatively make an amine avatar. You just need to upload 4-15 photos and select your gender, then you will receive your professional headshot easily.
More choices? AI image generator meets your needs, you can upload your selfies and choose your favorite styles, such as Barbie style, Disney style, fashion carton and a total of 15 types of styles you can choose.
Or text to pictures and even the latest function picture to picture. You can upload your selfies and headshots to recreate new items in it whichever style you like because it supports to be customized.
Key features and price
$8.99 for 50 headshots and 5 styles
Easy for beginner users with pro guide
Generates realistic and professional headshot
Advanced AI-powered technology
Rich AI functions including AI headshot/avatar/image generator
HD headshots download
Aragon AI
You also can choose Aragon AI headshot generator to make your headshots. You just need to upload 12 selfies of yourself, and then the AI machine will be trained to recognize your face in photography.
After two hours of learning, it will output the final 40 headshots based on your selfies to you. Don't worry about the privacy of your photos, Aragon AI uses AES256 encryption technology to protect your online data from intrusion.
Key Features and Price
Safe with AES256 encryption
Different pricing with different user needs
Starter: $29 Per Person, 40 high-quality headshots, 20+ different styles, 120-minute turnaround time
Basic: $39Per person, 80 high-quality headshots, 40+ different styles, 90-minute turnaround time
Premium: $69Per person, 200 high-quality headshots, 100+ different styles, 60-minute turnaround time
Teams: $39Per person, 200 high-quality headshots per person, 25+ people for 20% OFF, 100+ people for 30% OFF, 250+ people for 50% OFF
Secta AI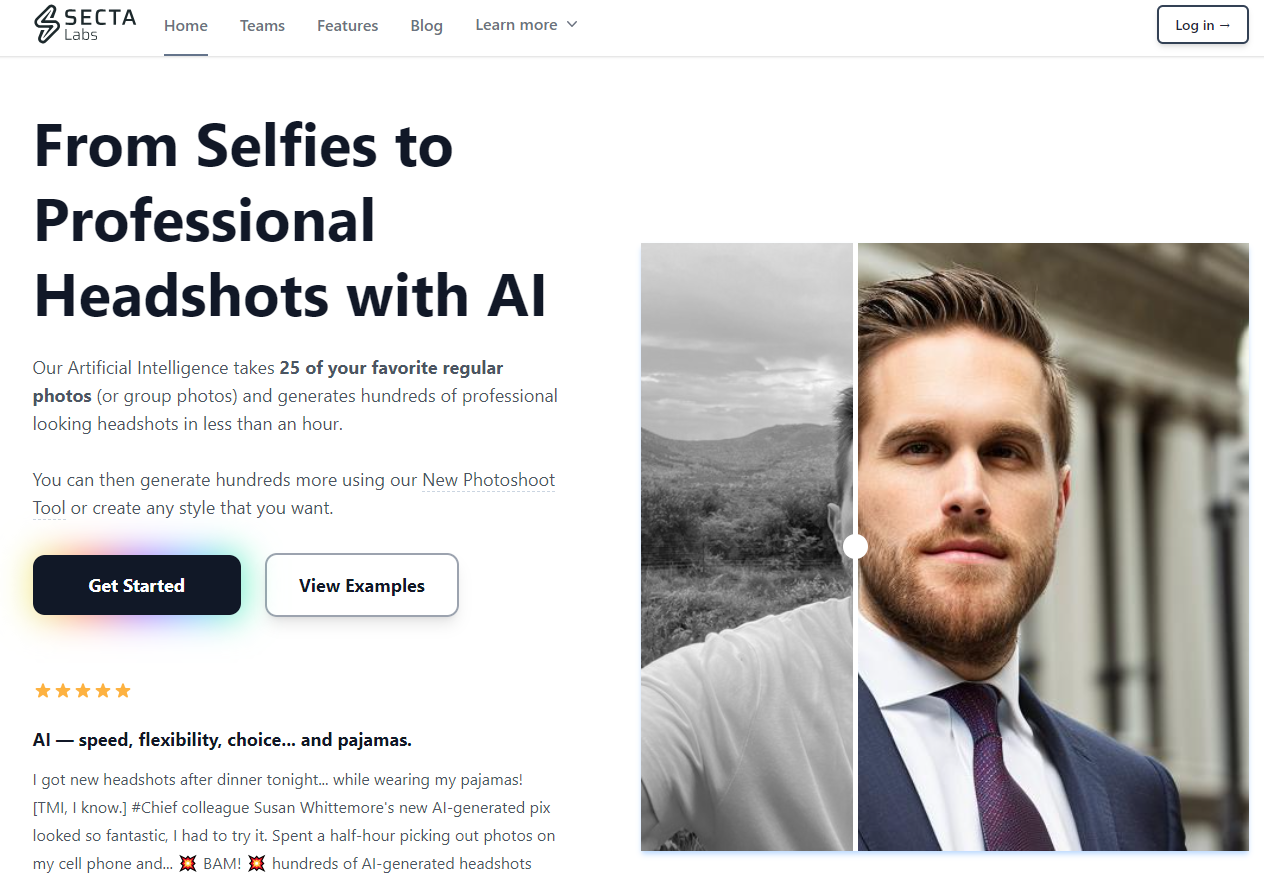 Secta AI headshot generator is also a good choice for you. It requires you to upload more than 25 photos of yourself to train its AI model to scratch your face. Within two hours, you will receive more than 300 headshot photos combined with various clothes and scenery. You will have two free chances to try again when you receive your headshot photos.
Key Features and Price
300+ headshots for once to choose
Remix service : Variations, Uncrop, Recolor & Retouch
$49 Per Person for 300+ Professional Headshots.
ProPhotos AI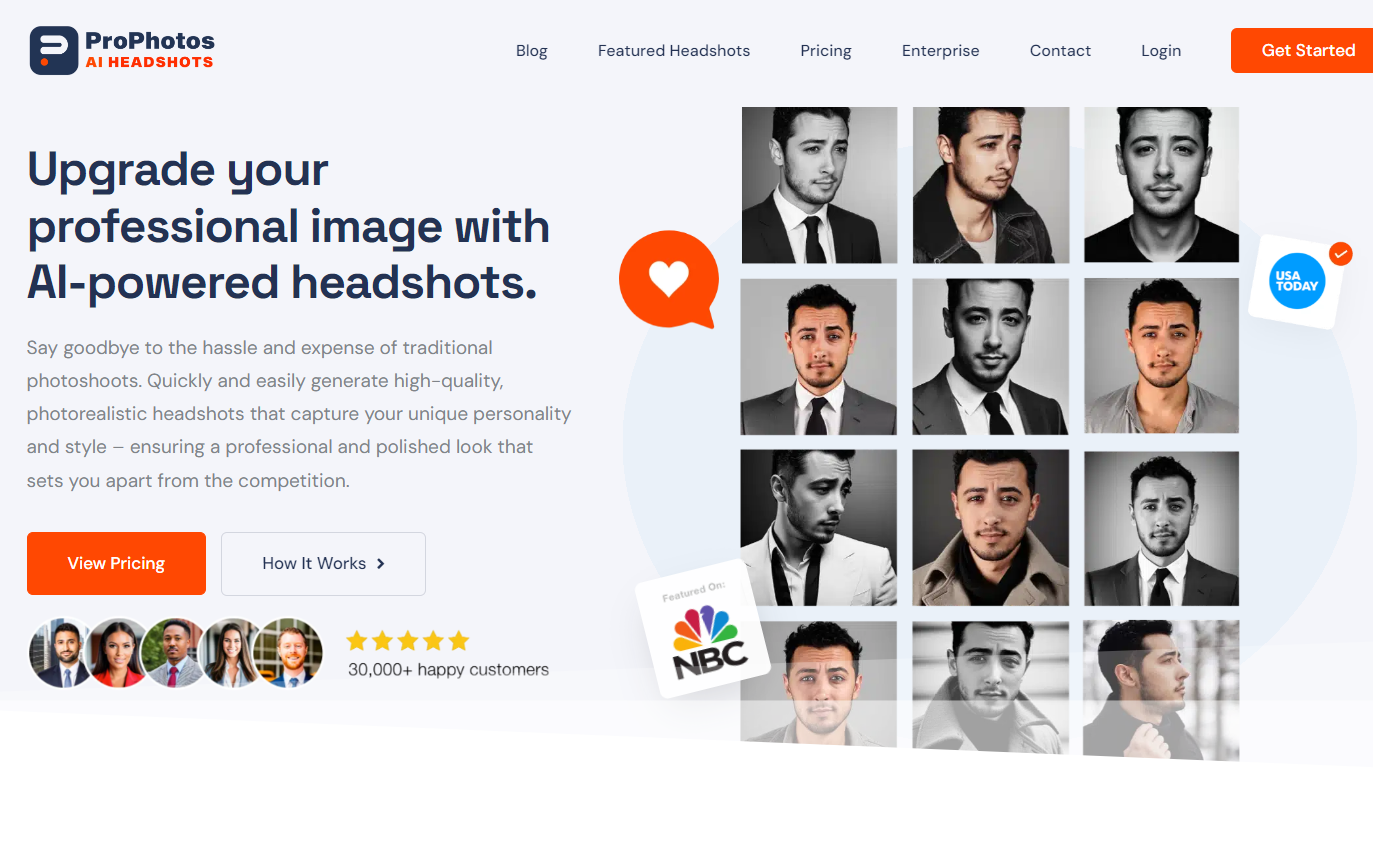 Maybe ProPhotos AI headshot generator is quite interesting for somehow, it allows you to upload your own type of photos at will, whether it is a candid photo or a selfie you can upload.
And You only need to upload 10-30 photos and wait 0.5-3 hours (differ from price) to get your own professional headshots. But depending on the price, you can be serviced by different levels of AI machines to boost your headshot processing.
Key Features and Price
Casual photos can be uploaded.
Basic ($25) – 40 Unique headshots, Wearing Suit, Coat & Blazer, in 3 unique backgrounds, Ready in 90 minutes
Premium ($55) – 80 Unique headshots in 8 unique backgrounds and 6 clothing styles Ready in 45 Minutes
Professional ($155) – 160 Unique headshots in 12 background styles and 8 clothing styles, Ready in 30 Minutes, Unlimited Customizations, 24/7 Account Support
Try It On AI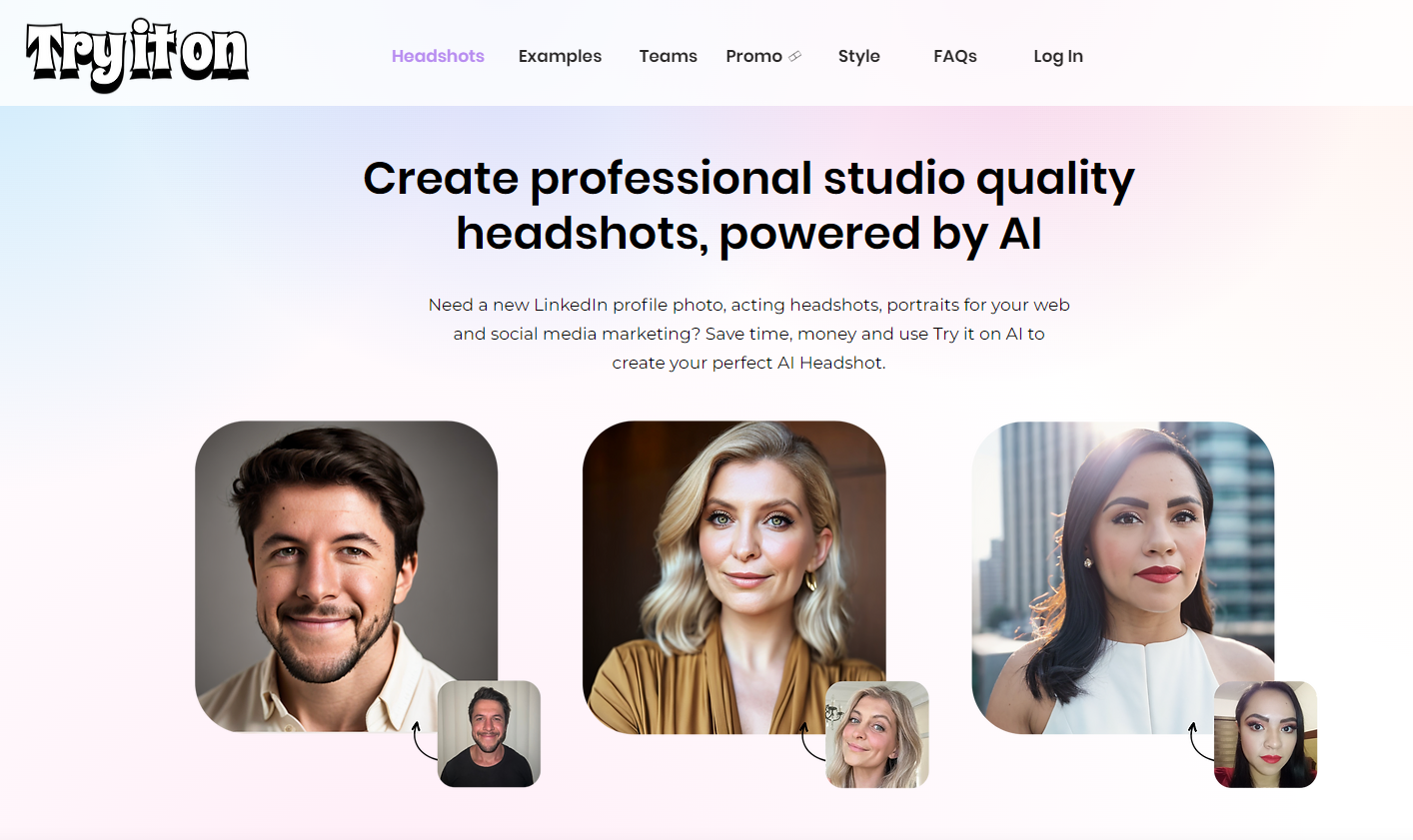 You also can choose to Try It On AI headshots to generate your headshot photos. Tryiton AI is focused on creating professional studio-quality headshots for customers. If you are confused about a new profile or portrait on LinkedIn, Try It On now!
Open try it on and upload more than 10 selfies and then choose the portrait style you like. When the ai machine finish generation, and then you will receive 100 headshot photos from try it on ai after 24 hours. If you are not satisfied with generated headshots, there will be human editing service for you.
Key Features and Price
Tips for customizing your headshot background and clothing
$17 for starting your headshots
Extra $10 for human headshot retouching
Dreamwave AI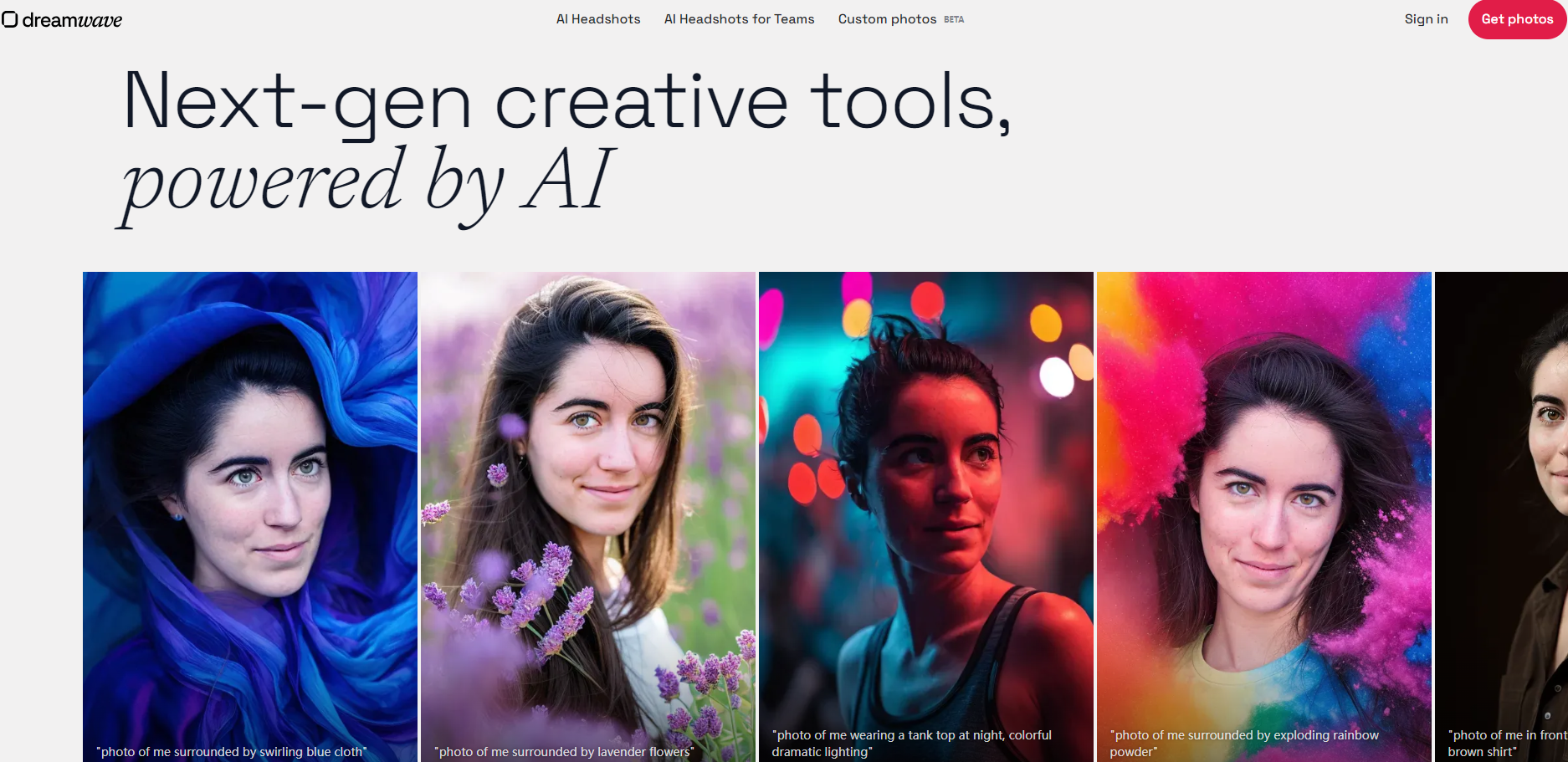 Dreamwave AI aims to be a new-generation creative tool. With artificial intelligence, Dreamwave AI tries to use it to build up accurate and beautiful headshot photography for you.
If you prefer creative and innovative headshots and prefer more realistic headshots on social media, Dreamwave AI portrait generator is your type. Maybe It is not the best choice for official person with a suit, but It definitely stands for those who have outstanding personalities with art.
After purchase, Dreamwave AI will email you a link to upload at least 8 photos of yourself to teach the AI what you look like. After you upload your photos, you will receive your AI headshot in around 2 hours.
Key Features and Price
$39 for 60 photos
Accurate, beautiful, creative and artsy choice
Unlimited hairstyles, backgrounds and clothing
offer headshots with different poses and angles
AirBrush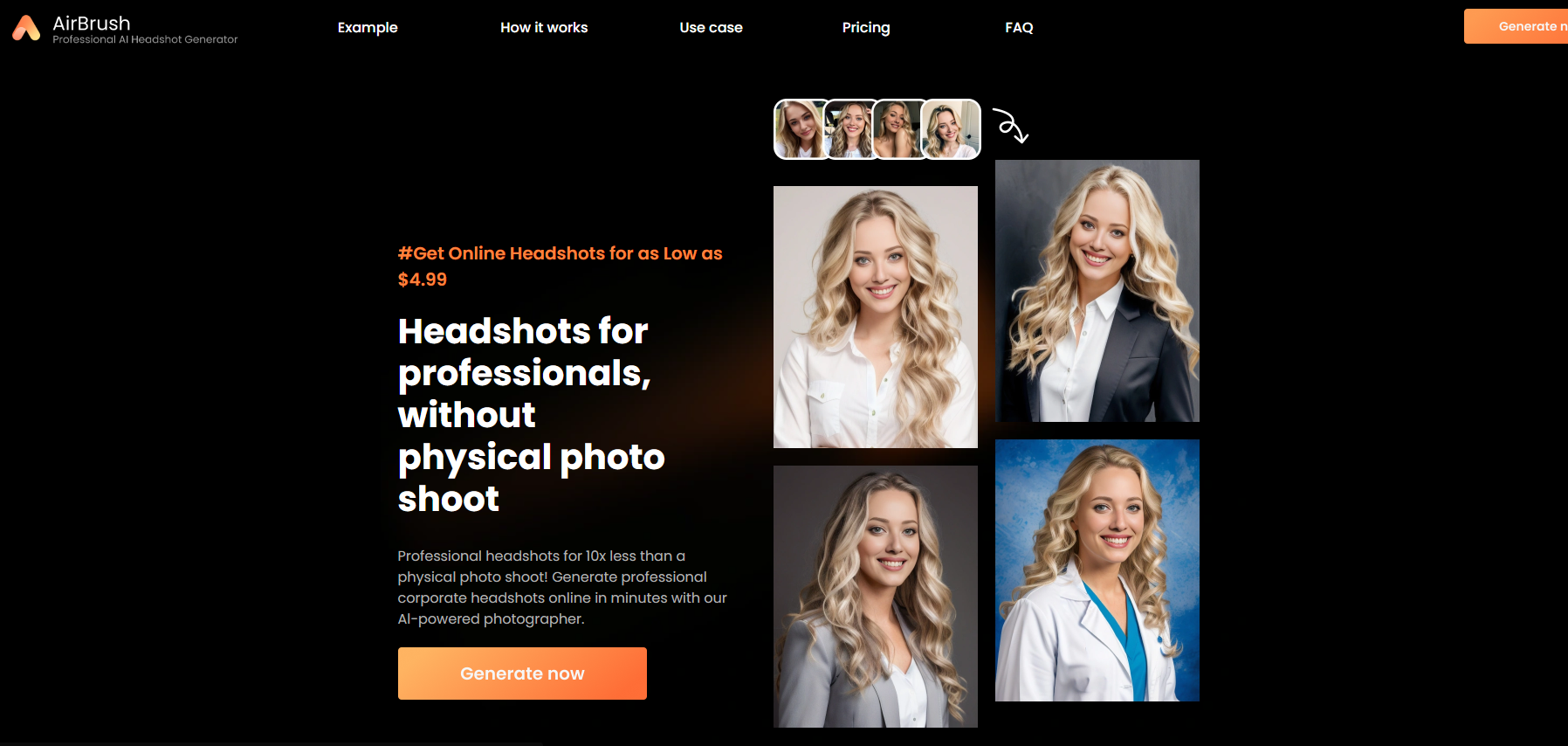 Here is the cheapest AI headshot generator I will recommend for you. AirBrush is 10x cheaper than physical headshot shooting, it needs only $4.99 and you can have the cheapest choice to make professional head shots.
And it supports you to customize your headshot with a wide range of backdrops and clothing. More styles for hospitals, realtors, parks, offices and even colors you can choose. You just need to choose the styles and settings and then upload your photos. Waiting for 60minuts and you will get your professional headshots.
Key Features and Price
Freedom to choose clothes, colors, and backgrounds
Test Plan: $4.99 / shoot, 5 headshots, 1 style, 60 minutes turnaround time
Normal Plan: $19.99 / shoot, 40 headshots, 4 styles, 60 minutes turnaround time
Headshot AI Studio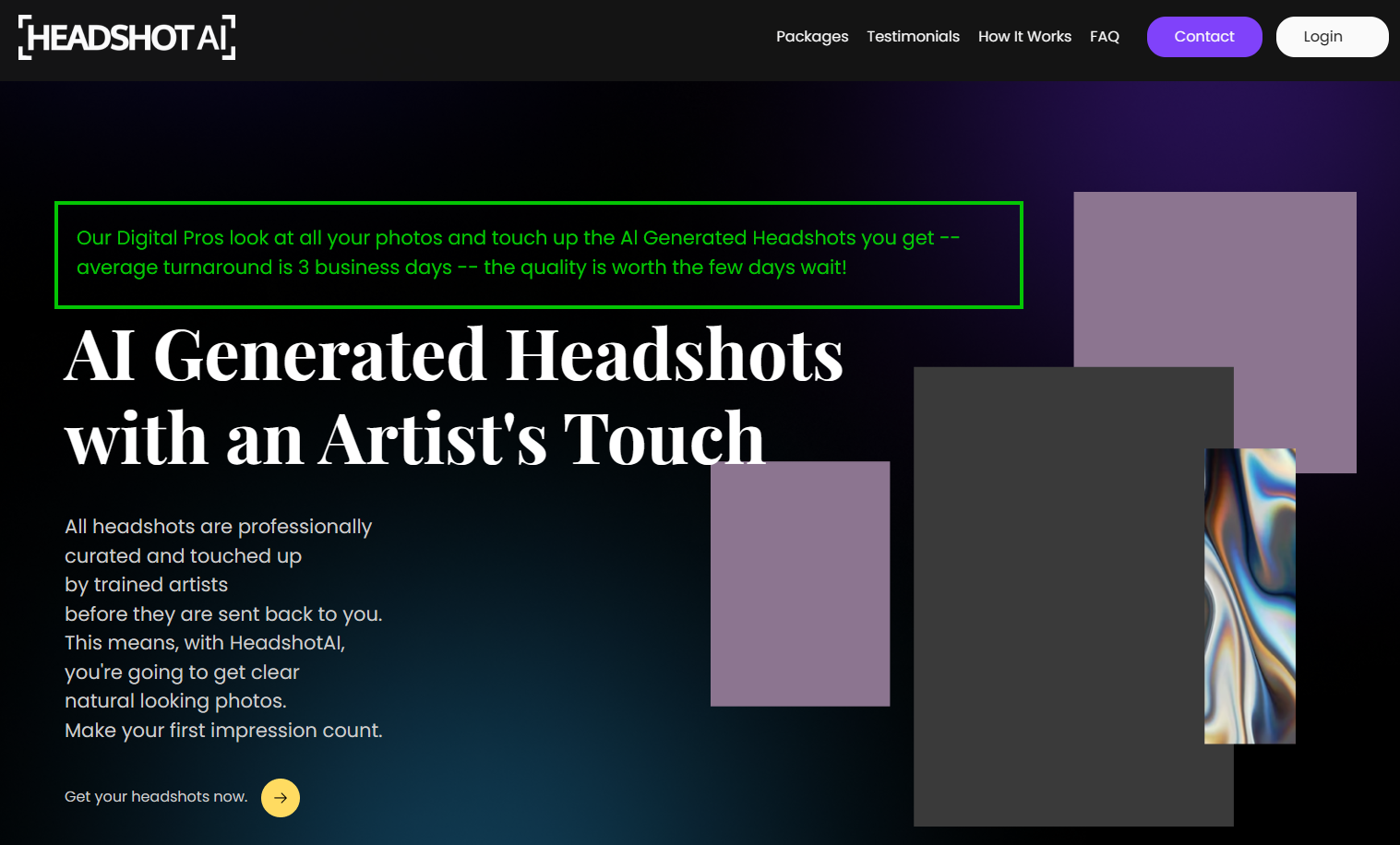 If you are obsessed with headshots with artsy, give Headshot AI Studio a try. Headshot AI Studio will create AI-generated headshots with an artist's retouch. For those who are personality with are, this is a good choice for you to enhance your first art impression.
Headshot AI Studio needs you to upload 20 photos, including for 12 chest-up, 3 side profiles, and 5 close-up photos and more. It may be hard for most people to collect those photos, but if you want the artsy effect, you have to do it. After for machine learning, a professional artist curates and refines your results. Finally, you will get your headshots.
Key Features and Price
Professional Artist's retouching
Expensive for users with limited budgets
Professional package: $ 23.95, 7 AI Generated Headshots
Executive package: $ 39.95, 14 AI Generated Headshots
HeadshotPro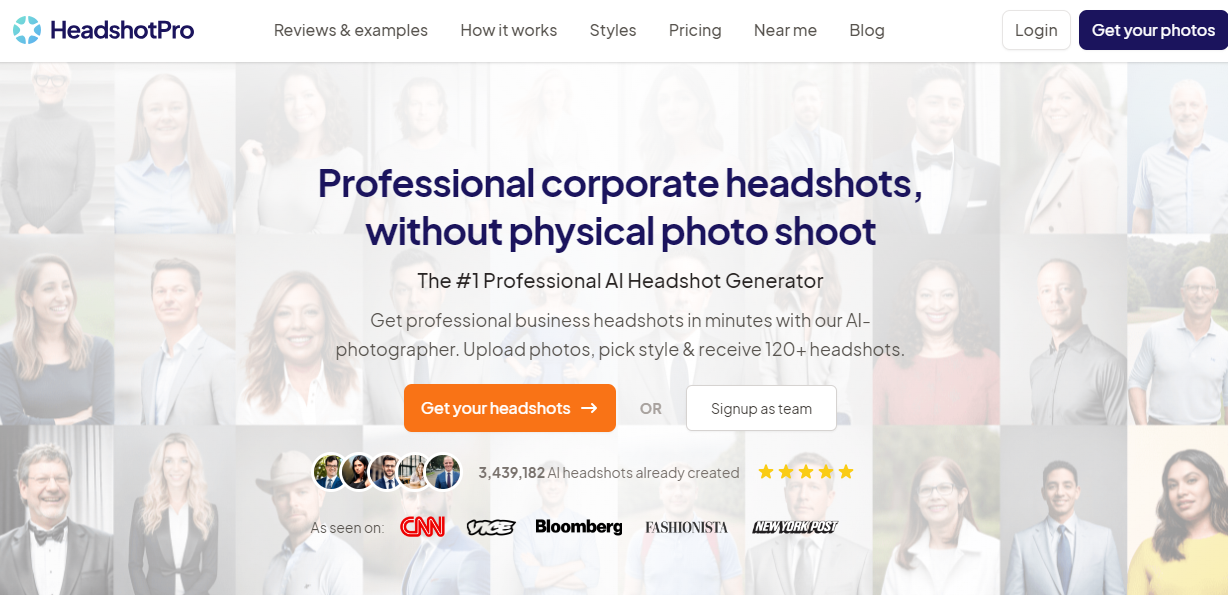 If your company need to take new headshots for business, stop using physical photo shoot, come and try HeadshotPro. Headshot Pro is a powerful platform that services professional corporate headshots. It will use an AI generator to utilize your face features and then rebuild your accurate face in two hours.
HeadshotPro can service persons and teams. It provides you with various styles such as color, background, clothing and more. And you can use your headshots anywhere.
Key Features and Price
8 to 12 photos are needed
Small ($29/shoot) – 40 headshots with 1 style.
Normal ($39/shoot) – 120 headshots with 3 styles.
Premium ($59/shoot) – 240 headshots with 6 styles.
StudioShot
Not satisfied with those AI headshot generators or AI portrait generators? If you are picky about the final headshots generated by AI, try to use StudioShot. Studio Shot AI will make premium headshots for professionals, which are required for fully virtual, infinite retouches and precision curated and managed by real photographers.
And there are dozens of styles you can pick from, such as actor, real estate, LinkedIn, executive, and more. StudioShot will combine an AI generator with a real photographer which aims to give you more realistic and professional headshots.
Key Features and Price
Managed by real photographers
2 Day Turnaround
1-5 members: $29.25 per person
5-20 members: $21.75 per person
20+ Members (contact their team for a custom quote)
Headshots by AI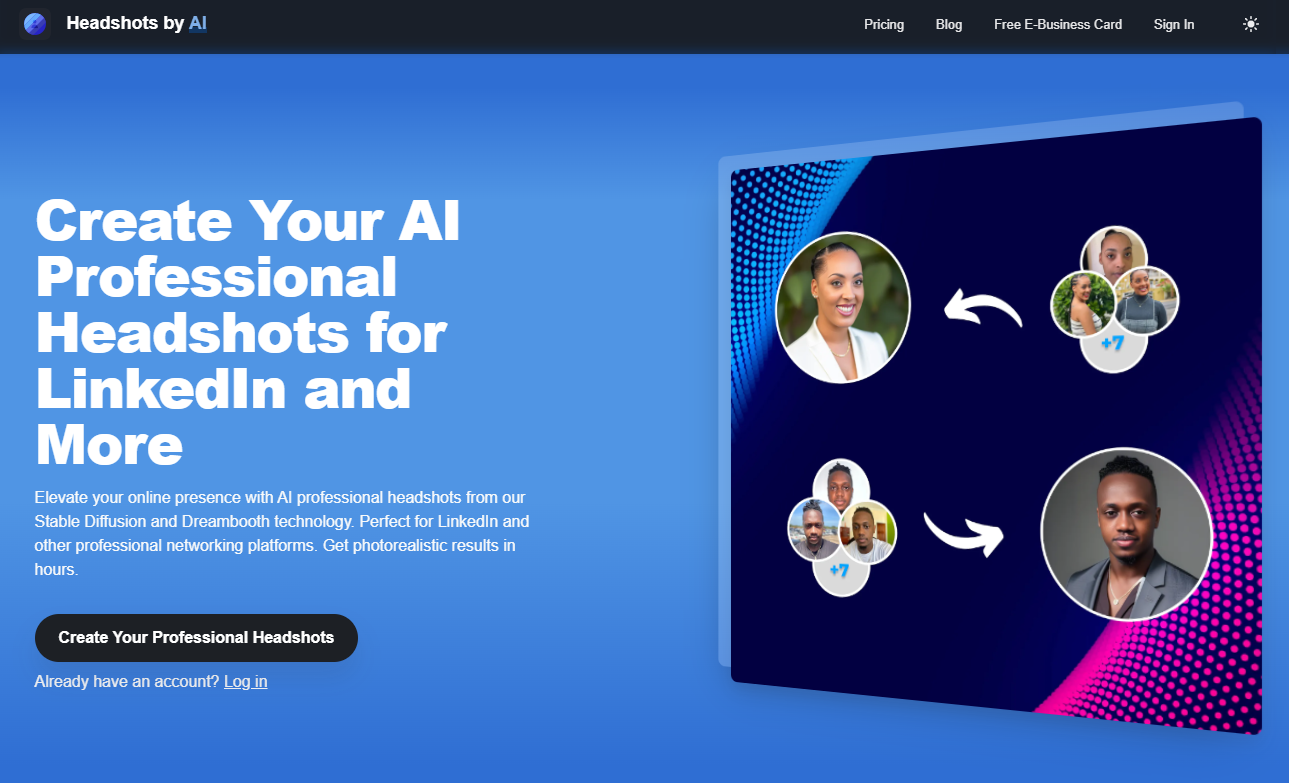 Headshots by AI can also make you a professional head shot for you but seems there are not that many choices of styles you can choose. And You need to upload at least 20 photos, maybe it is too much for those people who don't like taking photos.
And with its stable diffusion and dreambooth technology, you need to wait for at least 3 hours to let the machine learn your facial features and then make a new face photo for you.
Key Features and Price
Flat: $25, 60 pro headshots, delivered within 12 hours
Standard: $35, 120 pro headshots, delivered within 6 hours
Priority: $50, 180 pro headshots, delivered within 3 hours, Super Resolution
Conclusion
This article introduces the 10 best AI headshot generators for you to easily create your professional headshot without physical headshot equipment. Although they are the same with the headshot generated function, you have more places to compare with, price, more styles, personal artsy needs, and more. Wish you find the most suitable one for yourself!