Ready for your vacation and travel? While you may be excited about your upcoming trip, before you do, make sure you have all the logistics completed, as well as check to see if your passport has expired. If your passport is about to expire, or if you haven't even started applying for one yet, it's time to do so.
According to the U.S. Department of State, the normal processing time is 6 to 9 weeks, and sometimes it can take up to 11 weeks. If you submit documents and photos that do not meet the requirements, then the process will be extended.
So to get your photos approved, we've prepared a complete guide to U.S. passport photo requirements. Whether you are taking your passport photo at home or going to an agency, make sure you follow these rules in order for your passport photos to be accepted.
Importance of Passport Photo
A passport is a necessary pass to travel and work abroad, without it you will not be able to complete your adventure abroad. When preparing your passport, your passport photo is an important factor in your passport application, so you need to make sure that the passport photo you provide is up to standard and required.
U.S. Passport Photo Requirements
If you thought that preparing in a photo for your passport would be fairly simple, you would be wrong. You have to aware of the department's stringent photo guidelines. Take note of these requirements before taking your passport photo if you don't want to be stuck in the states with an unusable photo.
Passport Photo Size and Format Requirements
Before you take a passport photo, please note the size and format requirements below.
Standard size: every photo must be 2 x 2 inches (or 51 x 51 mm), and the height of the person's head in the photo must be between 1 and 1 3/8 inches (or 25 - 35 mm).
Format: The digital passport photo must be in JPEG format.
The photo must be taken in the last 6 months.
Cannot submit scans of physical photos.
Taking a picture of a printed photo and submitting the digital version is not acceptable.
Lighting and Exposure Requirements
After you understand the size and format requirements of passport photos, you can start taking your photos. Here are the lighting requirements.
Adequate lighting for clear photos.
Avoiding shadows, glares, and overexposure.
Proper contrast and color balance.
Facial Expression and Posture Requirements
With the lighting issue out of the way, let's move to the facial expression and pose requirements. This is the key to the quality of passport photos.
Neutral facial expression
Keep a neutral expression, please don't say "cheese" or laugh at the camera. Instead, leave a big smile on your face for your destination.
Head and shoulder alignment
All you need to do is look straight ahead, shoulders squarely in front of the camera, do not bother posing.
Open eyes and closed mouth. Make sure your full face is visible, and don't let the hair cast a shadow on your face.
Clothing and Appearance Requirements
Making fashion statements in passport pictures is not appropriate. According to the rules, uniforms or amouflage are not allowed in passport photos. So don't wear your camouflage or other uniforms to take passport pictures.
No hats, glasses, or other accessories
The State Department's website states that you must submit a written statement "verifying that the cap or head covering in your picture is part of customary religious clothing worn constantly in public" if you wear a hat or head covering for religious purposes.
Plain clothing without patterns or designs
No distracting jewelry or makeup
How to Make an Acceptable Passport Photo Online?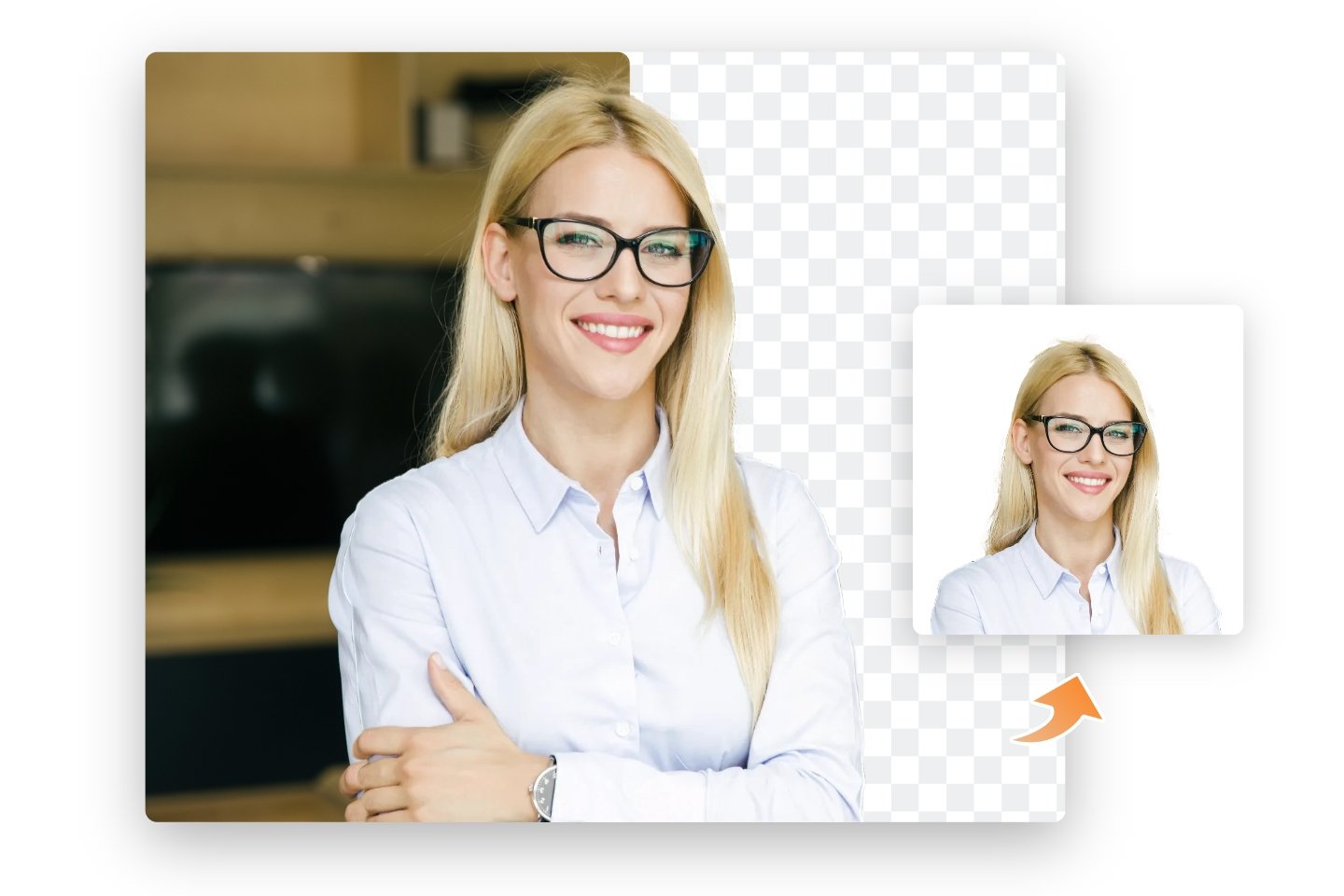 Once you have complied with the passport photo requirements above and taken the best possible photo, it is time to start editing your photo. Resizing your photo to meet your country's requirements is not difficult, as this can usually be done using the built-in editing tools in your phone or computer, such as the crop and resize tools.
But replacing photo backgrounds with standard solid color backgrounds can be a bit challenging for inexperienced novice editors, and you may need AI background remover tool. With this tool, you can easily and quickly remove image background and change it to any background you need.
Fotor's Background Remover