When it comes to official documents like passports, adhering to the prescribed guidelines is crucial. A seemingly small detail, such as passport photo size, can make a significant difference in the application process. In this comprehensive guide, we will delve into the nitty-gritty of UK passport photo size requirements, covering dimensions, composition, lighting, and more. By the end of this blog, you'll be equipped with the knowledge needed to ensure a flawless passport photo that meets all the standards.
UK Passport Photo Size Requirements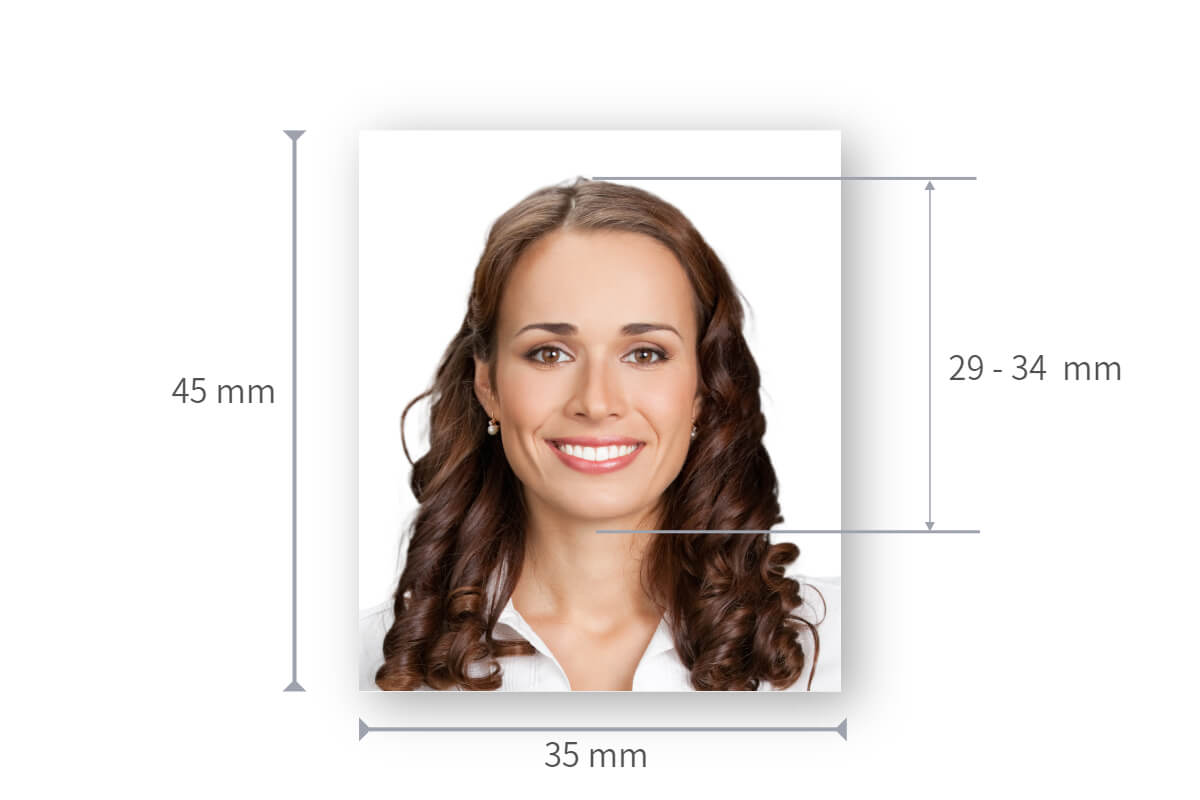 Before you dive into taking your passport photo, it's essential to understand the official size requirements set by the UK government.
Passport photo dimensions typically fall around 35mm wide and 45mm high. The subject's head should occupy about 29-34mm of the frame's height, and the photo should be printed in high resolution on matte or glossy paper.
Head Size and Position:
The subject's head should occupy a significant portion of the frame. Generally, the height of the head (including the top of the hair) should measure between 29mm and 34mm. The head should be centered in the frame and positioned so that the eyes are at the appropriate level.
The Quality of Printed Passport Photos:
Produced with a professional level of printing.
Colored and printed on plain white photographic paper, with no borders.
Free from any creases or tears.
Not marked on either side, unless a photo requires countersigning.
Not modified using computer software.
UK Passport Photo Background Requirements
The background of the passport photo should be plain and of a light grey or cream color. It should not have any patterns, textures, or designs.
The background must have sufficient contrast with the subject's face, ensuring that the facial features are distinct and easily recognizable.
There should be no shadows or shading on the background. Both the subject and the background should be evenly lit to avoid any discrepancies.
💡Note: These requirements are subject to change, and it's recommended to check the most up-to-date information on the official website of the UK government or the relevant passport application authority before taking your passport photo.
UK Passport Photo Expression Requirements
For a UK passport photo, a neutral facial expression is required. This means that you should keep your mouth closed and your eyes open. Avoid laghing, frowning, or showing teeth. The goal is to have a clear and neutral expression that allows for easy identification and facial recognition.
UK Passport Photo Dress Requirements
The dress code for a British passport photo is quite specific to ensure that the photo accurately represents your appearance. Here are some guidelines to follow:
Head coverings are allowed for religious or medical reasons, but your face must be fully visible from the bottom of your chin to the top of your forehead and from ear to ear. The head covering should not cast shadows on your face.
You can wear glasses in your passport photo, but they must not cause reflections or obscure your eyes. Tinted glasses and sunglasses are generally not allowed unless they are required for medical reasons.
Avoid accessories that cover your face, such as hats, scarves, or large earrings. Your face should be fully visible without any obstructions.
Unless you regularly wear a uniform for religious reasons, you should not wear any uniform, including military, police, or other service uniforms, in your passport photo.
Wear what you would normally wear on a daily basis. The key is to have a clear representation of your regular appearance.
Keep jewelry minimal and avoid anything that could cast shadows on your face.
Lighting Tips for Perfect Passport Photos
Lighting plays a pivotal role in photography, and passport photos are no exception. Soft, even lighting is the key. If you're taking the photo at home, natural light is your best friend. Position yourself near a window to avoid harsh shadows. Alternatively, if you're opting for artificial lighting, make sure it's not too bright or too dim.
How to Take a Passport Photo at Home?
The question often arises - should you take your passport photo at home or seek a professional photographer? DIY photos can be cost-effective and convenient, but achieving the required quality might be challenging. On the other hand, professional photographers are well-versed in the guidelines and can ensure a high-quality result, albeit at a higher cost.