12 Best Practices for Creating a Perfect Facebook Cover Photo
---
Facebook covers are a way to set yourself or your business apart from the crowd. It is the first and most noticeable element visitors will notice when they visit your Facebook Page. That means your Facebook Cover must be something that can evoke your business in one visual element. That isn't easy! Luckily, we are here to give you some pointers and help you understand the best way to handle creating your own Facebook Cover Art.
Below is my Facebook cover best practice!
What kinds of images templates are suitable?
Sometimes the hardest part about making a cover is finding the right style. How exactly can a business be able to evoke the right kind of feeling in visitors to their Facebook page that will convince them to buy/download/watch? Here are a few ideas to get your gears turning through some image templates.
First, make sure that the Facebook cover colors and theme don't clash with what your business is. Don't try to reinvent yourself too much. Be fun, be creative, but still remain true to what drove customers to your business in the first place. Here's some inspiration for a trainer's or gym class' page. It does a good job of getting the audience to understand everything this is about with one look.

Click Photo to Edit
This template really showcases how nice things look when you lean right, which you'll learn about why it's so important below.


Click Photo to Edit
This really evokes a scene of a small-town kitchen that only makes wholesome food for the kids and husband. I would really love to have this one for my cooking my page if I could cook…


Click Photo to Edit
This cover is simple and abstract but still done in a very clean and unobtrusive way. I think it's the perfect cover to adorn any Facebook page.


Click Photo to Edit
In this cover, every picture works together to give you a feeling that this is all the same journey, but these photos are all unique enough that you know they span 4 very distinct areas. The audience can easily feel your love and passion for your business.

Click Photo to Edit
Don't Forget Mobile Users
With the number of folks who now browse on their phones almost constantly, it's definitely a smart play to make sure your photo size works on both mobile and desktop versions of Facebook.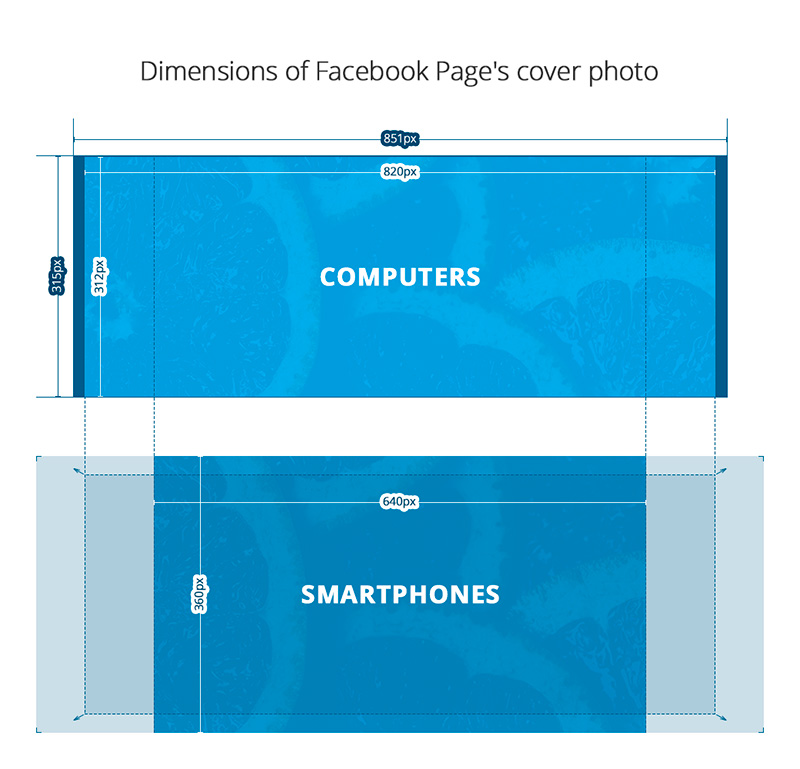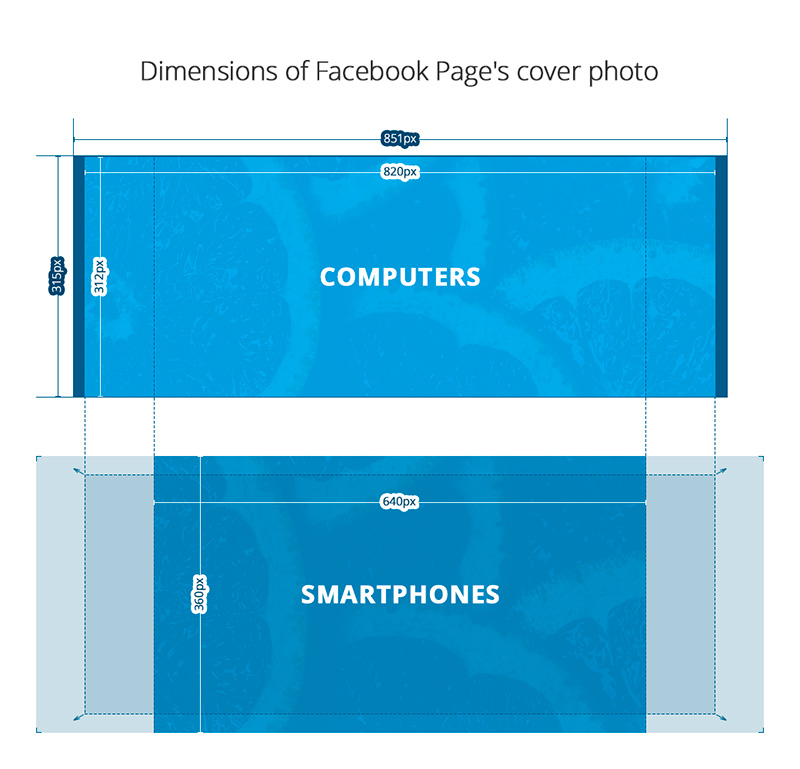 Here's an infographic to help you understand what you should be designing for. Mobile size is slightly smaller than desktop: 640 pixels wide by 360 pixels tall, but it's a bit taller. And Facebook doesn't distort to fit the two different screens for this part, they'll just crop it down for mobile. So, on this one, better not let the important parts get too far into the margins. For any of you that have designed a business card, you should be familiar with this. Luckily on Fotor, you can preview both mobile and desktop while you're creating your own Facebook Cover, so we got you covered there!
Video Killed the…. Facebook Star?
I might not have the next pop hit on my hands with that title, but videos are a new and interesting way you can spice up your cover photo. It's definitely something that can set you apart, but remember that it will cost more than a photo, but when done well, it's good. Look at Netflix for example: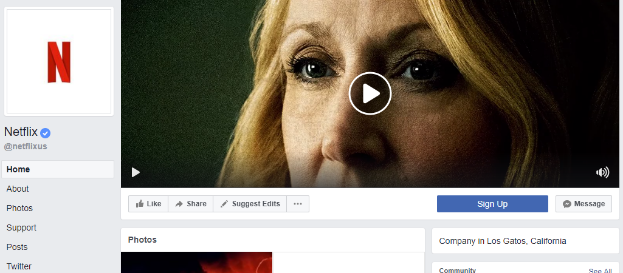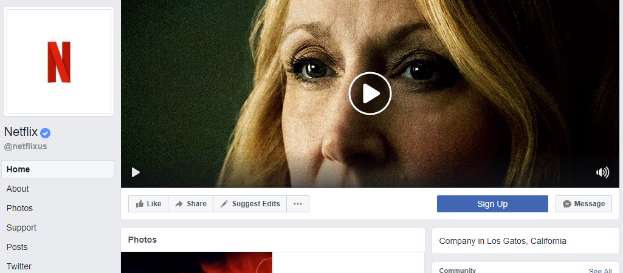 Source: From wishpond.com
While Netflix doesn't have a video cover now, when you need to showcase something, and a photo might not be enough real estate, use the extra space-time affords you to really get that message across.
How to Create a Great Facebook Cover
The following tips will tell you how to create a great Facebook cover. As long as you can use it in your Facebook cover design,  it will definitely help your brand stand out from the crowd and bring much more attention easily.
This might seem silly to say, but it is common enough of an error that it bears mentioning. Remember that the dimension 851 pixels wide by 315 pixels tall. If you make a picture that doesn't fit those dimensions, Facebook will make it fit, but it will look warped and unnatural, definitely making people who visit your Page think you're not as professional as other options out there. Also, Facebook cover profile picture resizing way is good for you. In the end, don't forget:
Make sure it's less than 100KB;
Check the high-quality box when uploading;
Upload as a JPG with an sRGB color profile.
Also, let's familiarize ourselves with the rules while we're here. Here are Facebook's guidelines for Cover Photos. The important caveats are as follows:
Your cover is public;
Your cover can't be deceptive or misleading, or infringe on someone else's copyright;
You can't invite others to upload your cover to their personal timelines.
So, it's best to toe the line because you don't want your page to get taken down, and these rules aren't all that bad. They actually tell us that making our own unique design is well within the rules.
The 20% Text Rule Still Relevant
Back in 2013, Facebook finally removed the last instances of any mention to its 20% text rule, but while that rule may be gone, it's not a bad guideline to consider when making your profile. As we say, "a picture is worth a thousand words", so instead of trying to cram in 1,000 words into your picture, let a simple, professional, and inventive cover photo do all the talking for you, and your Facebook Page will look cleaner for it!


Click Photo to Edit
Source: From Magic: the Gathering's Facebook Page
If you do want to add text, keep it concise.
This example from Magic: the Gathering is a great way to let the image speak for itself, while still adding some important information to the picture to let you know what to look for if you want to find out more. As a big NEEEEEEEEEEEEEEERD myself, I know all about Ravnica and am ready to draft!
Point in the Right Direction
Getting your audience to glance in the general direction of the two buttons that lay against the bottom-right side of the Cover Photo is a good idea, and there are some subtle ways you can pull that off with your Cover Photo.


Source: From hubspot.com
With the way Facebook's layout is, your cover photo is off-center, on the right side of the page. That means you need to take into consideration what that does to a photo's balance. The answer is, you can lean into the right or go left to stay in center. I recommend the former. Like this following cover:


Source: From hubspot.com
Everything is clearly spaced on this Cover Photo, and reading the slogan takes you right down to the button that says "Send a Message". It's a brilliantly subtle call-to-action, and I would definitely want to copy this design because you know they put a lot of work into getting something as perfectly and simply designed as this.
When you click on a Cover Photo, you get a pop up that includes some texts, including likes and comments. You should totally use this space and add in a call to action because if someone is interested enough to click your cover photo, they're interested in something, so make sure you have somewhere for them to go after that.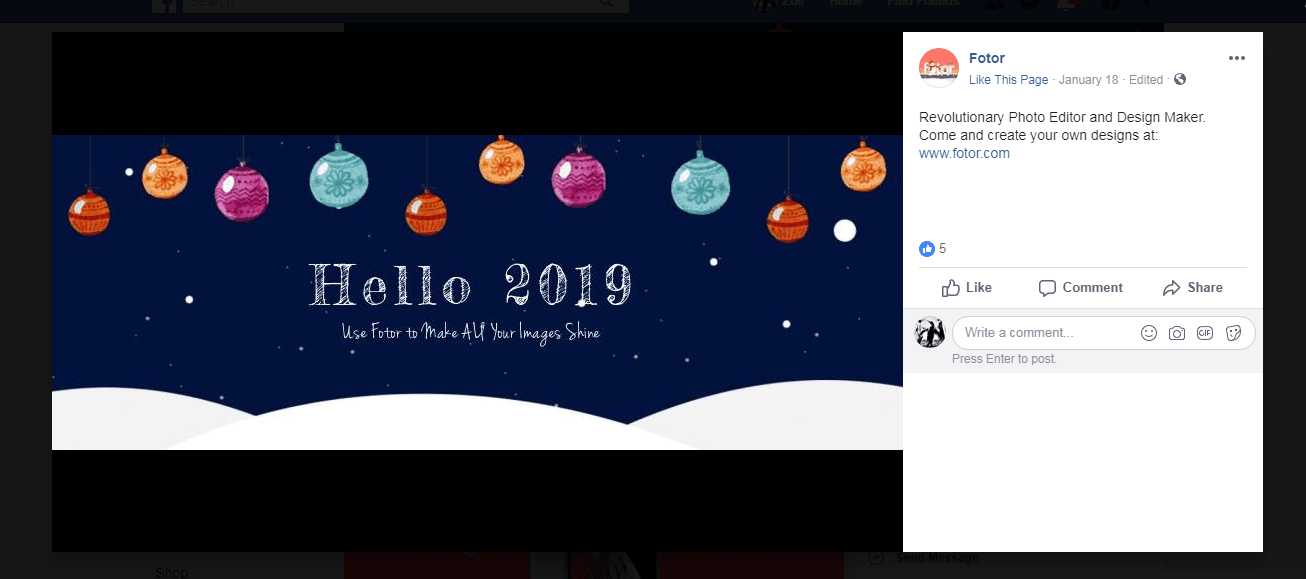 Match Your Cover and Profile Photos
Before we talked about matching. Now let's talk about it in terms of your profile pic and Cover Photo. It is indeed important to have them match. You want to present a united front instead of some clashing examples between your own Facebook Page. Do what Target did.

Source: From hootsuite.com
This is a great way to match. The red and white are similar, same with the circle, but they are different enough you know you're looking at 2 different images. However, I'd not have your profile pic and Cover Photo match too much, because it'll get missed as another tree in the forest. Keep it similar, but don't make it blend in.
Maybe you will be interested in more Facebook cover best practice inspiration:
What Types of Posts Get Shared the Most on Facebook
Conclusion
So, now you know what it takes to make not only a good Facebook Cover Photo but also a proper one, sized right through those Facebook cover best practice, uploaded with the right number of pixels, and designed in a way that creates click-throughs. You can also find the right customers because you can let your clients know who you are and what you are about before they even start using their products, making a personal connection with them, which leads to an even better relationship. Take this advice to heart, now go on over to our design site and make yourself something nice. You deserve it! Treat yo'self!


---
Related Posts :
Leave a Reply :