How to Advertise on Facebook Marketplace: The Ultimate Beginner's Guides
---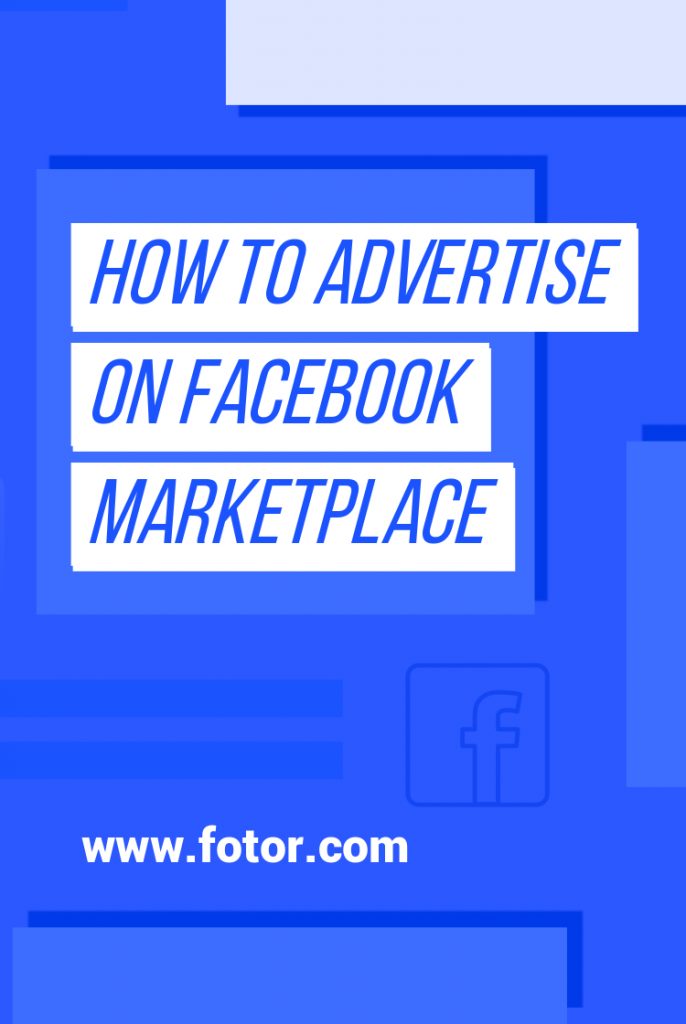 In today's post, I'm going to show you how to advertise on Facebook Marketplace.
Facebook, one of the top social networking sites, is definitely the biggest platform you can get if you seek to boost engagement using the advertisement. At its most simple level, Facebook — like other social media tools — allows individuals to connect with each other on a one-to-one basis but the ultimate power of Facebook goes far beyond that.
We are going to talk about how to advertise on the Facebook marketplace and help your business to connect businesses with customers, and what's more, multiply one-to-one connections and build relationships.
Why You Have to Post Service on Facebook Marketplace? 
Facebook is one of the top-ranked social media platforms with 2.45 billion monthly active users and the second most popular, after Google in the world. This gives Facebook an upper hand over other social media sites and makes it one of the largest platforms for advertising.
Moreover, According to Social Media Examiner, 93% of marketers are using this platform for advertising on a regular basis. This means around 3 million Businesses worldwide are using Facebook advertisements. Facebook provides you unique opportunities, to create Ad types as per your objective. These include Video Ad, Photo Ad, Carousel Ad, Canvas Ad, and Slideshows and so on at very minimal costs.
One of the most interesting features of Facebook Ads is "target". Here you can set some basic parameters like location, language, gender, age, etc to target the right audience. This helps you to save your time and money by preventing you from offering the product or service to the wrong audience.
Facebook allows its users to run Ads that are specifically designed to attract "likes" on their pages. This strategy helps to grow your community on Facebook that later turns into business assets.
What is Facebook Advertising in Detail?
Facebook has become massive over the years with millions of active users all the time, which makes it an important source to connect with your targeted audience. Here one can advertise their business and improve the reach of their brand to an engaging audience. Facebook is also generating the majority of revenue (nearly 90%) through advertising and that's also through mobile.
Facebook advertising comes under the category of social media advertising in which benefits from Facebook are utilized for promoting websites. It runs on the principle of organic search. As more active the social network page will be, more it helps to raise the position of the website on search engines.
Facebook ads: Facebook ads are generally purchased, where advertisers need to pay. These are available in various formats and in different shapes and sizes as well. Let us discuss a few most popular one in detail below:
Types of Facebook Ads with approximate sizes 
Once you've decided on your ad objective, Facebook is introducing specific ad formats for each objective and therefore constantly updating the dimensions and specs of Ad images and videos. The various types of Facebook Ads are as follows: To ensure these ads display well across platforms and devices, follow these specifications from Facebook.
| | | | | | | |
| --- | --- | --- | --- | --- | --- | --- |
|  Ad Types | Title (Characters) | Description (characters) | Text (Characters) | Purpose | Resolution (Pixels) | Max File Size |
| Image ads | 25 | 30 | 125 | All except video |  1200 X 628 | |
| Video ads | 25 | 30 | 125 | All except catalog sales | 1200 X 675 | 4 GB |
| Carousel ads | 25 | 20 | 125 | All except engagement and video | 1080 X 1080 | 30 MB |
| Slideshow ads | 25 | 30 | 125 | All | 1289 X 720 | |
| Collection ads | 25 | | 90 | Traffic, conversions, catalog sales, store traffic | 1080 X 1080 | |
| Canvas ads | | | Blocks of text, each containing up to 500 words | All except lead generation, catalog sales, messages | 1200 X 628 | |
| Messenger Inbox ads | NA | NA | 25 | Traffic, App installs, conversions, catalog sales, messages | 1200 X 628 | |
What's the Best Way of Advertisements on Facebook?
Canvas ads or instant experience ads: These are full-screen ads that carry a much faster ad opening rate. As per Facebook, Canvas is "a full-screen ad experience built for bringing brands and products to life on mobile."
Canvas ads are composed of a mixture of videos, text, images, and calls to action along with some interactive collateral. Statistics show that 53% of the audience that opens these ads, in a single go, get the average view time of around 31 seconds. The basic reason behind this is its ability to mash with many ad types thus providing an unmatched experience in storytelling.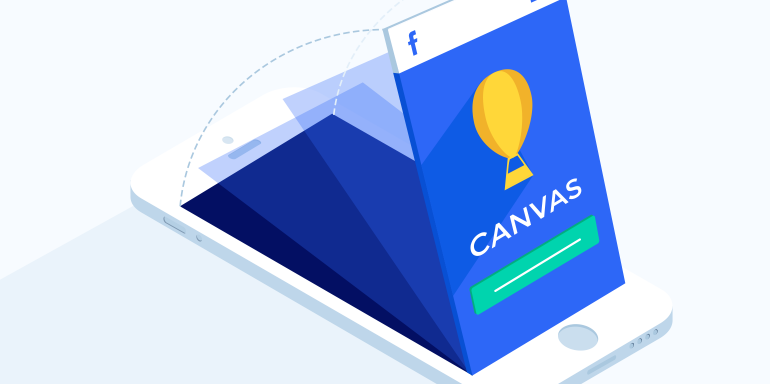 Moreover, this format provides good speed that means products can be opened directly within the canvas itself. One more thing to take into consideration for this format is that it is available for mobile users only.
Facebook Lead Ads:  These ads are available only for mobile devices and are specifically designed to prevent people from typing a lot, in case of providing their contact information.
Facebook mobile lead ads increase mobile conversions because prospects' information is automatically filled in. With a minimum number of steps, clicks, and keystrokes a user can drive tons of high-quality leads through this type of Ads. Moreover, these ads are cheap and effective.
Facebook Carousel Ads:
Facebook Carousel ad is an innovative way to get more content into a smaller space. Here you can feature unique images, each with different headlines, descriptions, and URLs all within the same story.
Carousel ads give advertisers the ability to display up to 10 images or videos. The Facebook carousel format provides an opportunity to advertisers, across Facebook, to show images, headlines, links or calls to action in a single ad unit. This format can be used to highlight the benefits of a single product, the benefits of different products and even all photos together to create a large panorama image.
These ads are specially tailored to display multi eCommerce products or multiple parts of a product in a single swipe. These ads are effective for both desktop and mobile users.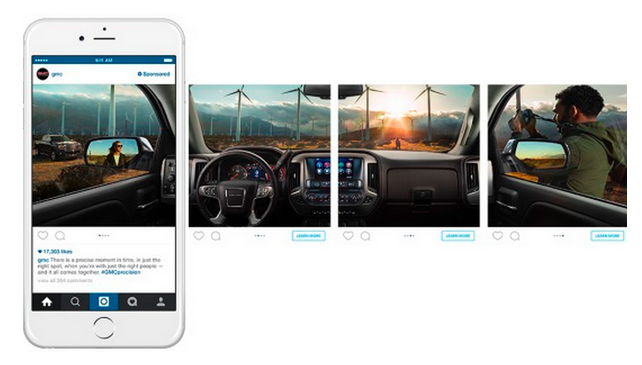 Facebook Video Ads: Facebook video ads are the best way to ensure people remember your brand advertisement in the form of videos. Shoppers that view videos are 1.81X more likely to purchase than non-video viewers. In a survey, it was found that views of branded videos on Facebook increased to 258%. Not only this, but it is also estimated that about 500 million people watch videos on Facebook daily. Here are more marketing trends of social media for your reference.
In order to give a boost to this campaign, Facebook is providing an option of 240 minutes for video ads. But it is recommended by Facebook to keep videos shorts and interesting in order to keep viewers engaged with your video.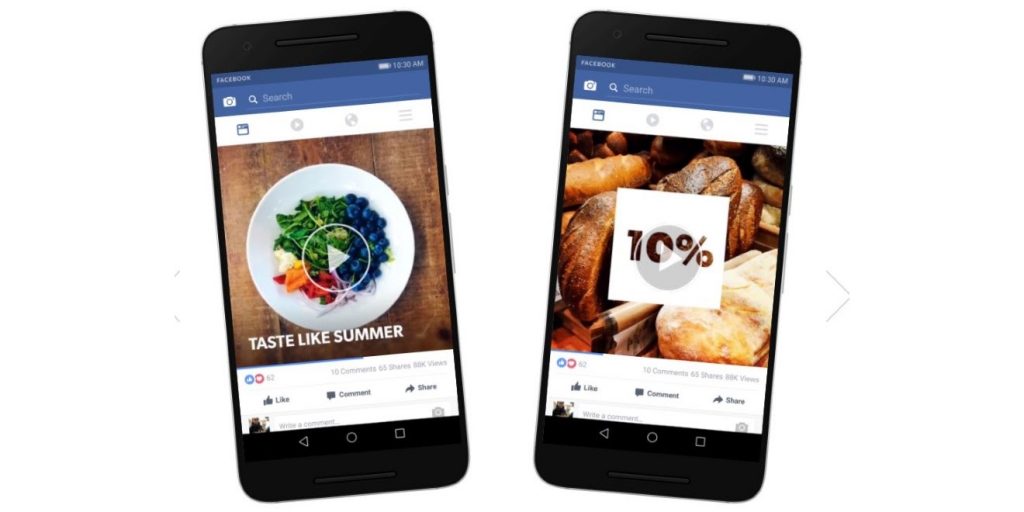 More Facebook Ad Reach Campaigns
Facebook GIF Ads: Today almost everyone is busy with work, and therefore have no time to watch long video ads. In this, the best alternative is GIF ads. GIFs, unlike words, can convey both meaning and emotion. It is a series of images or one soundless video that continuously loops without pressing play. These ads look good on mobile and are easy to export using tools like GIPHY's or Snagit that come with cropping facilities.
Facebook adds this new function into its platform within Ads Manager in the 'Ad Format' section – to add a GIF image which wills autoplay in the News Feed. GIFs can be a great addition to a marketer's digital advertising campaign, and thanks to the existence of GIF-creation sites.
Social media especially Facebook is one of the most important marketing tools of the digital age, so it's integral that you have a solid Facebook outreach campaign in place to grow your followers and expand your audience.
Page Post Engagement Ads: To boost your Ads, Facebook offers to run Facebook page post engagement ads to promote business.
Post engagement on Facebook basically refers to the total number of actions that people take involving your posts. It includes liking or reacting, commenting, sharing, claiming offers, clicking the link, and much more.
One of the common problems for a lot of business owners is the lack of followers even after getting a large number of likes on the business's Facebook page.
Wondering! Why so?
The reason for this is, the algorithm of Facebook is designed in such a way that it allows a lot of exposure to organic posts. That means if you are getting a total of 100 likes for a page and an organic post is added to an account. There is a possibility that only about 20 of your followers will see that post.
Engagement Ads is a certain fix to this problem. In this case, shares, likes, comments, offers and event responses are added.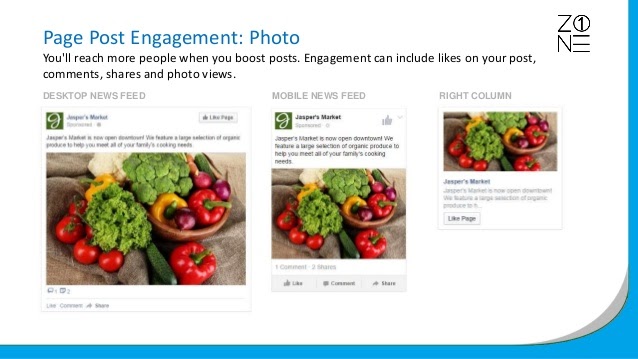 How to Create Quality Facebook Ads
?
Facebook advertising might seem easy at first, but many of you are likely aware that Facebook is a challenging space for advertisers not only because of business competition but also getting competition from people's friends and families. I am sure many are getting confused here but let me explain if your childhood friend just posted her wedding photographs then why would someone engage with your ad. This is why your Facebook ad image has to be visually enticing.
In the recent update, Facebook has added a new element to its 3D photos option, with its system now able to simulate depth in any image, enabling you to convert any static picture into a 3D post.
Striking Image: Most people aren't going on Facebook to browse the digital ads that show up in their newsfeed, so you need to make sure your ad stands out and grabs their attention. As it is scientifically proved that visuals are easily understandable and can be retained for a long interval of time by the human mind in comparison to reading texts. So why not use the psychology behind ads in order to get better results.
A right image that catches the eye of the audience is capable enough to get a job done for you. Even Facebook knows this, as it makes you aware of not to use images with more than 20% words in Facebook ads.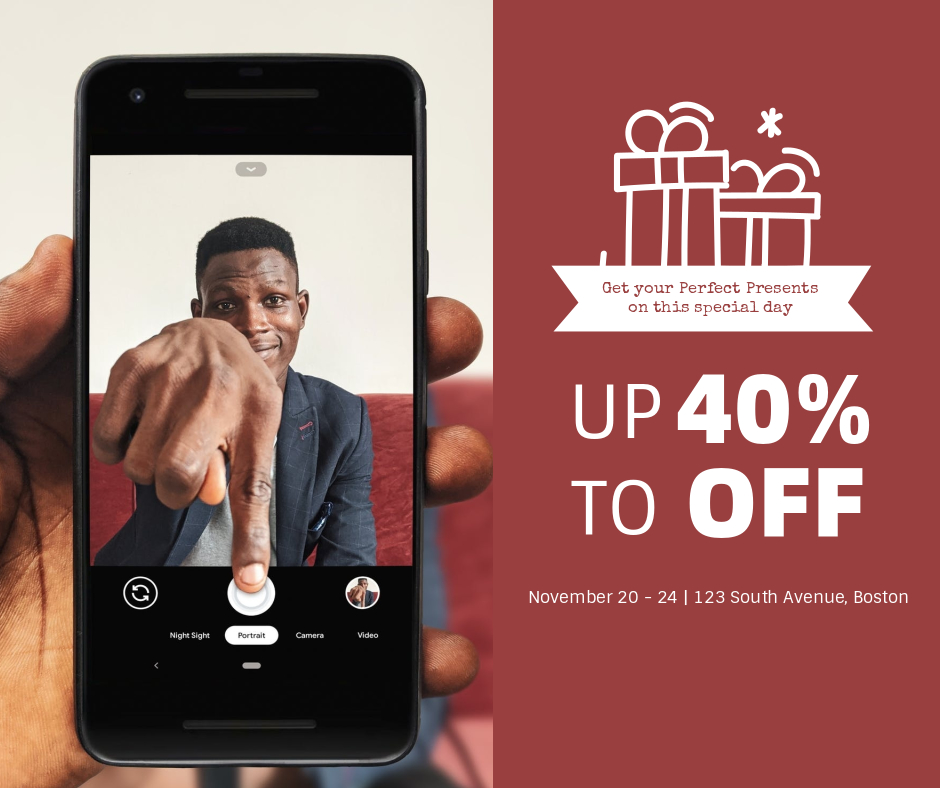 Click the Image to Edit
Use Creativity Wisely:  If your ad simply resembles other ads on Facebook then it's not going to work for you. So what makes you look unique from others? It is your creativity and the material used in the ad helps you stand apart from your competitors. You can take help of online graphic design tools to beautify your photos, build attractive sale posters for the new arrival as well as create collages with ease using beautiful layouts.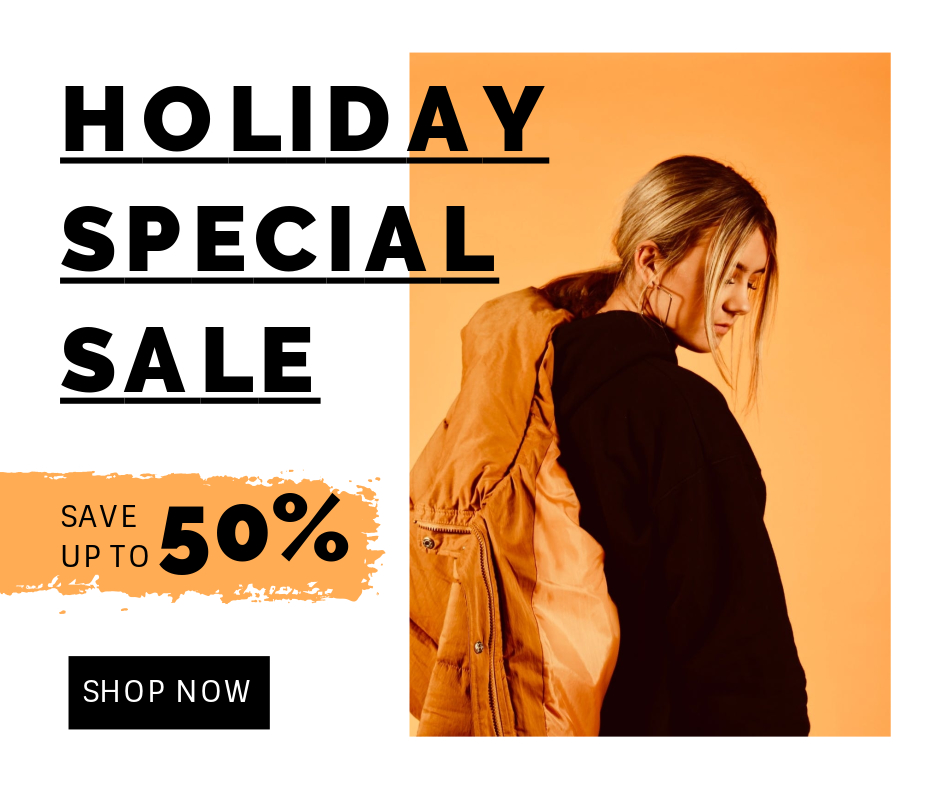 Click the Image to Edit
Use a Contextually Relevant Image: Speaking of context, this is something that is extremely critical when hunting down the right ad image which appears to be promoting their live chat feature.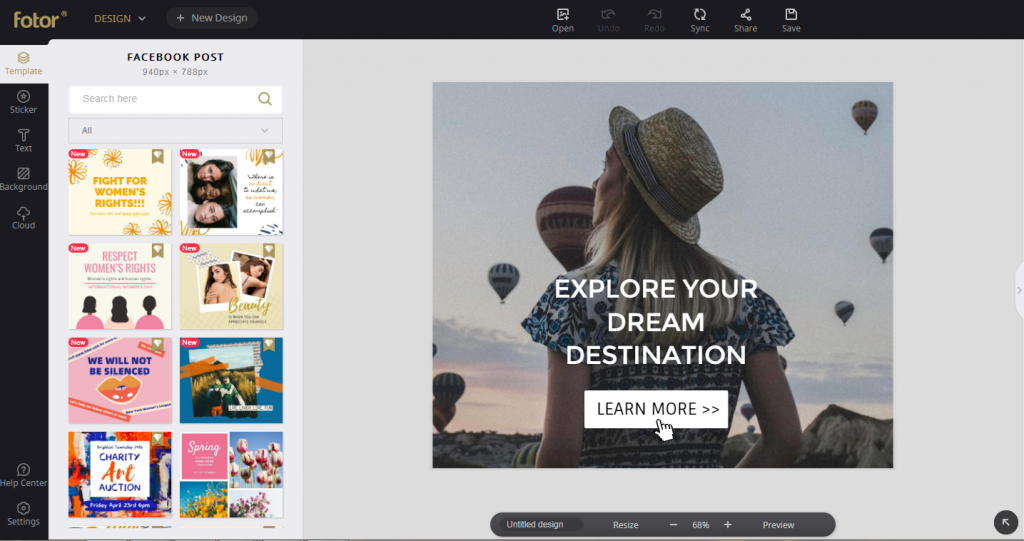 Click the Image to Edit
FAQs
Is it worth it to advertise on Facebook?
Definitely Yes! If you are running short on budget and don't have enough resources to strike the market. This social media platform is the right choice to go with, without wasting your time and money. With a large number of audiences from all around the world, this is the perfect platform to hit.
What is the cost to advertise on Facebook?
It's the same question countless business owners new to Facebook advertising have in their minds. But you go on Google for this question then definitely you get answers – "It depends." But below I am sharing your factors that affect Facebook advertising cost.
"If you're measuring cost per click (CPC) Facebook advertising costs on average about $0.27 per click. If you're measuring cost per thousand impressions (CPM), Facebook advertising costs about $7.19 CPM" (from Hootsuite).
In simple words, depending upon ad, it costs you from 70 cents to 10$ per click. Further, the average cost per click for Facebook ads in the case of industries is about 1.72$.
How do I market my business on Facebook?
Create a Facebook page for business
Post adequately and wisely
Measure your results
Connect and serve customers
Build a solid community
What are the best advertising strategies for Facebook?
Go for research to find, where Facebook ads fit into your marketing
Choose the objective of your campaign based upon your goal
Build an adequate ideal custom audience
Build and Test Ad creative: For this purpose, you can use Fotor (Revolutionary photo editor and design maker) which makes quick work of photo editing tasks online.
What is the best size to post a Facebook Ad?
The shortest and effective with a lot of creativity, which delivers full information of your intent behind the ad, is an answer to this question. If it is in image form then 1,200 x 628 pixels are the best size with high-resolution content and good contrast.
Outro
Today online marketing is not only a key to give a boost to your business but has become a necessity to survive in a market full of competition. If you don't promote your products, some other will and with time, hold a good number of customers to run a business successfully.
Advertising on Facebook provides you an opportunity to take part and beat the competition. What to do is presented to you, whether ads on Facebook or other forms of banner ads, in the form of a Resolute Dossier. Now the choice is yours!
About Us:
Fotor is a free online picture editor and graphic designer, allowing you to use online photo editing tools, such as add filters, frames, text, stickers, and effects…and apply design tools to make creative photo designs and graphics. Online photoshop and graphic design software have never been so easy! Also, if you want to get more helpful and inspirational tips, please visit our blog home page to extend your reading.

---
Related Posts :
Leave a Reply :