How to Edit a Photo Online?
1

Open Fotor's online image editor and click the "Edit" button.

2

Upload your image you wish to edit and choose the editing option you need from the dashboard on the left side. ( There are basic photo editing, effect, beauty, frames, text...)

3

For example, you want to add text to your photo, you click the "text" and add the text box, adjust the font, colors.

4

Click "Save" and select a format for your image.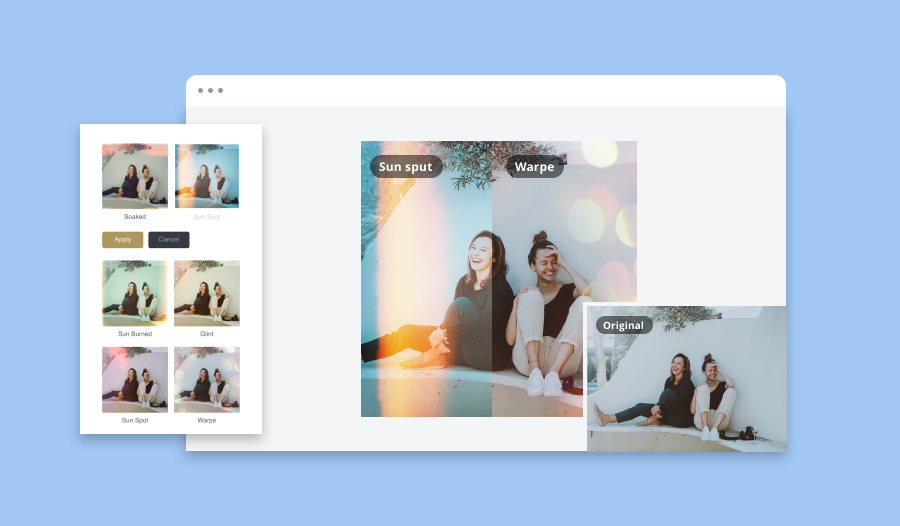 What Features Does Fotor's Online picture editor Have?
Powerful online photo editor
Fotor is the useful and powerful photo editing software with tools can help you do that: crop photo, resize the image, add photo effects, add photo filters, title-shift, color splash, enhance the photo, and add text to photo...so many options for your choice and meet all your image needs soon! You do not need the talent skill of Photoshop, and Fotor's amazing photo editor is a browser-based option that you would not download it. The process might be simple, but the results are unbelievably sophisticated.
Free to use picture editing tools
Want to make your images into artistic work that will attract your potential audience on Facebook and Instagram, but don't have the budget to buy pro photo editing softare? Fotor is a free photo editor for you and allows you to be freely play with its basic image editing tools and some special tools such as AI photo effects,HDR,RGB which are unique than others. Let's face it, image becomes more and more important. With Fotor, you are free to increase the value of your photos in a minutes.
Easy to make photo embellishments
After taking a photo, editing photo is the best and most important way to level up your image's textures. All photo editing tools of Fotor are simple to operate. No photoshop skill necessary. With Fotor's smart online photo editor, you can do the color splash or add the text to your photo in a few clicks and turn your images to the one you love.