How to Make a Card?
1

Open the Fotor Design feature, and select a Card template.

2

Choose a preset design and drag and drop your photos onto the template, or create your own template from scratch.

3

Manage overlays, backgrounds, and text to maximize your design.

4

Preview and Save your work, selecting the format and size you desire.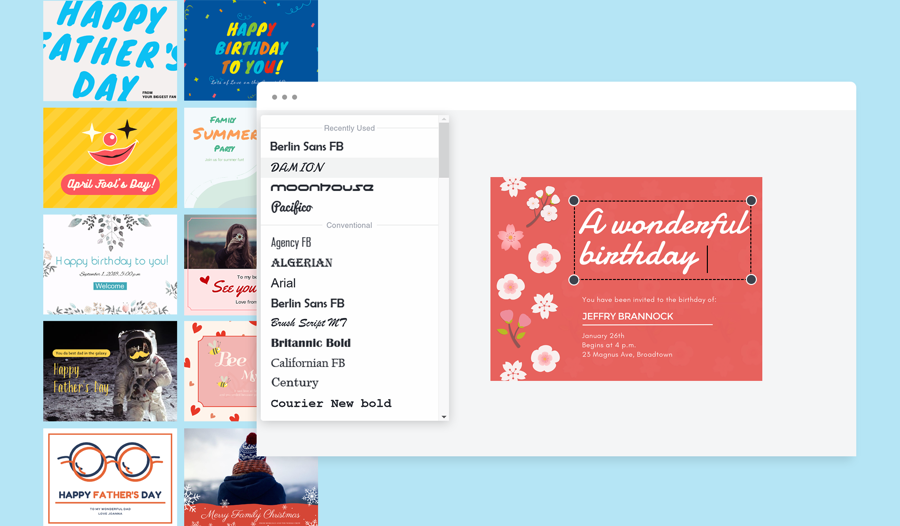 Why You Should Make Cards with Fotor's Online card Maker
It's so easy to operate!
Cards are not only polite, but can be used to send people gift cards or cash if it's a birthday or Christmas, so making sure that the card sends the right message is important. Choosing the right upbeat message to send your friend recovering in the hospital can be the right touch to help them feel better about their situation. Just go to Fotor's card maker and customize your own cards in a few minutes. Click the free card design templates made by professional designers, add your image and personal message, then your heartwarming greeting card is finished. Save the image on your phone or print it out for your next meeting.
No charge
Professional cards are free to design on Fotor's online card maker. You do not need worry about anything more than the paper, envelope, and postage. Just use Fotor's free card templates to customize your very own greeting card, birthday cards and let those you care about know you care and what to congratulate them or keep them in good spirits!
Make someone smile with cards
There's nothing someone wants more than to know someone cares about them, and a greeting card on an important holiday or a "get well" message to someone recovering from surgery or illness can be just the medicine your friend or family member needs to recover in chipper spirits. Since many people are more likely to get a message faster on their phone, many more are happy to receive an electronic greeting card because it is convenient to send and receive. A thoughtful greeting card is the perfect way to tell someone you care! Also, saying "Happy Birthday" to your friend via birthday e-card on Facebook, your friends will be so surprised and happy.