Goth makeup, with its dark and dramatic aesthetic, has always had a captivating allure. If you're a beginner intrigued by the enchanting world of goth makeup, you've come to the right place.
In this tutorial, we'll walk you through the steps to create stunning goth makeup looks that are both bold and beautiful, and we'll provide some aesthetic goth makeup ideas. Whether you're preparing for a Halloween party or simply want to embrace your inner dark diva, we've got you covered.
How to Do Goth Makeup Looks?
Creating a cool goth makeup look involves dark, dramatic, and sometimes unconventional makeup techniques. Here's a step-by-step guide on how to achieve a goth makeup look.
Choose a Gothic Makeup Style
Before you start, you need to decide on the goth makeup look you want and thoroughly research it. Different gothic makeup styles may necessitate distinct makeup products and techniques.
If you're unsure about the available styles, here are some simple gothic makeup ideas to spark your creativity:
Classic Smoky Eyes: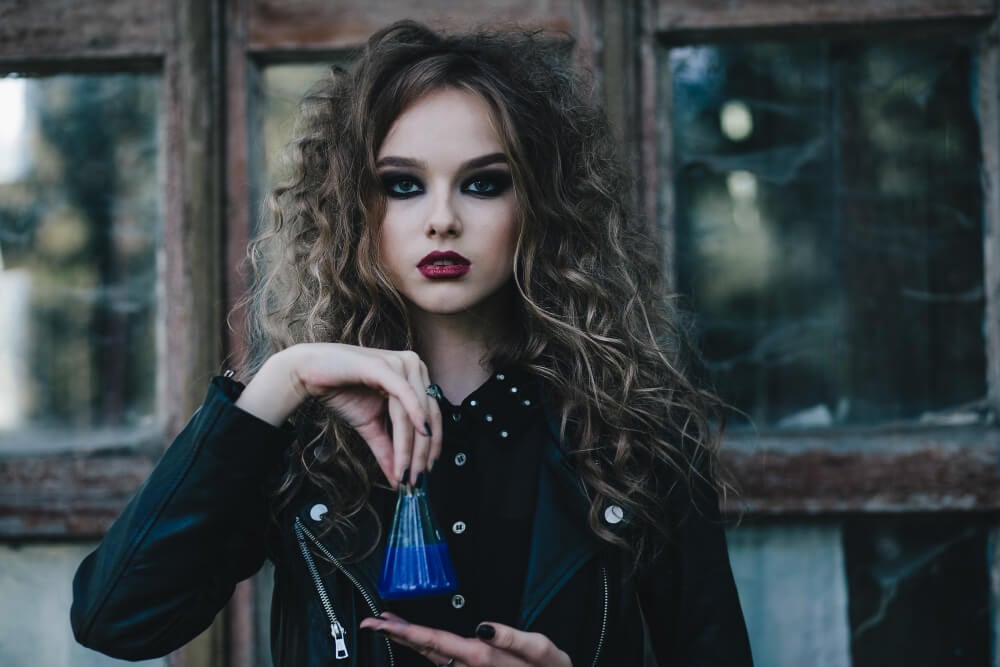 This dark gothic makeup is one of the trad goth makeup looks that exudes mystery and allure. Start with a matte black eyeshadow as the base and blend dark grays and charcoals into the crease for depth. Adding a touch of silver or metallic eyeshadow to the inner corners can provide a subtle shimmer.
Vampire-Inspired Goth Look: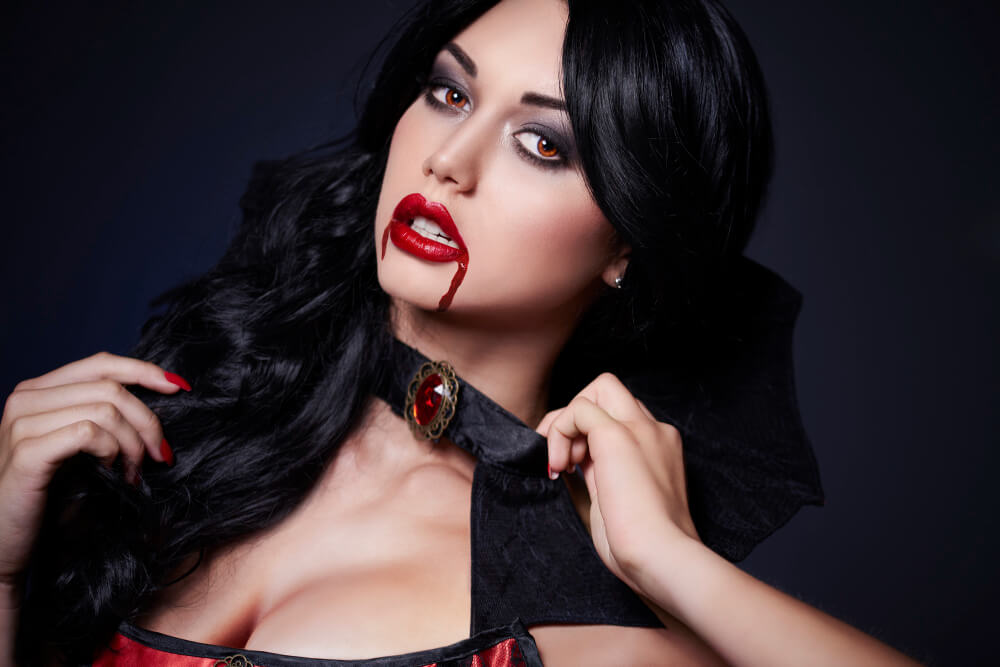 Channel your inner vampire with this dramatic goth makeup look. Achieve a pale, porcelain complexion using foundation. Complete the vampy look with rich, blood-red lipstick. Contouring can also be used to create a sculpted appearance, adding to the overall mysterious allure.
Victorian Goth: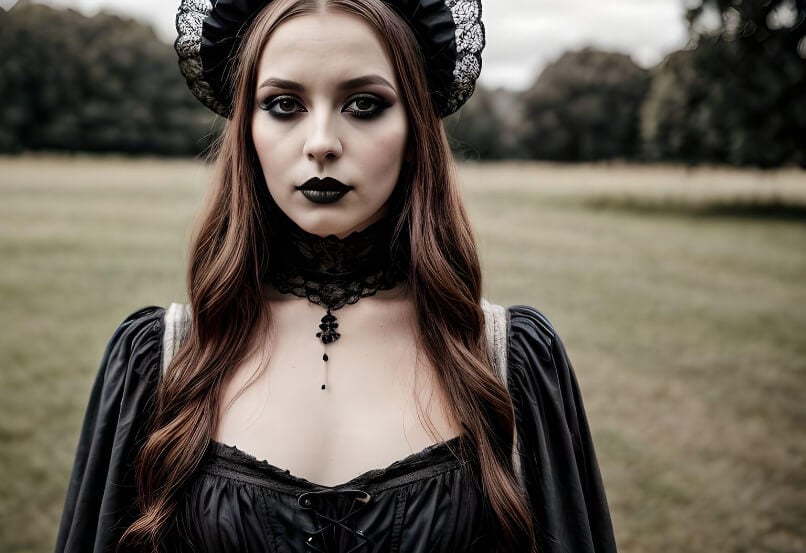 This goth makeup look draws inspiration from the Victorian era, combining a sense of elegance with darkness. Create dark, mysterious eyes using rich purples and deep browns. Intricate lace or designs around the eyes, drawn with eyeliner or face paint, add an extra layer of mystique. Finish with dark, berry-colored lips for a touch of vintage glamour.
Cyber Goth: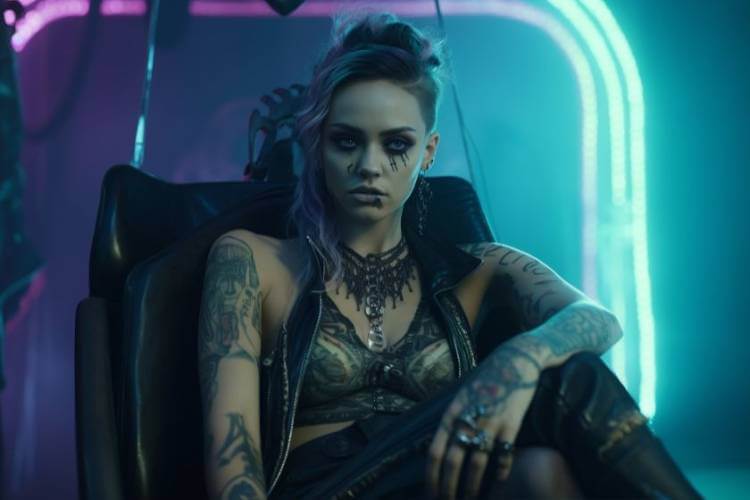 For those who love a futuristic and edgy goth look, Cyber goth maekup is a perfect choice. Go bold with neon or metallic eyeshadows in shades like electric blue, green, or purple. Accentuate the eyes with heavy black eyeliner and false lashes. Consider using UV-reactive makeup for a striking glow under blacklight.
Witchy Glam: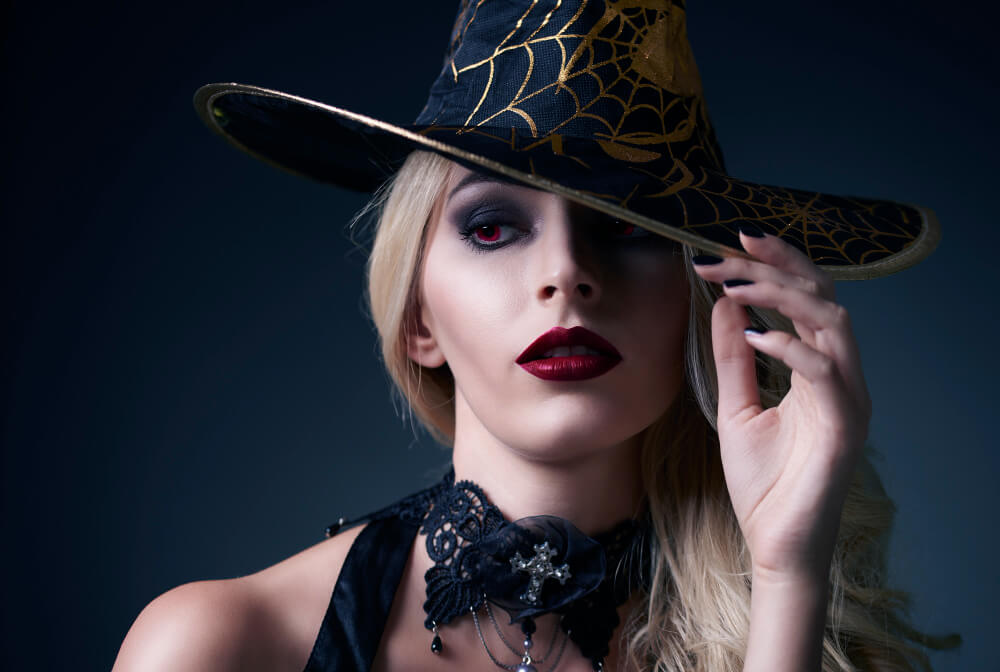 This goth makeup look combines elements of witchcraft with glamour. Achieve a mystical appearance with dark, earthy tones for eyeshadow, giving your eyes an enchanting depth. Choose dark, matte lipstick with hints of burgundy or purple to evoke a sense of mysticism. Accessorize with pentagram jewelry and flowing, dark clothing to complete the witchy vibe.
Gothic Lolita: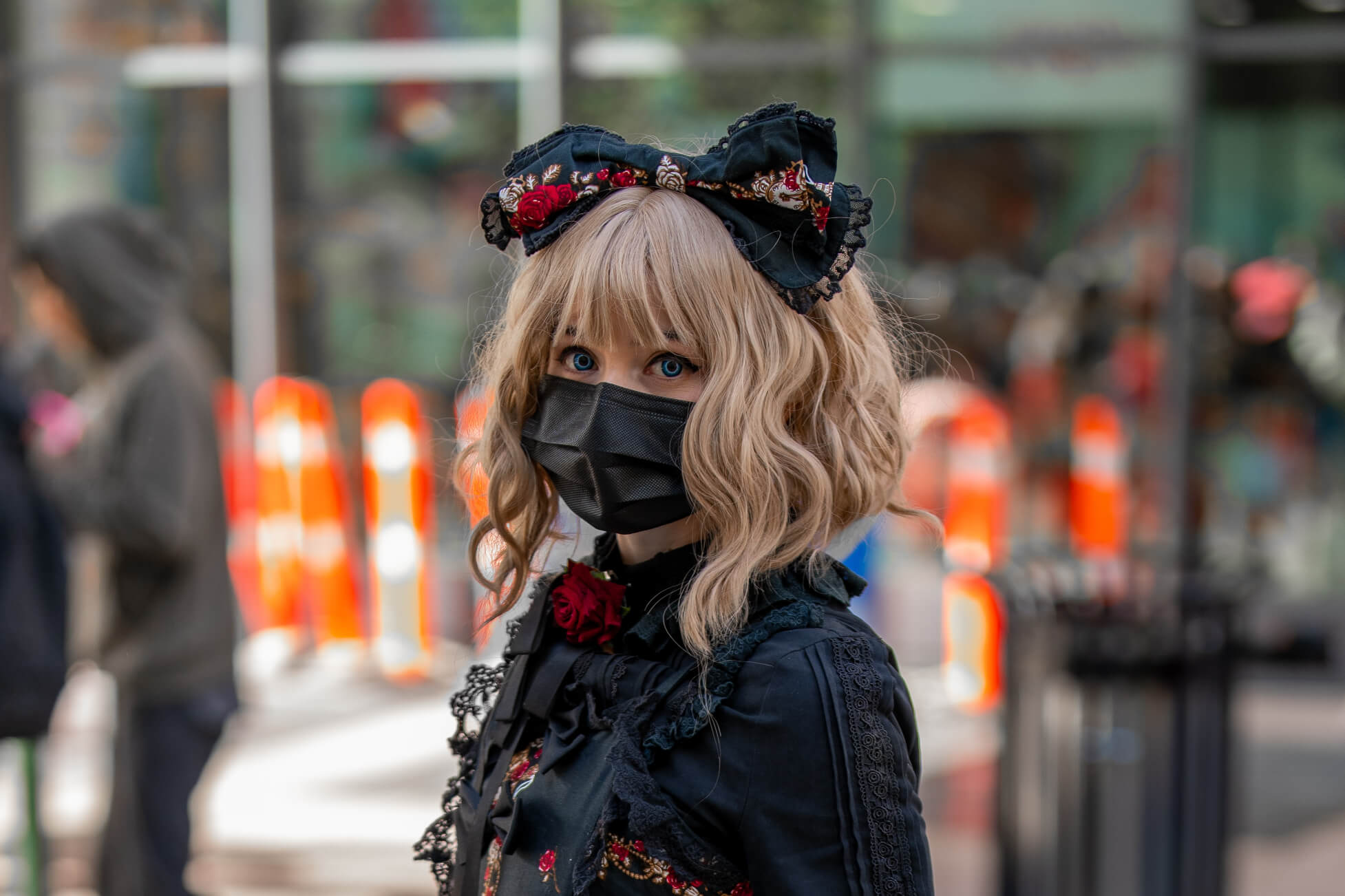 Inspired by the Japanese subculture, Gothic Lolita goth makeup creates a doll-like appearance. Opt for soft, pastel eyeshadows in shades like lavender or baby pink. Finish with a gentle rosy blush and accessorize with cute bows or headbands for simple cute goth makeup looks.
Preparation
Make sure you have a clean, moisturized face as a base for your gothic makeup. Also, gather the necessary makeup products, including foundation, concealer, eyeshadow, eyeliner, mascara, lipstick, and setting powder.
Here are comprehensive steps for achieving various simple goth makeup looks:
Step 1: Foundation and Concealer
Apply a foundation that matches your skin tone or go for a shade slightly lighter for a pale complexion.
Use concealer to cover any blemishes, dark circles, or imperfections.
Step 2: Contouring:
Use a matte bronzer or a gray-toned contour powder to create depth in your cheekbones, jawline, and nose.
Blend well to avoid harsh lines.
Step 3: Eyeshadow:
Start with a matte black eyeshadow as your base color. Apply it all over your eyelids, blending it up towards your crease.
Add depth by using deep, rich colors like burgundy, plum, or dark purple in the crease.
Highlight your brow bone with a pale shade, like white or light gray.
Apply a shimmery or glittery black eyeshadow to the center of your lids for a smoky effect.
Blend the colors together for a seamless transition.
Step 4: Eyeliner:
Line your upper and lower lash lines with a black or dark-colored eyeliner. Make the lines thick and bold for a dramatic look.
For a more dramatic goth makeup, create a winged liner by extending the line slightly outward and upward at the outer corners of your eyes.
Step 5: Mascara:
Apply several coats of black mascara to your upper and lower lashes for a bold, voluminous look.
Consider using false eyelashes for extra drama.
Step 6: Lips:
Choose a dark lipstick shade, such as black, deep red, or dark purple. Matte finishes are often preferred for a gothic look.
Outline your lips with a lip liner to define the shape.
Fill in your lips with the chosen lipstick shade.
Optionally, you can add a touch of shimmer or gloss to the center of your lips for dimension.
Step 7: Setting:
To ensure your makeup stays in place, apply a setting powder or setting spray.
Optional Steps:
For an even more gothic appearance, you can add additional details like faux piercings, dark or metallic nail polish, and black or dark-colored clothing.
Some goth makeup looks incorporate white face paint or foundation to achieve a paler complexion, particularly for a vampire-inspired look.
Try Creative Goth Makeup Looks with Fotor's AI Filter