As Instagram users increase, more and more businesses and individuals use Instagram to conduct business. An Instagram profile picture is an essential part of your profile. It tells visitors who you are and what you do in the first place. Therefore, it is necessary to craft your profile picture carefully.
This article mainly covers the best size and ideas for making the Instagram profile picture, and how to change and download Instagram profile picture.
Standard Instagram Profile Picture Size
It is very important to upload an Instagram profile picture of the right size. Image sizes that are too large or too small will either become blurry or lose focus. These all affect your social media presence.
Instagram profile pictures are compressed to 320 x 320 pixels for saving and display at only 110 x 110 pixels. Therefore, uploading higher resolution images with a 1:1 aspect ratio is what we advocate. The maximum file size for an Instagram profile picture is 10MB.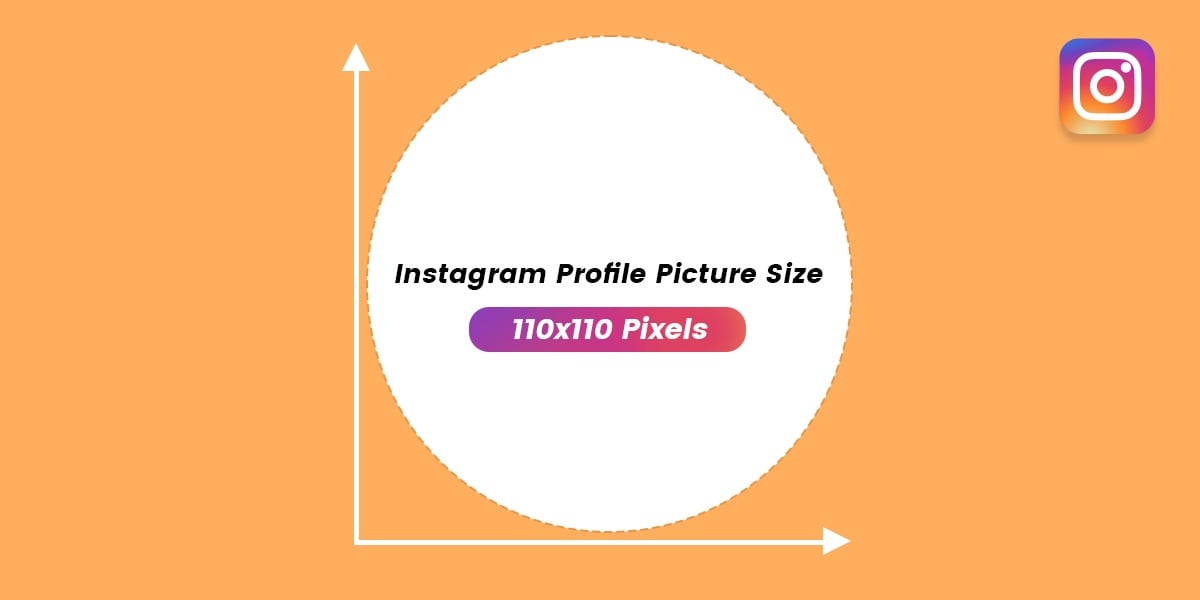 Good Instagram Profile Picture Ideas
1. Use your own photo as your own Instagram pfp
If you want to enhance the credibility of your personal Instagram account, you can take a headshot and use it as your profile picture. Your own face is the representative of the account.and a great headshot can create a positive first impression on your followers.
To make your profile picture more beautiful and confident, you can use various photo beauty tools available in the market. By taking a little extra effort to create a visually appealing profile picture, you can attract more eyes and boost engagement.
Ariel is a celebrity makeup artist. He uses his selfie as his Instagram profile picture, which allows his followers to quickly identify his account information. At the same time, his face is his brand.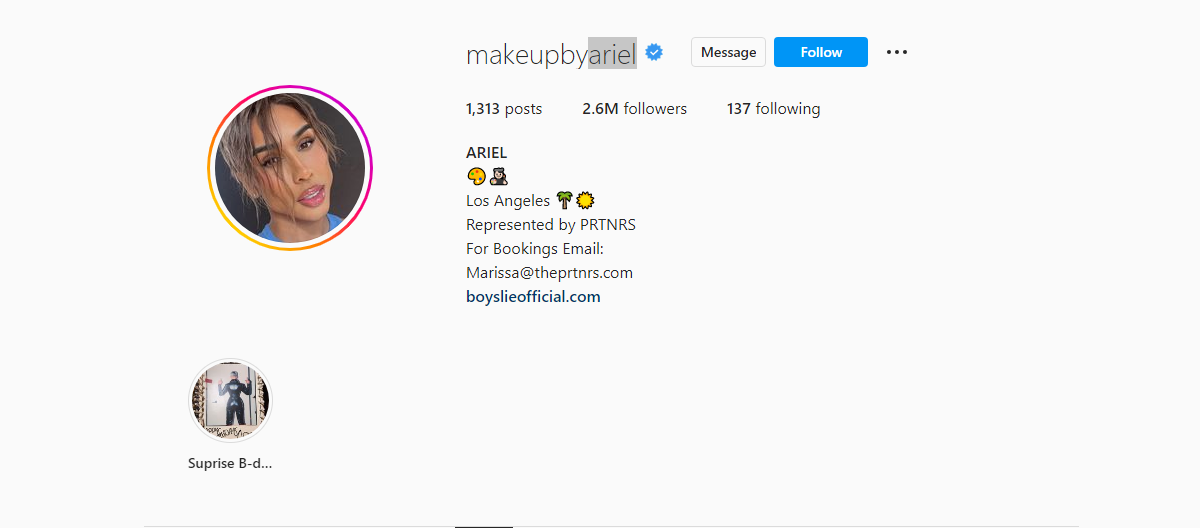 2. Use your logo photo as your business Instagram profile picture
When operating business accounts, we recommend using your own brand's logo as your profile pic for Instagram. With a unique logo, people can quickly identify your brand and become loyal followers. If you don't have a brand logo yet, use our free Instagram logo maker to create a unique logo for Instagram that suits your brand.
Apple is one of the most valuable brands in the world, known for its superb hardware designs, including computers and smartphones. The bitten Apple logo is their company logo. When people see this logo, they think of Apple. Using the company logo as their Instagram pfp is undoubtedly the quickest way to gain visitor recognition.

3. Keep the background clean
Since the profile photo for instagram is very small, it is important to make sure that the main body of the photo is clear. Avoid overly cluttered or busy backgrounds. This makes it easier for followers to see you and identify your page.
If you choose a photo background that is too cluttered, please use a photo editing tool to make adjustments before uploading. Remove unwanted background from photos, change background color, and make the photo background more clean and tidy.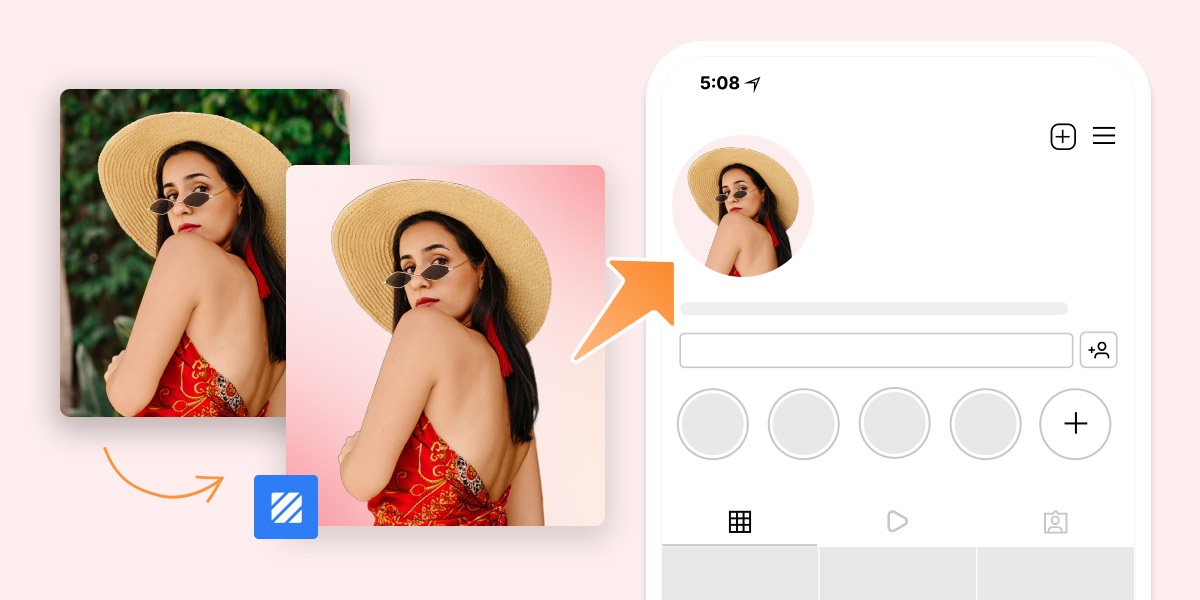 4. Use filters and stickers to create an aesthetic Instagram profile picture
Instagram aesthetic pfp make a deep impression and let more people become your followers. Use beautiful photo effects and add stickers to your pictures to make your Instagram pfp attractive. Upload an aesthetic profile picture like this to make your Instagram stand out.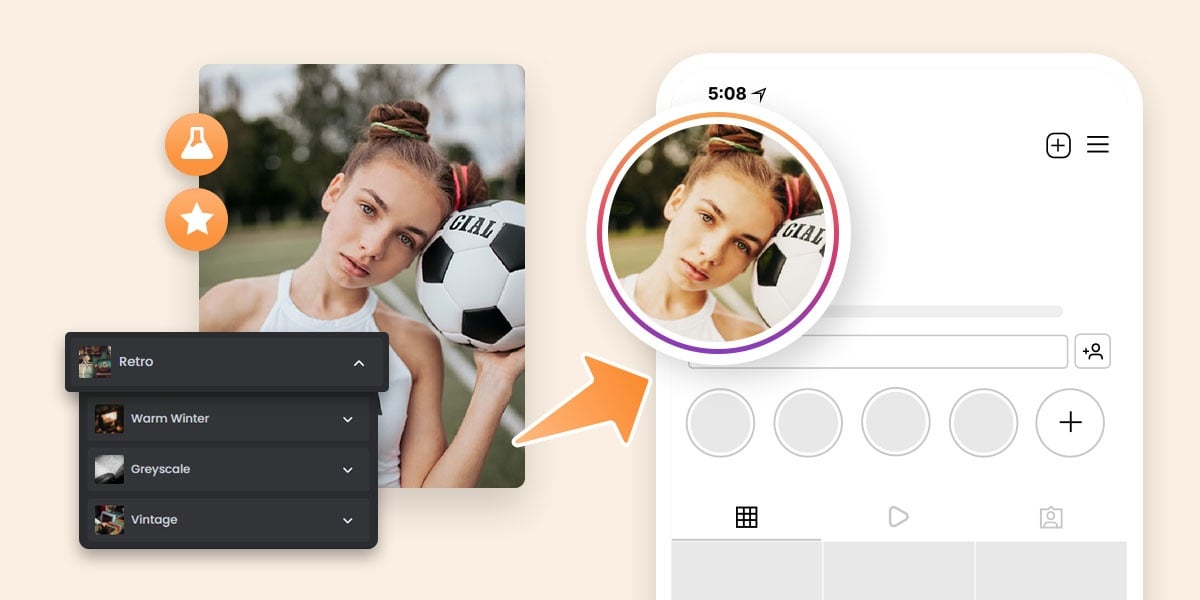 Creating a holiday-themed pfp for your Instagram profile can make a lasting impression and attract more followers. For Halloween, you can enhance your photo with spooky filters and add Halloween stickers to make a Halloween profile picture. By decorating your profile picture for holiday, you can easily make your Instagram stand out during the festive season.
5. Cartoonize your profile picture
Cartoonize your pictures with cartoon filters. It is a fun and engaging way to visualize content. With it, people can remember you and the content of your photos better. You can use Fotor's free online AI art generator to quickly turn your photos into stunning pieces of art that stand out from the rest.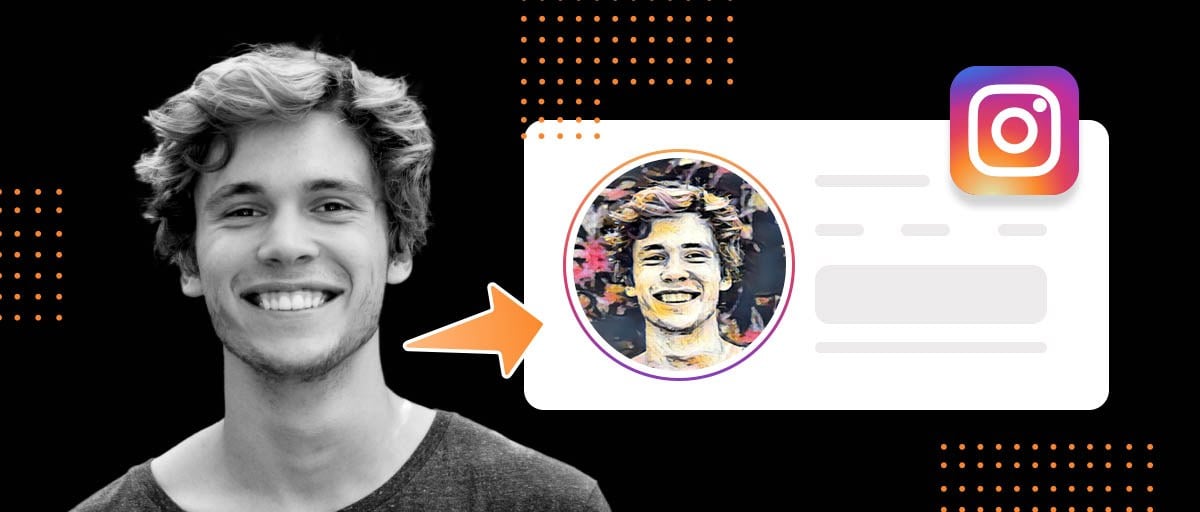 6. Use high-contrast photos
Highlight the subject of your photo with contrasting colors. Use contrasting photos to bring the visitor's attention to the focal point of your image.
Derekwhite is a successful entrepreneur and CEO of a marketing agency. His profile picture for Instagram is a picture of himself. The all-black outfit and the green background behind him form a stark backdrop. That allows visitors to see Derek immediately.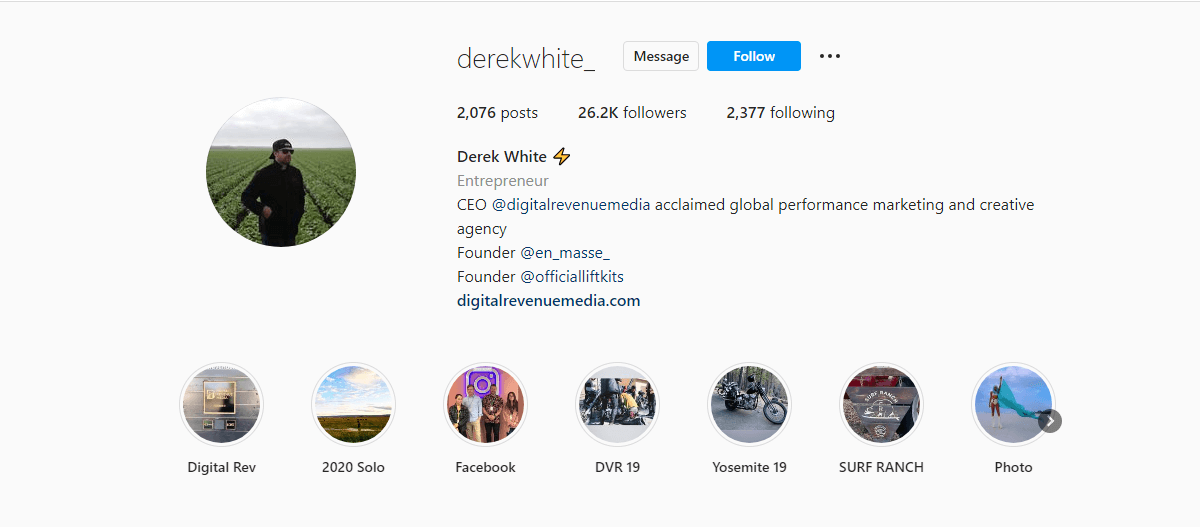 7. Make sure your subject is in the center
Being close and in the center of your image makes it easier for your followers and potential followers to see you. And that can decide if they want to take the time to look at your account.
8. Crop your image
The Instagram profile pic is a small space so visitors can't tell the difference between full body and far distance shots. Don't use a full body photo as your Instagram pfp.
Use profile picture maker apps or an free online Instagram photo editor tool to crop your image and remove excess parts, leaving only the head and part of the shoulders. Then visitors can immediately notice your face and quickly identify you. You can also circle crop the image to quickly make a round Instagram profile picture.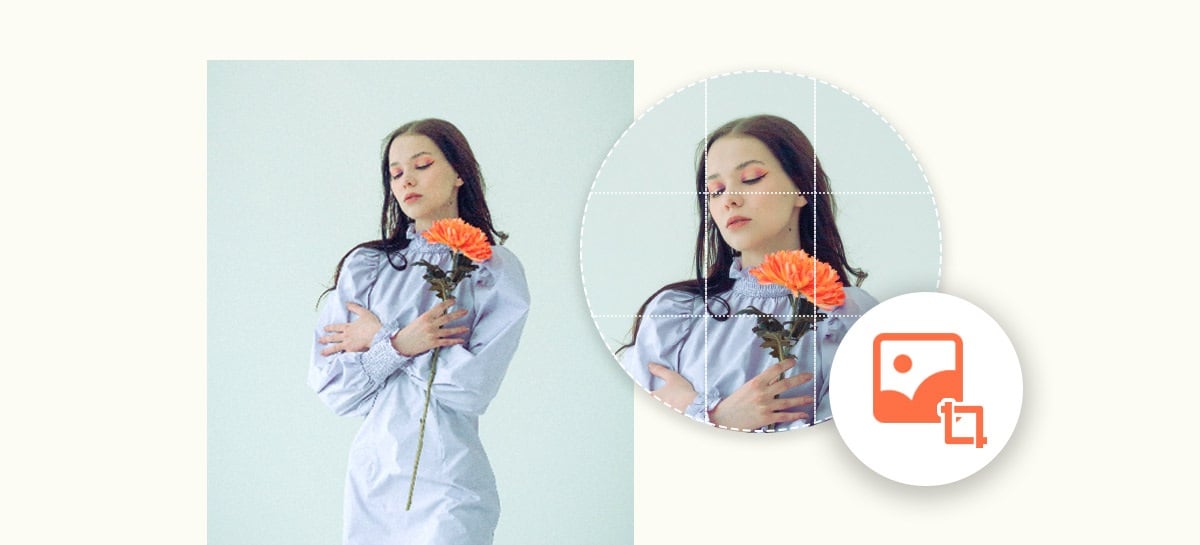 9. Use good-looking images from gallery
Good-looking pictures are always more attractive. You can search for free galleries online, browse through the images, and choose the downloads you like. Crop these pictures and you can quickly get cute or cool profile pictures.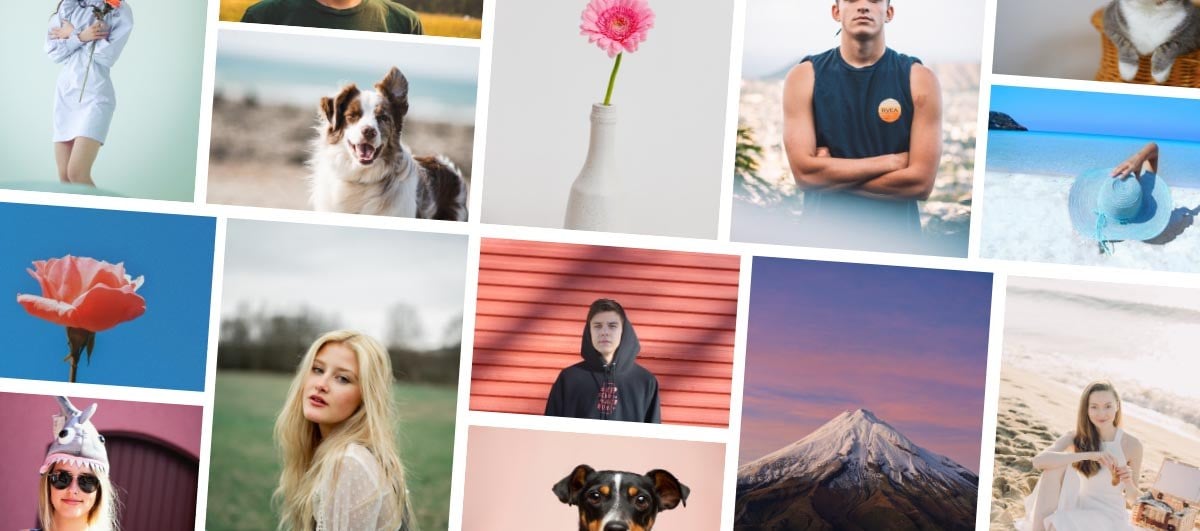 How to Download Instagram Profile Picture?
It is not easy to get any account's profile photo directly on Instagram because this feature is not supported on Instagram. So you need to use Instagram profile picture downloader to download them.
Instafollowers is a free software that allows anyone to search for accounts and download users' profile pictures in high quality. Enter the Instagram username in the search box, click "Search" button. The full size profile picture of the user you are looking for will be displayed. Click the "Download" button below to download your full-resolution Instagram pfp to your phone and computer.
How to Make Instagram Profile Picture with Fotor?