#1. Fotor - Best Profile Picture Maker App Overall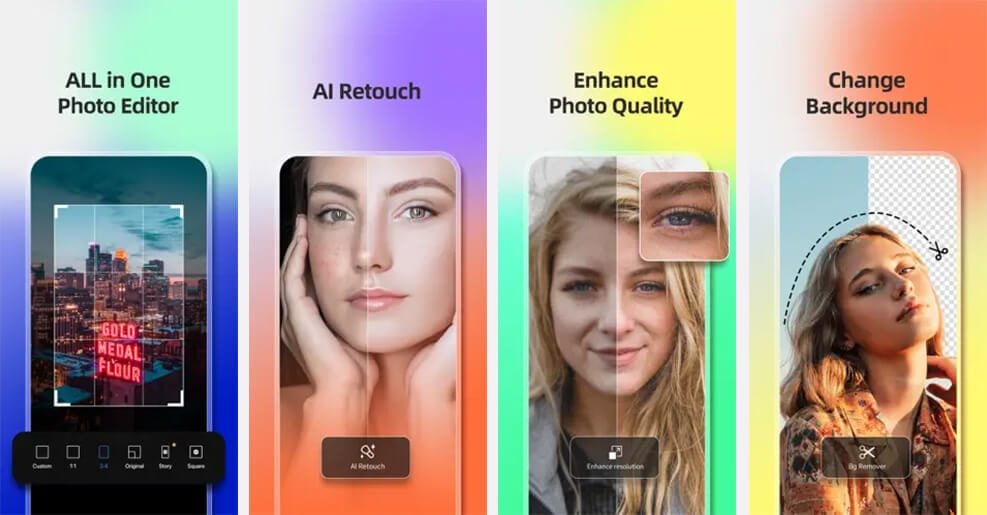 If you are looking for a powerful profile picture maker app, Fotor is the one you need to check out. With its wide range of image editing tools and photo filters, you can easily touch up your photos and create stunning profile pictures that truly represent who you are.
Fotor is not only easy to use, but it also offers advanced AI-driven features that allow for seamless customization. With just one click, Fotor can automatically fix the lighting and color issues, retouch skin, remove or change photo backgrounds, remove unwanted objects like acne and blemishes, apply photo filters, and much more.
Fotor's AI photo editor tool makes it easy to achieve professional-level results with minimal effort. But that's not all – Fotor even gives you the ability to turn your photos into stunning cartoon portraits. This unique feature sets it apart from other profile picture apps and allows you to showcase your personality and creativity in a fun and unique way.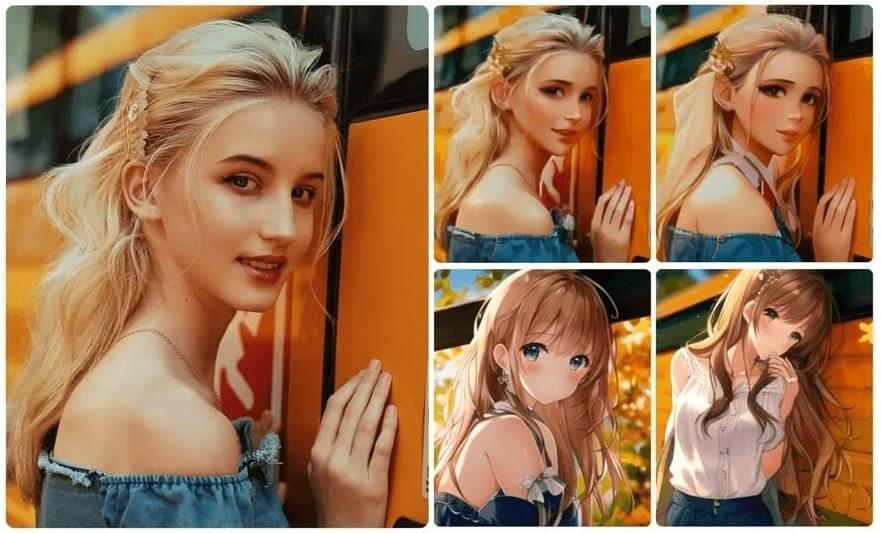 Key Features:
All-in-one photo editor: crop & resize, adjust the light and tone, add text, and more
Exclusive photo filters and art effects
Millions of stickers, borders, and frames to choose from
Powerful AI tools: AI skin retouch, AI photo enhancer, AI photo eraser, AI background remover, AI avatar maker
Overall, Fotor is one of the best apps for profile pictures. Whether you want to create a professional-looking profile picture for your LinkedIn account or a fun and creative one for your social media profiles, Fotor has got you covered.

Get Fotor on App Store / Google Play

#2. Facetune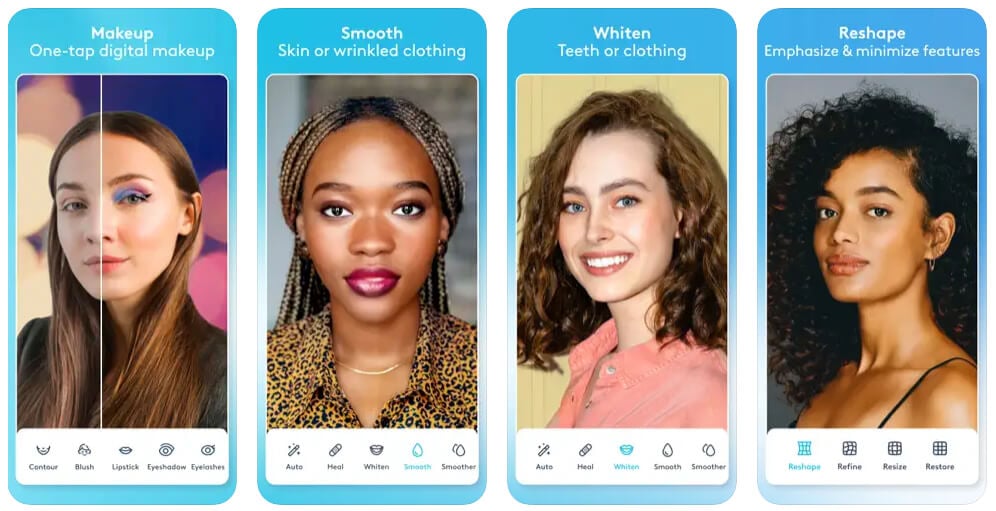 If you're looking for a powerful profile picture maker app for retouching photos, Facetune is a good one. With just a few taps of your finger, you can easily retouch your pictures and enhance their overall quality using Facetune.
You can adjust the lighting, reshape face and body, smooth skin, and more. But Facetune isn't just for basic photo editing - it also offers advanced capabilities like color correction, object removal and AI art generator.
Key Features:
Comprehensive photo editing features to enhance your portraits and selfies
A wide variety of photo filters, including vintage, black and white, and artistic effects.
Background editing: AI image generator for creating stunning photo backgrounds
Get Facetune on App Store / Google Play
#3. FaceApp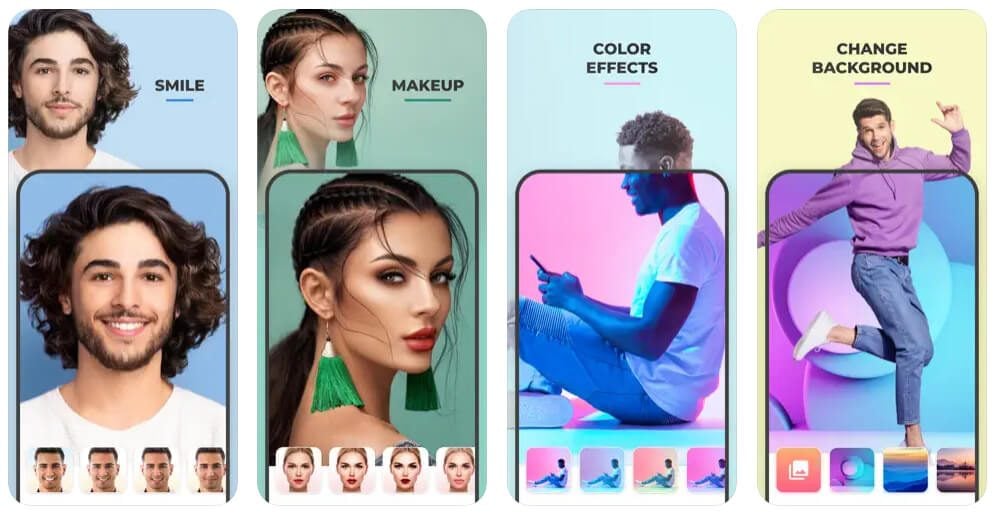 FaceApp is a popular profile picture app among social media users. It utilizes advanced AI technology that can transform your selfies in countless ways.
You can easily change your hairstyle or color, add a smile or apply virtual makeup to create the perfect profile picture. But what really makes FaceApp different is its unique feature that allows you to swap faces with others and change your age and gender. This feature can be a fun way for you to experiment with different looks or even imagine yourself as someone else.
So if you're looking for a fun and creative way to update your profile picture or simply want to experiment with different looks, give FaceApp a try - you won't regret it!
Key Features:
More than 60 highly photorealistic filters
Face retouching tools: remove acne and blemishes, smooth wrinkles, change hair color and style, enlarge or minimize facial features
Swap faces with your favorite celebrities in just one click
Powerful AI tools: gender swaps, old and young filters, smile editor
Get FaceApp on App Store / Google Play

#4. NewProfilePic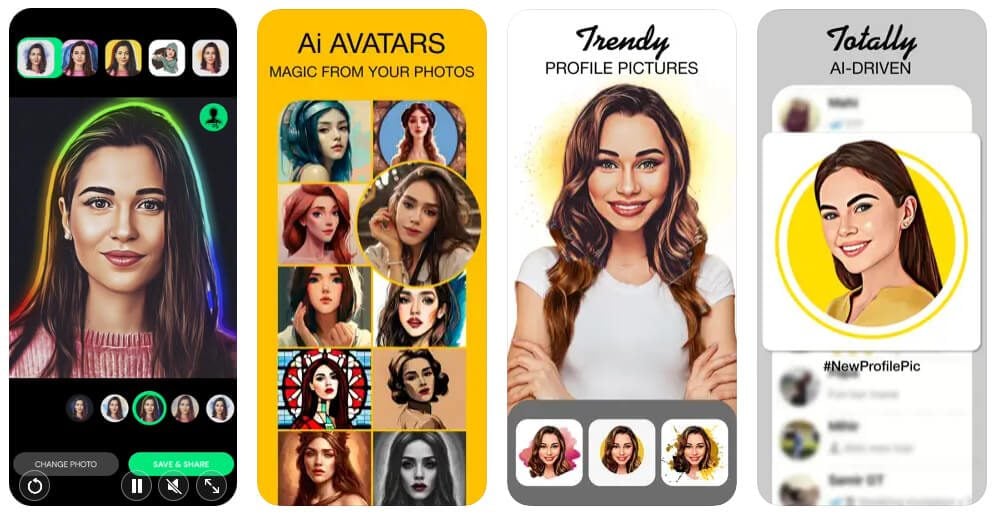 NewProfilePic is an interesting app to make profile pictures. Unlike other profile picture maker apps, NewProfilePic specifically focused on creating fun, trendy, social media-friendly profile pics. It uses AI technology to transform your ordinary profile photo into AI avatars. It offers a variety of amazing styles, including cartoon portraits, trendy art effects, catchy toony filters, and more, so you can easily create a PFP that stands out from the rest.
NewProfilePic's user-friendly interface makes it easy for anyone to use.
Simply upload your profile picture, select a style that you like and you'll have a creative profile picture that is sure to impress your friends and family in no time.
Key Features:
A library of trendy cartoon filters and effects to choose from
Weekly update with new effects and features
Share your edited profile picture directly on social media platforms like Instagram, Twitter, and Facebook
Get NewProfilePic on App Store / Google Play
#5. BeautyPlus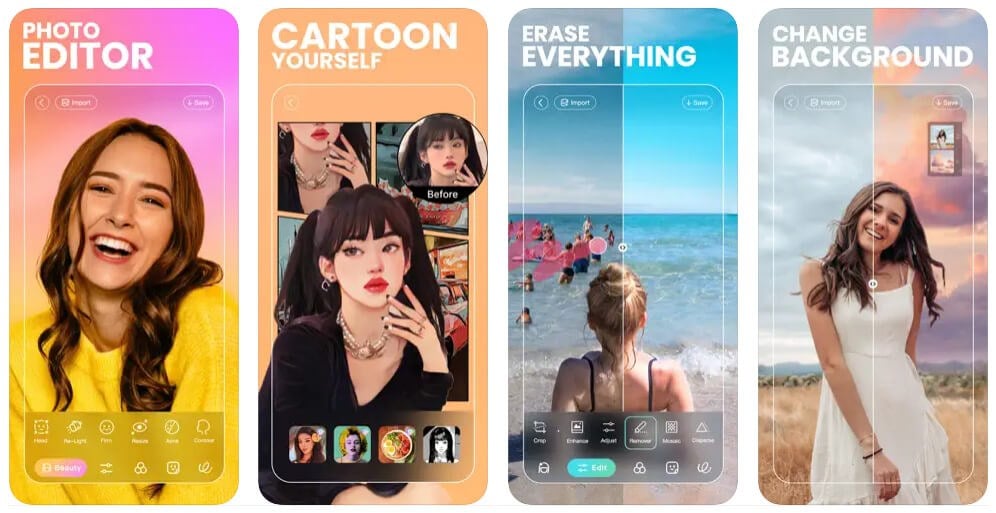 BeautyPlus is a popular photo editing and camera app for taking and editing selfies. It has a user-friendly interface that makes it suitable for both beginners and advanced users alike.
BeautyPlus offers over 50 easy-to-use tools for enhancing and editing photos. From smoothing out skin and whitening teeth to reshaping body and more, BeautyPlus has everything you need o make your own profile picture look its best. If you're looking to create beautiful and natural profile pics, make sure to check out BeautyPlus.
Key Features:
HD touching that lets you enhance your profile pictures with a single tap
AR makeup effects
A wide variety of stickers, text, brushes, and background options
Makeup tools include height adjustment, body reshaping, skin smoothing, acne removal, teeth whitening, change eye color and more
Get BeautyPlus on App Store / Google Play

#6. Facelab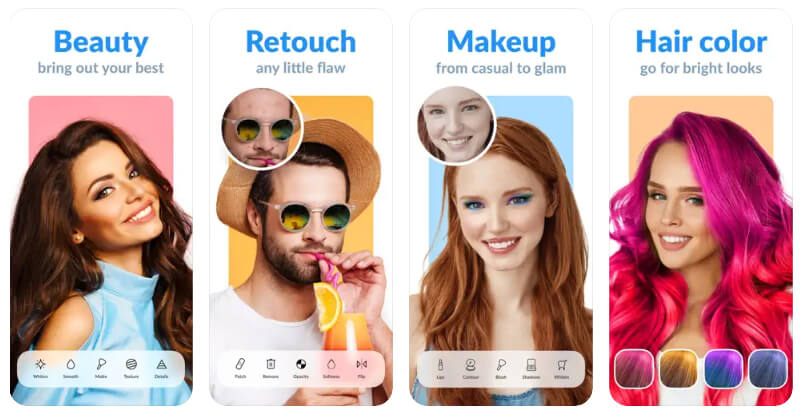 If you're an iPhone user, Facelab is definitely worth checking out. Whether you want to create a professional headshot or an attractive social media profile photo, Facelab has got you covered.
This powerful profile picture maker app offers a range of features that helps you effortlessly smooth out skin, remove any blemishes, reshape your face, change the color of your hair, and so much more. With Facelab, it's easy to hide flaws and enhance your beauty.
Moreover, Facelab offers preset sizes for various social media platforms, including Facebook, Instagram, and LinkedIn, so you can be sure that your profile pic will fit perfectly on each platform.
Key Features:
A professional suite of photo retouching tools
Apply digital makeups
Turn profile photos into 3D cartoons
Preset sizes for social media
Get Facelab on App Store
#7. PicsArt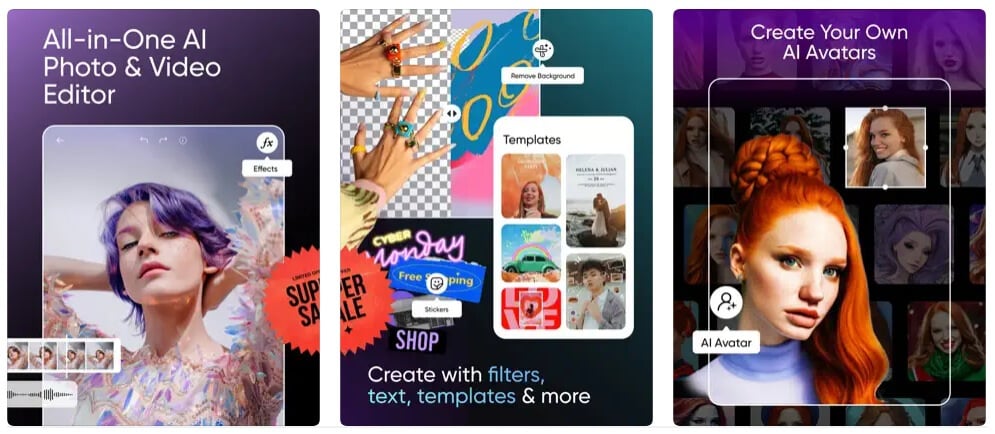 As one of the most popular apps on the market, PicsArt offers an extensive range of features and tools to help you create stunning profile pictures. From basic edits like color adjustment and adding filters to advanced options like changing photo backgrounds and applying digital makeup, there's something for everyone.
Moreover, it offers a huge library of design elements like stickers, overlays, borders, and frames can also help personalize your profile picture.
PicsArt's interface is easy to use, so users of all skill levels can easily use it. With just a few taps, you can easily create a unique and personalized profile picture with PicsArt.
Key Features:
Retouch profile pictures with hair color changer, makeup & more
Trendy photo filters and effects
Remove, replace, and blur image backgrounds in one tap
Turn portraits into cartoons
Get PicsArt on App Store / Google Play

#8. VSCO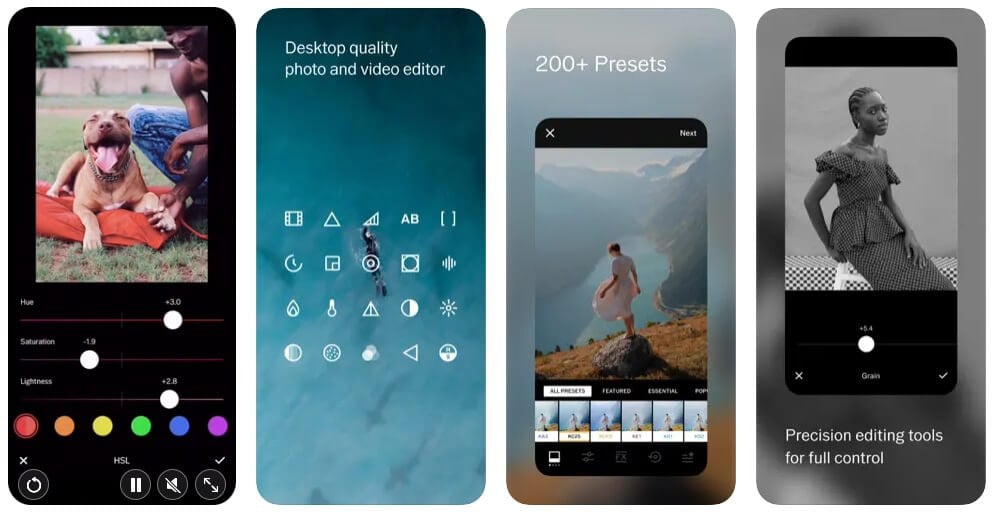 VSCO is well known for its amazing photo filters. However, it provides a wealth of other features that can help you create the perfect profile picture.
You can crop and resize photos, adjust the brightness, color and saturation, add photo borders and text overlays, and more.
VSCO provides endless possibilities for customization. VSCO is free to use, but there are also paid plans that offer more features and filters.
Key Features:
A variety of editing tools to enhance profile photos, including exposure, contrast, saturation, and sharpness adjustments
Presets and customizable photo filters
Ability to save editing settings and apply them to future photos
Get VSCO on App Store / Google Play
5 Tips on How to Take Good Profile Pictures
Taking a good profile picture can be tricky, but it's not impossible. Here are some profile picture ideas and tips for you to help you take a good profile picture.
1. Find Your Best Angle
Everyone has a good side. Some people may look better when photographed from their left side, while others may prefer their right side. So take your time and experiment with different angles and positions to find yours.
2. Lighting Matters
Use natural and soft light. This can help to highlight your best features and avoid unflattering shadows.
3. Choose an Appropriate Background
It is important to keep the background of your profile photo clean and simple to prevent any distractions. A neutral background is always a safe option, but make sure it complements your outfit and skin tone for the best result.
4. Smile Naturally
Avoid forced smiles. Make sure your facial expression is relaxed and friendly. This can help you look more attractive and approachable.
5. Consider the Platform and Audience
Different platforms may have different requirements or preferences for profile pictures. For example, LinkedIn is a professional networking site, so a professional headshot is the best choice for your Linkedin profile picture. While Instagram is a more casual platform, so you can get creative with your profile pic. You can use a selfie, a cartoon picture, or even an AI avatar.
FAQs
1. What is a Profile Picture?
A profile picture, also called a PFP, is an image that appears in your online accounts.
It is an essential part of the online identity that helps others identify and recognize the person or brand. A profile picture can be a headshot, a selfie, or an image that represents a person's interests or personality.
2. What Is the Best App That Makes Your Profile Pic Look Like a Painting?
Fotor app is an effective tool to make your profile pic look like a painting. Using advanced artificial intelligence technology, Fotor makes this transformation process a breeze. There are also a variety of painting styles to choose from, including sketch, drawing, cartoon, watercolor, and more. To get started, simply upload your profile picture to Fotor, select your desired painting style, and watch Fotor instantly turn your photo into a painting.
3. What Is the Best App to Make a Profile Picture?
Fotor app has the most comprehensive retouching and makeup features for making a profile picture. With Fotor's powerful editing tools, you can easily enhance your natural beauty and create a stunning profile picture that captures your personality and style perfectly.
Final Words
Your profile picture speaks volumes about who you are and what you stand for, so it's worth taking some time on it. By utilizing a profile picture maker app, you can easily enhance and customize your photo to create a unique and eye-catching profile picture that reflects your personality.
We hope this blog has helped you discover some of the best profile picture maker apps out there, and inspired you to experiment with new ways of creating your own perfect PFP.