LinkedIn Profile Picture: Size, Tips, Examples and More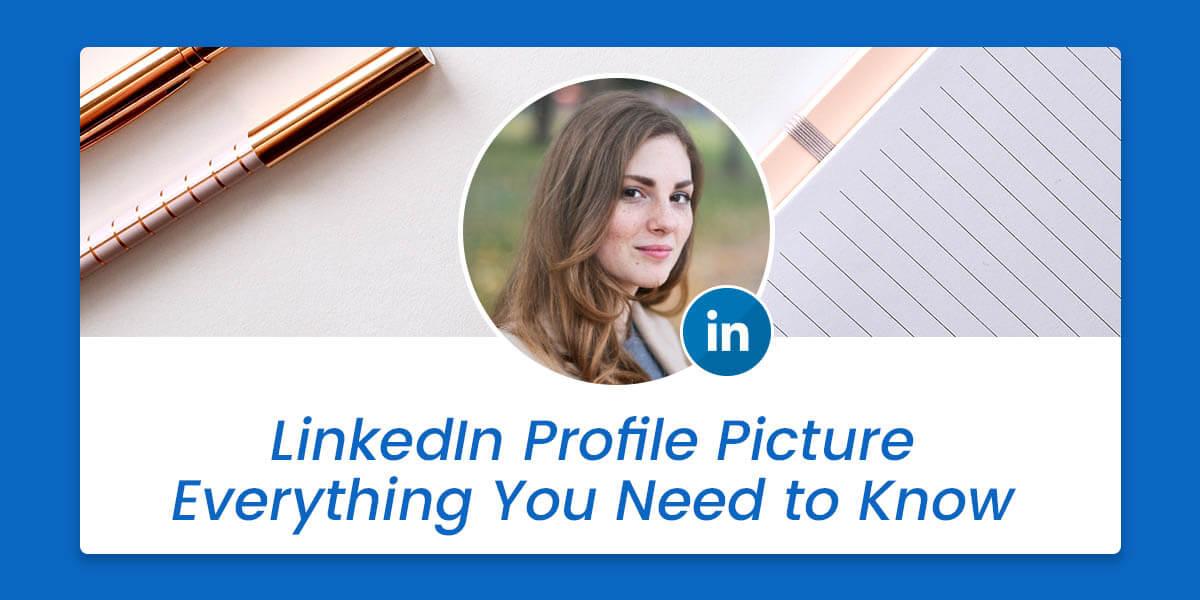 With over 830 million users, LinkedIn is the world's largest professional network. It is a great place to expand your business network, build your reputation, and find a new job.
If you want to succeed on this platform, you may consider investing in a good profile photo for LinkedIn. It's your first introduction to new contacts, and it can determine their first impression of you. A professional photo will make your profile stand out and help you make a good impression.
In this article, we'll cover everything you need to know about LinkedIn profile pictures, including the best LinkedIn profile picture size, great examples & practices, and tips to create a good LinkedIn profile photo. Keep reading for more!
Why it is important to have a good LinkedIn profile picture?
According to a LinkedIn study, you will be 14 times more likely to be viewed by others if you have a profile picture on LinkedIn. In addition, adding a profile picture to your LinkedIn account can increase your response and referral rates. In other words, having a great profile photo for LinkedIn is extremely important if you want to get noticed on LinkedIn.
Besides being the first thing that people see when visiting your profile, your LinkedIn profile pic also appears in many other places, including search results, recommended contacts, alumni lists, etc. These places usually display only your name and profile picture. First impressions are crucial, so it's important to have a good LinkedIn profile picture.
What is the LinkedIn profile picture size?
The recommended LinkedIn profile picture size is 400x400 pixels, with a 1:1 aspect ratio. The maximum file size is 8MB, and the accepted image formats for upload are PNG or JPEG.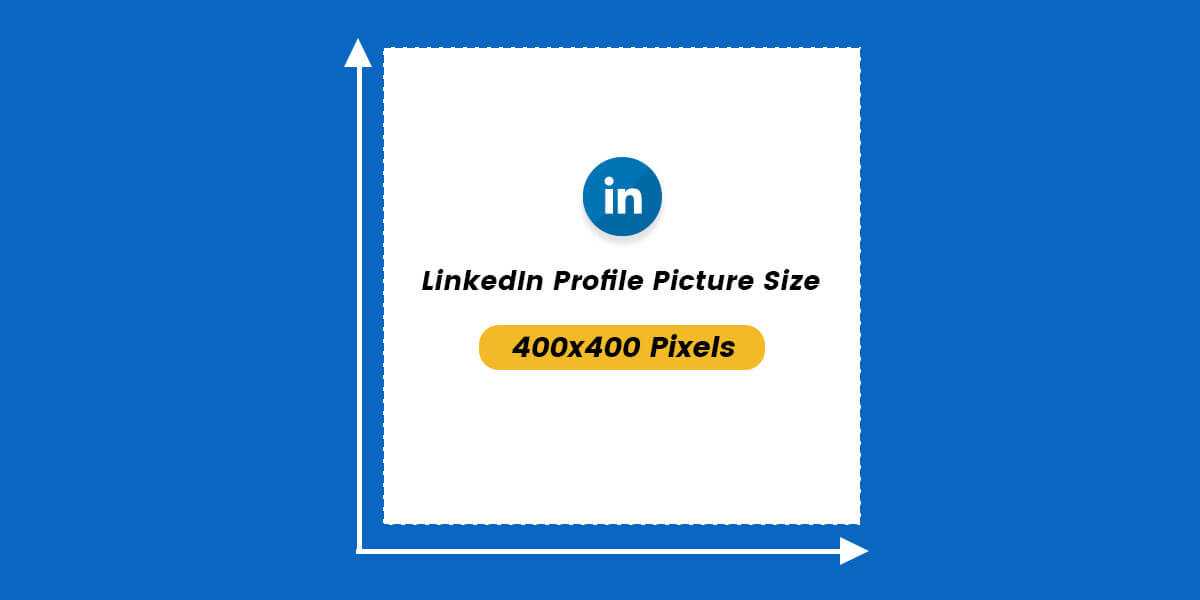 Key takeaways:
LinkedIn Profile Picture Guidelines:
Recommended LinkedIn profile image size: 400 x 400 pixels
Don't worry if your profile picture doesn't match the image specifications. After uploading your profile photo, you can adjust its size and position, rotate, crop, and apply photo filters. You can also decide who can view your profile photo.
Best LinkedIn Profile Picture Tips and Practices
If you want to make sure that your LinkedIn profile picture is a good representation of you, keep these best LinkedIn profile picture practices and tips in mind:
LinkedIn Profile Picture Tip #1: Use a Real, Professional Profile Picture
Unlike other social media platforms, LinkedIn is primarily a network for professionals to make business connections. A clear and formal profile picture will give people the first impression of authenticity and reliability. Make sure your profile picture looks professional, and don't use a selfie or a casual trip photo.
In addition, LinkedIn will remove your profile picture if it is a company logo, landscape photo, pet photo, word or phrase, or stock image. Once LinkedIn removes your profile photo for 3 times, you won't be able to upload another one.

LinkedIn Profile Picture Tip #2: Put a Smile on Your Profile Picture
There's no need to be so serious in your profile photos. Let people feel more willing to approach and connect with you when they see your photo. Instead of a stiff face, replace it with a smile.
Smilies are a symbol of friendliness, warmth, and confidence. Having a smiling profile picture can convey trustworthiness and a positive attitude, which will encourage people to connect with you.
Let's take a look at the Jeff Weiner's LinkedIn profile picture , Executive Chairman of LinkedIn.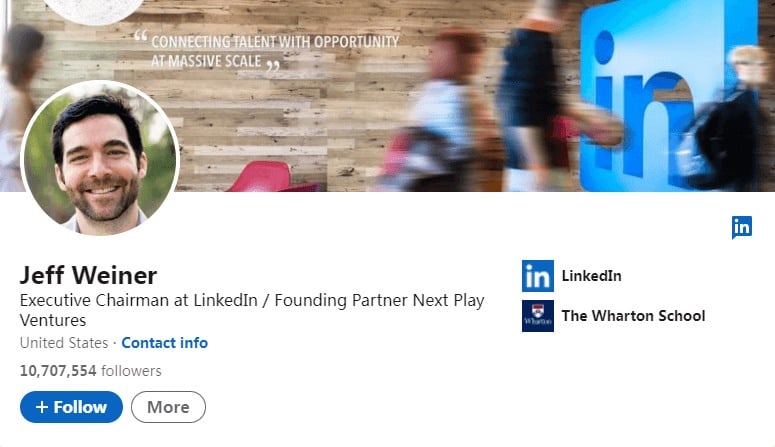 Doesn't that big smile give you the impression that he's friendly, approachable, and passionate about what he does?
LinkedIn Profile Picture Tip #3: Keep Photo Background Simple
Don't let the background steal focus from you. A busy LinkedIn profile picture background is distracting, and it will give the picture an unprofessional look and feel. When taking pictures for your profile, make sure that your surroundings are as clean and uncluttered as possible.

Alternatively, you can use a solid color background. When choosing a background color, consider the color of your clothing. Choosing a background color that is too similar to your clothing is not a good idea. A contrasting background will make your LinkedIn profile pic easily stand out. Also, keep in mind the mood and message you'd like to convey. Since colors are known to have a profound impact on people's emotional feelings.
LinkedIn Profile Picture Tip #4: Don't Go Too Overboard With Post-Processing
A little touch-up can help your profile photo look its best. There are many helpful photo editing programs that allow you to quickly edit your photos- adjust color and lighting, change photo background, retouch your portrait, and more.
But remember not to overdo it. A photo with too many edits might look fake. Don't transform yourself into someone you don't recognize. Giving your appearance a natural boost is the key.

LinkedIn Profile Picture Tip #5: Keep Your LinkedIn Profile Picture Up-To-Date
Do not use an old or outdated photo of yourself when you were younger or at a different stage in your life. Your LinkedIn profile picture should reflect your current status and appearance, so people can easily recognize you and will not be surprised when they meet you in person.
You should also update your profile picture regularly. If your appearance has changed significantly in recent, such as if you have changed your hair color, or have started wearing glasses on a daily basis, consider taking a new photo for your LinkedIn profile picture.
How to Make a Good LinkedIn Profile Picture?
Ideally, a LinkedIn profile picture should be a clear image of you- headshots, head and shoulder shots, and 3/4 body shots are all acceptable. You can have a professional photographer take your profile picture.
However, if you do not have the budget, worry not. It is possible to take a professional profile picture with your smartphone camera. Here we'll show you how to take a professional headshot for LinkedIn at home step by step.
Find a blank wall in your home with natural light. But you don't have to worry too much as you can easily adjust the lighting of the image and change background color of your photo by using photo editing software.
Take a picture of yourself using your smartphone's rear-facing camera and timer setting, or ask someone else to take a shot for you.
Then it's time to add some polish to your profile picture with the help of photo editing software. By taking just 10 minutes to edit your LinkedIn profile picture, you'll make your profile photo much more attractive and appealing.
How to Edit a LinkedIn Profile Picture?
For this example, I'm using an online profile picture maker from Fotor. This tool makes editing profile pictures online a breeze. In just a couple of clicks, you'll have a good LinkedIn profile photo ready for sharing.
1. Firstly, upload your picture to Fotor. Select the 1-Tap Enhancement feature on the Adjust tab. And Fotor will then improve your picture's lighting and correct its color automatically.
Alternatively, you can fine-tune the picture manually. Adjust the lighting, colors, contrast, and sharpness of the image to your liking using Fotor's built-in editing tools.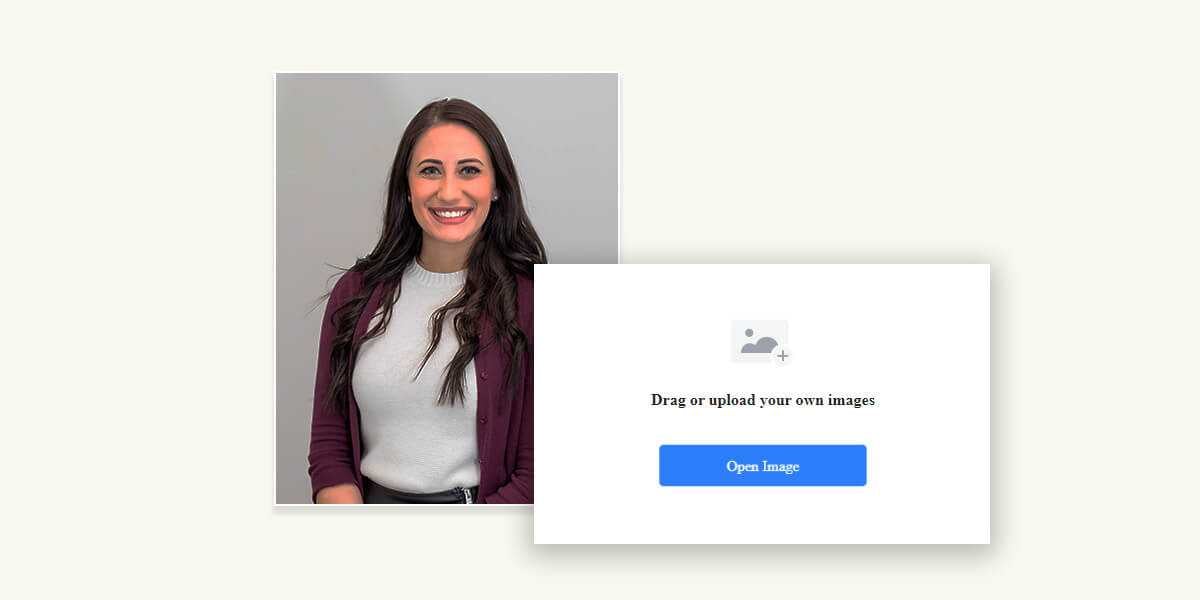 2. Then add some portrait touch-ups to make yourself look your best. You can smooth skin and fix blemishes and other spots on your photo using the 1-Tap Skin Retouch tool on the Beauty tab. There's also a library of touch-up tools you can use to whiten teeth, brighten eyes, and even apply a digital makeup. You'll find everything you need to perfect your look.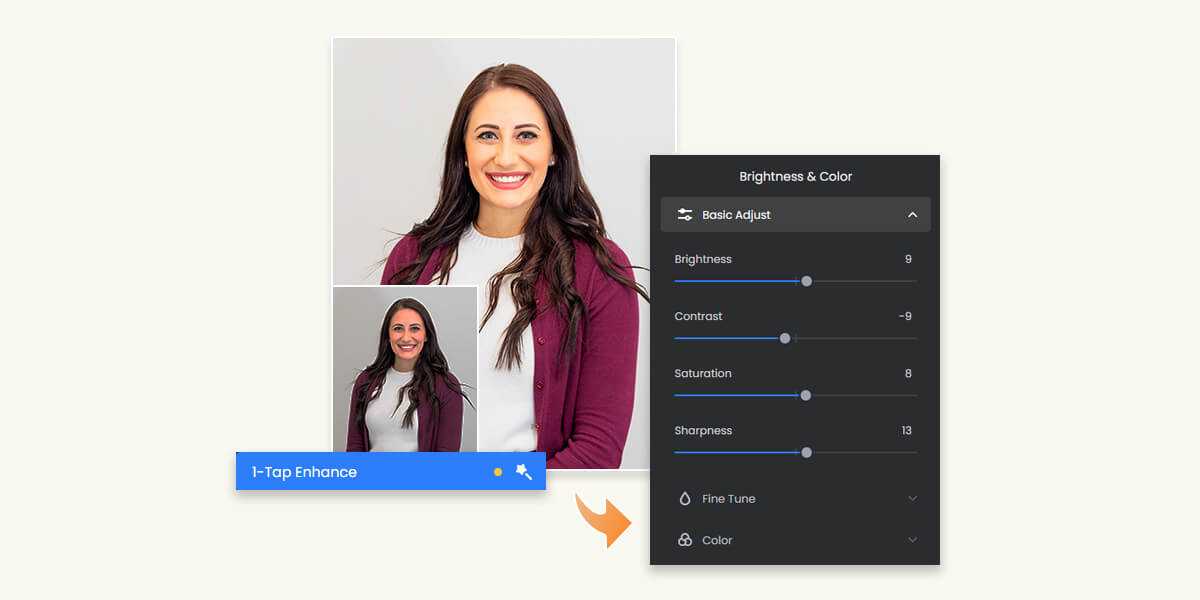 3. Don't like the background of your picture? With Fotor's background remover, you can remove the background from your picture in an instant. It's 100% automatic- no technical skills are required at all. After that, you can freely change the background of the photo to anything you want.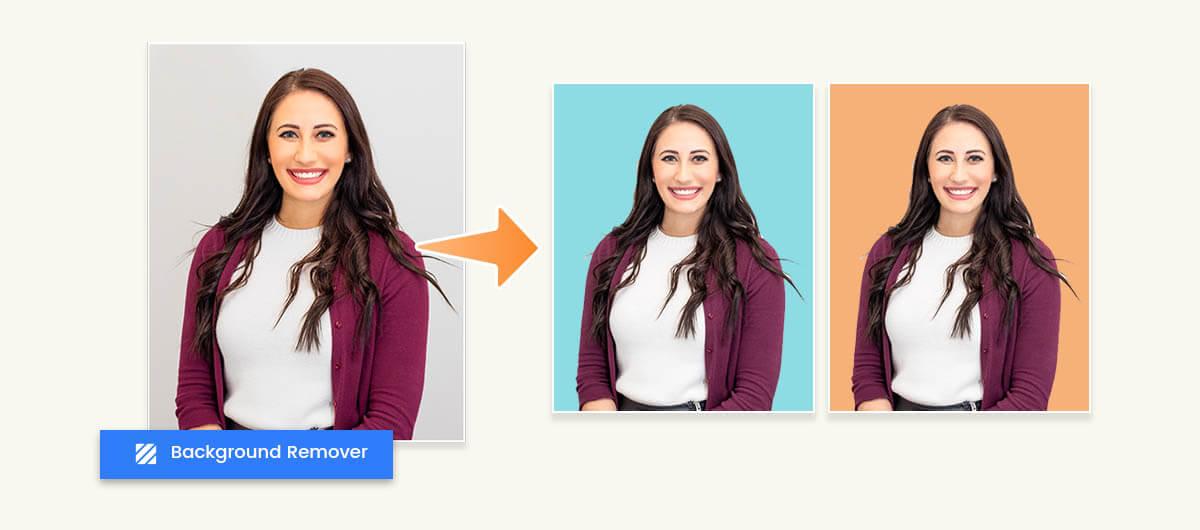 4. When you're satisfied with your profile photo, crop the photo into a square.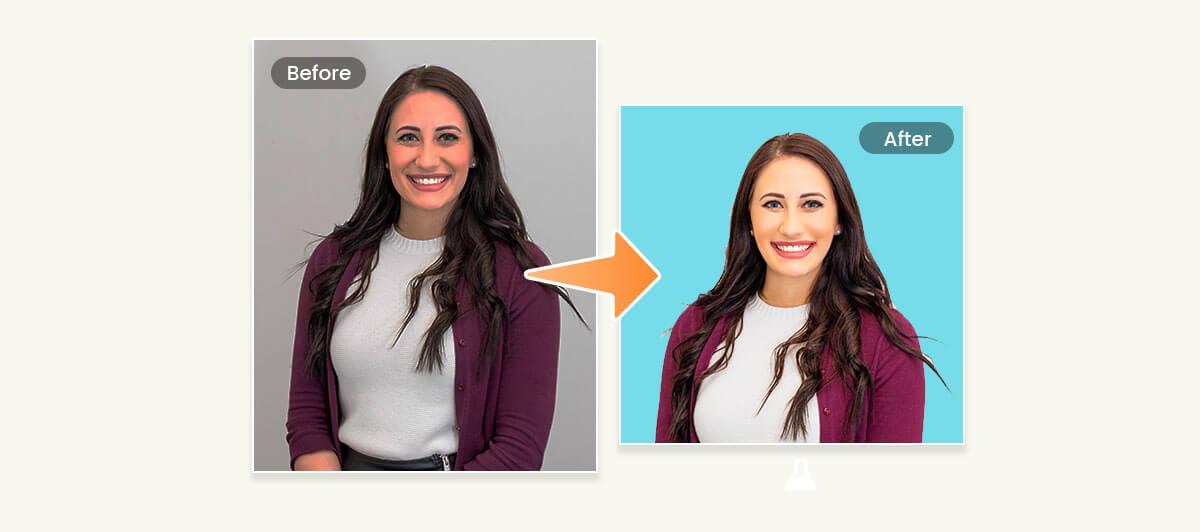 5. That's it. Download LinkedIn profile picture in a high-quality JPG or PNG image format. Now, you have a great profile picture to upload to LinkedIn.
LinkedIn Profile Picture FAQs
How to change LinkedIn profile picture?
It's easy to change your profile picture on LinkedIn. On LinkedIn's homepage, click the Me button in the top right corner and click View profile from the dropdown menu. Once you've been redirected to your profile page, click your profile picture. After that, you can freely change, edit, or delete the LinkedIn profile photo as you wish.
Can I add filters to my LinkedIn profile picture?
Adding filters to your photos is one of the fastest and easiest ways to enhance them. And if you upload a profile picture to LinkedIn, you will find that LinkedIn even provides you with various pre-set photo filters to apply. Go ahead, but keep in mind that LinkedIn is a business network, so don't overedit your profile picture - it should look professional and fit the platform.
Can I use a black and white photo on my LinkedIn profile?
Using a black and white photo as your LinkedIn profile picture is definitely fine. There is no rule that says you must use a color picture. To make a black and white profile picture, you can use the black and white filter on Fotor's online photo editor to quickly convert your color photo to B&W.
Final Words
The LinkedIn profile picture is tiny, but it's the most visible representation of you. If your LinkedIn photo looks unprofessional or outdated, it will turn away potential connections.
The best LinkedIn profile pictures are natural and authentic- and ideally, they can make a positive first impression and help you stand out from the crowd. Taking the time to polish your LinkedIn profile picture is well worth the effort.
Thank you for reading and I hope you found these LinkedIn profile picture tips helpful. If you have any questions or you want to suggest some more tips, feel free to let me know in the comments section.