Netflix, with its vast library of movies, TV shows, and documentaries, has become an indispensable part of our entertainment routines. However, managing multiple profiles can sometimes lead to confusion, especially if you share your account with family or friends. The good news is that Netflix allows you to delete unwanted profiles with ease, optimizing your viewing experience for maximum enjoyment.
In this comprehensive guide, we'll walk you through simple, step-by-step instructions on hot to delete Netflix profiles on your PC, smartphone, and even your TV. We'll cover the process for different devices, ensuring that no matter how you access Netflix, you'll be able to take full control of your account effortlessly.
How to Delete Netflix Profile on PC?

When it comes to deleting a Netflix profile on either a PC or Mac, the steps are straightforward and remarkably similar. Regardless of your preferred operating system, you'll be accessing Netflix through your web browser, making the process seamless and consistent.
For PC users, simply open your preferred web browser (such as Chrome, Firefox, or Edge) and navigate to the Netflix website. Log in to your Netflix account using your credentials, and you'll be greeted by the familiar Netflix home screen. From here, the journey to deleting a profile is just a few clicks away.
Likewise, for Mac users, the process begins by opening your favorite web browser and heading to the Netflix website. After signing in, you'll be directed to the Netflix homepage, where you can manage your profiles effortlessly.
Let's delve into the step-by-step process to delete a profile on Netflix:
1. Log In to Your Netflix Account
On either your PC or Mac, visit the Netflix website and log in using your registered email address and password.

2. Access Your Profile Menu
Once you've successfully logged in, locate the profile icon in the top-right corner of the Netflix homepage. Click on the icon to reveal a drop-down menu containing all the profiles associated with your account.

3. Choose the Profile to Delete
From the drop-down menu, select the profile that you wish to delete. Keep in mind that the profile you select will be permanently removed along with its viewing history, preferences, and recommendations.

4. Open Profile Management Settings
Now that you've chosen the profile you want to delete, look for the "Manage Profiles" or "Manage Profiles & More" option in the menu. Click on it to access the profile management settings.

5. Delete the Profile
In the profile management settings, you'll see the option to "Edit" or "Delete" the selected profile. Click on the "Delete" button to initiate the removal process.

6. Confirm Deletion
A confirmation prompt will appear, asking you to confirm the deletion of the profile. Double-check that you've selected the correct profile before proceeding. Once you're certain, click "Confirm" to finalize the deletion.

7. Profile Deleted Successfully
Congratulations! You've successfully deleted the unwanted Netflix profile from your account. The chosen profile and all its associated data are now permanently removed.
How to Delete Netflix Profile on iOS & Android?
It is super easy to delete Nestflix profile on you phone.
If you use iOS, follow these steps to remove the unwanted profile on Netflix:
1. Open your "Netflix app" and locate the "Edit" option positioned at the upper-right corner of the "Who's Watching" screen.
2. After tapping the "Edit" option, a pencil icon will overlay all the profiles. Select the specific profile you wish to eliminate.
3. Proceed to tap on the "Delete" button associated with the chosen profile.
4. A confirmation pop-up will appear, prompting you to verify your decision to permanently delete the Netflix profile, including all its content. Confirm the deletion to finalize the process.
If you are an Android device user, you can also delete your Netflix profile in simple steps:
1. Open the "Netflix app" on your Android device and access the "profile" icon located in the upper right-hand corner.
2. Tap "Manage Profiles."
3. Choose the specific profile you wish to remove.
4. Tap on the option to "Delete Profile." Subsequently, confirm your choice to complete the deletion process.
How to Delete Netflix Profile on TV?
Numerous Netflix subscribers prefer accessing their accounts through streaming devices and smart TVs, considering it the ultimate way to relish the vast content library Netflix has to offer. If you want to delete a profile from your streaming device or TV, don't worry, as the process is straightforward and doesn't require the use of your computer or smartphone.
While the precise steps for profile deletion might vary slightly depending on the specific streaming device or TV you have, the overall procedure remains quite simple. Allow us to demonstrate how it can be done on devices like Roku or Apple TV. Rest assured, the process should be fairly similar on most streaming devices and smart TVs.
Here are the steps to remove your Netflix profile:
1. Turn on your TV and navigate to the Netflix app.
2. Utilizing the remote of your device, select the desired "profile" that you wish to remove, and then scroll down to highlight the pencil icon.
3. Continue scrolling down to highlight and choose the option "Delete Profile" to proceed with the deletion.
How to Add a Netflix Profile?
Netflix permits users to create up to five profiles per account, ensuring that individual viewing preferences do not impact the recommendations for others. This setup enables all users under the same account to watch distinct shows on various devices at their convenient times.
Now that you are aware of how to remove a Netflix profile from various devices, why not create a new profile account that can be shared with your family and friends?
In fact, the steps to add a new Netflix profile are essentially the same as to delete it. The only difference is that when you come to the "Manage Profiles" interface, click the "Add profile" or "+" option to add your new account.
Personalize Your Netflix Profile Picture
Majority of Netflix users opt for the default profile picture, a cheerful smiling face provided by the system. While it's undoubtedly cute, it lacks personal identity and can easily lead to confusion with other users' accounts. To address this issue, the ideal solution is to replace it with a distinct and stylish profile picture that truly represents you.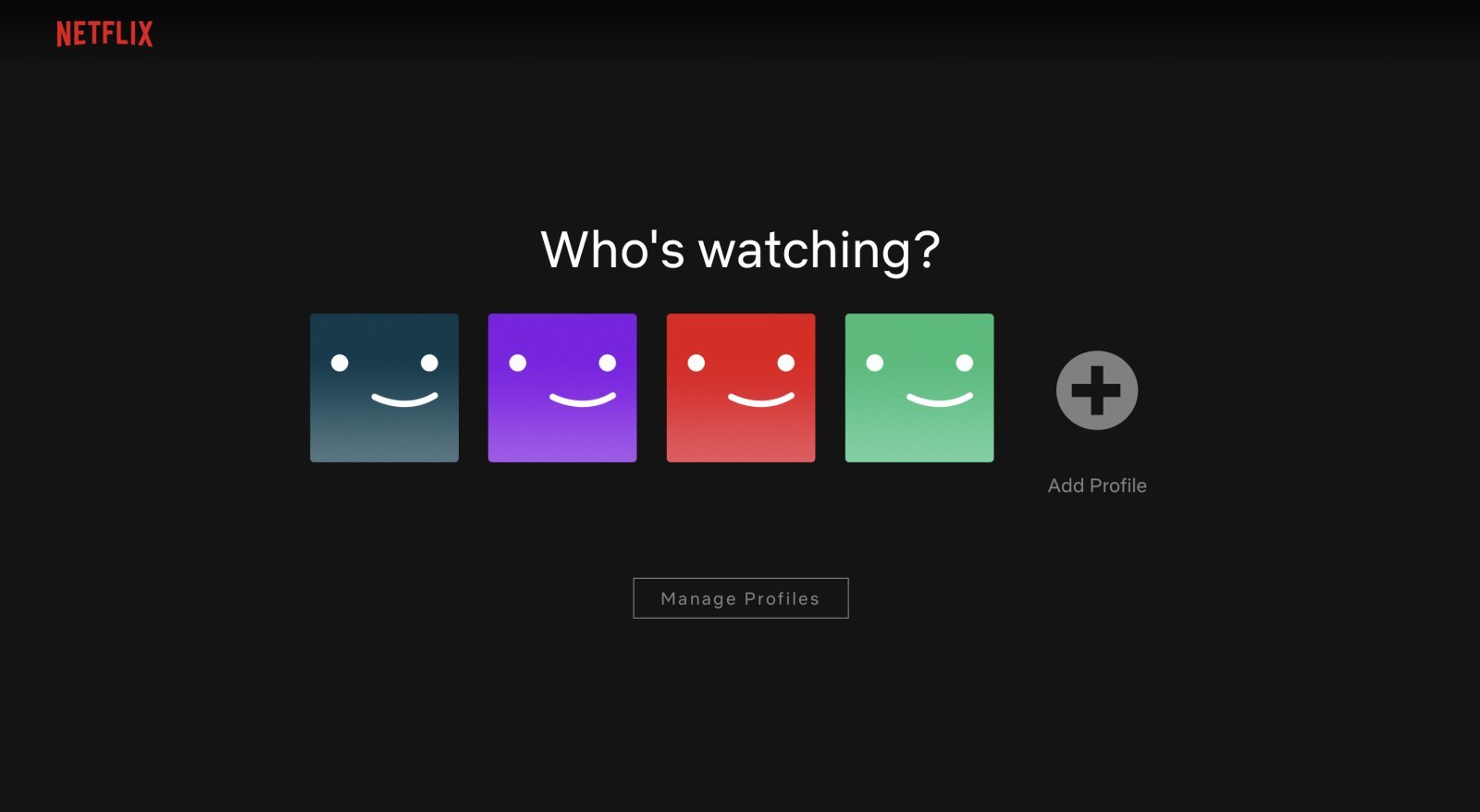 Luckily, Fotor's profile picture maker comes to the rescue, making it effortless for you to create and design your very own avatar not only for Netflix but also for platforms like Instagram, Facebook, or Discord. Fotor offers a diverse range of preset profile picture templates, catering to various styles – be it simple, cool, or even cartoon avatars, ensuring that it meets all your preferences.