Fotor photo editor is very easy to use, with a variety of unique photo effects and filters to apply to your images.
There are options in the editor interface, such as crop, rotate, resize or fine-tune your uploaded images. There are also plenty of photo effects sections to choose from, such as Classic, Vintage, Lens Flare, and more. In addition, it has some smart AI photo editing tools such as one-tap enhancement of photos, automatic removal of photo backgrounds, colorization of black and white photos, make collages, create printable and digital cards and more.
Fotor is a broad program that's great for beginners and those who want more personality to their images.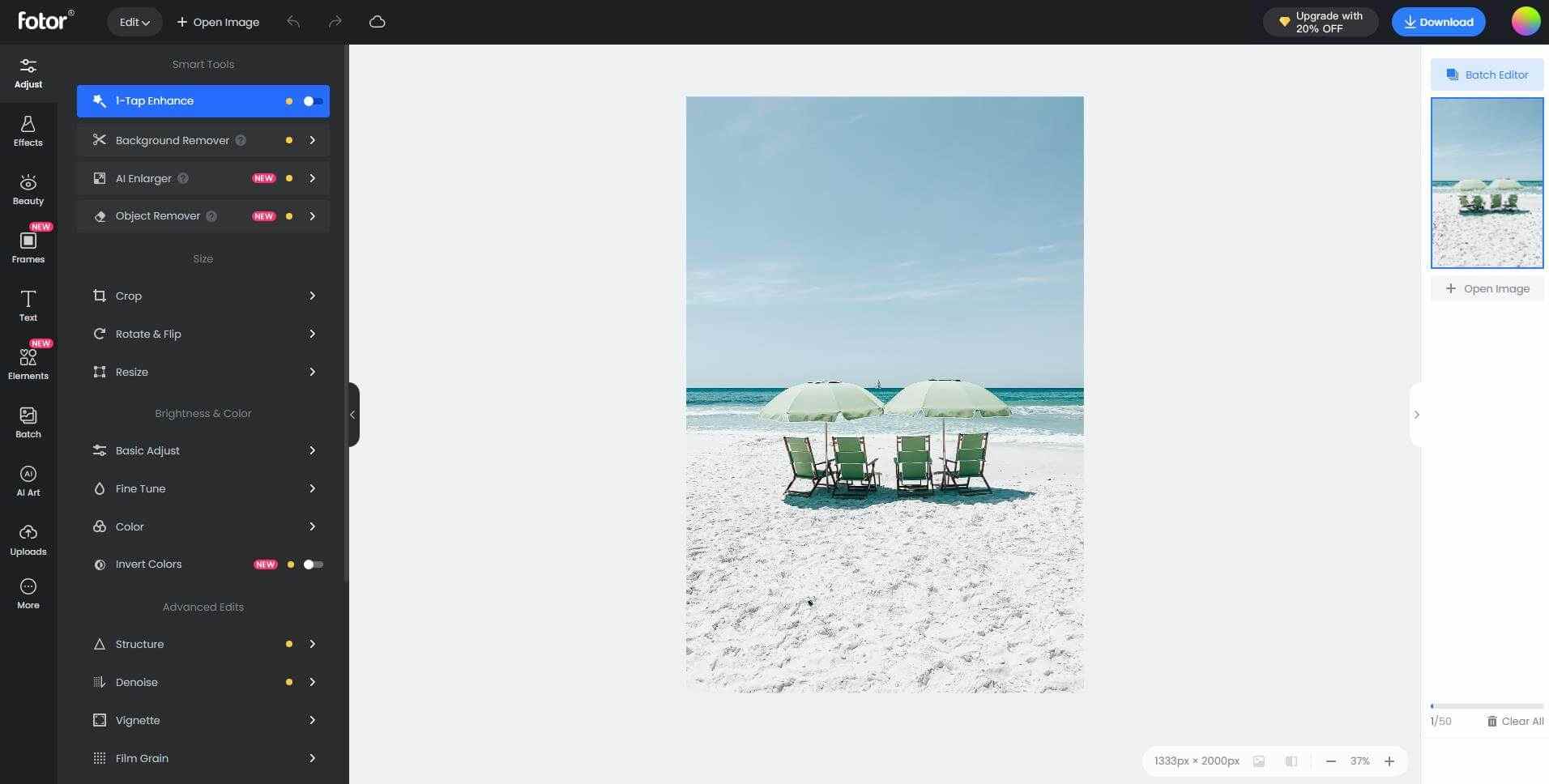 2. Photoshop
Photoshop is a very professional photo processing software. It has a very wide range of applications in both work and life.
For professional purposes such as graphic design, web design, post-production, commercial retouching, etc., you can directly use Photoshop to complete the task or cooperate with other software to make the work more refined. For ordinary users, Photoshop can also quickly handle common image tasks, such as photo retouching, image cropping, and GIf animation creation.
Whether it is size editing, image development adjustment, providing multiple layers for non-destructive photo editing, fine-tuning the details in the picture with a large number of brushes, or combining multiple pictures layout to a new drawing by providing a variety of drawing and layout tools, using Photoshop can be done perfectly.
Advantages:
Excellent and professional image editing skills, ideal for those working in the design industry.
It is perfectly compatible with Adobe's own software. Many other picture software and picture viewing software can also directly open and view files in PSD format.
A large number of materials in the PSD format are available for download on the Internet, which can greatly improve work efficiency.
Disadvantages:
A large number of professional tools require personnel with a certain basic knowledge of image editing to operate and use.
For novice users, a relatively long learning cycle may be required to deeply master the use of the software.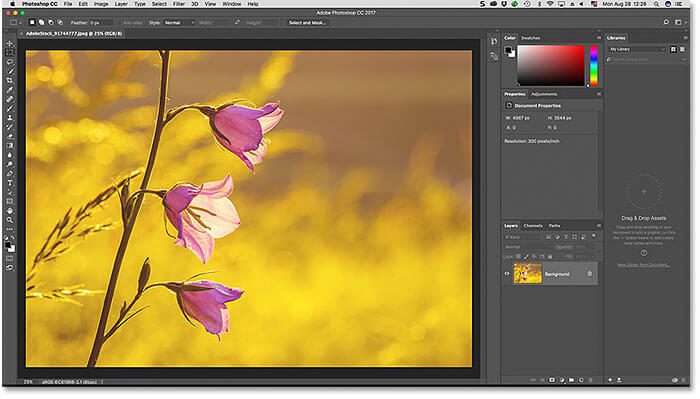 3. GIMP
GIMP is short for The GNU Image Manipulation Program. It is the best open-source photo editing program on the Internet for an easier photo editing experience.
GIMP is a free image manipulation software known for providing all the main features of Adobe Photoshop. It includes almost all the functions required for image processing, ranging from image processing tools to filters to component modules.
GIMP can not only cut out images, add text effects, process images, add masks, sharpen images, blur photo backgrounds, overlay layers, change image size, etc., but also have a lot of fool-like functions, such as one-click smart cutout, one-click filter, one-click resize, etc. It can meet almost all of our daily photo editing needs.
Advantages:
Ability to open any image file type.
Supports most Photoshop plug-ins and various imported tools.
Disadvantage:
Not suitable for deep editing of pictures.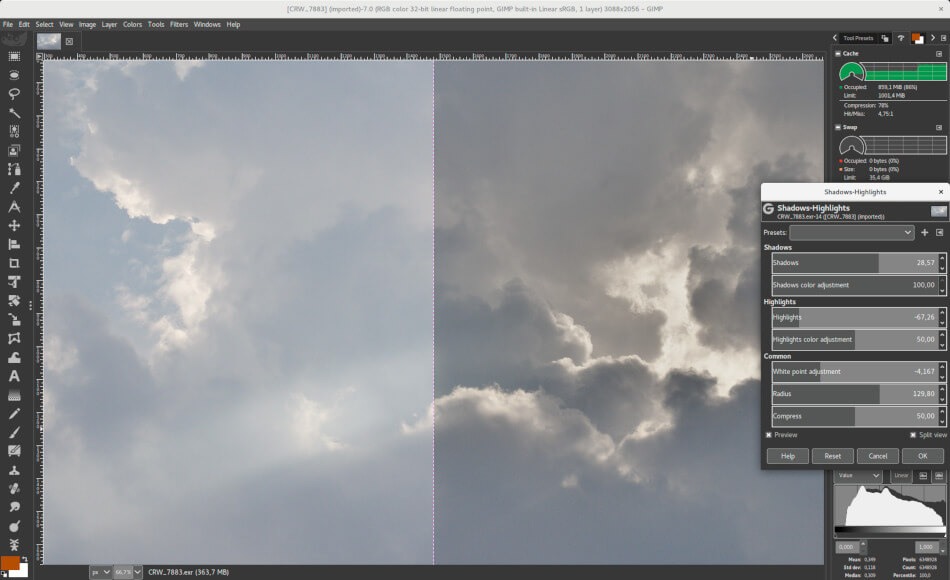 4. Canva
Canva is an online image editing software that allows people to easily design images for specific scenarios, such as social media images, posters, blog featured images, menus, gift certificates, and more. The best part about this online photo editor is the neat interface that feels very responsive. Therefore, you can edit images without delay. Also, it has very simple drag-and-drop controls to crop and resize images easily.
In addition to being an online tool, Canva's photo editor has a lot of free or paid template materials, which can be used quickly with just one click. Even if you have never designed a picture before, you can modify the template to make beautiful pictures.
5. Pixlr
Pixlr is one of the most popular online photo editing software for windows 10. It offers two options, Pixlr X and Pixlr E, for you to choose from. Pixlr Express shows only the most basic tools to beginners, while Pixlr Editor is an advanced interface for those who need to be more specific and have a lot of work.
Pixlr is a simple and intuitive photo editor, offering tons of picture editing features. Its most innovative feature is its adaptability to mobile devices, making it easy to use on the go on any iOS or Android device. Plus, it has an excellent desktop version.
6. PicMonkey
PicMonkey is a widely used online photo editor known for its simpler user interface. The user interface of this photo editor is divided into four sections - Edit, Retouch, Design, and Collage. All of this can be done on PicMonkey's homepage.
The PicMonkey editing interface is not only simple and straightforward but also includes a lot of features, from basic editing to overlays and themes. Whether you are a professional user or a regular user, you will quickly like its editing interface. Additionally, it offers a variety of effects and filter options for the photos you choose.
PicMonkey is very interesting for basic use. Those who are creative can get a free version of the program on the website. Get started with just a few clicks!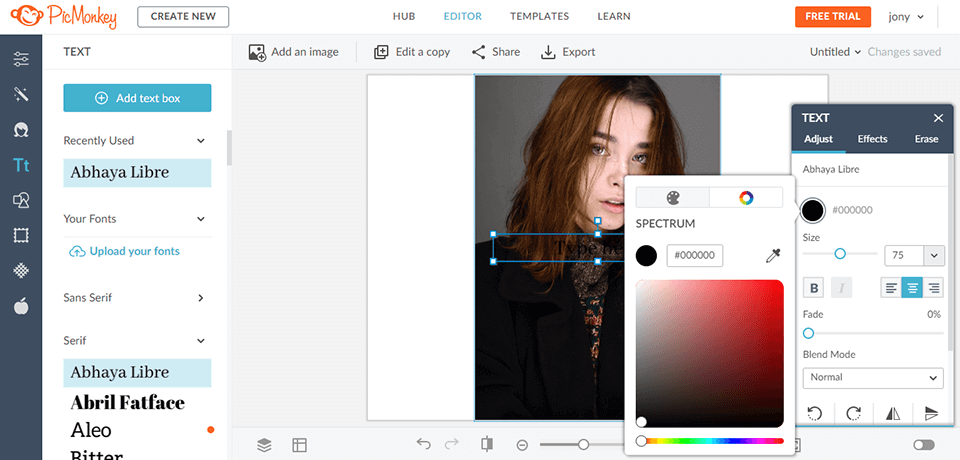 7. BeFunky
As a full-fledged online photo editing software, BeFunky supports getting photos from your desktop, and capturing photos from a webcam or other sources like Facebook or Dropbox. It has a lot of features, arranged in various categories such as basic editing, retouching, effects, graphics, etc.
With BeFunky, you can apply hundreds of different features to make your photos interesting and unique. An impressive collection of features and filters that allow you to give your photos their own personality. Plus, hand-drawn graphics can be placed over your pictures to give them a more edgy style.

8. Affinity Photo
Affinity Photo is an image processing software very similar to Photoshop, designed to help photographers and designers complete image processing tasks more easily. It can perform image processing and graphic design and can complete most of the photo editing needs. At the same time, it also has several tools specially designed for photo manipulation.
In addition to the image processing function, Affinity Photo can also be used with its own Affinity Designer, which can be said to be a good alternative to Photoshop.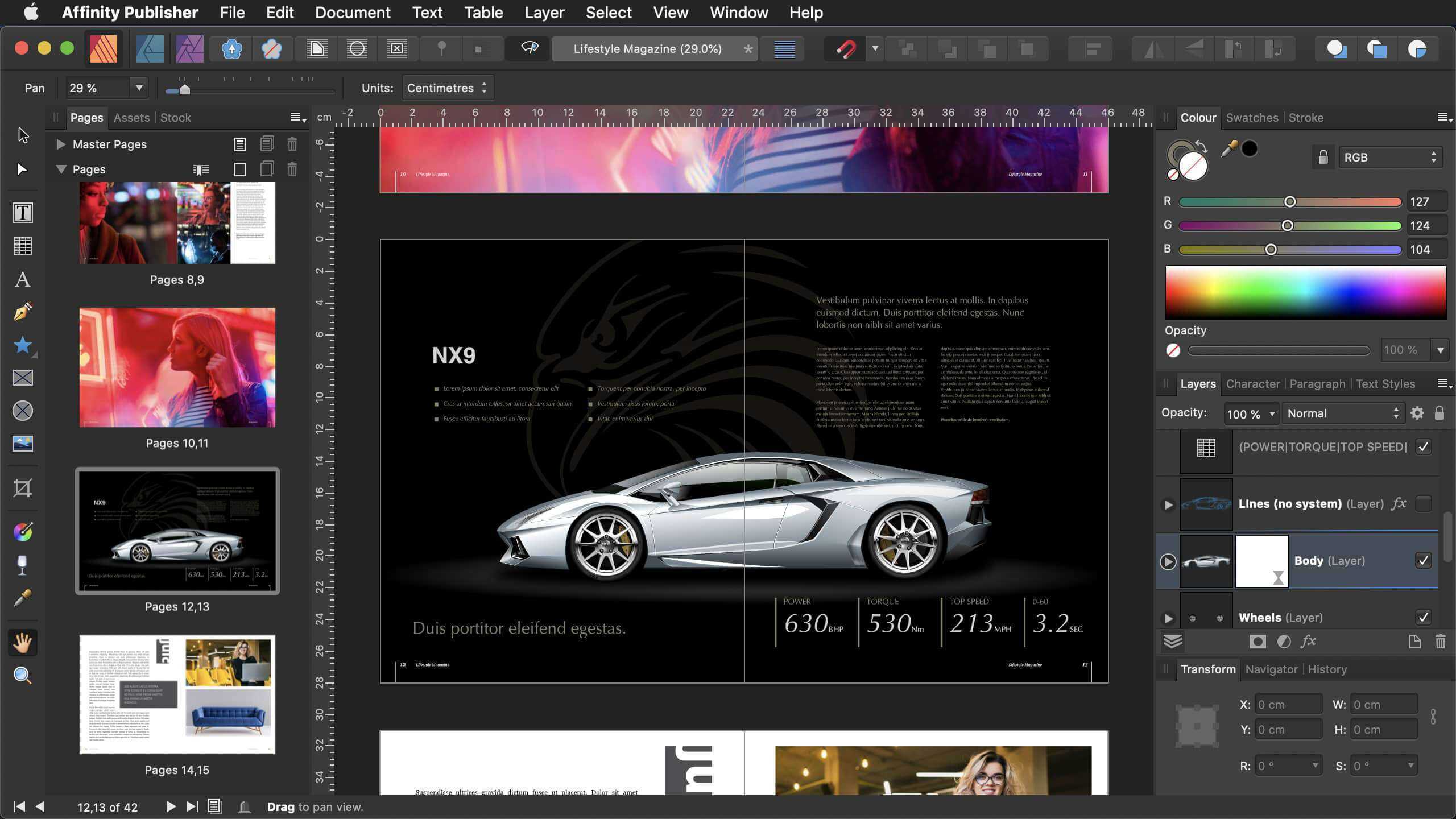 9. Picasa
It is an easy way to organize photos and apply basic editing. You can remove red-eye, do some simple touch-ups, and add some fun filters to achieve various effects.
Although it's not as comprehensive as the other 28 software for photo editing on this list, it's still worth a mention due to its popularity and ease of use. Users love to use Picasa to upload various pictures to Instagram, Facebook, and other social media platforms. Also great for making photos and sharing with friends!
10. Paint.NET
Don't mistake it for Microsoft Paint which comes with Windows PCs by default. Paint.NET is an innovative, free, and professional tool that makes editing your photos and other images very easy. When you need something more than regular Paint but not as heavy as Photoshop, Paint.NET is what you can use.
Paint.NET offers a wide range of features and tools, similar to GIMP, but with a less complex interface. This software takes all the most important aspects of a photo editing program and condenses them into a simple yet powerful editor. Paint.NET comes with layer support, built-in special effects to instantly enhance photos, support for unlimited history to help you find and fix bugs, and more.
Because it provides advanced tools in a simple format, Paint.NET is a great place for beginners to get started. This will provide an easier learning curve for those looking to incorporate new editing elements into their projects.
Advantages:
The latest version is only 6.0 MB and runs fast on the computer.
Has tons of special effects such as Warp, Blur, Glow, Emboss, Contour, and Red Eye Removal.
Can layer and adjust settings.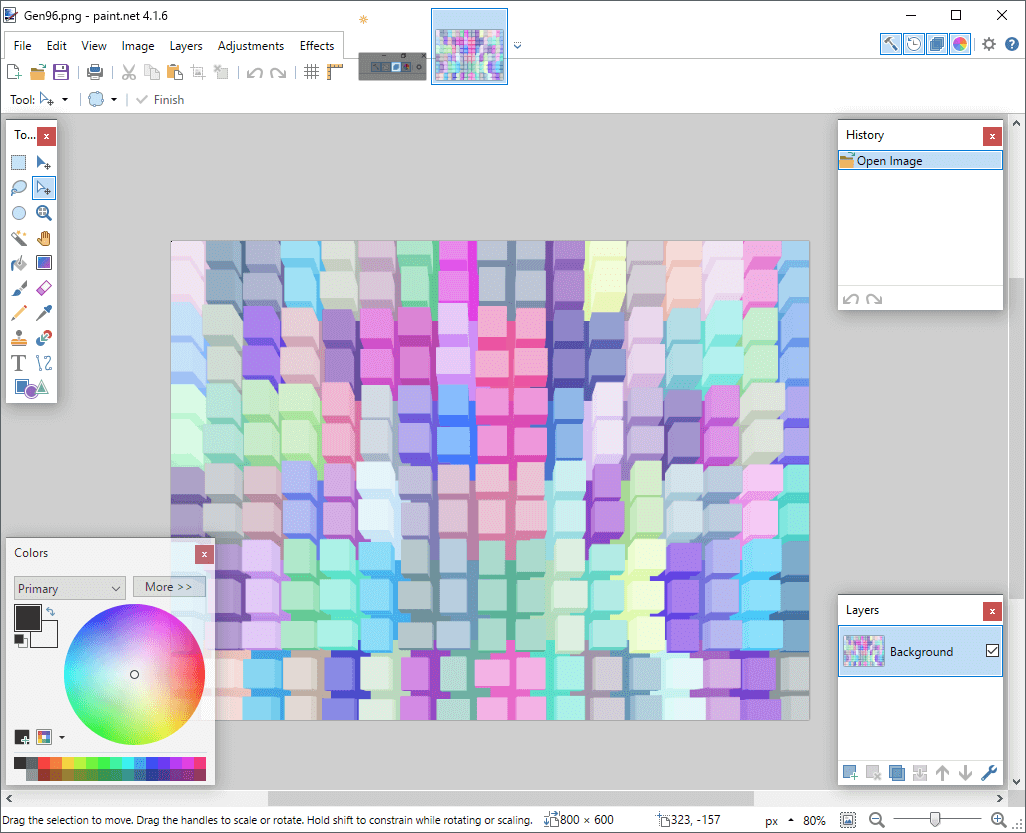 11. Photo Pos Pro
Both beginners and photo editing veterans can get a lot of use out of Photo Pos Pro. What makes this software unique is that it offers different interface options depending on the skill level of your photo editing program. If you're just getting started, you can apply a simple interface to the tool that gives you access to core tools without overwhelming you with some case-specific resources.
Comprehensive tutorials and tips are also provided at each step of the process. You can even program the tool to apply certain effects with a single click instead of having to manually set everything up.
Advantages:
Supports most image format types, including password-protected types.
Support image precision repair and editing.
Can create computer graphics.
12. PhotoScape
This is one of the top-rated free photo editing software on the Internet. PhotoScape combines many available features with a minimalist user interface, so you don't have to deal with a lot of toolbars. Not only is it a photo editor with basic photo editing and batch editing functions, but it can also be used as a photo viewer for viewing photos and creating slideshows.
You can move to a viewer, batch editor, animated GIF creator, or RAW converter to view or edit your images without any distracting elements. The Mac and Windows 10 versions of PhotoScape provide users with enhanced features such as HDR, Symphony, and more.
Advantages:
More than 20 commonly used cutting ratios are preset under the cutting tab, and circular cutting is supported.
Built-in "Puzzle" function. You can restore the cut pictures according to the given mode, which can be done directly by dragging and dropping visually.
Can make GIF animation, and preset a variety of transition effects.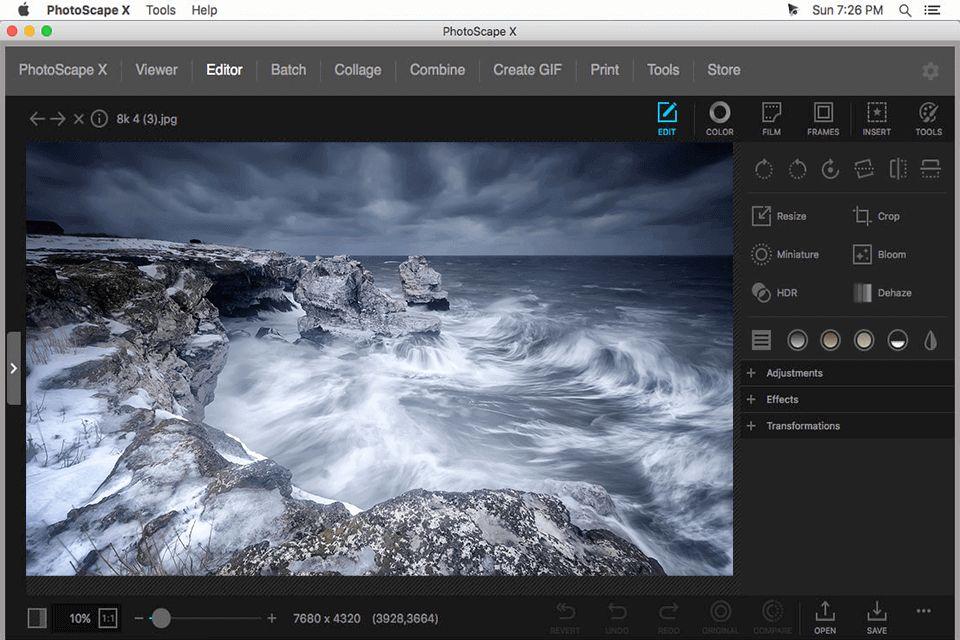 13. IPiccy
If you're new to photo editing software for Mac, or just can't grasp the usual layout and interface, iPiccy is certainly for you. This is the perfect program for those who are only exposed to editing programs. It's as easy as MS Paint. But don't worry, because iPiccy offers more features than basic Windows programs.
Whether you want to beautify your images by removing unwanted specks, put some of your most memorable photos in a frame, or do graphic design at your own pace, iPiccy is a pretty decent software for photo editing. As one of the best online photo editors, it comes with a smart tool to automatically adjust images easily. Additionally, it provides a way to pre-crop, rotate, and resize pictures. There are tons of effects, photo enhancements, and beautiful frames to use to add x-factors to your images and more.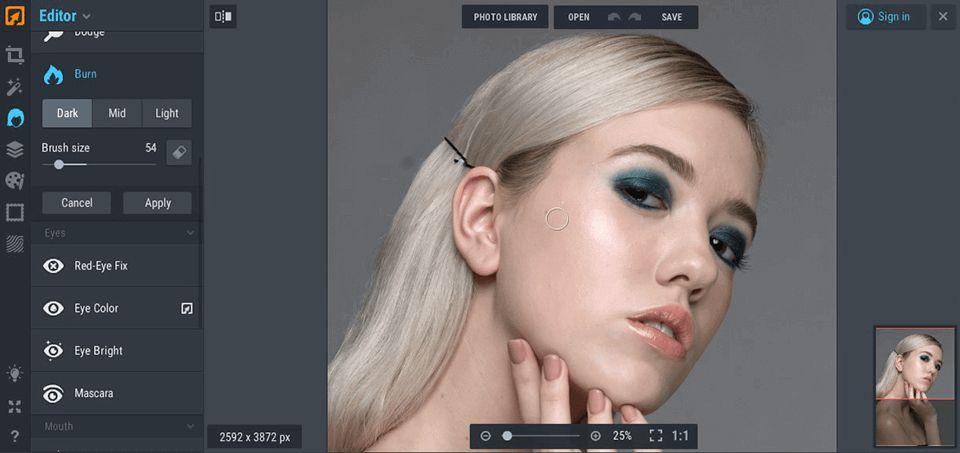 14. Edit.Photo
Edit.Photo is a free online photo editing software for windows that allows you to edit photos directly in your browser. Its functions include image cropping, filter application, color adjustment, image annotation, size adjustment, etc. It also supports undo and reset operations, and the experience is very good.
And more importantly, there is no threshold for its use. And it can be used by opening the website with a browser. There is no need to install and register, and there will be no watermark or other restrictions on exporting pictures. It is a very useful picture editing tool.
Just open the website and it's ready to go, where you can crop, color grade, annotate, and more. Anyone can easily edit photos.
15. Photopea
Photopea is an online version of Photoshop. No registration or payment is required. You can retouch images directly on your browser. It almost perfectly follows the original Photoshop experience, such as the software's interface, and the same dark skin as Photoshop.
In the use of the software, it also has the same layout as the desktop software, including toolbars, layers, palettes, menus, and other tools can be used. And what's even more surprising is that you can also use shortcut keys in Photopea to speed up the drawing efficiency.
As a free online application, Photopea is very convenient to use. Not only without downloading any software, but also without registering an account, you can use it directly by opening a browser, which greatly improves the convenience of use.
Of course, you can also register to use it. After registration, your settings will be saved to the cloud, synchronizing the environment to different devices. Support to create and open local files, you can choose the size from the template or customize the canvas size, you can adjust the canvas. After completing the task, various formats can also be exported, including PSD, JPG, PNG, etc.
For amateur Photoshop users, Photopea software can be said to be a very good alternative to Photoshop web pages. Whether you are doing some image cropping, beautification, or simple retouching, this tool can do the job. No more expensive Adobe suite subscriptions. For professional users, although Photopea has very comprehensive functions, it is definitely not a substitute for complete Photoshop due to its lack of details and performance, but you can use it as a temporary auxiliary tool.
Disadvantages:
Due to limitations on the web, the size that Photopea can handle is limited. If you deal with larger-sized PSD files, such as posters, exhibition boards, and other printed materials, you will feel the obvious lag.
The mouse icon is not perfect. For some tools such as text tools, pens, etc., Photopea does not adapt to the mouse icon. Sometimes it can be uncomfortable to use.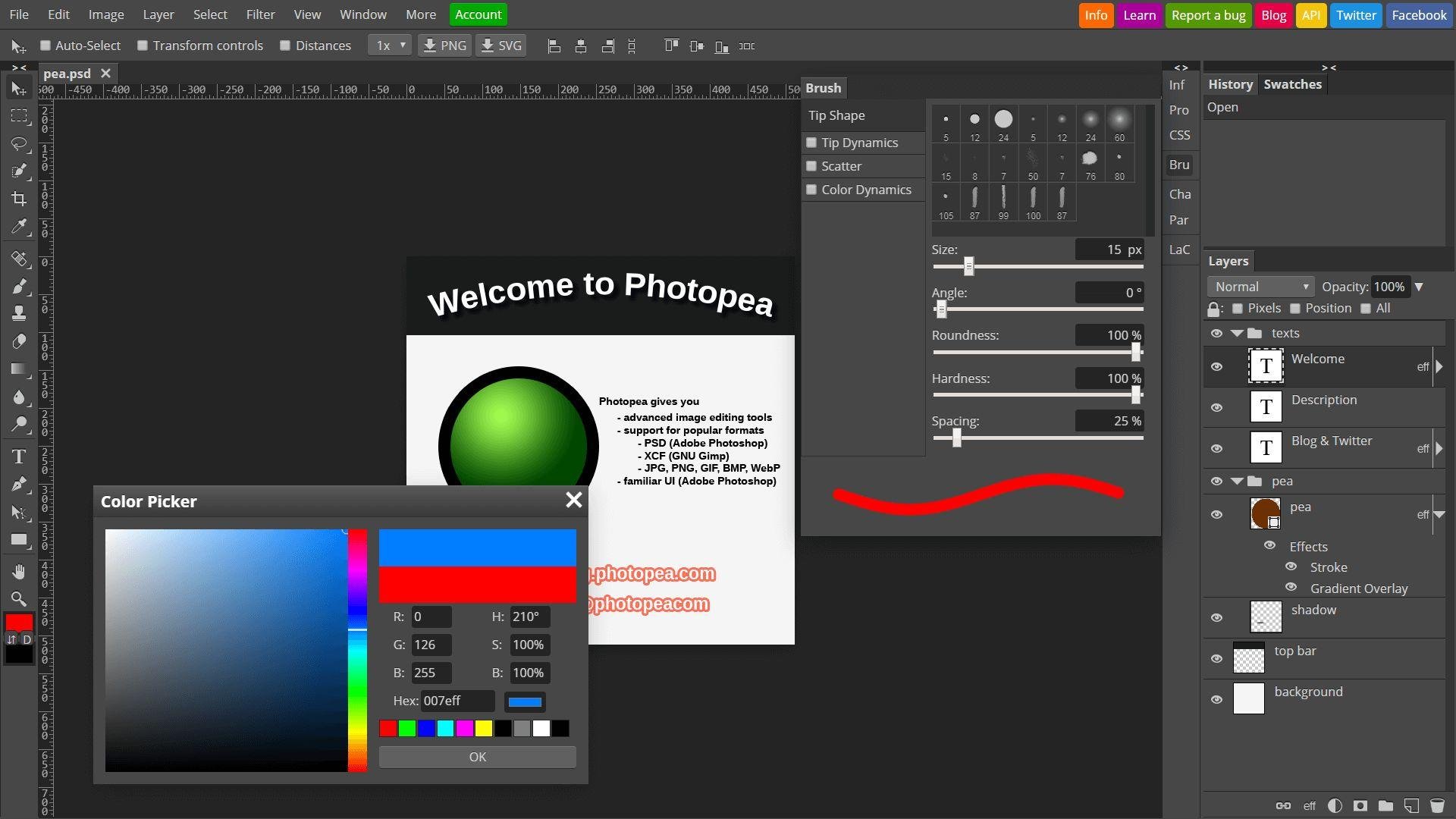 16. Cleanup.pictures
Cleanup.pictures is a web-based tool for editing pictures. It can help you quickly delete anything in your photos, including people, objects, text, and more. Open the web page and you will see the area for uploading images. You can upload a picture of the object you want to remove, then use the eraser tool to paint over the corresponding area, intelligently removing unwanted content from your photo.
17. PhotoFiltre
PhotoFiltre is another flexible editing and drawing program. It's perfect for those who want to get everything done. You can access different filters and special effects with the click of a button. All these filters and special effects can be applied to your pictures.
Also, if you want to try illustration, there are paint and brush tools available. PhotoFiltre also has a batch process to edit multiple photos at once.
18. Pixelmator Pro
Pixelmator Pro is an image processing software for Mac. Unlike PS and Affinity, which are suitable for professional use of image processing software, Pixelmator Pro is a photo editing software that is more suitable for the general public.
Pixelmator Pro uses machine learning to simplify the process of retouching images. Intelligently enhance photos by training learning algorithms on millions of photos. With its ML enhancements, you can create the perfect photo in one click without any design skills. You can also choose different filters, make targeted color corrections, etc., to adjust the picture to your favorite style.
If you are a person who likes to retouch pictures but does not want to learn too many professional skills, it is highly recommended to start with Pixelmator Pro, which is not only cheap but also easier to use.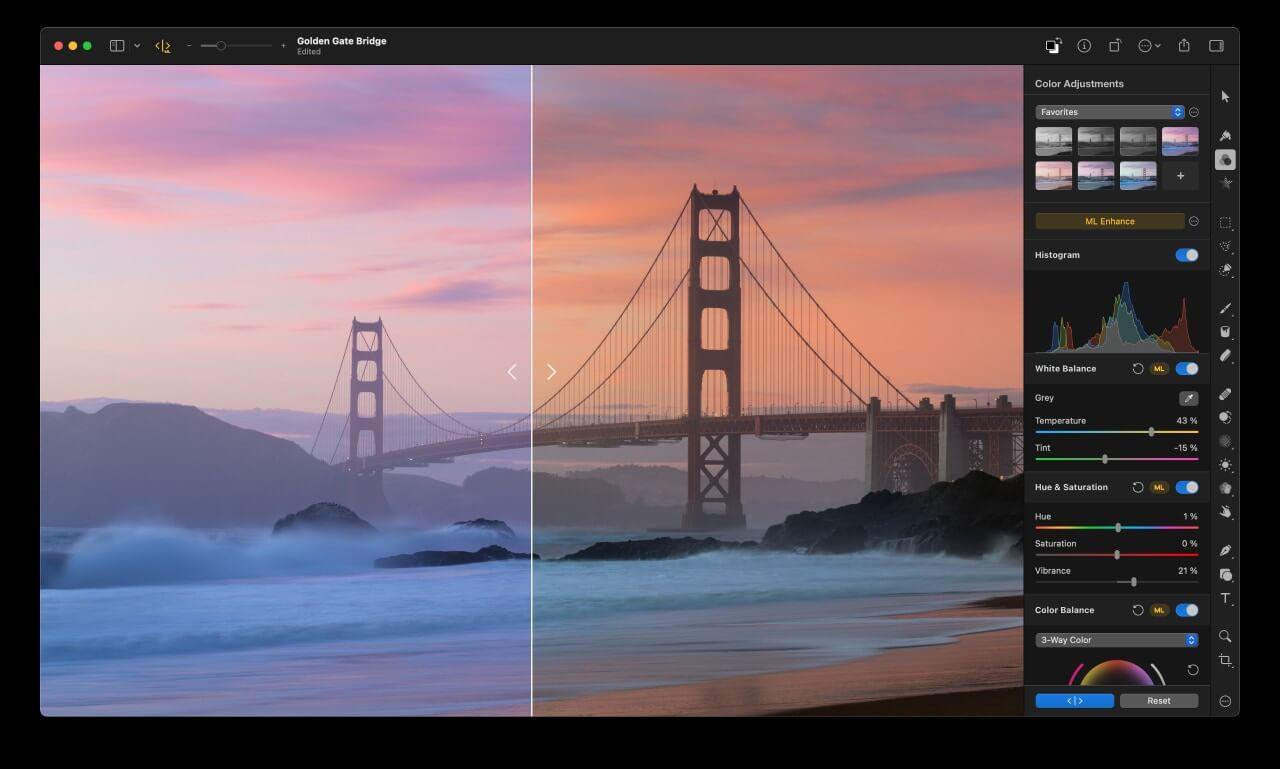 19. Easel.ly
Easel.ly is a great free photo editing software for those who are better at graphic design. This program is great for creating charts and image ads. Add some features and tools to help your project stand out and be successful. Of course, you can use this software tool to edit your own images and even add them to infographics.
The interface is very simple and geared towards adding objects and custom text effects. You can create charts, colorful ads, report images, and more. Easel.ly makes photo editing and graphic creation a breeze!
20. Darkroom
Darkroom is a photo editing software for Mac. It supports iPhones and iPad. In addition to filters, it offers a lot of adjustment tools.
You can directly use it to edit Raw files, adjust the brightness, contrast, saturation, hue, and other parameters of the photo. And you can color the highlight and shadow areas separately.
Curves and optional colors are the core tools of Darkroom. In the curve, you can adjust separately for RGB colors, setting parameters for black, mid-tone, and white areas. In the color tool, you can also set different parameters for different colors, which is very flexible.
Darkroom is a very good photo editing software. If you like to color and retouch by yourself, you must try this software.
21. SumoPaint
SumoPaint is not your typical online photo editor. With an interface and toolset almost indistinguishable from Photoshop, it's real power in the world of free photo editing software options. SumoPaint offers a large number of tools with almost all plugins and editing features you need, such as color pickers, information about images, and more.
Also, you can have as many windows as you want and manage them easier as if you were using a full-fledged editor installed on your PC.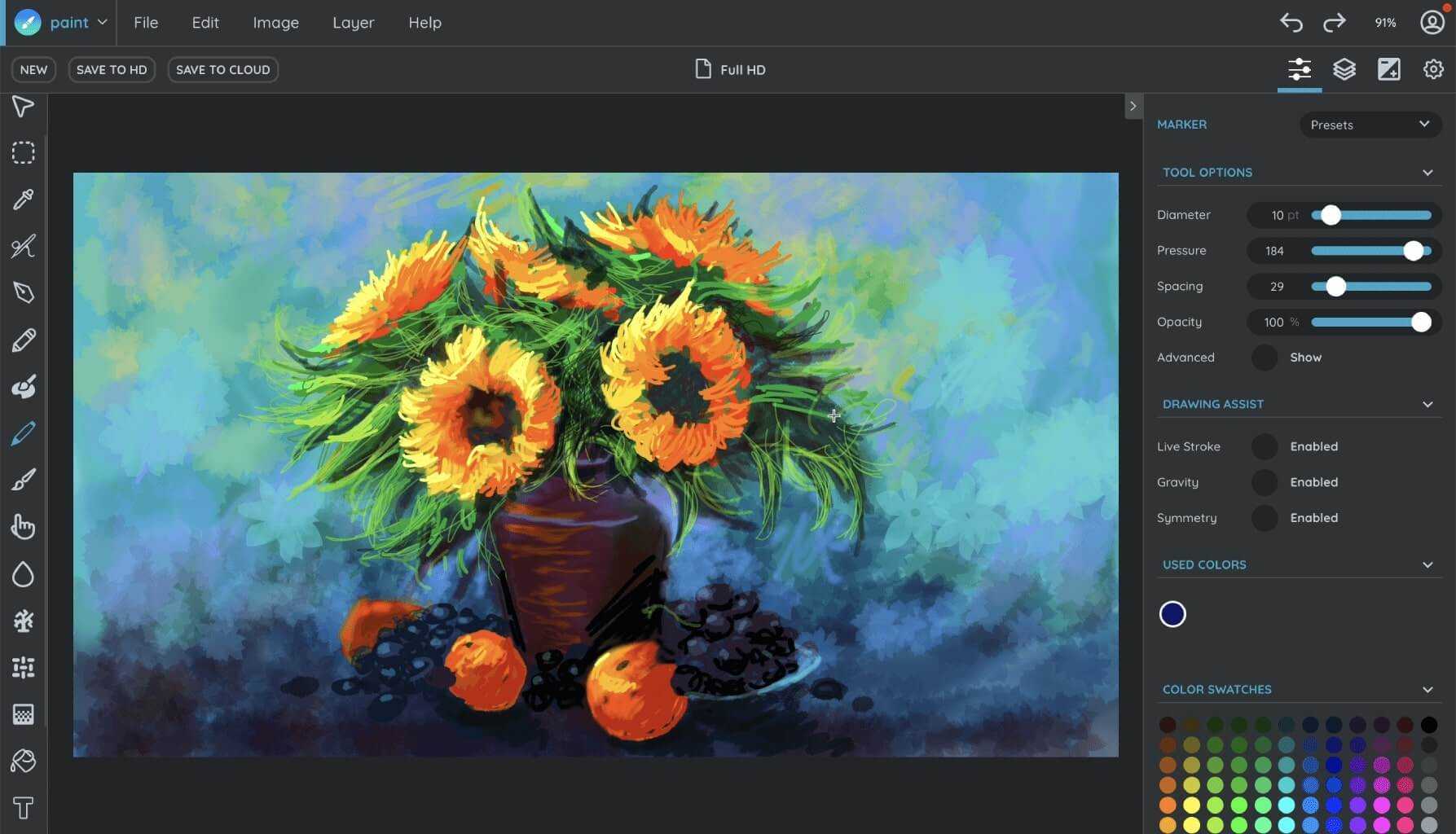 22. Pixia
Pixia is great for photo editors and digital illustrators. This program is a reboot of a program that originated in Japan and has extensive editing capabilities. You can choose from hundreds of tools.
These tools include layer effects, unique brush tips, vector transformations, bitmap painting, photo adjustments, repair options, and more. It runs on any Windows OS from 2000 to the latest Windows 10. Additionally, you can use Pixia in multiple languages, enabling you to share your creations globally.
23. Ashampoo Photo Optimizer
Ashampoo Photo Optimizer can batch edit photos and may be just what you need. This free photo editing software for Windows and Mac has a clean and uncluttered UI. You can easily import a bunch of photos into Ashampoo Photo Optimizer and let the software batch edit them.
Whether you want to rotate them, mirror them, etc. In addition, the software comes with an automatic optimization tool. Use it when you just want to quickly make your photos look better. On the other hand, if you prefer manual adjustments, you can manually fine-tune exposure, contrast, color, and everything else.
24. Funny Photo Maker
Funny Photo Maker focuses on the development of photo-realistic scenes and is an easy-to-use fun photo editor. Allow you to easily achieve the fun of DIY photos.
Advantages:
It can help you quickly complete the photo face change operation, which is very good for spoofing friends!
The program has built in more than 100 different types of classic effects. And you can choose your favorite photo frame application to make fun and interesting pictures such as movie scenes, exquisite murals, greeting cards, etc.
As an image processing tool, its photo beautification function should not be underestimated.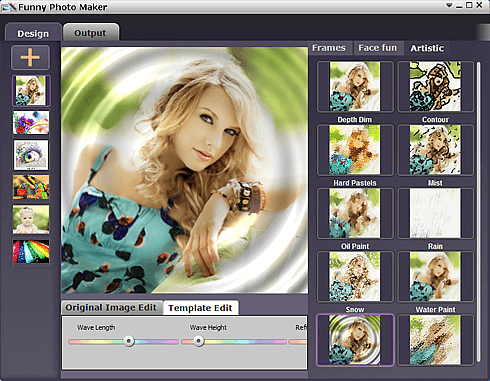 25. Fotoram.io
Fotoram.io, a free online photo editing software for Window 10, comes with many useful features. You can easily apply effects to photos, or use textures like light trails, disco, and more. Frames, text, and clip art are also supported here if you want to add some text and notes to your photos.
Of course, you also get some basic editing tools to easily edit exposure, sharpness, and crop or rotate photos. The only downside to this web software is the sheer number of ads scattered around the UI.
26. HitFilm Express
HitFilm Express is a double threat in the world of free editing software, as it is both a photo editor and a movie editor. This makes it one of the best free programs for art lovers. The strength of this program is the unique effects that make it a digital wonderland for film and photo editors.
It has 20-30 manipulation functions, as well as the ability to incorporate images of the desired type into a project. With nearly 1 million users, HitFilm is one of the most powerful freeware tools on the market.
27. LazPaint
LazPaint is built for Windows and Linux. It is another open-source photo editing program with similar features and interfaces quality to GIMP. Users claim the interface is easier to use than GIMP, with less clutter and more visually appealing access to the most important functions.
It offers many of Photoshop's core features without too many advanced tools to keep users off. It's great for beginners or those who want to play with some basic photo editing steps.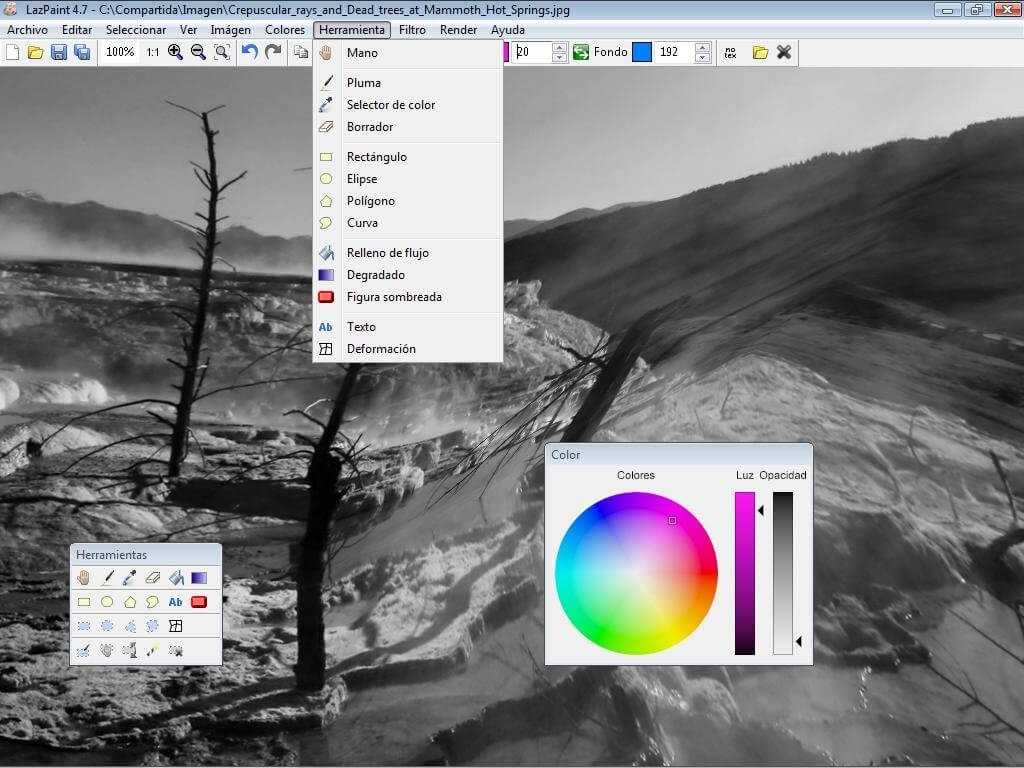 28. Serif PhotoPlus
If you want something very similar to Photoshop in both functionality and appearance, check out Serif PhotoPlus for Windows. The program includes many core manipulation functions such as layers, adjustment tools, custom brushes, and more. Users can access the free version of Serif PhotoPlus.
This version provides unlimited access to most features of the tool. You can of course upgrade to PhotoPlus SE for a price, but the free program is usually more than enough for any illustrator or editor's creative needs. There are dozens of special effects and professional retouching tools to keep any artist busy for hours on end.
29. IrfanView
IrfanView claims that the software size is only 2M, but its functions are comparable to the ACDSee of dozens of M! It is also often compared to PhotoScape mentioned above. Compared to Photo Scape, IrfanView is more flexible and customizable.
Advantages:
Support for using Photoshop filters.
You can make thumbnails and quickly generate HTML pages from multiple pictures.
Combine multiple image files together to easily create a panoramic image.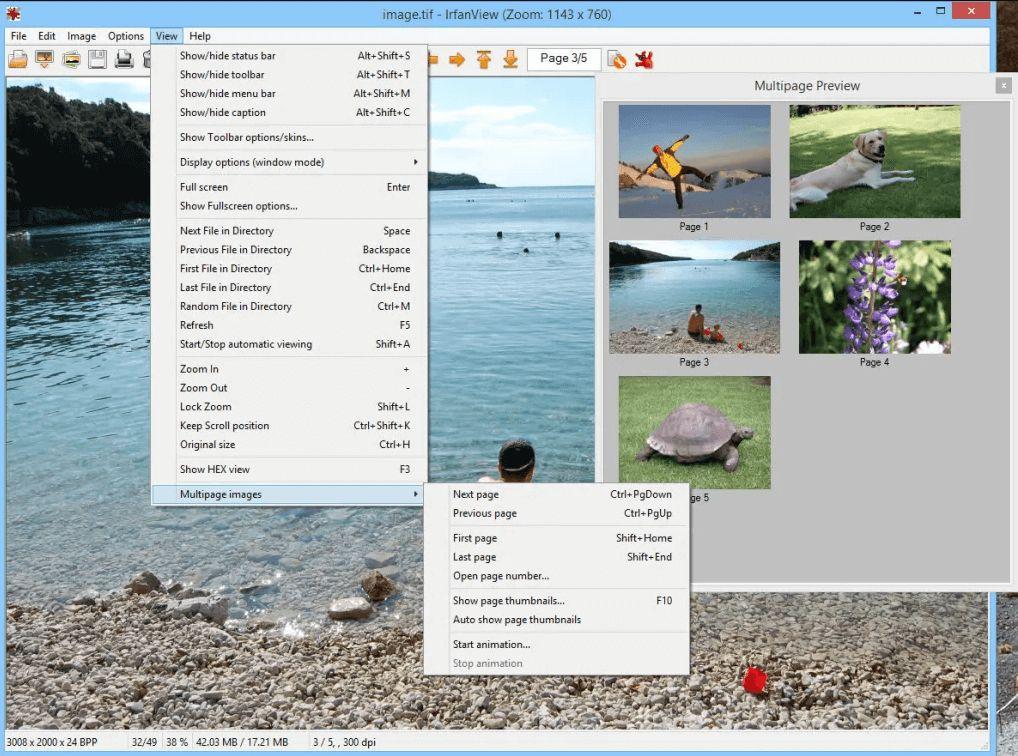 Summing Up
Those are the 29 best free photo editing software. You can use them to edit images. With easy-to-use editing tools and tons of ready-to-use filters and effects, they let you beautify your photos without going through a steep learning curve. Just choose one to try.