FaceTune | Best Face Editing App for Photo and Video Retouch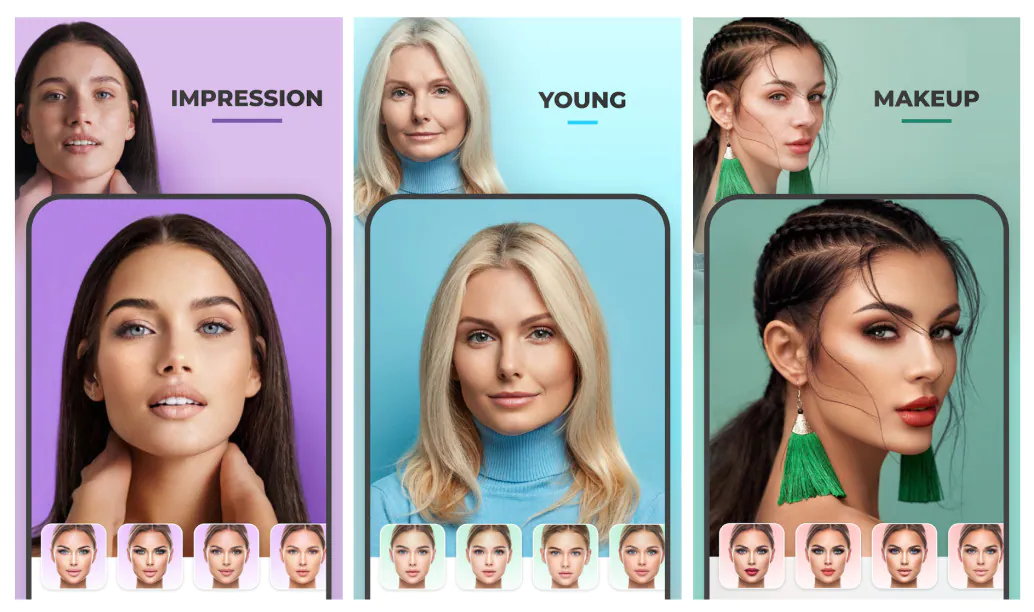 Facetune selfie editor is an app filled with helpful face-reshaping tools. Face reshaping, skin editing, tone, and contouring options let you edit your look live. Add makeup and glitter for an enhanced glow, and highlight your best features with a little extra oomph.
The app's added filters and effects, from backdrops to relight, can enhance and boost the look of your selfies. What sets FaceTune apart is its ability to edit both photos and videos, making it a go-to app for those who want to retouch their video content as well. With its advanced editing capabilities, FaceTune is an excellent choice for users who want to achieve professional-looking results.
Available: iOS/Android
Pros:
Simple layout and intuitive tools
Excellent automated adjustments
Cons:
Not the cheapest app available
Pricing:
one-time purchase of $69.99
VSCO | Best for Aesthetic Photo Filters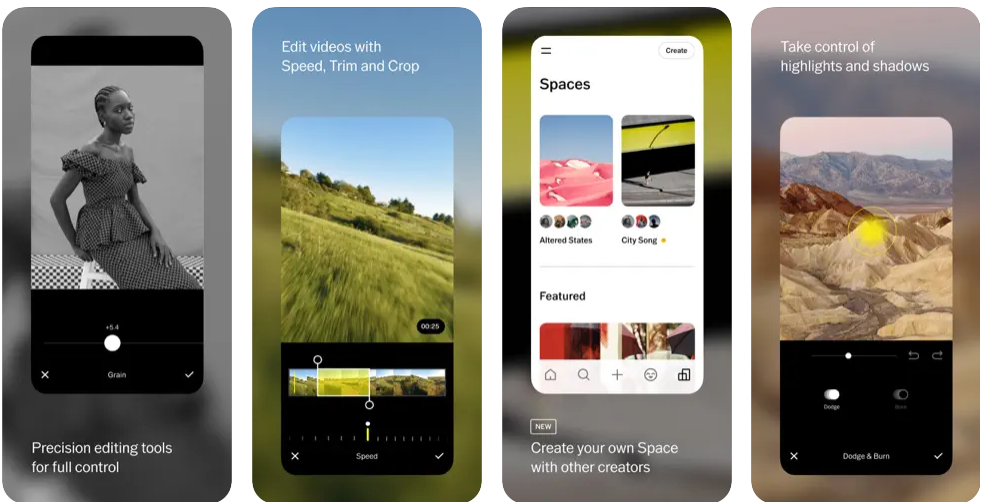 While VSCO is primarily known as a photo editing app, it also offers a range of beautiful filters that can enhance your facial features. VSCO's filters are designed to give your photos an aesthetic and artistic touch. The app allows you to adjust the intensity of the filters, giving you the flexibility to create your desired look. In addition to filters, VSCO offers basic editing tools like exposure, contrast, and saturation adjustments. With its minimalist interface and high-quality filters, VSCO is a favorite among photographers and Instagram enthusiasts.
With a wide range of filters to fit any style and even automatic recommendations, you can create your own looks and unique filters for easy plug-and-go options. Preset features make editing any image even easier, with uniform settings you can drop on any image, and have it ready for sharing in seconds.
Available: iOS/Android
Pros:
VSCO Spaces that provides a safe space for creators to workshop ideas, share inspiration, and connect through collective galleries.
Can edit faces in minute detail
Cons:
There is no dark mode available. And you couldn't get access to the web editing.
Pricing:
YouCam Perfect | Best for Prepping Your Snaps for Instagram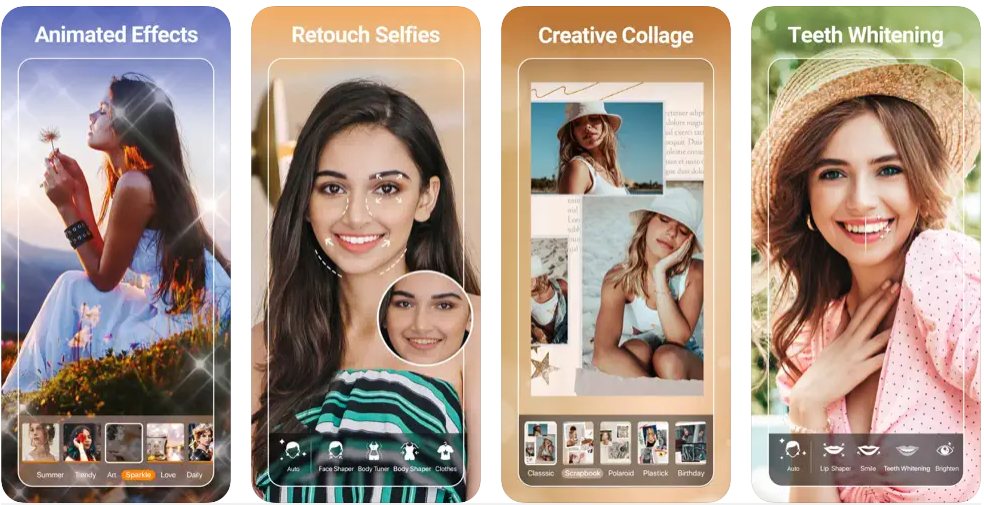 If you wanted to slim down your face in a group photo, or the selfie was missing a daring lip color or voluminous eyelashes, YouCam Makeup is here to save the day. It offers features like skin smoothing, blemish removal, face reshaping, and even virtual makeup application.
The app's real-time selfie filters and beautification effects make it an excellent choice for those who want to prep their photos for Instagram or other social media platforms. With YouCam Perfect, you can easily enhance your selfies and make them ready for the spotlight.
Available: iOS/Android
Pros:
It has various face editing features.
Remove blemish automatically.
Allows users to add makeup filters to photos.
Cons:
It requires purchasing for advertisement removing.
Pricing:
Premium Version: $5.99 per month
FaceApp | Best for Clearing Your Skin Fast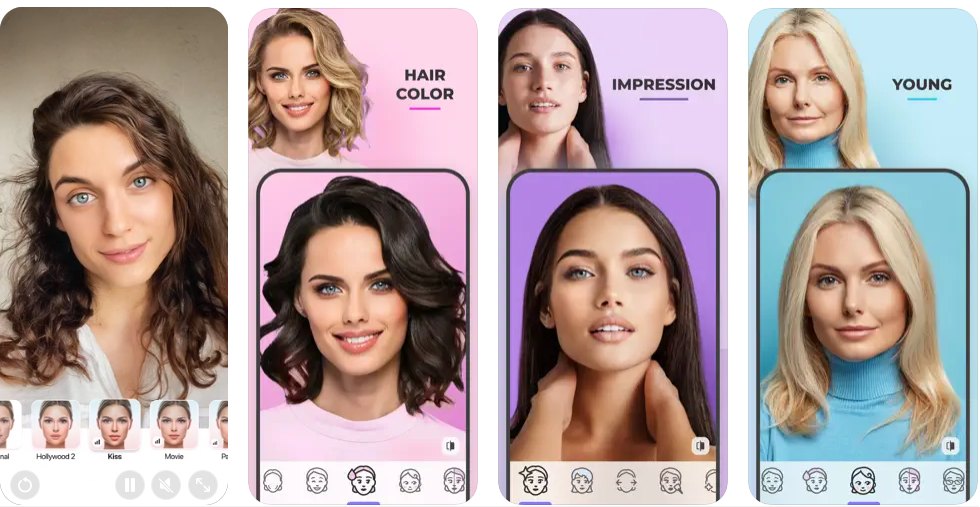 FaceApp gained popularity for its impressive AI-powered features, and its skin clearing tool is one of its standout features. With FaceApp, you can instantly remove blemishes, acne, and other imperfections from your face. The app also offers other fun features like age transformations, gender swaps, and makeup application. While FaceApp is known for its entertaining features, its skin clearing tool provides quick and effective results for those looking to achieve smooth and flawless skin in their photos.
With its Impression feature, users can also select different beauty filters to try on their selfies. The FaceApp engine will not only add cosmetics effects to the photo but also natural face reshapes like lip plumping and face slimming for an overall beautifying edit.
Available: iOS/Android
Pros:
Incredibly quick and easy to use.
The end result is fantastic.
Includes RAW editing tools and filters.
Cons:
No advanced control
Pricing:
PicsArt | Best AI Photo Editor with Face Retouching Filters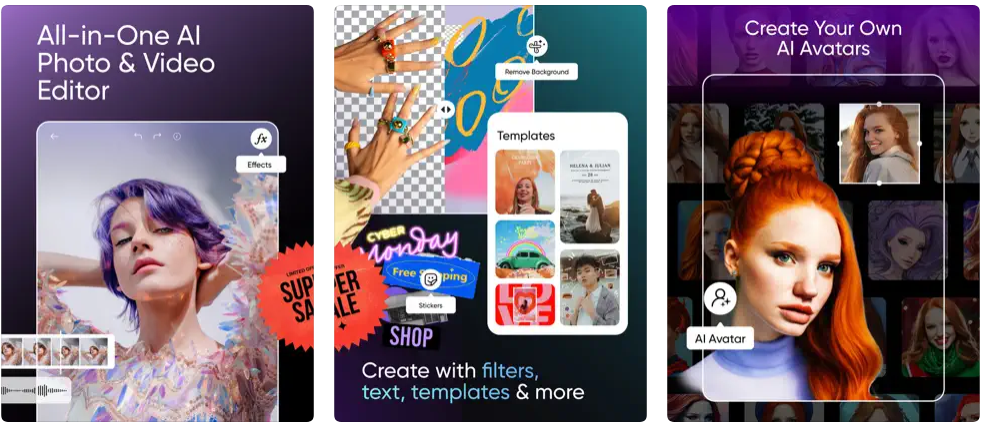 PicsArt is a powerful photo editing app that offers a wide range of editing tools and effects, including a variety of face retouching filters. With PicsArt's AI-powered tools, you can enhance your facial features, smooth skin, and add artistic effects to your photos. The app also provides features like background removal, collage maker, and text overlays, allowing you to unleash your creativity.
It also offers to face shape-changing tools to adjust forehead, chin length, and head size, but need to pay to be a premium user to do so. Whether you are a beginner or an advanced photo editor, PicsArt offers a comprehensive set of tools to make your face look stunning in your images.
Available: iOS/Android
Pros:
The app is well designed and easy to use.
Choose either manual or auto tools.
Has a comprehensive set of tools.
Cons:
it's not very friendly to complete new users for no tutorial of basic editing is available.
Pricing:
$5 per month
Conclusion
In this article, we have shared the 6 best face editing apps free which are available on iPhone and Android. With these 6 best free face editing apps, you have a plethora of options to enhance your facial features, retouch your photos, and achieve a flawless look. Whether you prefer beauty filters, advanced retouching tools, or artistic effects, these apps offer a range of features to suit your editing needs. So, go ahead and download these apps, experiment with different editing techniques, and get ready to make your face look its best in every photo you capture!