Sometimes, the photo taken by your iPhone may contain blemishes that affect the overall mood and look of your photos. In this case, you may need to make slight adjustments to your photos to enhance them.
When it comes to photo editors or blemish remover, you probably think of Photoshop. You can easily retouch your photos on your computer using Photoshop, but if your photos are taken and saved from your phone, it may be inconvenient to send them to Photoshop for editing. So in this post, we'll introduce how to retouch photos on iPhone with 4 apps for removing spots, wrinkles, and other blemishes from photos.
Table of Content:
AirBrush- Changing the Body Shape
TouchRetouch- Removing Objects & Blemishes
Fotor- Best App for Photo Retouching
How to Retouch Photos on iPhone with Apps
As any photographer will tell you, taking a photograph is only half the battle. Even the best pics need some retouching to be shareable. Fortunately, there are some excellent photo editing apps for iPhone.
There are many photo editing apps available on app stores, and the retouching tool is one of the most popular.
Facetune-Portrait Retouching
Facetune is a full-featured photo editing application that has almost all the retouching tools you need. It offers powerful picture retouching features such as blemish healing, skin smoothing, red eye correction... With just a few taps, you can smooth your skin, remove blemishes and even whiten your teeth.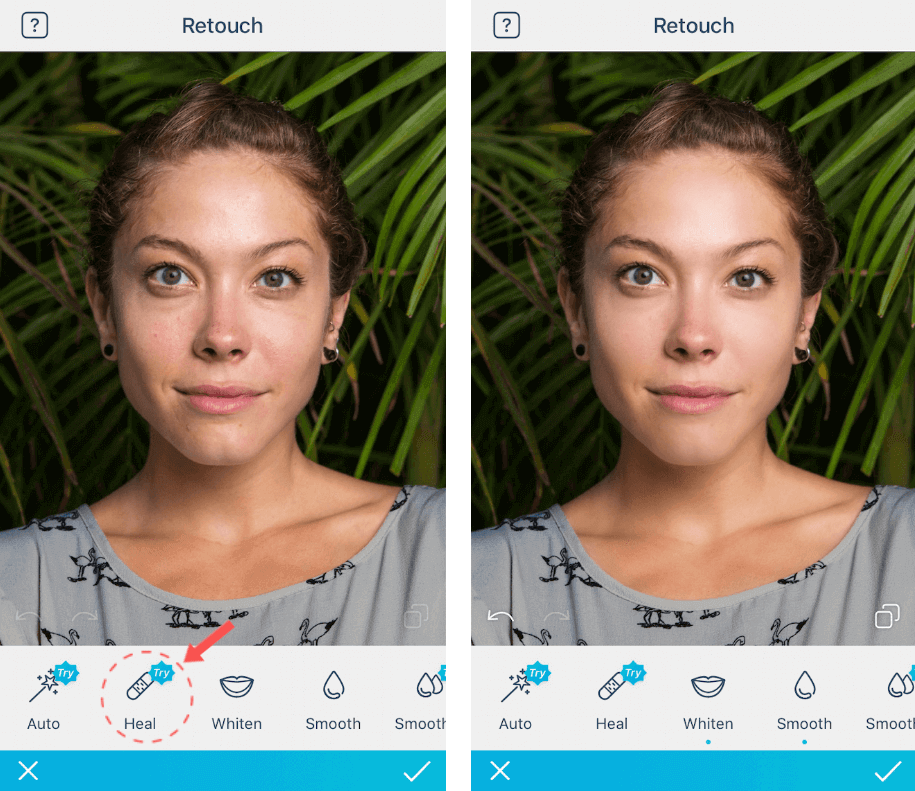 Pros & Cons:
Pros: 
1. A professional app for portrait retouching.
2. Naturally retouch portraits without leaving editorial traces.
3. Intelligent shooting through high-fidelity 3D facial modeling: automatic face retouching during shooting.
Cons:
1. Focusing only on portrait processing is not a good choice for editing other types of photos.
2. The basic version of Facetune is completely free, but most of the tools still require in-app purchases to use.
How to Retouch a Portrait?
Take the example of blemishes fixing:
Download Facetune from the App Store and open it on your phone.
Choose a photo you want to retouch from your photo album.
Tap the Retouch option.
Select the "Heal" tool from the bottom tools menu and apply it to your portrait. Then zoom in on the part with the blemish and tap the blemish to easily remove the blemish. For smoother skin, just tap "Auto", and the app will automatically adjust the parameters of your photo to make it look better.
Finally, tap Share to save your edited photo to your album.
AirBrush-Changing the Body Shape
AirBrush is a powerful easy-to-use photo retouching application with various retouching tools and creative digital makeup filters. With it, you can easily remove blemishes and wrinkles from your portraits.
This photo editor has powerful tools for retouching photos, including the feature to change the body shape. The Reshape feature is not common in other photo editors. It helps you make your body look slimmer and more perfect. This app can be downloaded for free from the app store.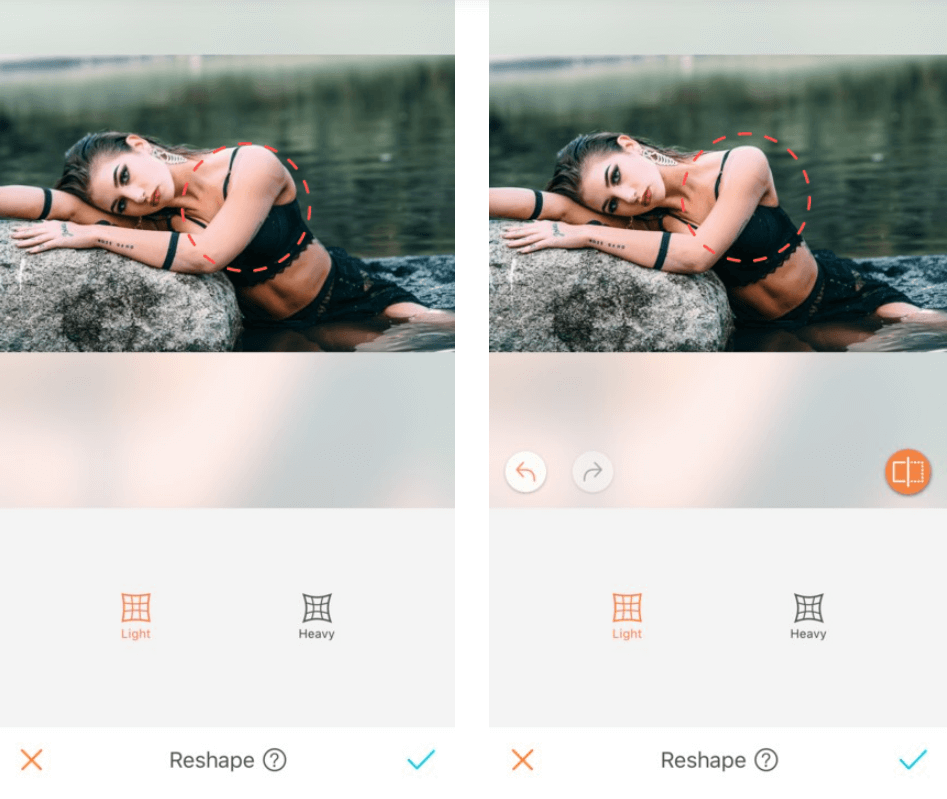 Pros & Cons:
Pros:
1. A full range of touch-up tools, from skin smoothing to reshaping.
2. Easy to operate, easy to control.
3. Cover a variety of professional filters to give your selfies a magazine blockbuster quality.
Cons:
1. Contains in-app purchases.
2. Like Facetune, Airbrush only focuses on portrait retouching. If you want to retouch other types of photos, such as landscape photos, it is recommended to combine it with other retouching apps.
How to Reshape using AirBrush?
Open Airbrush on your iPhone.
Choose a portrait that you'd like to reshape.
Tap the Reshape tool, then tap Light. (Light is used to make the subtle adjustments, if you want to have a more obvious shaping effect then Heavy is recommended)
Adjust the area to be reshaped. Zooming in on the area you want to reshape will make the retouching process more precise.
Save your photo when you think it's good enough.
TouchRetouch- Removing Objects & Blemishes
Suppose you snapped a nice photo, but the mark or unsightly object in the background bothers you very much, what would you do? You may need a photo retouch tool that can quickly remove unwanted objects from your photos.TouchRetouch is a good choice.
With TouchRetouch to easily remove unwanted objects from your photos, it will make your photos look neat and uniform, and can better highlight the photos. TouchRetouch can remove buildings from a landscape photo or blemishes from a portrait with precision.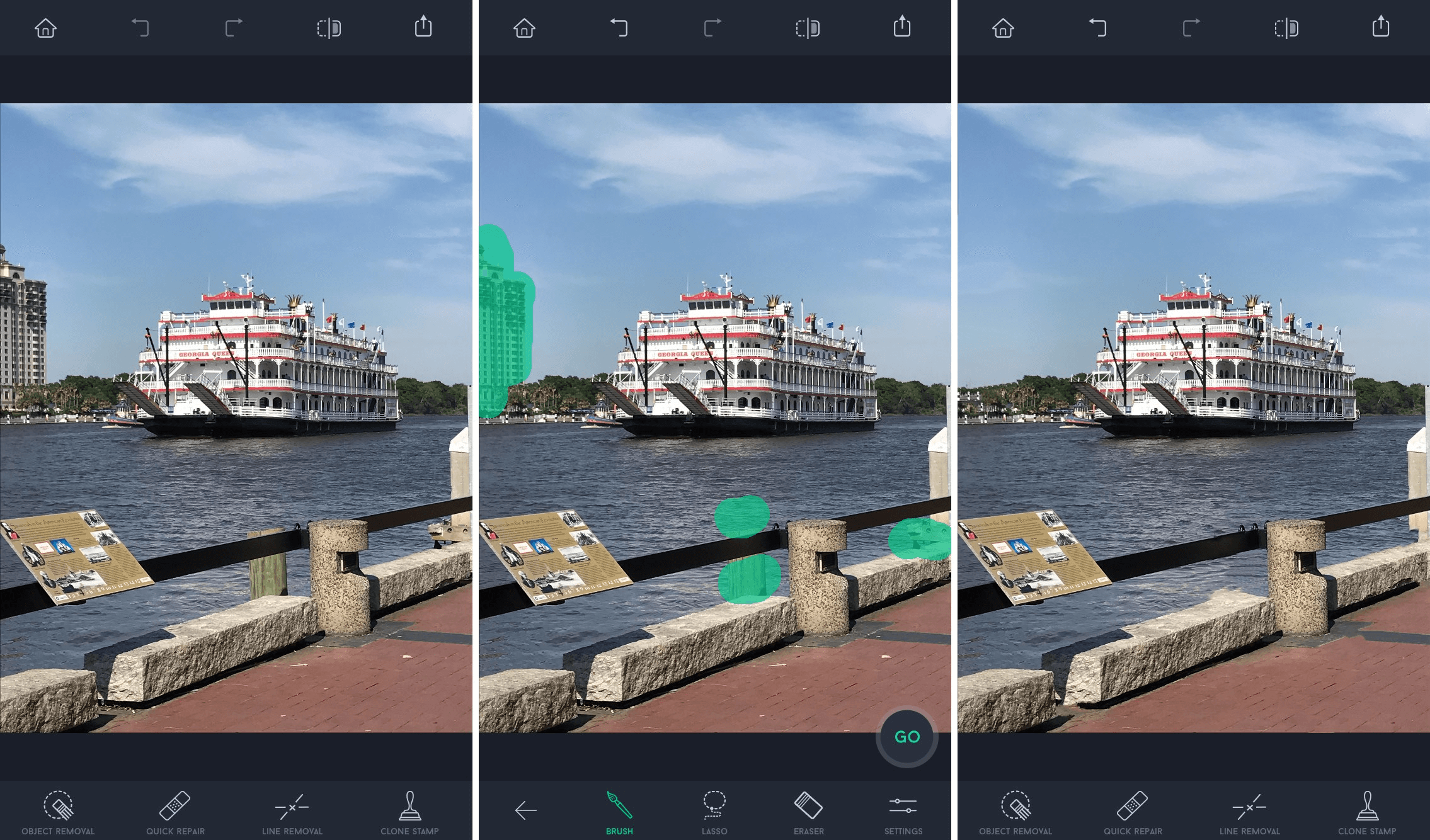 Pros & Cons:
Pros:
1. An expert in removing unwanted objects from photos, including lines and grids from photos.
2. Blend backgrounds naturally, creating stunning photo effects.
3. Give the photo a perfectly clean background to highlight the subject.
Cons:
1. Not suitable for retouching portraits, as it has almost no touch-up features.
2. Contains in-app purchases.
How to Remove an Object From a Photo?
Open TouchRetouch on your iPhone.
Tap your Albums to access your photos and select a photo you want to retouch.
Tap Object Removal from the tool menu at the bottom.
Select the Brush tool to paint unwanted objects or spots to remove them. (You can also use the Lasso tool, which is suitable for removing irregular objects more precisely.)
Tap the Go option and you will see the blemish or the object has been removed.
Save your photo.
Fotor- Best App for Photo Retouching