Taking photos is the best way to document our life. Sometimes, when taking photos, unwanted objects or people will appear in the shot. Whether it's a blemish or a passerby in the background, you need an object removal app to help you quickly remove unwanted objects, people, or text from your photos.
In this article, we will describe remove object from photo apps, retouch photo in seconds.
Table of Content:
1. TouchRetouch: Remove Object From Photo Easily
2. Adobe Photoshop Fix: Full-featured Photo Editor
3. Snapseed: Free Tool for Object Removing
4. Youcam Perfect: Useful App to Remove Object From Photo
5. Fotor: Best App for Removing Object From Photo
5 Best Free Object Removal Apps for iPhone & Android
When we share photos on social media, we need to erase unimportant objects and people from our photos to clarify the subject of our photos. Although we may not always get the most perfect photos, we can make them better with some effective and retouch photo apps.
1. TouchRetouch: Remove Object From Photo Easily
TouchRetouch is a smart photo editing app, which is also an expert in removing objects from photos. This app has the one-click removal feature. Just upload your photo, choose the proper object removal tool and apply it to your photo to erase unwanted objects easily.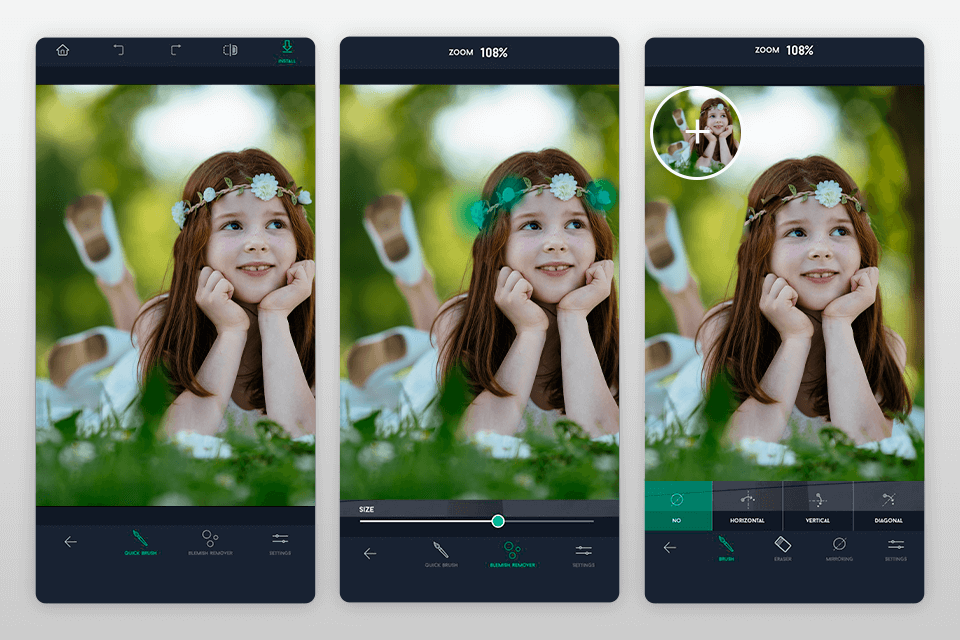 Pros:
1. TouchRetouch has a very complete set of object removal tools, you can easily remove watermark, people, date stamp, power lines, grids and other unwated objects from photos in on time.
2. No need to worry about unnatural photos after object removal, with TouchRetouch, you can remove objects quickly while blending the background naturally.
3. Easy to use, no professional skills are required to erase unwanted objects from your photos.
Cons:
It does not apply in all situations. It focuses only on photo object removal and does not have the retouching feature. If you want to edit photos better, it is recommended to combine this app with other photo retouch apps.
2. Adobe Photoshop Fix: Full-Featured Photo Editor
Most professionals such as photographers and designers trust on Photoshop as it is a dedicated retouching tool with many features.
Adobe Photoshop engineers have designed a more convenient mobile photo editing app - Adobe Photoshop Fix, and added the best and most professional healing tools to easily remove unwanted objects from photos or fix blemishes in photos.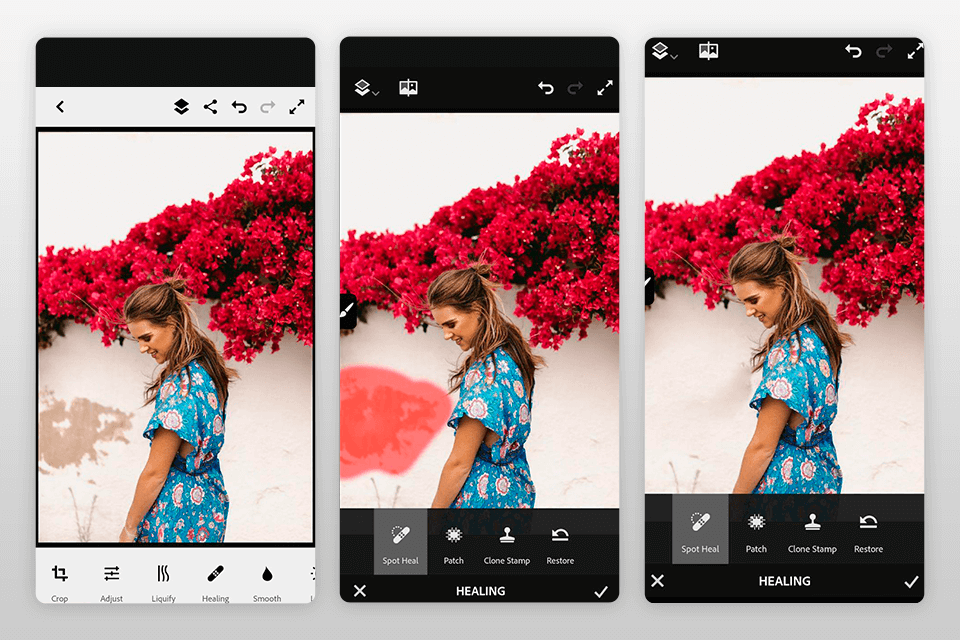 Pros:
1. Ideal for adjusting the details of portrait faces or fixing small imperfections in photos.
2. Easily adjust brush strength and size to perfectly remove objects from photos.
3. Professional full-featured photo editor that supports basic editing, portrait retouching, and adding filters, in addition to the ability to remove objects.
Cons:
Requires more expertise and is more complex than other applications. Some methods of implementing features in Photoshop are retained. For example, when removing objects from a photo, you need to use the lasso or pen tool to make a selection instead of scribbling directly with your finger.
3. Snapseed: Free Tool for Object Removing
Snapseed is a popular photo editor. Although it is free, you will be pleasantly surprised by the features within the app. Use the Healing tool to quickly and accurately remove small objects from your photos, such as dust, spots, or blemishes in the portrait. It also has other handy tools for portrait retouching.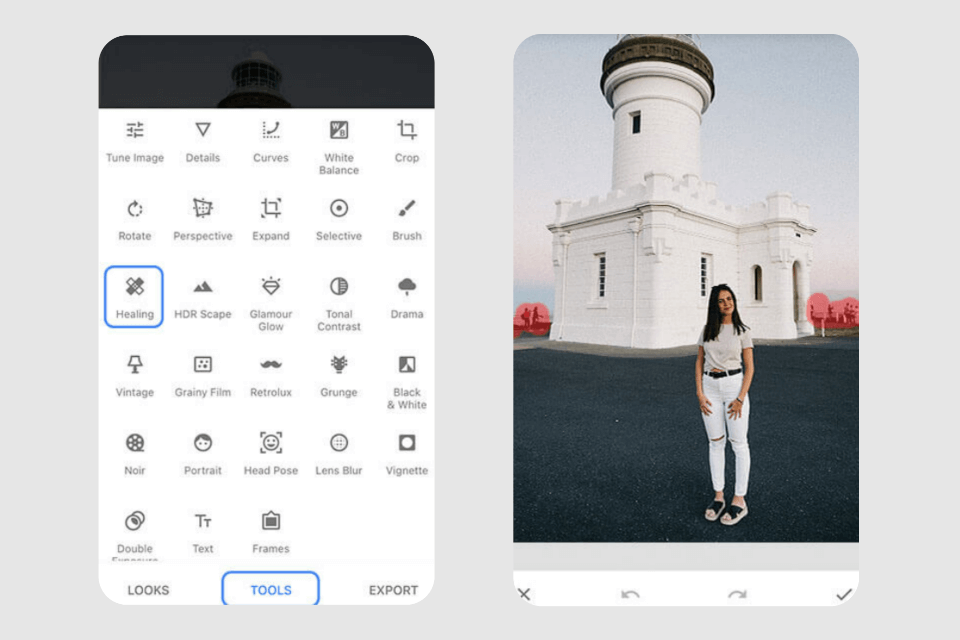 Pros:
1. Free to use.
2. Enable to accurately remove small objects and blemishes from photos.
3. Easy to use for beginners, which can be used without professional skills. This application does not contain advanced professional tools, such as lasso.
Cons:
1. Not recommended for pros.
2. It is difficult to remove large objects from photos.
4. Youcam Perfect: Useful App to Remove Object From Photo
Youcam Perfect is one of the most popular selfie apps with powerful portrait retouching features to optimize your selfies with one click. From adjusting the brightness of your photos to touching up portraits and adding cool filters, Youcam Perfect will meet all your needs! It is also one of the best apps to remove objects from photos.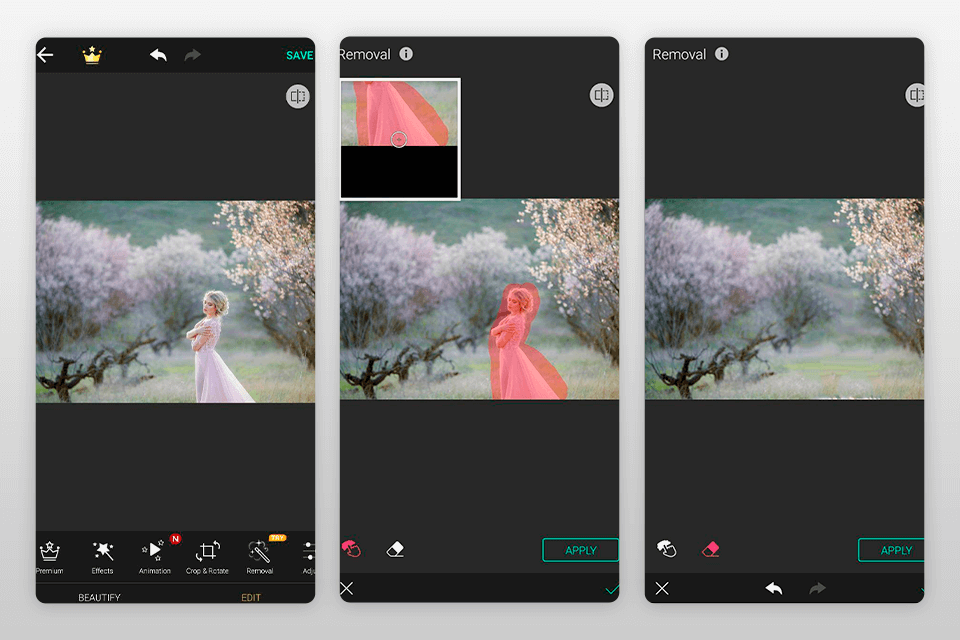 Pros:
1. Easy to use, remove objects naturally with AI technology.
2. Full-featured, one-stop photo editor.
3. With intelligent face detection technology, one click to beautify the selfie.
Cons:
1. The free version has limited functionality.
2. Not recommended for professionals, it does not have pro editing tools.
5. Fotor: Best App for Removing Object From Photo