⭐⭐⭐⭐⭐
Available for: iOS & Android
Fotor is a feature-packed program designed to help you easily change the background of any image, and it can be used on both web, desktop, and mobile devices. This AI-powered background remover tool uses advanced algorithms to automatically remove the background from your photos, saving you time and effort in the editing process. You can remove the original background and replace it with a new one, or even create a completely new background from scratch.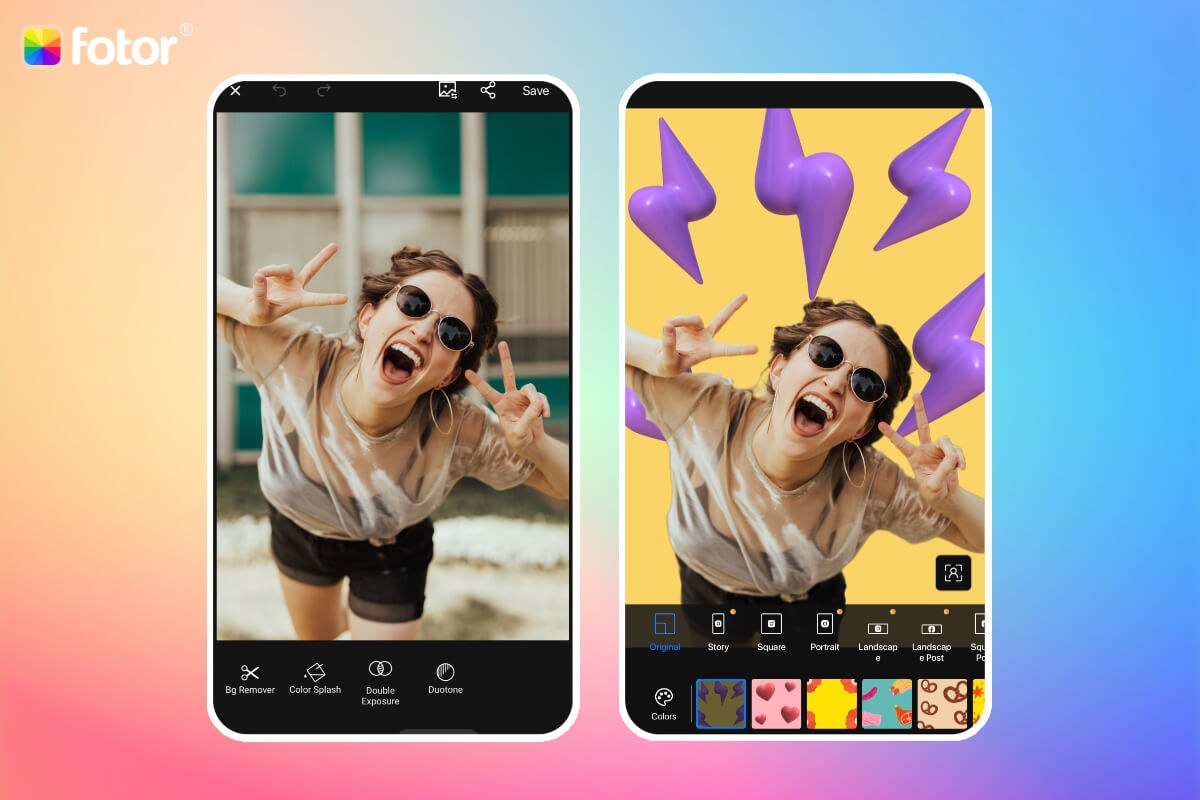 Fotor also offers a wide range of backgrounds, including solid colors, gradients, and textures, as well as the feature to upload your own custom background. You can even use Fotor's AI background generator to create your own backgrounds from text. Moreover, Fotor has a range of easy-to-use editing tools and design templates and also creative elements built in. With just a few clicks, you can completely transform the look and feel of any image and make it stand out.
This app is perfect for designers, marketers, and anyone looking to add a creative twist to their images.
Pros:
Easy-to-use interface
Automatic background removal
Accurate background removal
A variety of backgrounds to choose from
Rich built-in editing tools and design resources
Cons:
It will take a little longer to process on a large image
Here are steps on how to change image background with Fotor background changer app:
Open the Fotor app on your iPhone or Android device.
Find the tool "Bg Remover" on the homepage and upload the image you need to change the background.
Wait a few seconds and Fotor will automatically remove the background for the photo, then you will get an image with a transparent background.
Browse Fotor's library of preset background templates and pick one from it. Or you can upload your own image as the new background.
When you are finished, tap the "√" in the bottom right corner and save the final result.
2. PicsArt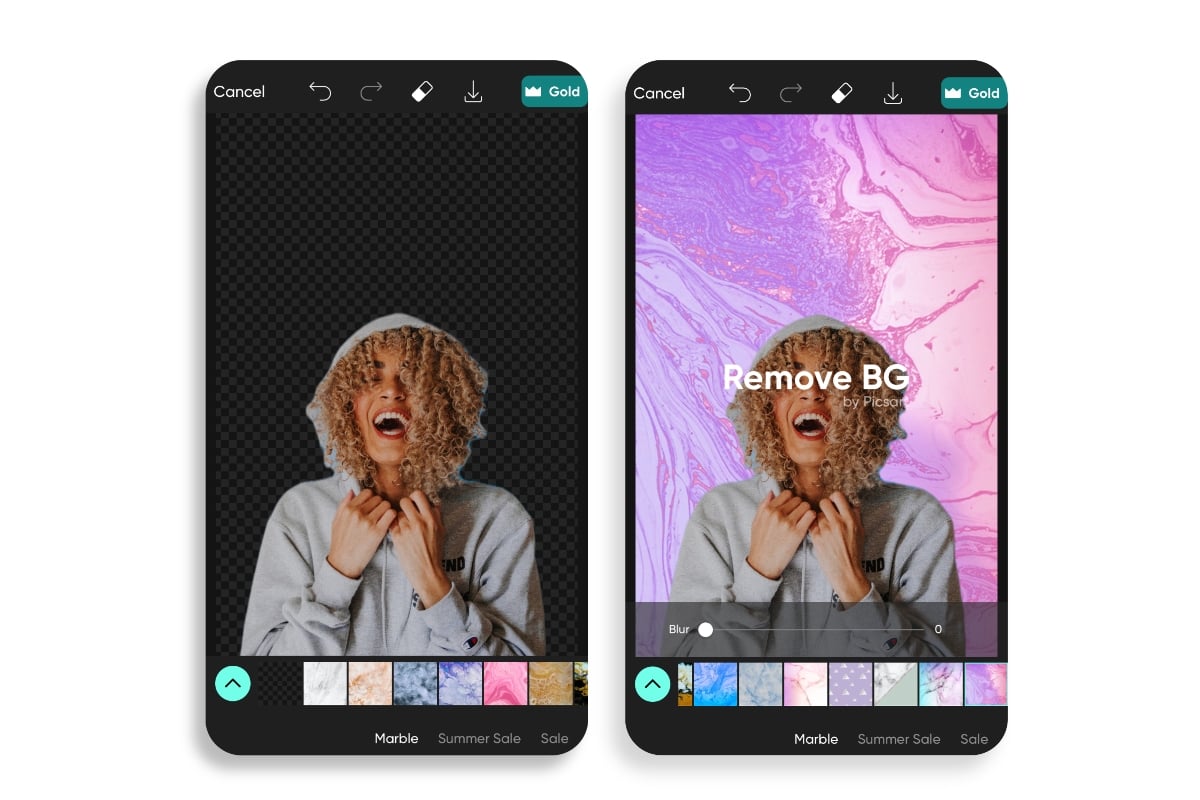 ⭐⭐⭐⭐
Available for: iOS & Android
Picsart is a popular photo editing application that offers a wide range of features and tools to embellish photos. One of them is the Remove Bg tool which has received wide acclaim. Using this tool, you can easily remove the background from a photo and replace it with a new one.
Picsart is very novice-friendly and offers a wide range of customization options, making it a must-have tool for anyone looking to add creativity to their photos. Whether you're a professional photographer or want to add some fun to your social media posts, the photo background change tool in Picsart will surely be a game changer for your photo editing needs.
Pros:
Auto cutout
Different background options
Wide range of editing tools
Cons:
Limited free features
Requires in-app purchase
3. Adobe Photoshop Express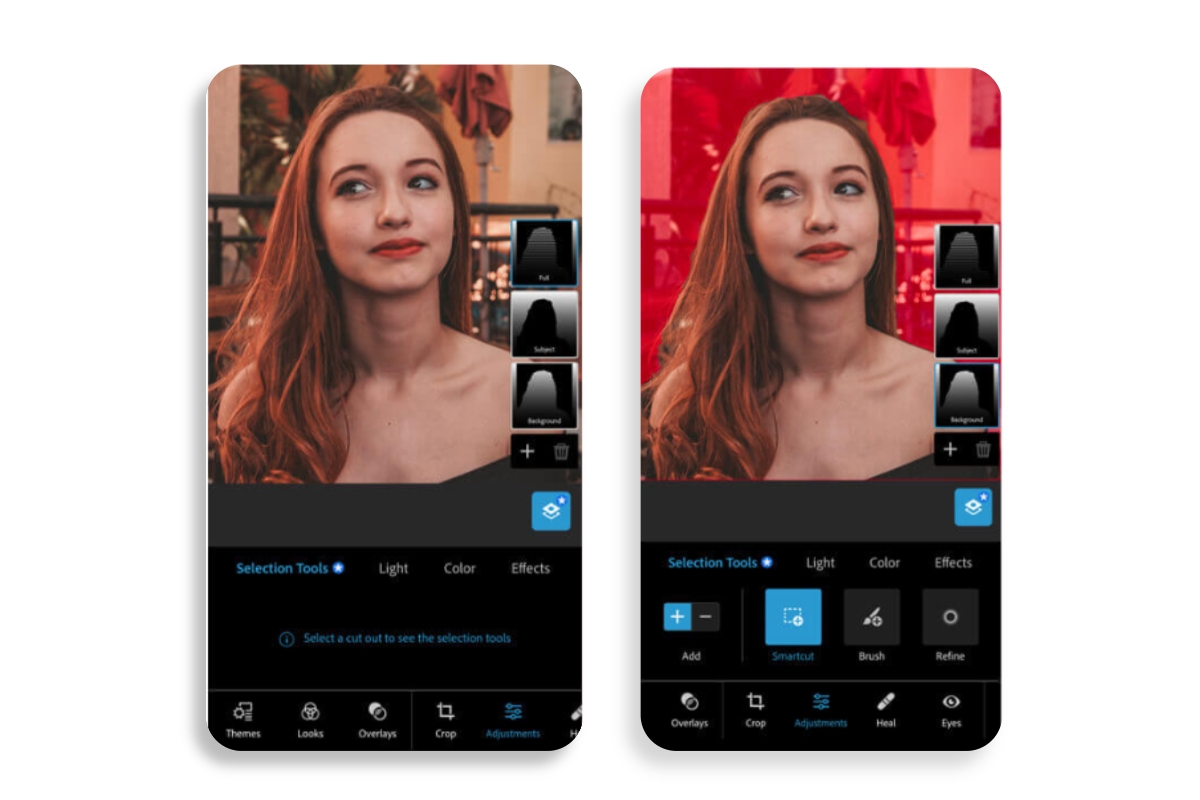 ⭐⭐⭐⭐
Available for: iOS & Android
Adobe Photoshop Express is an all-in-one photo editor. If you want a quick way to change your background, then you have it. All you have to do is upload your picture to this program and then apply the background removal tool and the next thing you know is to witness a miracle - the background of your photo will be removed in a matter of seconds!
After that, you can easily edit and customize the photo background.
The great thing about Photoshop Express is that you can do a range of other edits to your images. But for those who only need the one feature of removing the background, there may be better alternatives.
Pros:
All-in-one photo editor
Auto background erasing
Fast and accurate processing
Cons:
4. Youcam Perfect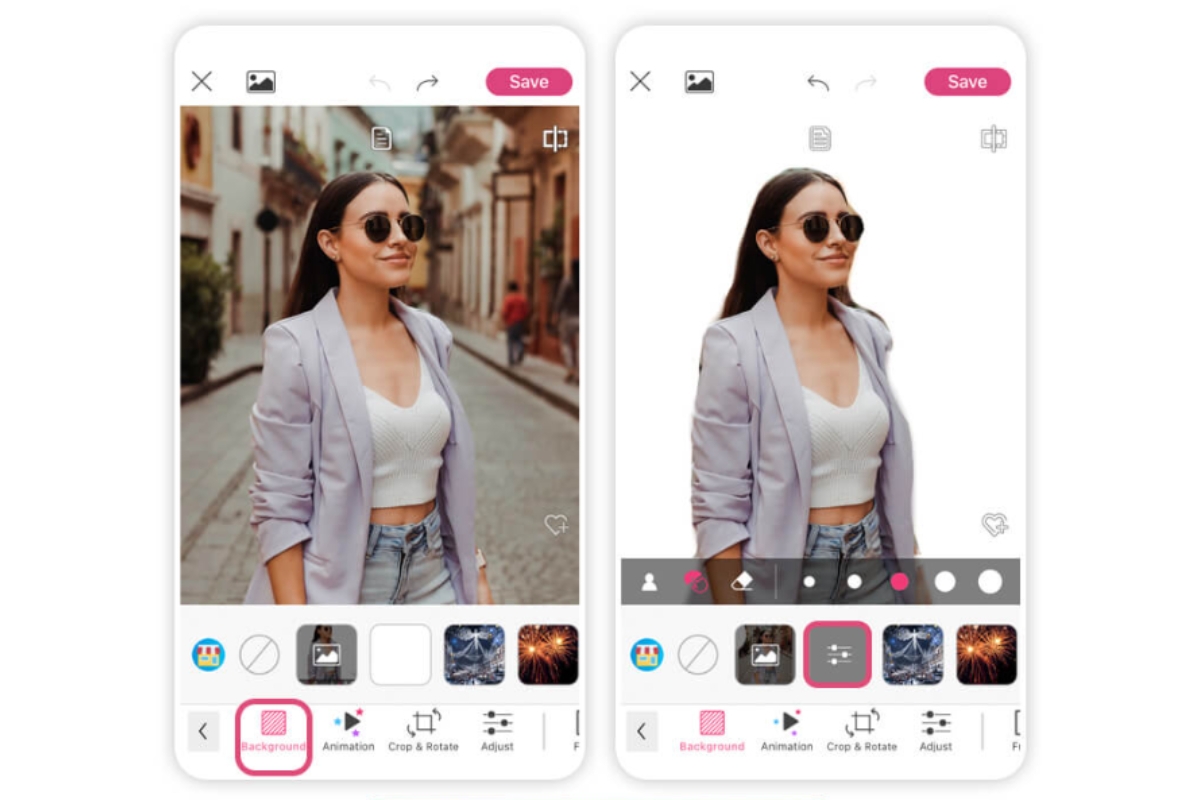 ⭐⭐⭐⭐
Available for: iOS & Android
Youcam perfect is a beginner-friendly photo editor. This easy-to-use program has a built-in AI auto-cutout tool that automatically detects and removes backgrounds from your photos, so you don't accidentally cut off your face or body. The extensive background resources allow you to quickly replace an aesthetic background and give your photos a new look . You can even edit the portraits in your photos with other powerful retouching tools to maximize your photos!
Pros:
Auto detection and remover tool
Rich built-in background options
Wide range of retouching tools
Cons:
Requires in-app purchase to remove ads
5. Canva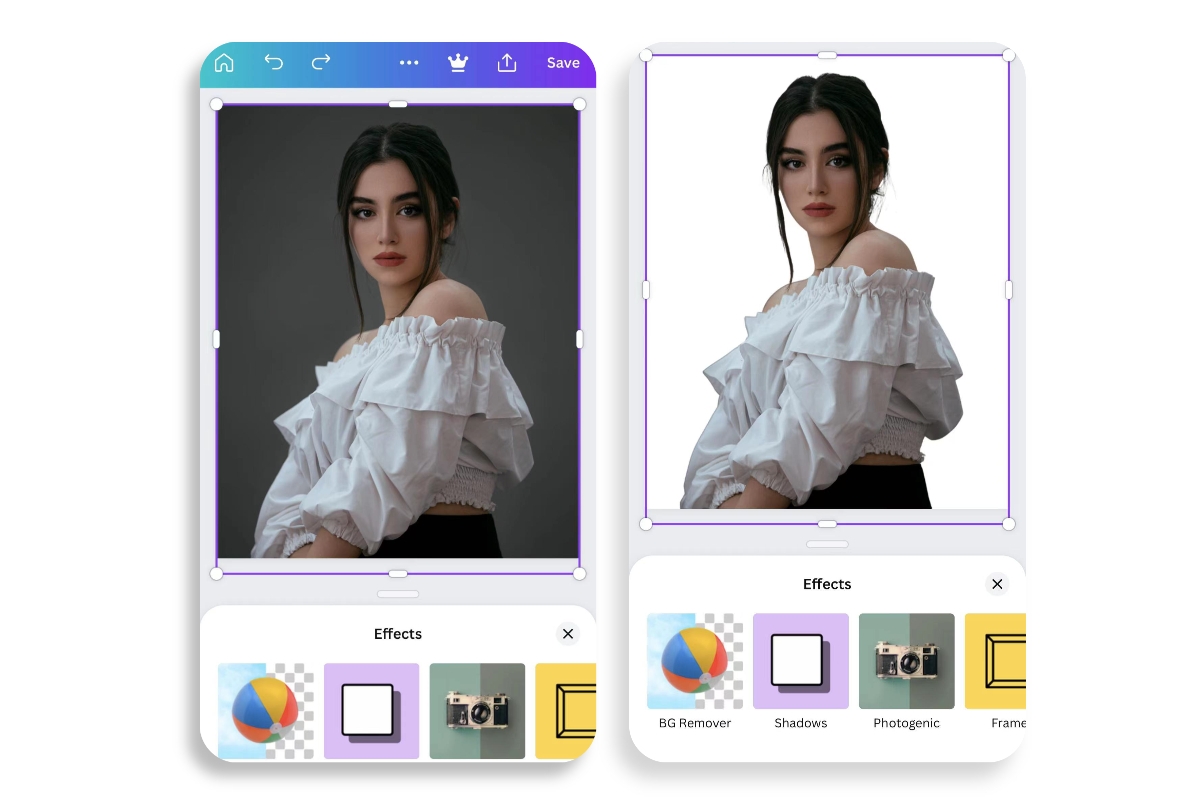 ⭐⭐⭐
Available for: iOS & Android
Canva is a versatile image-editing app that possesses a multitude of capabilities. Its smart background eraser tool removes unwanted backgrounds by automatically detecting the main person or object. And you can add your own image to as a new background.
Plus, the best feature of Canva is its layout feature, favored by many design practitioners. Rich layout styles and templates enable you to generate intricate and amusing compositions.
Pros:
User-friendly interface
Automatically detect and remove background
Rich templates and designing tools available
Cons:
Need to manually add background styles
6. FaceTune2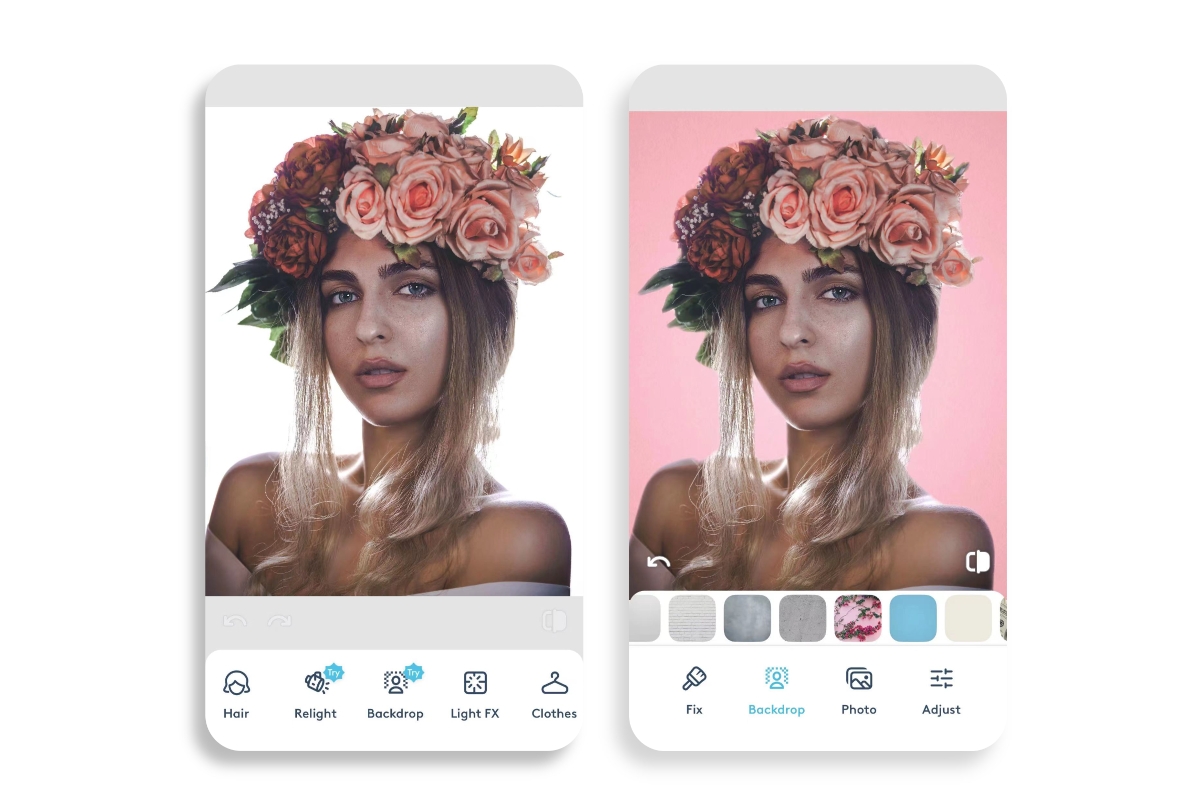 ⭐⭐⭐
Available for: iOS & Android
If you're looking for a powerful and intuitive background editing app, FaceTune2 is a great choice. In addition to smoothing skin and fixing blemishes, it also works well on removing and changing the backgrounds of images. Users can easily use this tool to remove unwanted backgrounds and replace them with any color and texture.
Following the application of this tool, you can use the fix tool in the backdrop option to manually erase the desired portions of the background if you need a precise result.
Pros:
Wide range of portrait retouching features
Automatic background removal
Tutorials and guides
Cons:
The background removal is not very accurate.
Conclusion
Changing image backgrounds is a great way to enhance their visual appeal. It can be overwhelming to choose the best one. It is recommended to choose the one that suits you best according to your needs and by comparing the pros and cons of the above background changer apps.
From beginners to professionals, these apps have got you covered. So, give them a try and enhance your images like never before!