Follow the detailed guide on how to get smooth skin easily in Fotor.
Step 1: Click the "Smooth Skin Now" button on this page and turn to the edit page.
Step 2: Click "Open Image" to upload your picture or directly drag it to our editing area.
Step 3: Click the "1-Tap Skin Retouch" button to automatically retouch your face.
Step 4: Or click "Beauty" to touch up your photo. Then choose "Smoothing" on the left dashboard to make your face smooth, and use the "Blemish Fix" to remove the blemishes.
Step 5: Finish editing your work, and click the "Download" button to save.
How to Smooth Skin in Photoshop

When you tend to smooth skin texture on face, Photoshop may come into your mind. Photoshop is a raster graphics editor developed and published by Adobe Inc. One popular technique is using the "Healing Brush Tool" or the "Spot Healing Brush Tool" to remove blemishes and imperfections selectively. By carefully painting over problematic areas, you can seamlessly blend the skin's texture and achieve a smoother look. Additionally, Photoshop offers options like the "Gaussian Blur" filter and the "Surface Blur" filter to soften the overall appearance of the skin. Experimenting with different settings and techniques can help you find the right balance between smoothness and naturalness.
Follow the detailed guide on how to get smooth skin in Photoshop.
Step 1: You can access the Discover Panel in Photoshop using the search icon at the upper right of the app workspace. Alternatively, you can use the Cmd/Ctrl + F keyboard shortcut or choose Help > Photoshop Help from the menu bar.
Step 2: In the Discover panel, navigate to the Browse > Quick Actions and select Smooth skin.
Step 3: Click the Apply button to select the subject in your image.
If you're using the Smooth skin quick action for the first time, click the Download button to download the neural filter to enable this quick action. Then, apply it.
Step 4: (Optional) To try on a different layer, select the one your want from the Layers panel and click Refresh to resume.
Step 5: Click the Revert button to undo the applied changes. To find more quick actions that you can apply to your image, click Browse more quick actions.
How to Easily Smooth Skin with YouCam Perfect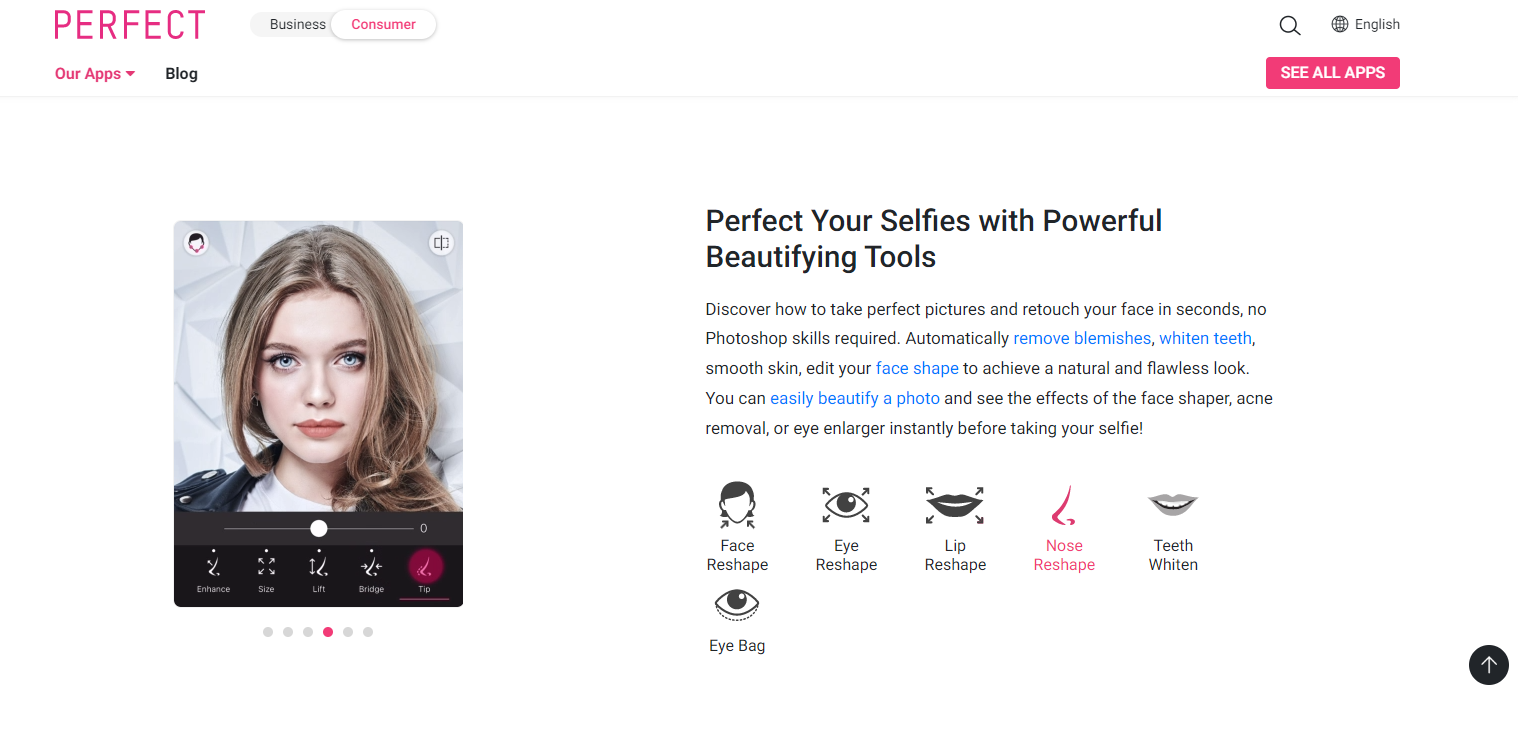 If you prefer to edit images on your mobile device, YouCam Perfect is a popular app that offers an array of features for skin smoothing. With its intuitive interface and user-friendly tools, you can easily achieve a smooth and radiant complexion. YouCam Perfect provides options like "Skin Smoothing" and "Skin Tone" adjustments, allowing you to reduce imperfections and even out skin tone with just a few taps. The app also offers additional features such as teeth whitening, eye enhancement, and makeup application, making it a comprehensive tool for enhancing your portraits.
Follow the detailed guide on how to get smooth skin in YouCam Perfect.
Step 1: Download the Skin Smoothing App, YouCam Perfect.
You can get the YouCam Perfect for free on both iOS and Android devices
Step 2: Select the Skin Smooth Tool.
Once you download the app, it's time to start editing! Tap Beautify and select the picture you want to retouch from your camera's photo library. Then access the skin-retouching features like smoothing, and acne removal.
Step 3: Make Your Face Smooth in Picture.
Tap on Smooth to start perfecting your face skin. The app's expert AI technology will automatically analyze and smooth your skin, but you can fine-tune your results by sliding the bar left or right.
Step 4: Save Your Perfect Selfie
Once your skin is smooth and flawless, the only thing left to do is share your picture.
How to Get Smooth Skin in Lightroom
For photographers who prefer a non-destructive editing workflow, Adobe Lightroom offers a range of features to smooth skin and enhance the overall appearance of portraits. Lightroom provides tools like the "Spot Removal" tool and the "Adjustment Brush" to target specific areas and remove blemishes effectively. Additionally, you can use the "Clarity" slider and the "Noise Reduction" slider to soften skin texture and reduce any unwanted graininess. Lightroom's comprehensive set of editing tools and presets allow for precise control over the final result, ensuring that the skin looks smooth and natural.
Follow the detailed guide on how to get smooth skin in Lightroom.
Step 1: Zooming In For a Better Working View
First, import your photo into Lightroom, and then go to VIEW > ZOOM IN from the drop-down menu at the top of the page to zoom into the location you would like to retouch. Simply press the letter "Q" to enter the heal mode and use Lightroom's spot removal tool to remove wrinkles and blemishes.
Step 2: Select the Adjustment Brush and Soften Skin Effect
Choose the "Skin Softener" brush from the Luxe Portrait Collection. And drag the sliders to adjust clarity and sharpness.
Step 3: Apply the Soften Skin Effect
Simply start brushing over the parts of your photo that you would like to soften and smooth skin. Once you've perfected your photo, click done. You have got the skin texture of the portrait perfectly retouched.
Conclusion
In this post, we have talked about how to get smooth skin in your images and shared four simplest ways with you. Obtaining smooth skin in your images is no longer a challenging task. From online face editors like Fotor to professional-grade software like Photoshop and Lightroom, beginners have a variety of options to choose from. So, grab your favorite editing tool to create stunning portraits with smooth and radiant skin!