Fotor is a comprehensive and powerful free Mac photo editor that allows you to use it for ordinary everyday use as well as for professional photo processing by photographers or designers. Anyway, Fotor makes it easy to solve your graphic problems.
Key Features:
Fotor, the best free photo editor for Mac, is supported by powerful artificial intelligence. It provides you with intelligent algorithms to give you impressive effects when you are editing photos on Macbook.
As a powerful online photo editor for Mac, Fotor offers a range of powerful professional editing tools for your operations, such as background remover, image enlarger, photo filters, image sharpener and more. Powered by AI, these smart AI photo editing tools will allow you to have photo editing for Mac with ease.
Moreover, Fotor provides many fabulous filters to suit different occasions, from black&white effects to watercolour. And you can also find Fotor's unique GoArt NFT Creator to create your own NFT artwork.
As an all-in-one Mac free photo editor, Fotor provides many design templates and materials for your photo editing and layout, so you can unleash your creativity.
Still, Fotor's free photo editing software for Mac is also avaliable on mobile, you can download them to edit photo on Mac anywhere and anytime.
Pros:
Easy to operate
Free of cost
User-friendly interface
Free photo editor for PC& mobile
A wealth of tutorials and guides for online photo editing
Cons:
Photo size limited (<20MB)
Pixlr - Best for Beginners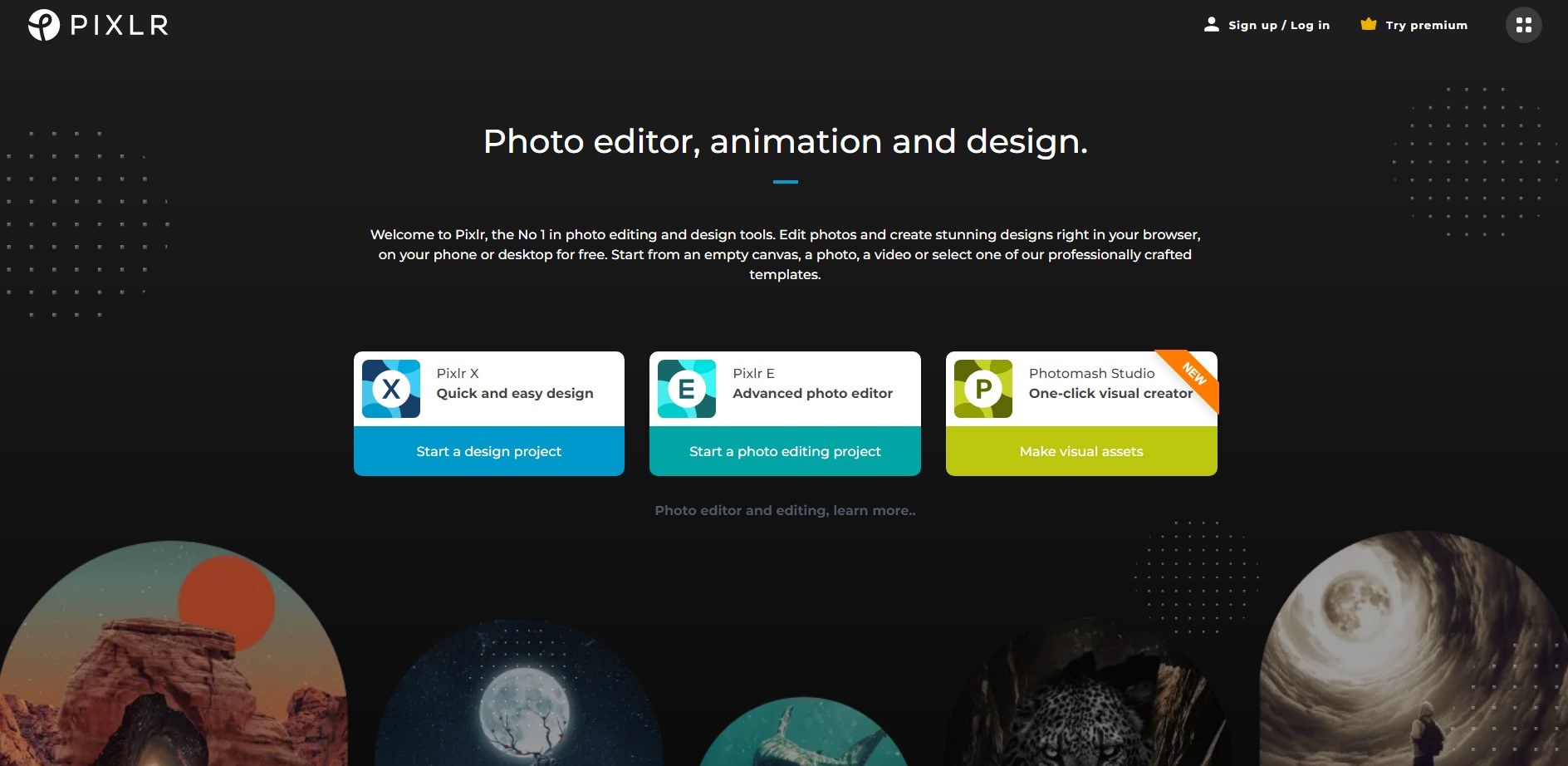 Platforms: Mac, Windows, Linux
Pixlr is a Mac free photo editor. Simply open your image file in Pixlr online editor and you are able to start your editing operations immediately.
Key Features:
Photomash studio
Animations
Remove background
Pixlr offers many tools for your Mac free photo editing, including basic photo editing tools and professional photo manipulation ones for Mac users. Inside Pixlr you can use the magic wand tool, the lasso tool and the erase tool which makes you feel you are having the free photo editor like Photoshop.
Pixlr also offers a range of beautiful templates for you to use in your image editor for Mac. You can use the templates it provides to create a great image that will catch the eye of the viewer.
And you are free to install Pixlr's best free photo editing app fro Mac to have your image editing on your Mac anywhere, even on the go.
Pros:
Free to use
Insurance of data security
Lightweight
Cons:
Intrusive ads
Easy to lose your editing operations
Canva - Best for Desgin

Platforms: Mac, Windows
Canva is one of the most popular free photo editor for Mac of the moment. You can unleash your imagination and creativity in Canva to get a really stunning photo by having Canva photo editor on Mac.
Key Features:
Logo Maker
Collage Maker
Graph Maker
As in any Mac OS image editor, you can easily find the tools you want in Canva, including tools to remove backgrounds, eliminate unwanted objects, add text or stickers and much more.
You can also find templates and materials to enrich your images in Canva free Mac photo editor. Many design resources are available in Canva for you to choose from.
Canva has created an online photo-sharing community exclusively for its users. With Canva's best photo editor for Mac free, you can share your edited images with your community of friends, and you can interact with your friends.
Similarly, you are free to download Cnava's best photo editing free software to edit and process your image on Mac anywhere.
Pros:
Free to operate
Huge cloud storage
Editor for images, videos and gifs
Cons:
Slow rendering
Some essential tools need subscriptions
Picsart - Best for Batch Editing

Platforms: Mac, Windows
Like other popular pictures editor for Mac, Picsart allows you to make a very beautiful and creative photo. All you need to do is upload the image you want to process from your file and you are ready to start your photo editing with Picsart's best online photo editor for Mac.
Key Features:
Image Upscale
Text Editor
Photo Effects
Picsart is also a Mac image editor powered by artificial intelligence. With AI technology, it gives you precise algorithms for your image editing operations to give your images a better visual effect.
As a professional free photo editor for Mac, a powerful and comprehensive set of photo editing tools is the essential feature. Picsart offers a range of features that other image editors offer, making it easy to edit images within Picsart. It provides the free filters for photos and photo enhacer online free.
You are allowed to edit photo easily on both Picsart's online photo editor and its free photo apps.
Pros:
Free of cost
Update regularly
Beginner friendly
Cons:
Lacks some advanced features
Best tools require a subscription
Befunky - Best for Quick Editing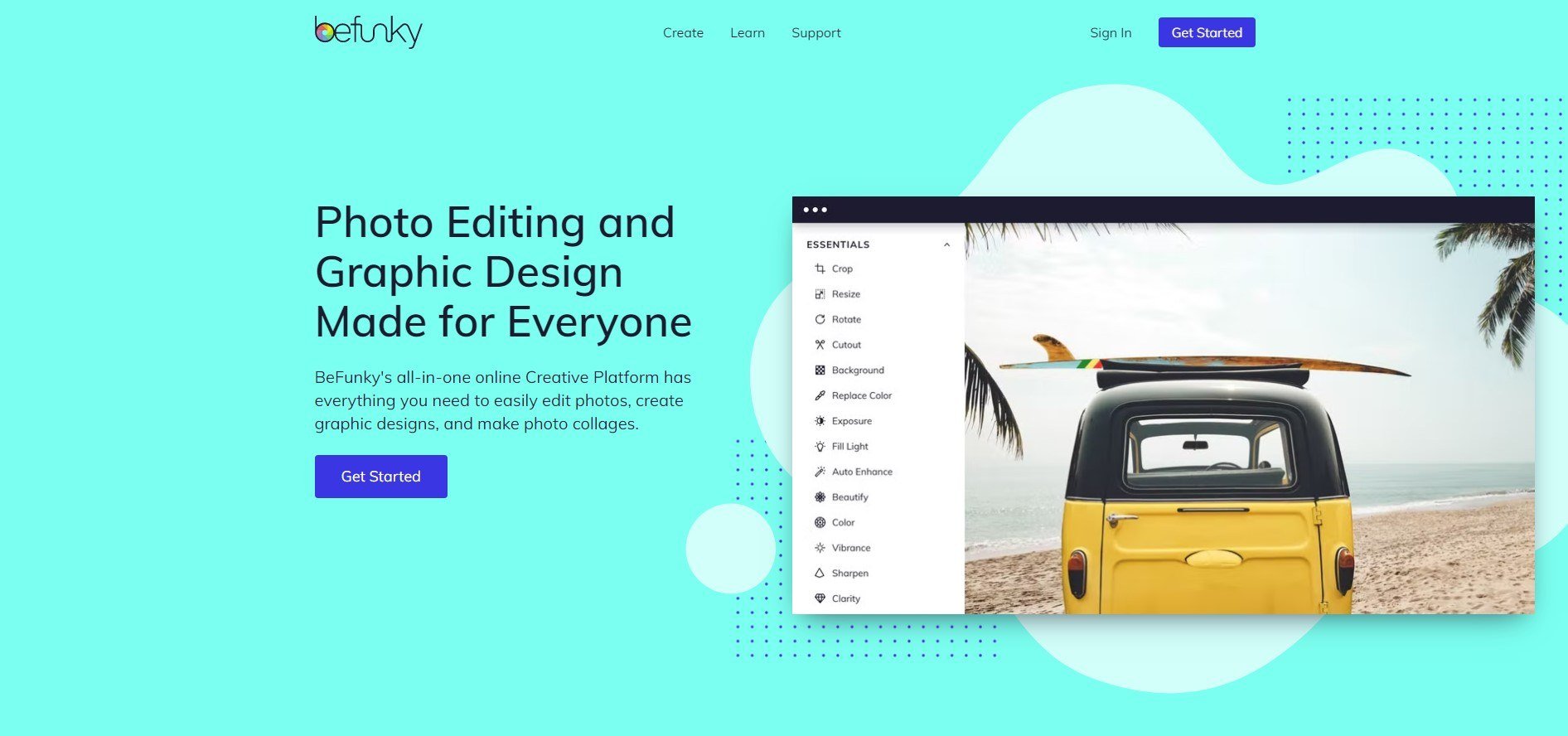 Platforms: Mac, Windows
You may be new to Befunky, but it really is a very user-friendly and free photo editor for Mac. All you need to do is upload your photos and you can start editing your images.
Key Features:
Crop and Resize Photo
Retouch Portraits
Batch Edit Photos
Befunky offers many useful and free photo editing tools for you to use, just like any other photo editor for Mac. From basic editing tools to advanced image editing and processing tools,such as the free photo enhancer and the background remover, Befunky offers them all.
Effects are a very important feature of Befunky. In Befunky you can easily find the free filters for photos that you want. Befunky also offers its unique photo-to-art effect on its photo editor for Mac free , which gives your photos an aesthetic and artistic effect.
What's more, Befunky allows you to install its free photo editing software on Mac, so you can give it a try.
Pros:
Free of cost
Easy to use
User-friendly interface
Cons:
You are not able to adjust the file size when you are exporting.
Easy to lose your editing operations
How to Edit a Photo with Fotor Free Photo Editor for Mac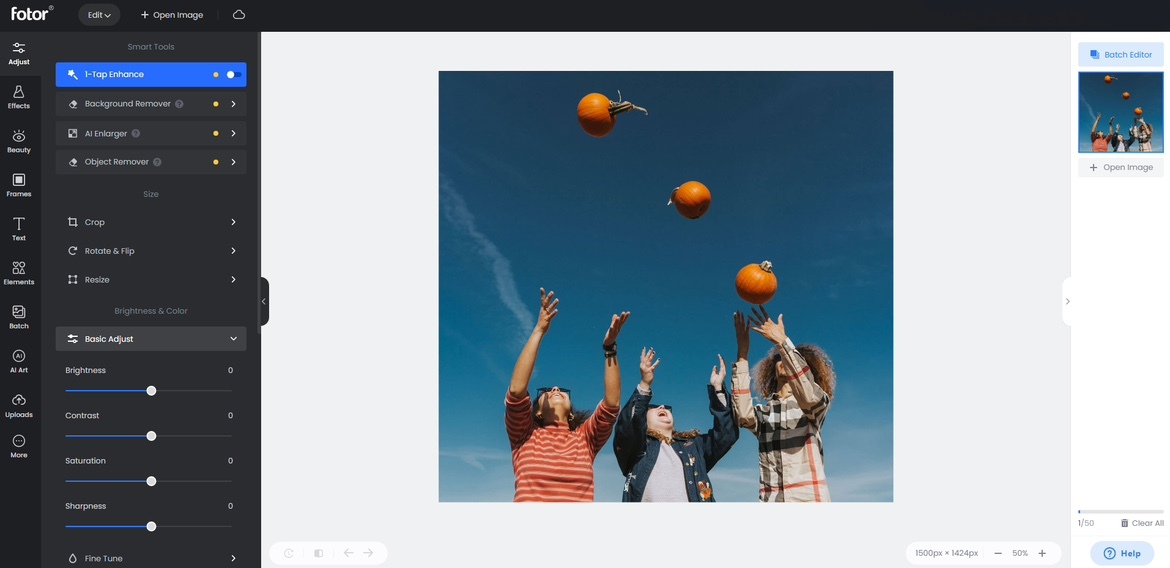 Above we have mentioned that Fotor's free photo editor for Mac is best for everyone, here we are going to share with you on how to edit a photo in Fotor's best free mac photo editor.
Open Fotor's online picture editor for Mac, and upload your images that you want to edit.
You can have the basic adjustment by clicking the Basic Adjust. And still, you can optimize your pictures with Fotor's one-tap enhacebackground remover, AI enlarger, and more as needed.
After finishing your photo editing on Mac, you can download your optimized images and share them online.
Conclusion
In this blog, we share with you some of the most popular and useful image editors, including Fotor, Pixlr, Canva, Picsart and Befunky. Each of these photo editors has its own unique features, in addition to some basic editing features in common, so you can try them all out. By sharing these great photo editors, we hope to enrich your photo editing resources so that you can edit and get the image you want for free.