Fotor is a professional and all in one photo editing app dedicated to providing photography editing tools. Powerful features for photo editing such as background remover, basic editings, beauty tools and so on that let you edit photos in just a few clicks without any skill. Easily share your editings to Instagram or Facebook to record highlights of your life.
Pros:
1. Popular features are almost available, such as: crop & resize images, background remover, image sharpener, beauty tools.
2. 30,000+ stickers and elements for you to unleash creativity.
3. Various amazing photo effects are provided.
4. Support to design your own NFT artwork with Fotor's NFT Creator.
5. Enlarge images and ensure the clarity based on the AI inferred image details.
6. Avaliable automatic remove background and object remover.
7. Powerful 1-Tap Skin Retouch autimatically remove blemishes and whitens skin all over the body with only one click.
8. Easily create photo collages on the go with a huge library of ready-to-use collage templates and layouts.
9. A huge library of customizable design templates to make cards, posters, logos and more.
Cons:
1. Only can upload photos within 20MB.
Fotor's AI photo editor makes editing images super easy. Various stylish photo effects and editing features will surely be able to meet all your editing needs. It's perfect for both beginners and professionals.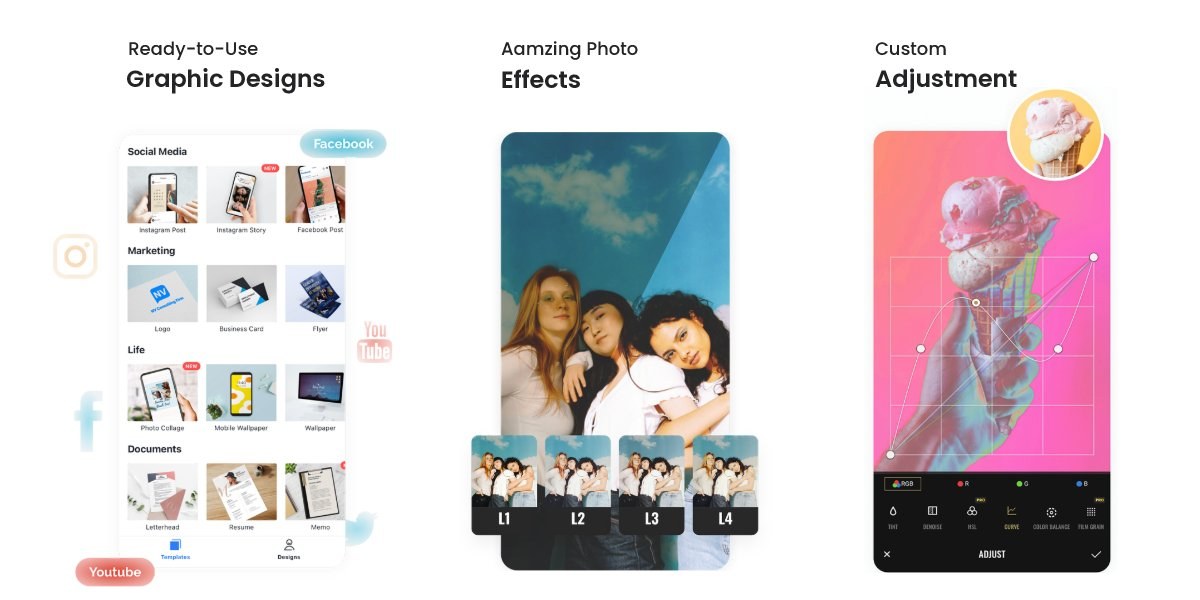 2. Pixlr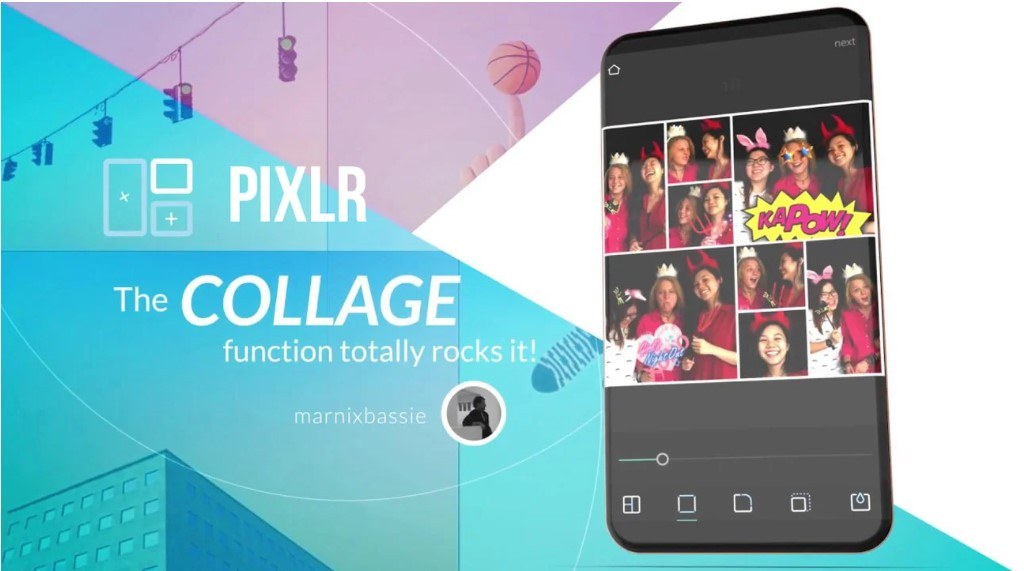 Pixlr's free photo editing app help to capture wonderful moments and make the photos beautiful with more than 2 million combinations of free special photo editing tools on mobile devices. It's easy to share your finished work on all your favorite social networks!
Pros:
1. The beginner interface is very suitable for those who have no experience in editing.
2. Several collage templates are included for easy creation.
3. The free version provided some basic editing tools, filters, and layer function.
4. Video editing are provided.
Cons:
1. Sometimes there is a splash screen.
2. Image clipping cannot be customized to a fixed scale。
Pixlr provide a sufficient variety for users. The average user may like the simplicity of Pixlr applications, but anyone who wants access to comprehensive editing tools and advanced effects may find that Pixlr is lacking in more than one area. Pixlr's Premium subscription provides more editing tools.
3. Canva
Canva is a powerful photo editing app that integrates picture editing and video editing. Create cards, social media posts, videos,flyers, photo collages, etc. Stand out with one-click animation and interesting music for Insta stories and video collages. You can easily edit your images without design experience or professional knowledge.
Pros:
1. Google slide can also be imported.
2. Various material templates are provided and update quickly.
3. Free text, graphic, and photo options are provided.
Cons:
1. There will be a sudden stutter sometimes, resulting in the picture not being saved.
2. There may displayed something wrong with the network and cannot be used after updating.
3.The quality of the picture becomes lower after download.
Canva provides various popular photo effects, but if you want to make any professional photo editor, you will need more advanced applications. The photo functions of Canva is limited to resizing, adjusting colors, and overlaying filters on photos.
4. FaceTune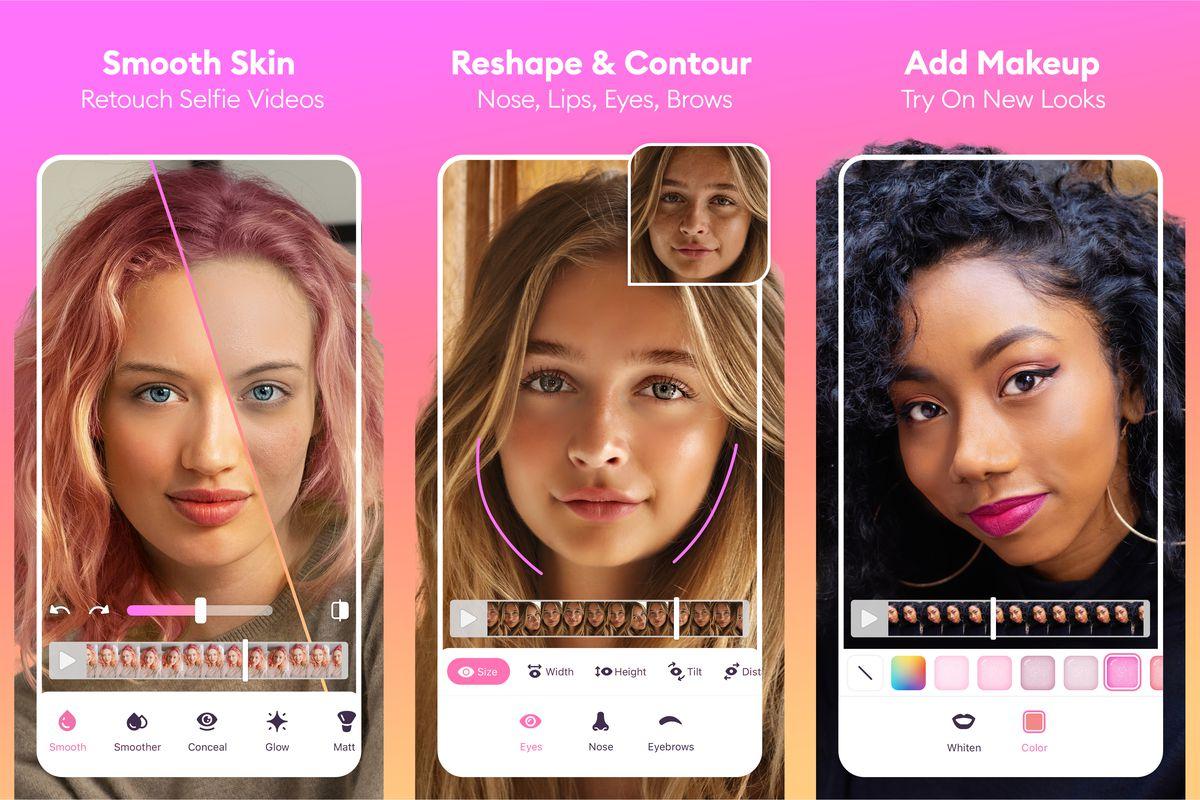 FaceTune's features focus more on facial editing, including skin smoothing, facial remodeling, or changing hair color. In addition to facial editing tools, the app also provides tools such as changing colors of hair or clothes. The background tool allows you to easily replace an existing background with one of FaceTune's background templates.
Pro:
1. Extensive editing function for skin retouching.
2. Facial remodeling and makeup functions.
3. Neon filtesr and lighting effects.
Cons:
1. Android's patching function cannot smear the selected area as freely as iOS.
2. The frequency of ads in the free version is a little high.
3. The Android version cannot save photos and save settings sometimes.
This good photo editing app is very suitable for beginners because it provides drills for each function to guide users through the process. Overall, FaceTune is a good free photo editing app for those who like to decorate selfies.
5. BeFunky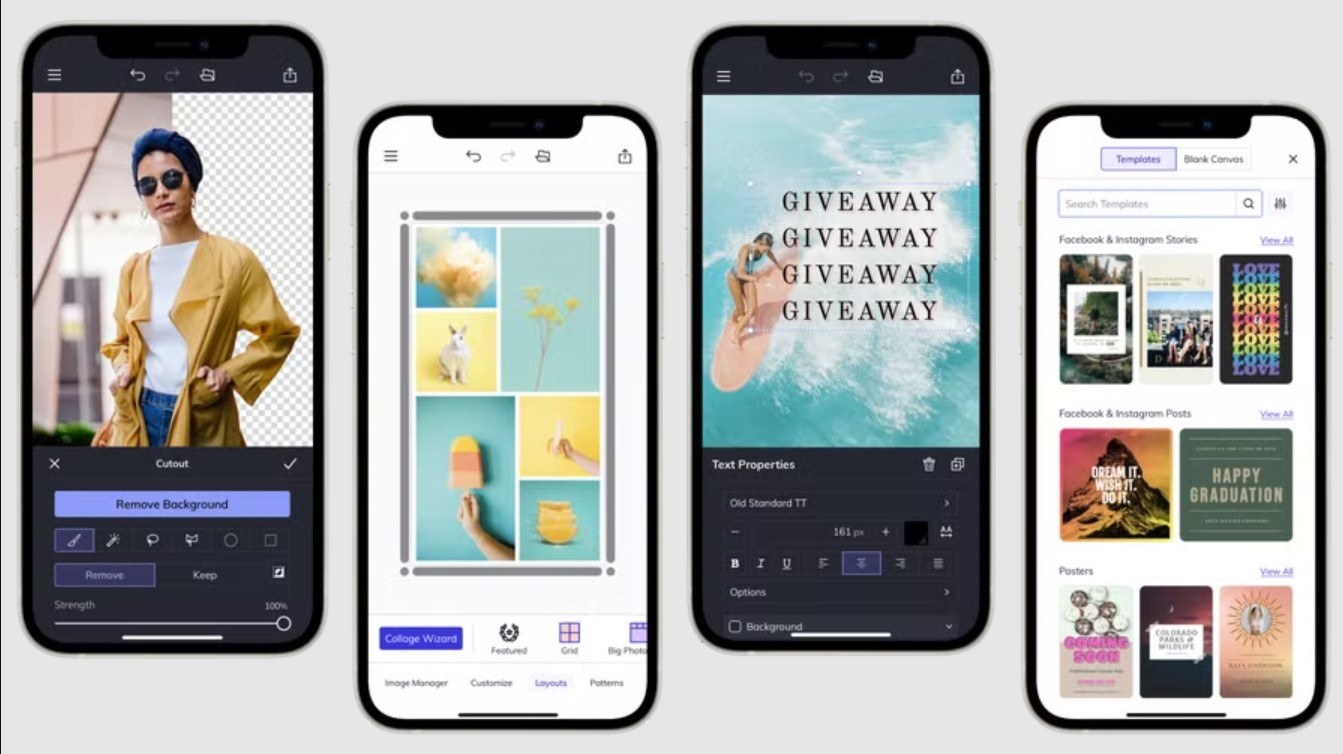 BeFunky is a powerful photo editing App that makes photography lovers feel relaxed and happy using its tools to get great results. With BeFunky, you can simplify the photo editing and graphic design process by using one-click functionality. There are many photo editing tools to get your job done.
Pros:
1. AI-powered editing tools so that simple and easy-to-use.
2. The interface is simple and is easy to find the tools you want.
Cons:
1. Cannot adjust the size of the exported photo.
2. When the editing photo is stuck, it will jump directly to the home page.
With Befunky's artificial intelligence photo editing tools, intelligent automatic collage and professionally produced design templates, BeFunky is really a photo editor and graphic designer for everyone!
6. Snapseed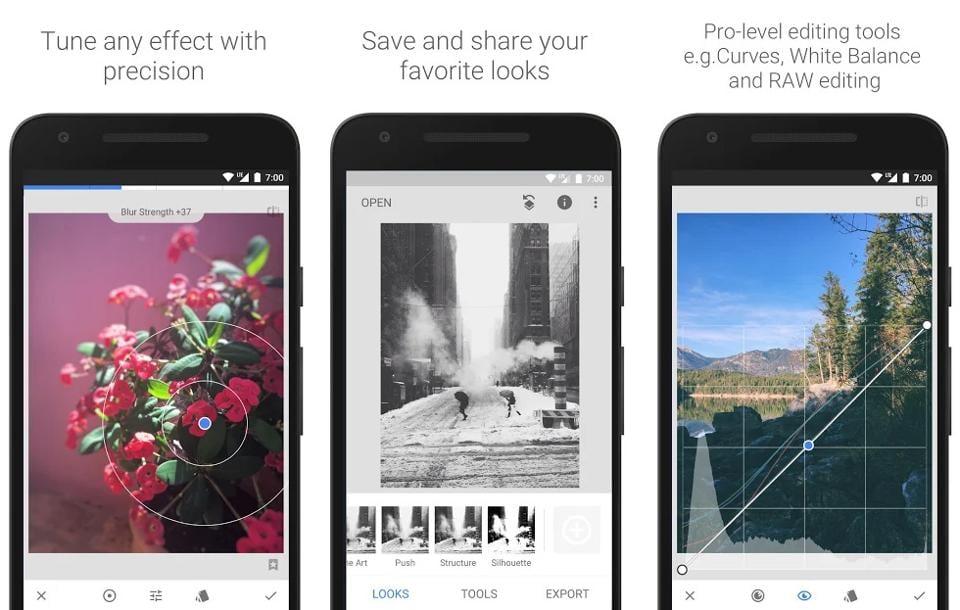 Snapseed is a comprehensive and professional app for photo editing developed by Google which is also been seen as one of the best photo editing tools. The SnapSeed makes it ideal for experienced content creators and photographers looking for a mobile editing app. With a range of professional quality editing tools, options for adjusting color and exposure, and selective editing tools to refine each image.
Pros:
1. Professional editing tools, with color curve, original editing, denoising and other functions.
2. It is very suitable for the blending of scenery and characters.
3. There are many choices of filters.
Cons:
1. It is not easy to use in a novice.
2. The raw file is stuck in the meeting. You must go back and click on the development.
3. Updates are slow.
4. The "expand" function in the tool can only be expanded around the picture at the same time, not up and down or left and right.
SnapSeed provides more editing tools and filters than other applications mentioned in this guide, but for new users, it maybe a little difficult.
7. VSCO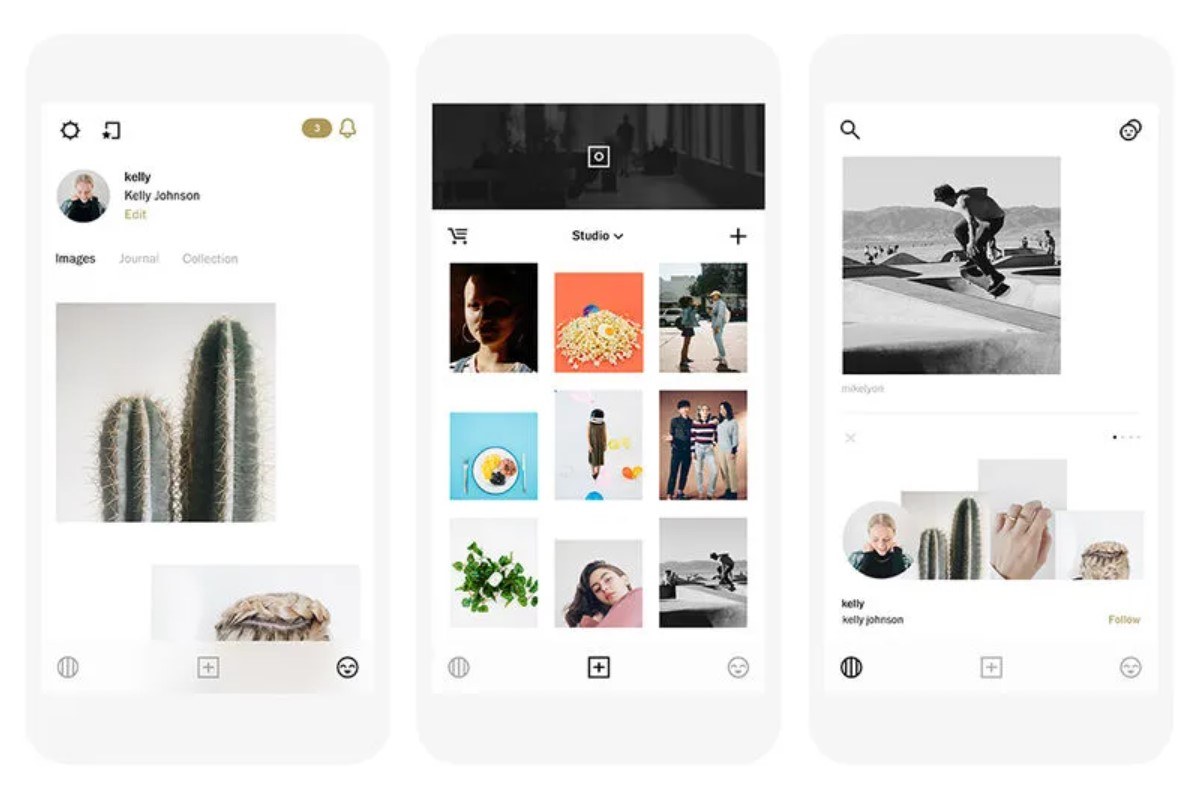 VSCO is famous for creating beautiful work with its editing tools and elegant filters but its success comes more from providing easy and stylish photo editing options for editors. Because of its focus on traditional photography.
VSCO has a variety of photo corrections and adjustments that can produce good quality results. Inspired by retro movies, Vsco is most popular with its filters. These filters bring new personality and life to the most mundane photos.
Pros:
1. Support split tone tool.
2. Excellent LUT filter support
3. Various color filters for photos and videos
Cons:
1. Except for the color filter, other photo editing functions are not good to use.
2. Basic video editing features only available for paid users
This free picture editing app is a good choice for iPhone or Android users with their own unique style, who knows how they want to show their style in their photos.
8. Adobe Photoshop Camera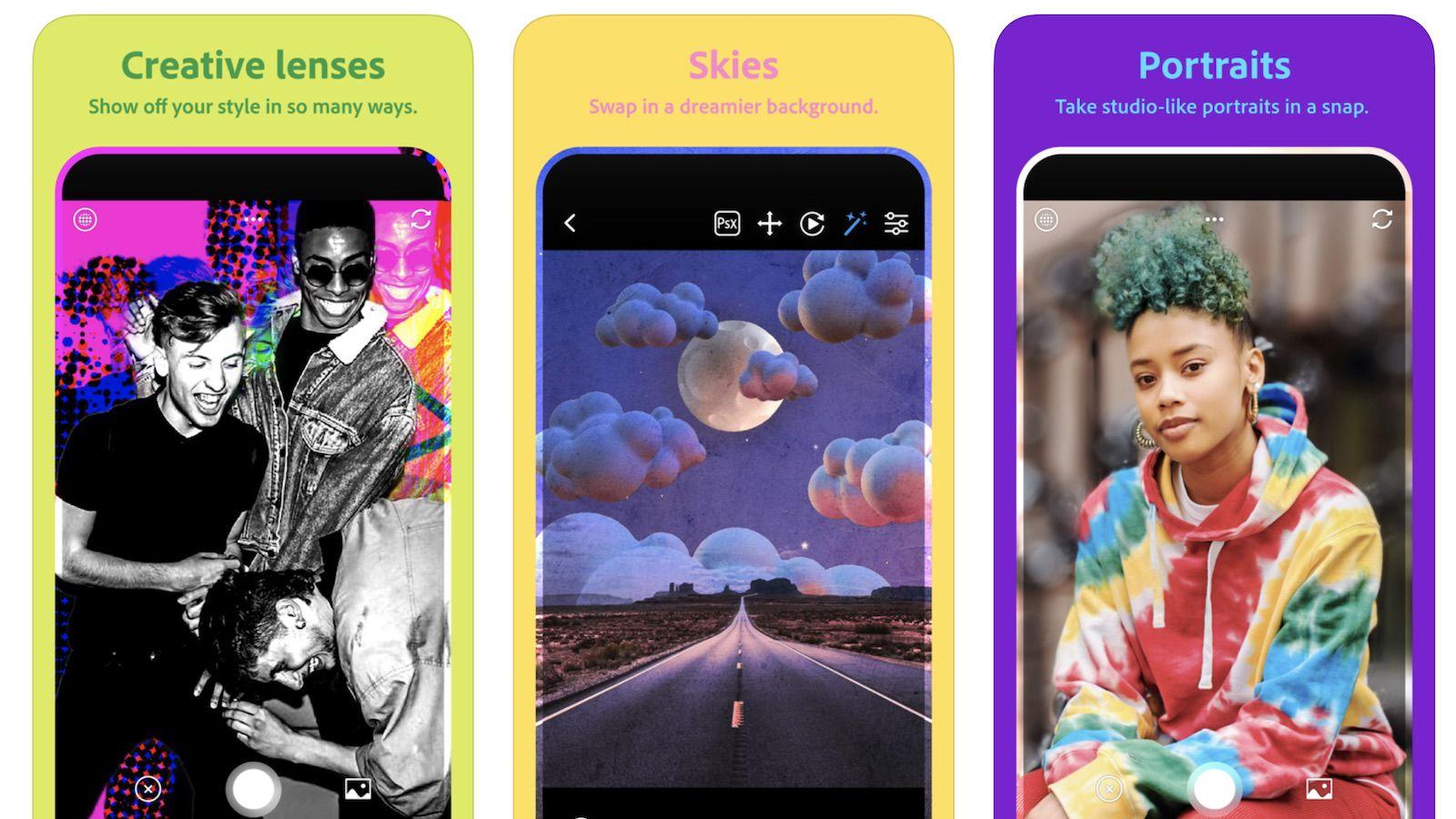 Adobe Photoshop Camera is a free picture edit app that helps you add filters and effects to your photos, even before you take a picture. Show off your unique style with more than 100 beautiful lenses and filters worth sending to Instagram, inspired by your favorite artists and online celebrities.
Pros:
1.The automatic exposure effect is very good. During the shooting stage, you can preview the effect after shooting.
2. The hue and saturation of the film have made a lot of natural and vivid adjustments automatically.
3. No Ads, the app is very clean.
Cons:
1. Screen will be blacked out sometimes when you click on the switch camera after opening it.
2. Software language cannot be changed by user.
Photoshop Camera provides interesting and amazing AI support to help you choose the right lens and take amazing photos of various types. Without any photo editing or Photoshop skills, you can easily share your life in the way you like.
Conclusion
You can use one of the eight best photo editing apps from iPhone and Android to capture your vision and get amazing results. There are several free apps to edit photos available for both iOS and Android, including Fotor, Pixlr, Canva, Facetune, BeFunky, Snapseed, VSCO, and Adobe Photoshop Camera. Hope this tutorial can be helpful when you want to edit photo in mobile devices.