If you have certain experience in photo editing and design, you must be no stranger to Fotor. As a popular image processing brand, its advanced AI algorithms and powerful image editing and design tools have won it many loyal fans.
Grasping the trend of AI art and AI drawing, Fotor's powerful AI art generator has been widely welcomed since its launch. Fotor is not only an AI art generator from the text but also can convert photos into AI-generated pictures.
In short, Fotor aims to make it possible for people to create art without the need for brushes and drawing skills. With Fotor's AI art generator, everyone can equally create their own AI art with revolutionary AI technology.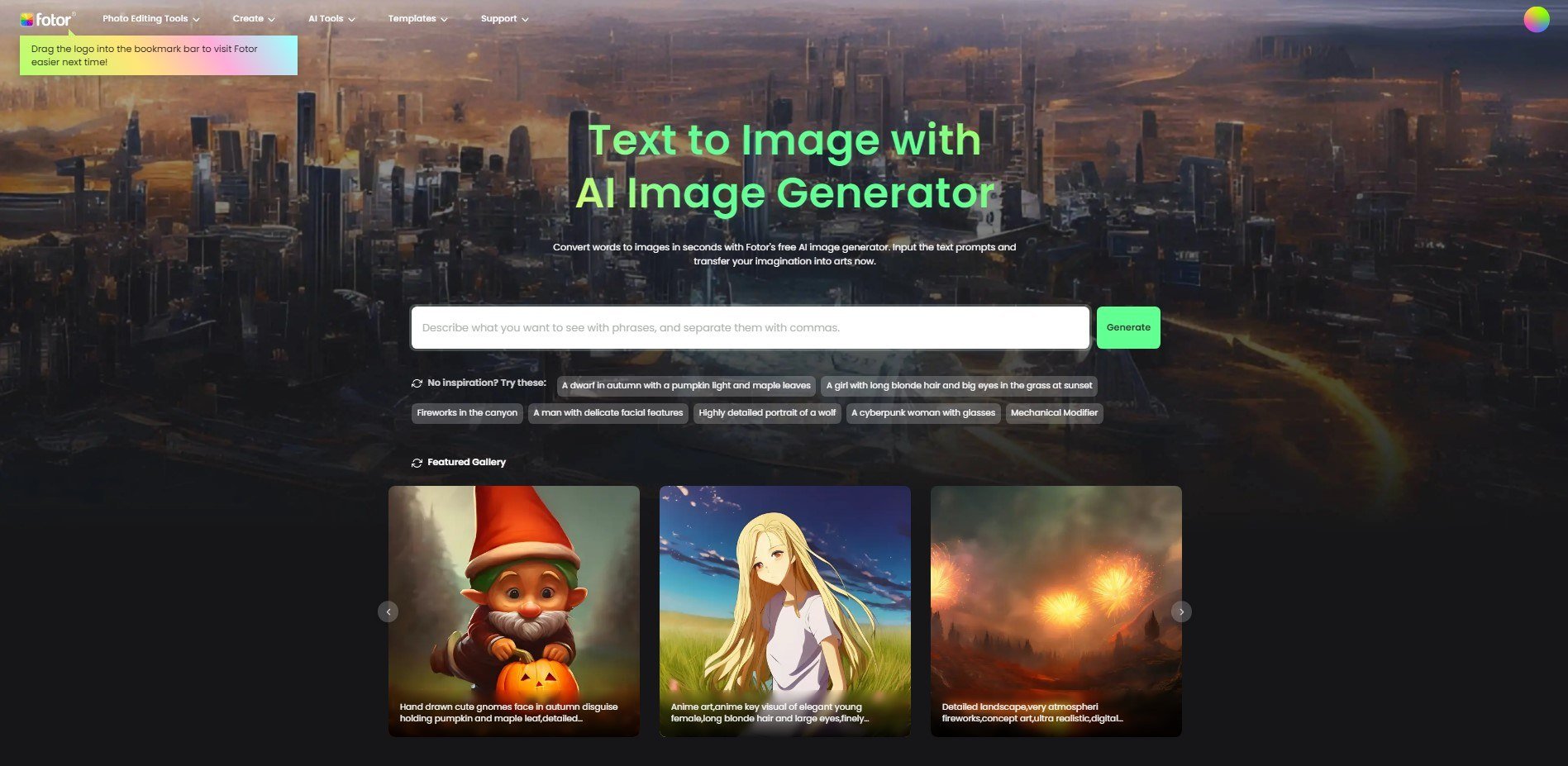 Key Features of Fotor's AI Art Generator:
Various AI art styles to choose from, from anime art to concept illustration, art nouveau and more
10 free AI photos to be generated per day
Free to manage the munber of ai-generated images
2 ways to create AI pictures: text-to-image and image-to-image
3 different generated ratios for AI images
Various options to adjust image details, such as perfect portrait, super-detailed, 8k/HD, etc.
Easy to turn photos to AI avatars with different effects
9 kinds of light effects to choose from to perfect the picture
Pro-level compositions are available
Starryai - Create Art with AI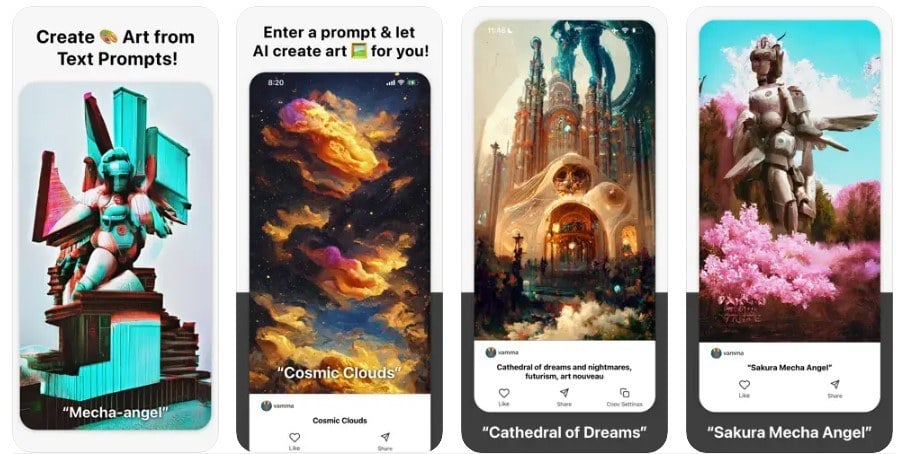 As its name suggests, Starryai is a professional AI art generator app. Like most AI picture generators, you just need to enter a prompt in the text box, and its AI painter will analyze your text's features and transform it into an artwork by combining it with the style you choose.
Meanwhile, Starryai also provides a special community for AI photos, where you can share your AI-generated images made by the AI painting generator of Starryai. There are 1000+ AI artists sharing their works in the community, allowing you to learn their styles and even prompts to create better AI art.
Key Features of Starryai:
5 free AI artworks without watermarks can be generated every day
Multiple AI art styles and models to choose from
Creative batch creation
Custom size of AI-generated images
Wonder - AI Art Generator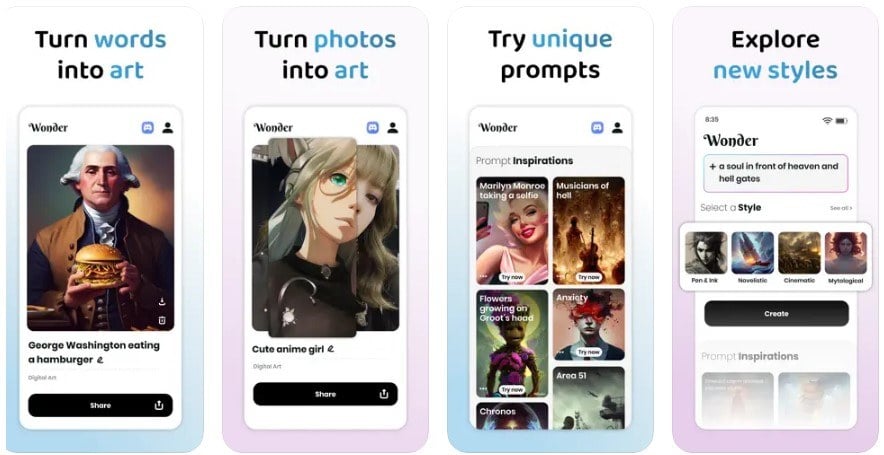 In Wonder-AI Art Generator, it's a simple matter to turn your typed whimsical text into an aesthetically pleasing work of art in a matter of seconds. With powerful internal artificial intelligence algorithms, Wonder's AI painter can create artwork for you in a variety of styles, from gorgeous baroque paintings to futuristic synthetic wave landscapes.
In addition to your own created prompts, you can also enter your favorite poems, lyrics, movie, or TV show lines into the text box. In short, Wonder, true to its name, will give you the most wonderful effect of AI pictures.
One more thing worth mentioning is that Wonder has also launched a new AI art generator app for creating AI avatars: Voi-AI Avatar App by Wonder. In Voi, you can turn your avatar into a video game character, movie character, or even an astronaut in a snap. If you want to have an AI-created avatar for your streaming channels or other social media platforms, you can give it a try.
Key Features of Wonder:
Credit limit will be reset every day
A variety of AI art styles, such as Cubist, Dali, Synthwave, Steampunk, etc.
Excellent AI paintings can be posted or downloaded under the corresponding AI art tab
Numerous unique prompt inspirations for learning or using.
Dream By WOMBO - AI Art Tool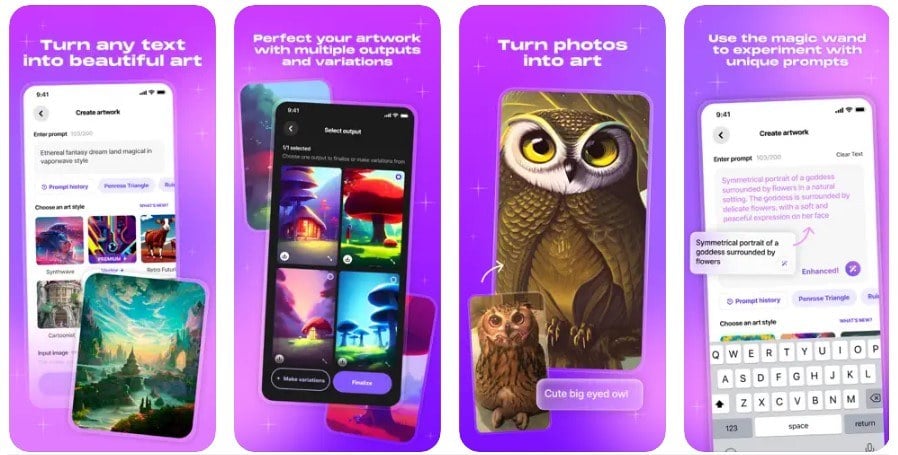 If you want AI to create artwork that adapts your wanted image style, you can't miss Dream by Wombo - AI Art Tool by a Canadian AI company, which is dedicated to combining AI and art creation to change the way people entertain themselves culturally.
Unlike other AI art generators, Wombo's AI drawing tool can instantly learn the style you want, as long as you upload an image for reference, which is a very revolutionary point for many AI image generators.
For Wombo Dream, they want to use the power of artificial intelligence to extend the simplest way of creating art to the masses in the form of technology, so that everyone can use the AI generator to bring their ideas to life in just a few seconds.
Key Features of Dream by Wombo:
Various AI art styles to choose from
Free to generate backgrounds for phone wallpaper
Multiple output selections are available
AI image community for sharing and learning
AI Art Generator - Uni Dream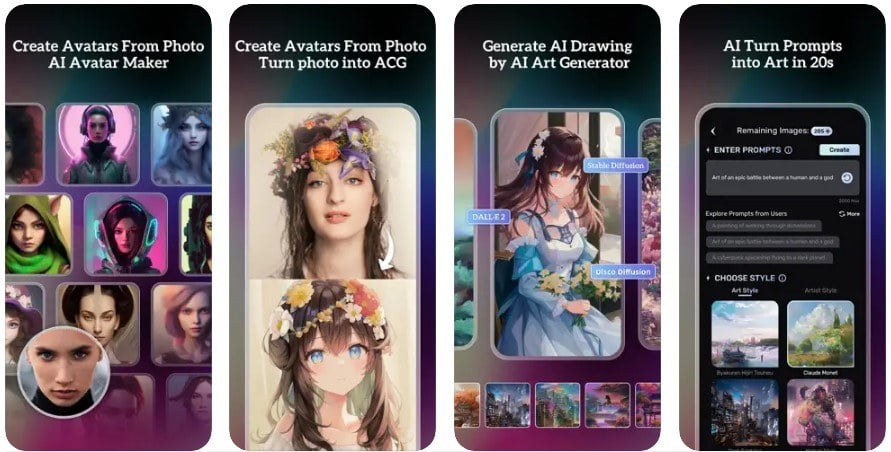 If you have tried online AI image generators before, you have more or less heard of or even used Dall-e 2, which is one of the most popular AI photo generators. If you are also looking for an AI art generator app that uses Dall-e 2's AI models, you can take a look at AI Art Generator - Uni Dream, which lets people enter text to get unique AI-generated artwork.
With Uni Dream's AI generator, you can have a lot of AI art possibilities. You can use it as an AI avatar maker because Uni Dream supports uploading photos so that you can get a variety of AI art styles, such as the popular ACG and anime, and even cyberpunk.
Another unique feature of Uni Dream is that its AI can draw the masked part, which means that some masked parts of the uploaded photo can be retained in the new AI-generated picture. In addition, Uni Dream can generate artwork from novels.
Key Features of Uni Dream:
Various art styles are supported
2 ways to generate pictures: text to picture, picture to picture
A large number of static and dynamic AI art effects to choose from
No coding is required to mint AI generative artwork into NFT for financial profits
FacePlay - AI Art Generator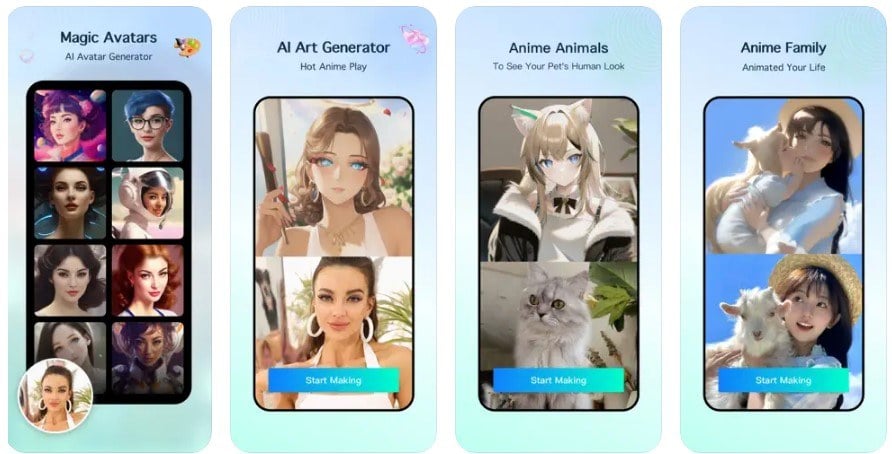 FacePlay is an AI generator that can create many styles of avatars with new photos just by using user-uploaded photos. AI generator of FacePlay enables you to travel the world of ACG, which provides sci-fi style, war-damaged style, art painting style, cartoon style, cyberpunk and so on.
FacePlay-AI Art Generator not only allows you to generate new AI artwork with text or photos as other AI generators, but it is also a great AI face swap app that provides a large number of photo and video templates. Both the original AI models of the video template in FacePlay and the new video effects made with them are amazing because FacePlay's artificial intelligence technology is able to analyze the features of user-uploaded images and combine them well.
Key Features of FacePlay:
Multiple art styles for AI generated images
A large number of video templates
High-resolution support for downloading videos and photos
AI Art Generator - Fantasy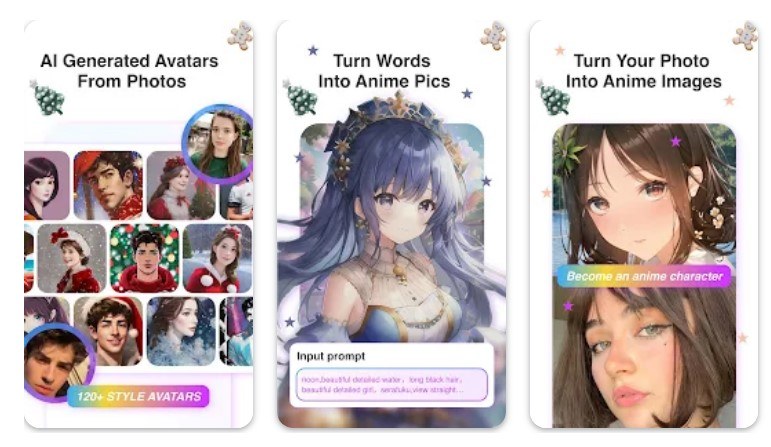 As one of the highly rated AI art generators in the app store, Fantasy's AI painter also allows you to input text prompts and get an AI-generated image in a short time. It is possible to choose any AI art model between Anime diffusion and Stable diffusion to get the style you want to achieve.
Similarly, Fantasy allows you to turn your images into any style of AI generated avatars and download and use them as avatars for your social media platforms. It also offers a lot of great text prompts to use or learn from.
Key Features of Fantasy:
2 modes to generate AI images:text-to-image and image-to-image
Various AI art styles
Batch art generation with multiple inspirations and options
An AI painting community for sharing excellent AI generated images
AI Picasso - Dream Art Painter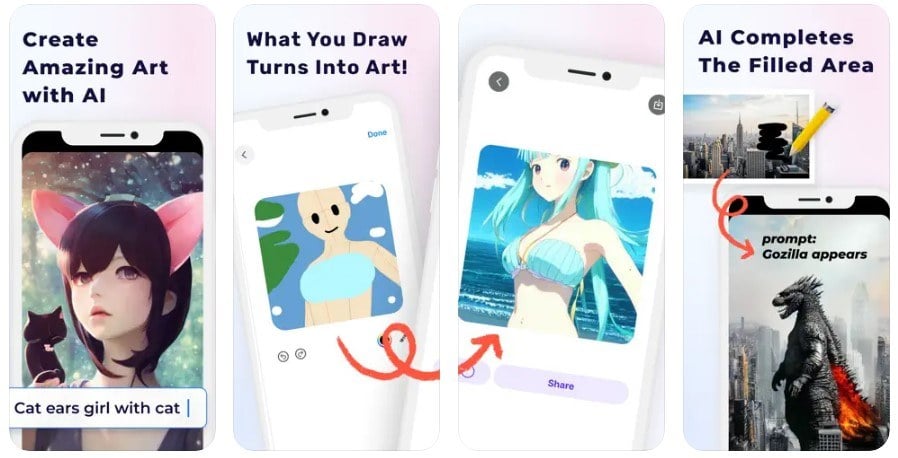 AI Picasso is also one of the best AI art generator apps that are easy to use as it uses the Stable diffusion AI art model. AI Picasso generates images with just the text that you enter.
One of its distinctive features is that you can draw a picture in AI Picasso and its AI generator can turn what you just drew into artwork. You can save the original image and the one generated for you by AI and share it on your social media platforms.
In addition, you can upload an image to AI Picasso, outline the areas you want the AI to add content to, enter your prompts in the text box, and its AI will complete the gaps to get a new pair of AI generative artwork according to your needs.
Key Features of AI Picasso:
Easy-to-use AI art generator
Turn what you draw to AI artwork
Create new AI images in the circled part of the uploaded image
Craiyon - AI Image Generator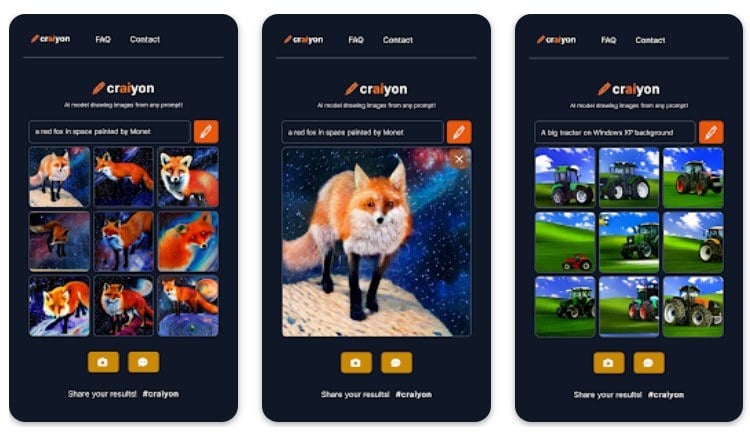 Craiyon is a popular AI art generator app, formerly called Dall-e mini, which generates images in seconds based on your input prompts in the text box. And it will generate multiple AI images at the same time for you to choose the style you want most.
Craiyon uses an AI model based on the open-source project dale-mini, which is dedicated to giving the best AI-generated images. Besides, you can tap the camera icon to upload your images to generate AI paintings. You can also share your artwork under the #craiyon with others.
Key Features of Craiyon:
A variety of art styles to choose from
2 ways to generate AI images: text-to-text and image-to-image
Various generation effects to choose from
Dawn - AI Avatars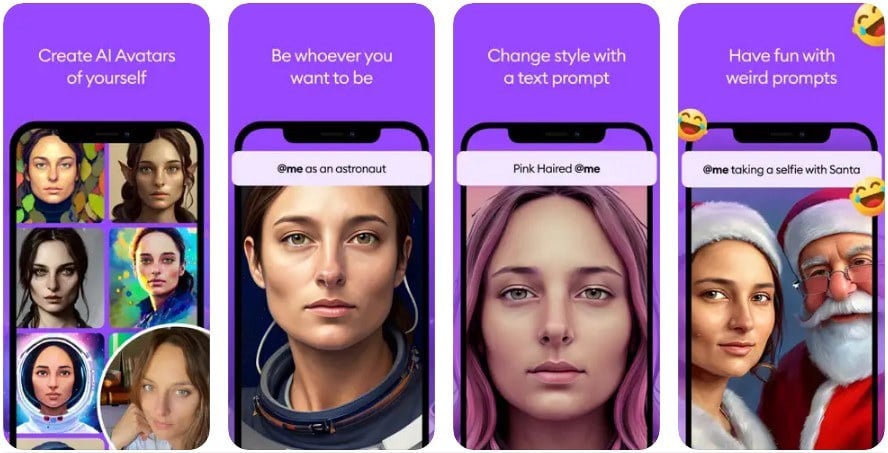 Same as its name, Dawn is focused on generating AI avatars with the latest artificial intelligence technology, which can be quickly achieved through text prompts or by uploading your own photos.
In Dawn, you can enjoy a lot of AI effects and filters, such as Disney filter, anime filter, cinematic lighting filter, Kodak film filter, and so on. Just choose the filter style you want and you will get a lot of interesting AI portraits and images.
Key Features of Dawn:
Endless AI effects and filters
2 modes to generate AI images: text-to-text and image-to-image
App to face swap with celebrities or movie stars
AI Art - AI Generator by Aiby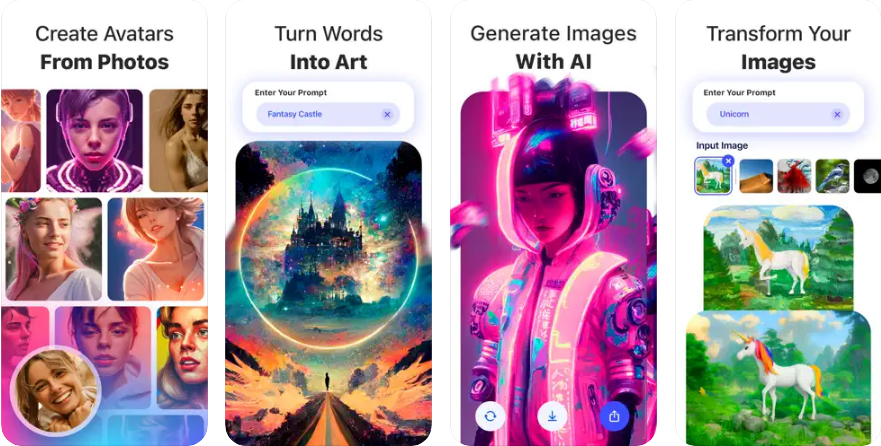 AI Art is also a highly rated AI art generator app in the app store, which generates mesmerizing AI images in seconds. AI Art's AI generator has been trained with countless images, including famous artists' works, photography, different styles of artwork, and more.
All you need to do is enter your text, choose any of the styles provided, and AI Art will give you the best AI-generated artwork. Similarly, AI Art also supports you to upload your images for new AI drawings or AI avatars. AI Art also provides thousands of AI artists' works for you to download or get inspired.
Key Features of AI Art:
Multiple AI effects to choose from
Various text prompts to get inspired
Transform text or images to AI images and avatars
Conclusion:
In this blog, we introduce you to what an AI art generator is and how it works. We also share with you the highly rated 11 best AI art generator apps in the app store. They all have different features, some focus on AI images themselves, some specialize in AI avatars, and some can provide AI video and face swap features.
But these AI art generator apps will give you the best experience and generate the best AI images based on your text prompts or uploaded images. you can download them to your phone or other portable device and start your AI artwork creation!