Fotor has built a powerful magic wand tool for its online image background remover to let you have the initiatives to select the unwanted part to finish your image cutout operation or retain the essential part when removing image backgrounds.
Any part of your images can be manipulated if you use Fotor's online magic wand to help you work well on image background removal. Due to its newest artificial intelligence technology, any redundant part will be erased or any necessary area will be kept precisely without eliminating other objects in the image background.
Meanwhile, Fotor's magic brush with AI excels at handling the image details when you are processing images in its automatic background remover. No matter how complicated your photo backgrounds are, Fotor's magic wand tool online always creates the best transparent background images for you.
Whether you are dealing with portraits or product images, half of your work to retain or erase image background is done with Fotor's magic background eraser. Besides, the size of the magic wand tool can be adjusted to suit your need for a better image background removal experience.
How to Use Fotor's Magic Wand Tool
Open Fotor's online background remover, and upload the images that you want to process.
Fotor's background easer will remove the background from images automatically.
Use the "retain/erase" tool to remove or restore the part from the transparent image. You can adjust the magic brush's size to perfect the outcome by removing the image background manually.
Preview and download your background removed image in the wanted file format.
Remove BG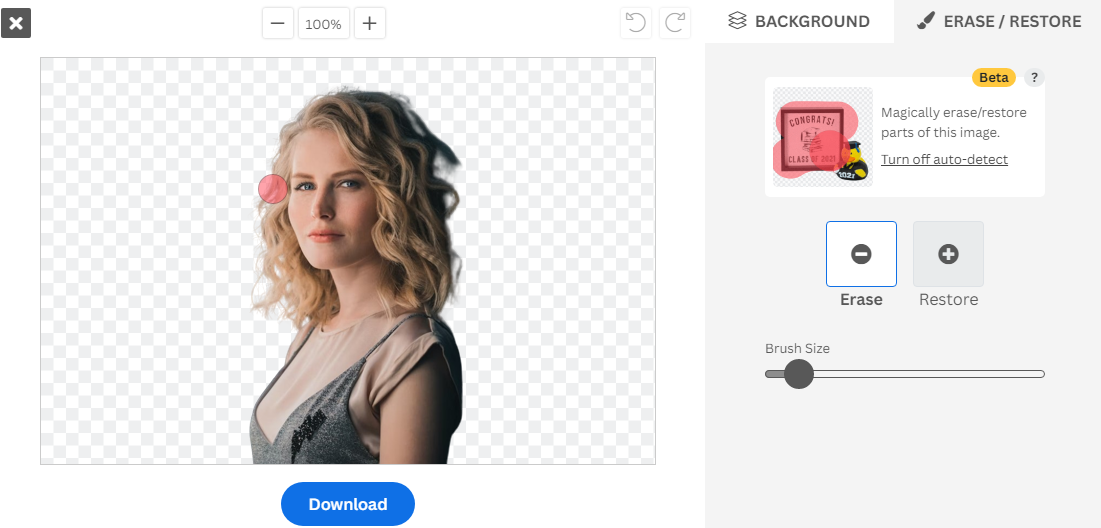 When there is a part failing to be processed in the automatic image background removal, you can make it by deleting or restoring it with Remove BG's magic wand tool online. Backed up by AI technology, you can flawlessly remove backgrounds from photos with a few clicks.
Remove BG's magic wand eraser is easy to use, even if you have no photoshop or image background cutout experience before. Just brushing over the particular area of the image background you want to process with its background eraser, the AI will do the rest for you despite your aim to restore or get rid of the selected part.
You don't have to worry about the efficiency of removing or restoring circled parts with the AI magic wand tool, because Remove BG's well-trained AI makes sure you always have stunning quality. And there is no need for you to repeat the manual operation of pixel-picking to enhance your image background cutout effect when you have the magic brush to wipe out unnecessary parts or restore the Inseparable areas, which is time-saving.
Lunapic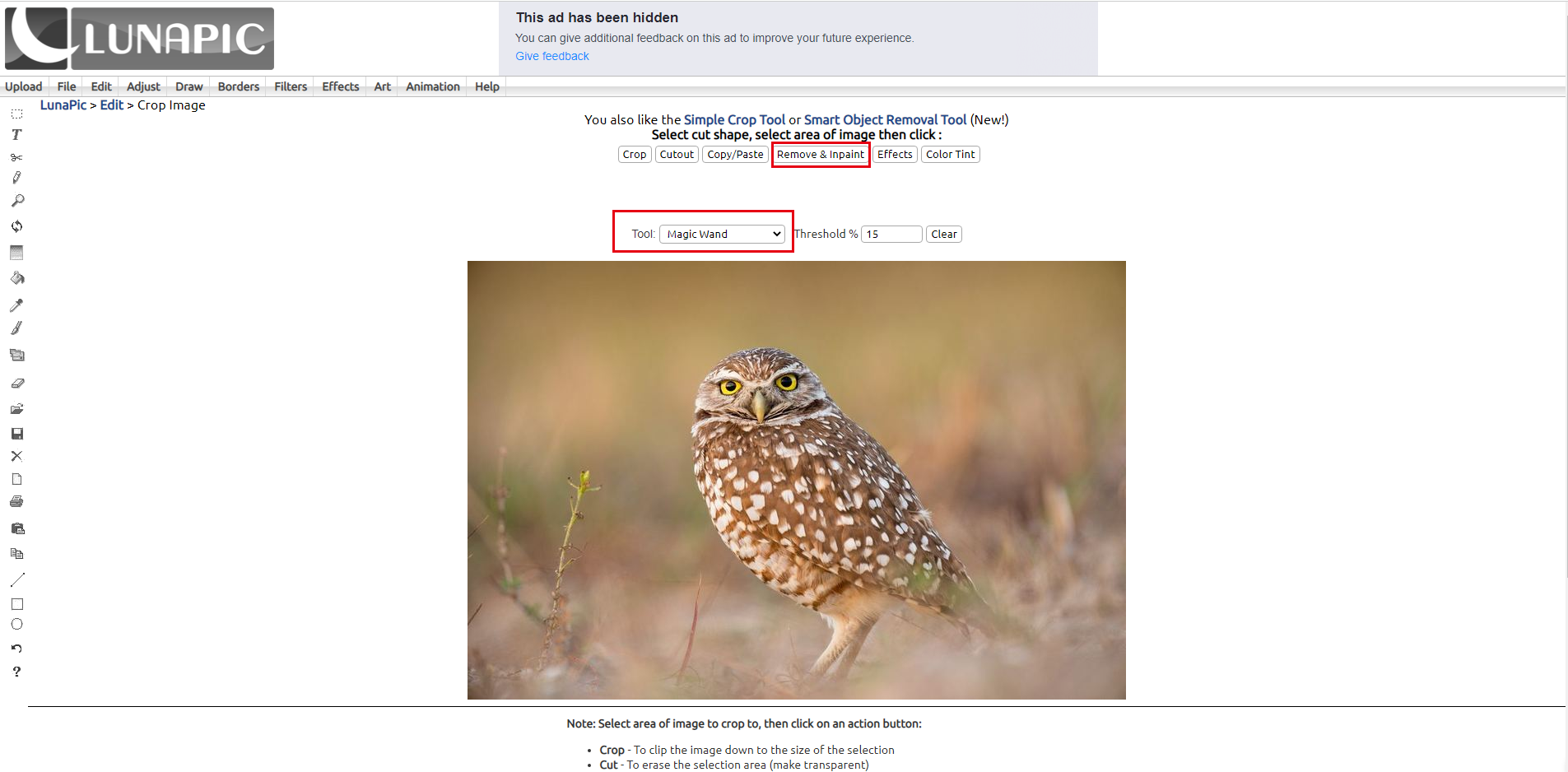 As one of the online Adobe Photoshop alternatives, Lunapic provides you with the powerful magic wand tool to perfect your image background cutout operation. Whenever you have removed backgrounds from images, you can click the magic wand tool on the left dashboard to help you process the object on the transparent backgrounds.
Just click the object and the magic wand will circle an area automatically based on the image sketch, and you can choose "Remove & Inpaint" to wait for the magic brush to process the images for several seconds.
You can see what you have done to enhance object removal with the magic wand on the top of the screen, where you are presented with your operation history.
For the images with complicated objects on transparent backgrounds, you may repeat using the magic wand tool several times to finish the whole operation of getting rid of an area or retaining a part, because Lunapic does not support circling over the whole part at one time.
Kapwing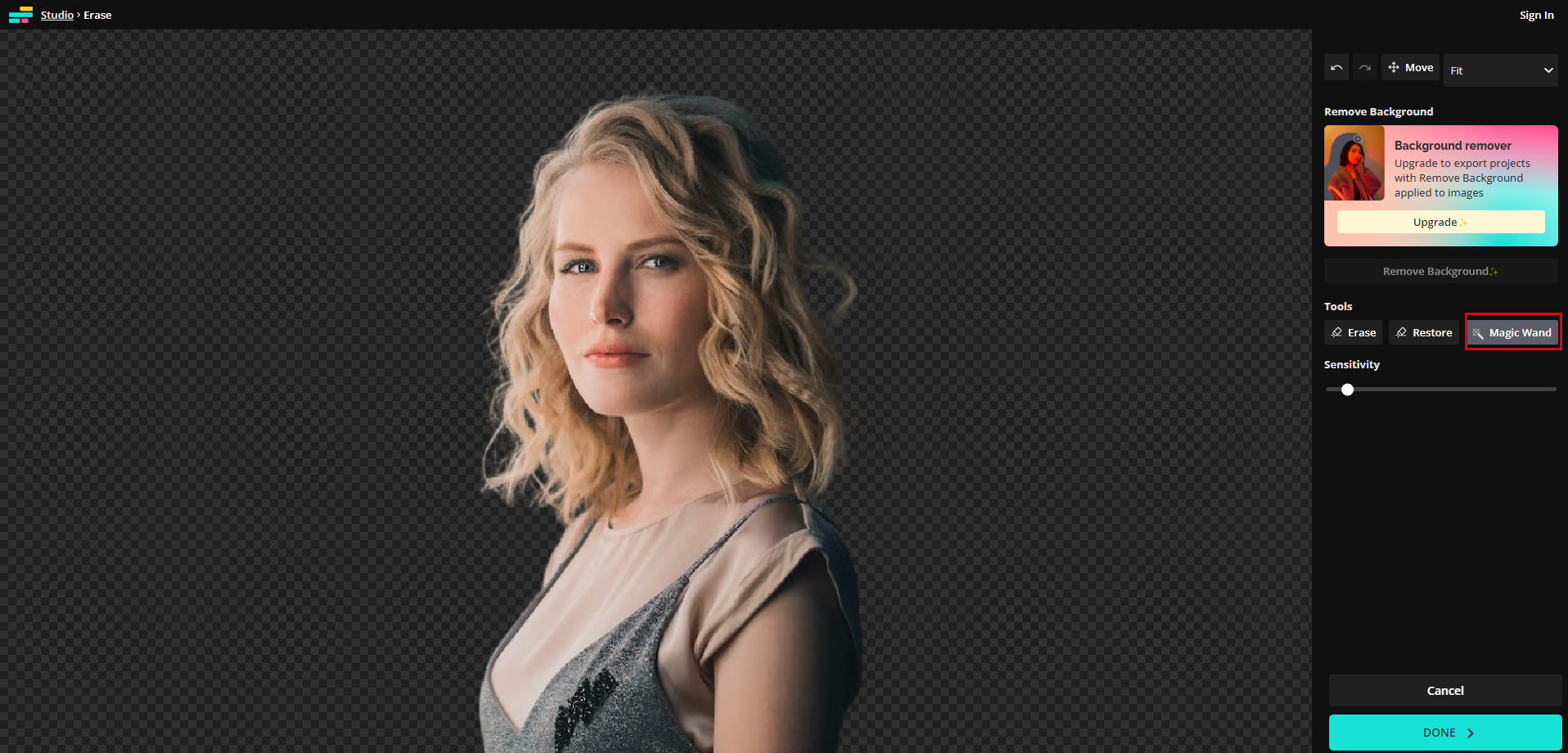 Same as other magic wand tools online, Kapwing allows you to deal with the part that you want to re-process when you have removed the image background. You can use it to get rid of the part that you do not wish to appear on the transparent background.
Like Lunapic, Kapwing's magic wand is ready to select an area you click automatically. There is a slide bar for you to adjust the "Sensitivity" when you are using it to remove pixels with the magic wand. Here is another tool called "Erase" you can use to finish the object cutout operation manually.
You can click the undo icon to make up what's wrong or redo what you are dissatisfied with you have done with the magic wand tool. Alternatively, you can use the "Restore" to brush over the part you want to retain. And the brush size can be adjusted to suit your need.
Conclusion
In this blog, we have shared 4 popular magic wand tools to help you process any apart you want to get rid of or restore on the image with transparent backgrounds. You can choose from Fotor, Remove BG, Lunapic, and Kapwing according to your demands. Hope you find this blog helpful.