18 Best Photo Collage Ideas for Your Room and Gifts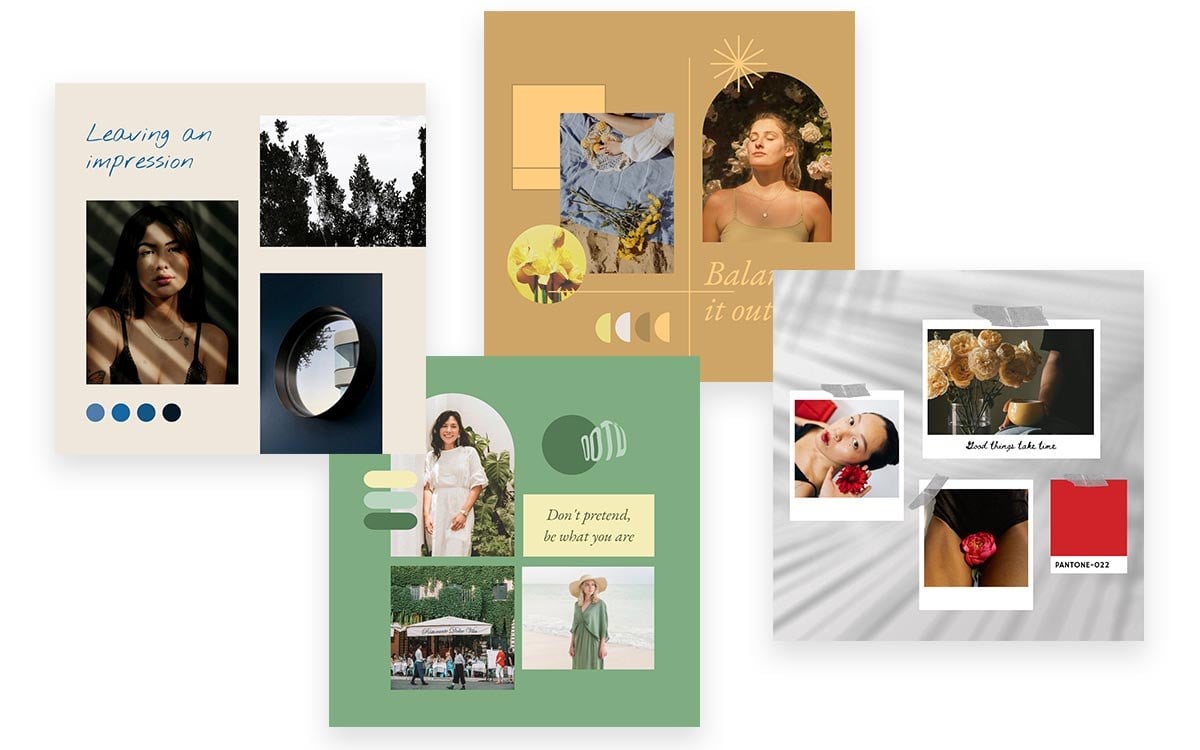 A photo collage is a fun way to display. It brings together beautiful moments you have captured in your life to create warm memories. Picture collages can be used not only as a beautiful decoration to decorate your home and office but also as a unique gift for your partner, family, or friends.
In this article, we will introduce how to make attractive photo collages and 18 photo collage ideas. Help you design image collages better.
What is a Photo Collage?
A photo collage is the combination of many photos together to form a single photo. Or use many photos in different combinations to make a photo wall or home decoration. It can personalize your private spaces, such as bedrooms and dorm rooms, etc.
Picture collage can display many photos at once. It is a great way to showcase the most beautiful and memorable moments of your life. Create attractive photo collages to instantly catch your visitors' eyes and share your sweet memories with them. Also, take this opportunity to express your love for your family and friends.
18 Creative Wall Photo Collage Ideas
Here are 18 picture collage ideas we offer, ranging from family to personal, cool to cute, classic to modern. There must be one for you. Come and explore!
1. Family photo collage ideas
Creating a family photo collage is a different way to decorate your home. Whether living in the same place or moving to a new place, photos of your family in your home frame can carry your warmest and happiest memories. Hanging and framing ideas can be mixed to create unique family photo collage design ideas.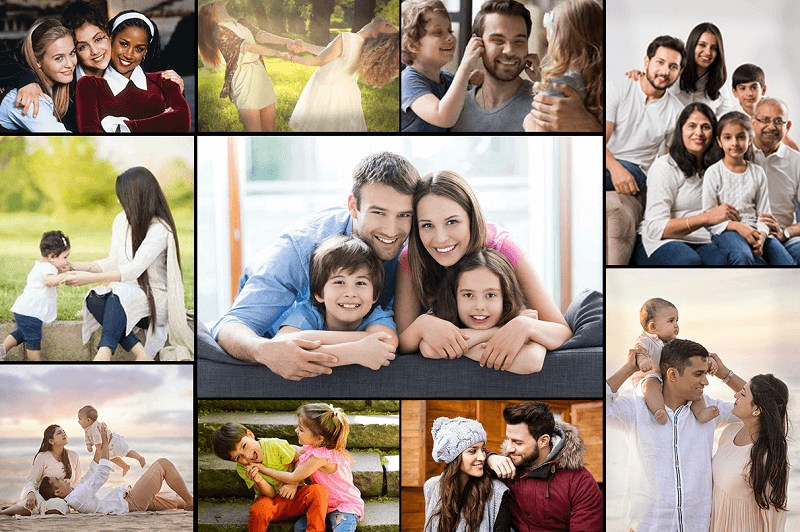 2. Couple photo collage ideas
Couple image collage is one of the best ways to express your love for your sweetheart. Print out your wonderful photos and put them together to relive old memories and feel the love and nostalgia.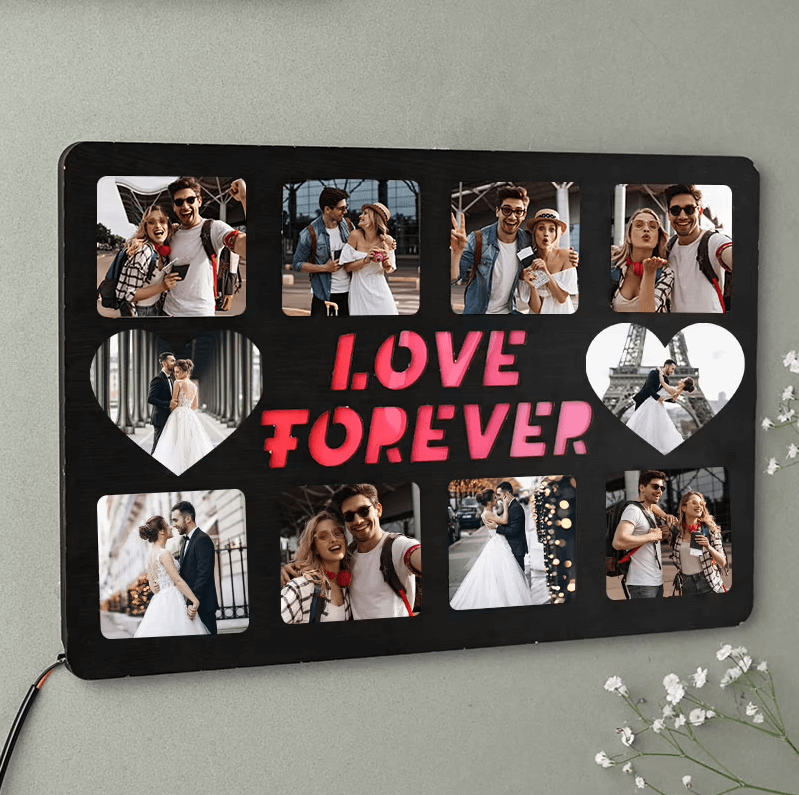 3. Friend photo collage ideas
Celebrate close friendships and the love between you with custom photo wall art. These photos contain yourself and your friends. This unique pic collage will create a nostalgic and warm feeling in your room.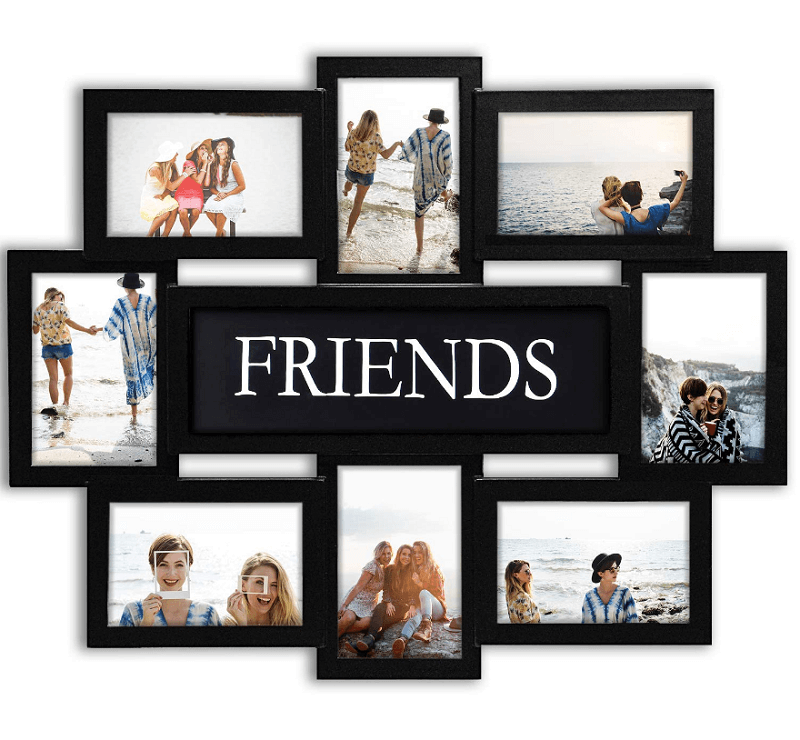 4. Wedding photo collage ideas
It's really hard to choose just one wedding photo to show off. A wedding photo collage is the best option. In this way, you can showcase all your favorite photos and capture the various emotions of the wedding scene.
Make a wedding picture collage by choosing several photos taken at different angles and in different locations. Show this memorable day in a special way.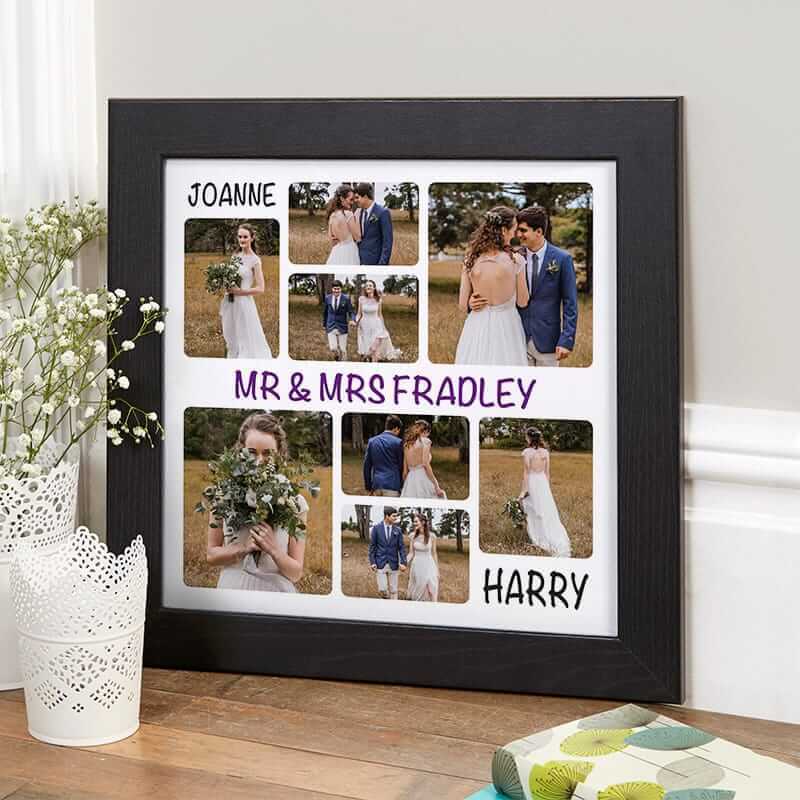 5. Birthday photo collage ideas
It's a very special idea to simply collage photos together and make them into pictures on pillows or lamps. As a birthday gift, send it to your special someone. You can also make a birthday photo collage using photos of your birthday. Leave special memories in the form of simple geometric patterns or your initials.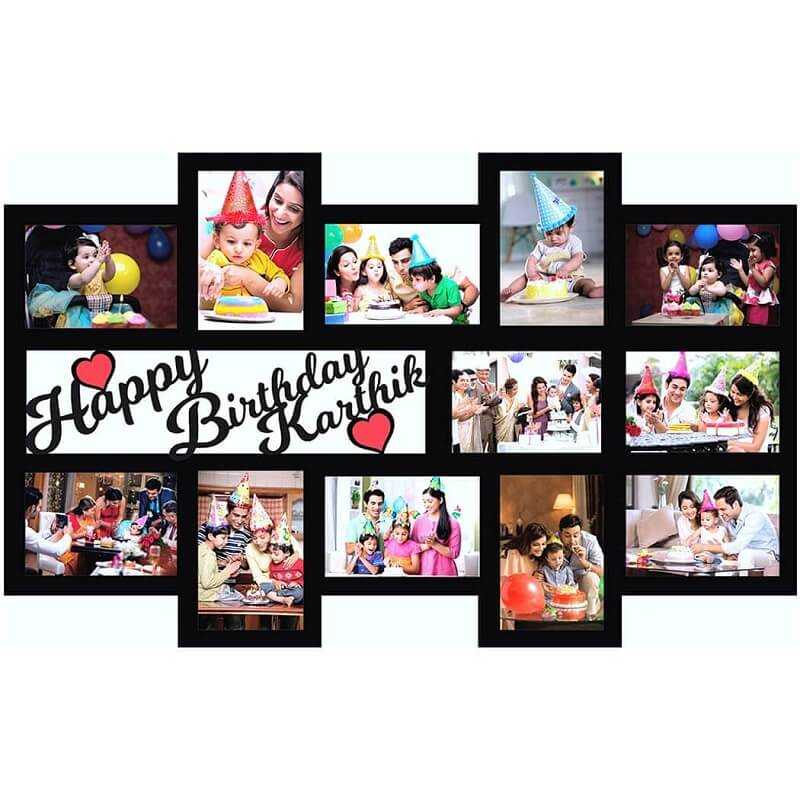 6. Graduation photo collage ideas
Remember your precious moments with a graduation photo collage. Use all your graduation photos from middle school, high school, college, and graduate school to create a photo collage. Showcase your schooling journey in a special way.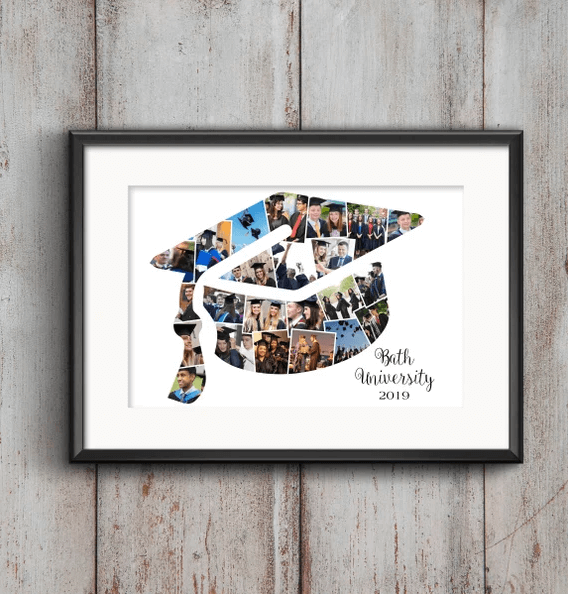 7. Fathers day photo collage ideas
Show your father that you love him. Make an image collage with masculine colors like gray, blue, and green as a Father's Day gift to thank your dad for his constant love and care. He is the best father and he deserves it.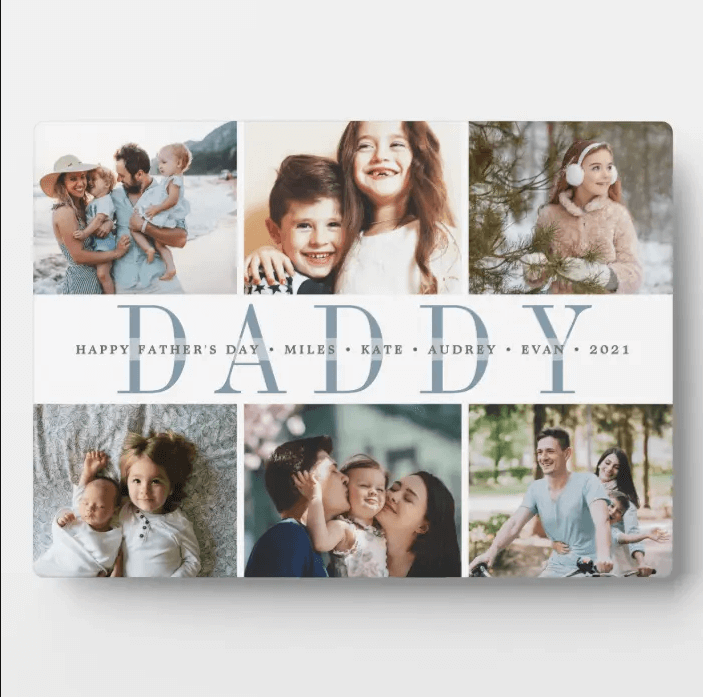 8. Dog photo collage ideas
Dogs are part of the family and our best friends. Dog photo collages are the best way to commemorate their lives. At the same time, it is also a great gift for dog lovers.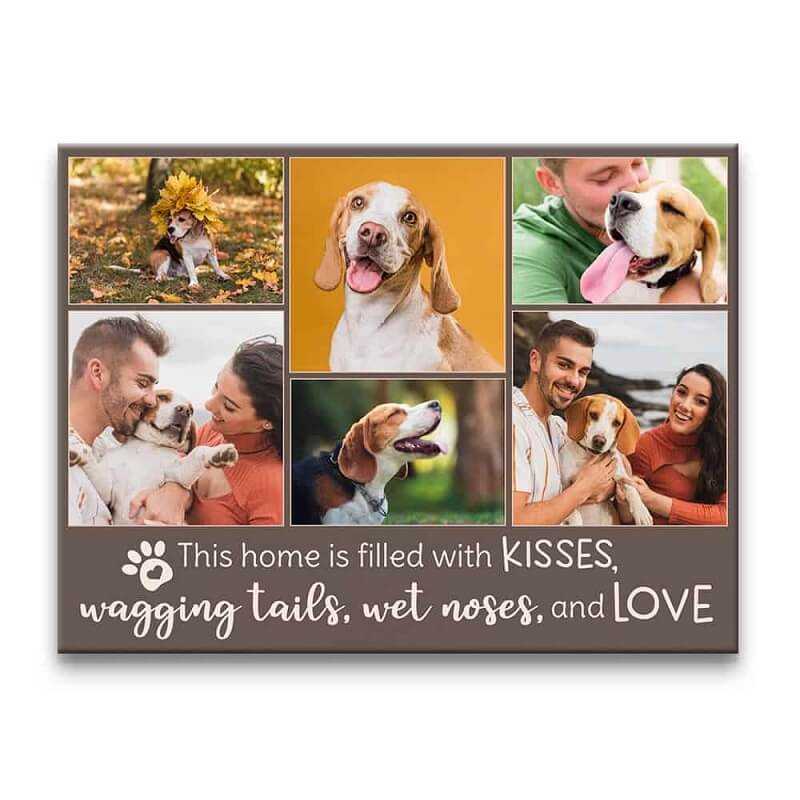 9. Photo collage ideas for bedroom wall
The bedroom is a haven and a place to unwind after a long day. Create a sweet bedroom atmosphere with photos of your family vacations, kids, and special events on a photo wall.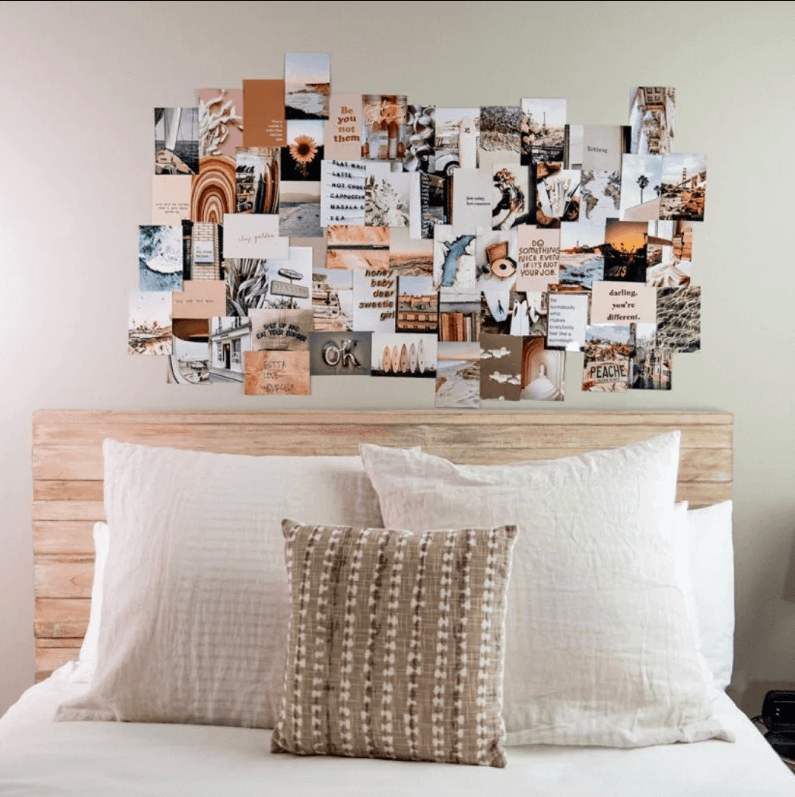 10. Black and white photo collage ideas
Black and white photos are forever classics. Making a black and white picture collage can echo the elegant decor of the interior and create a sophisticated artistic atmosphere. Great idea.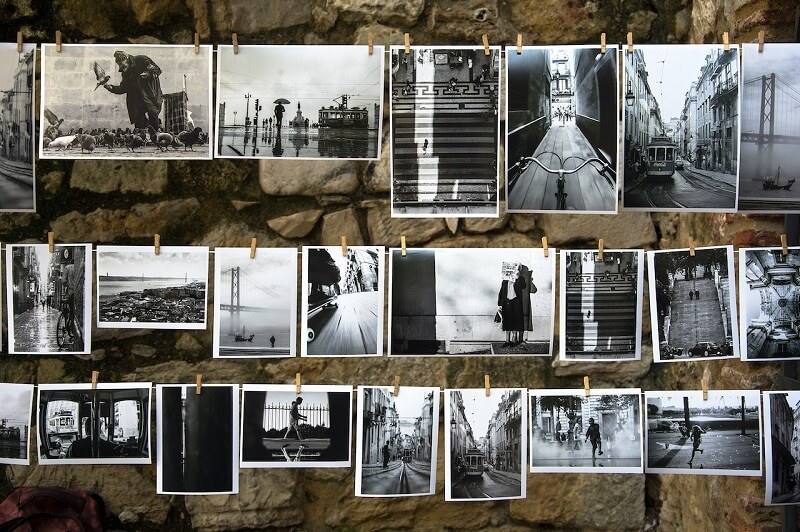 11. Heart photo collage ideas
Add a personal touch to your space by making a heart collage with photos of your dearest friends and family. A heart-shaped pic collage is a great way to express your love and make the whole room feel warmer.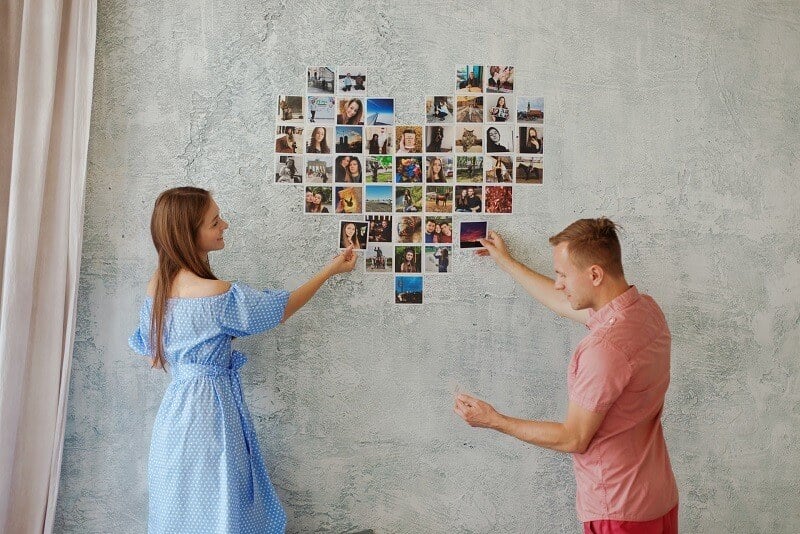 12. Moon photo collage ideas
A picture collage in the shape of a moon represents romance and all good fantasies. It's perfect for a baby room.
Use your child's photo and footprints as a collage element. Match it with a white or natural wood frame for a light and minimal look. Instantly transform your baby's room with a moon photo collage.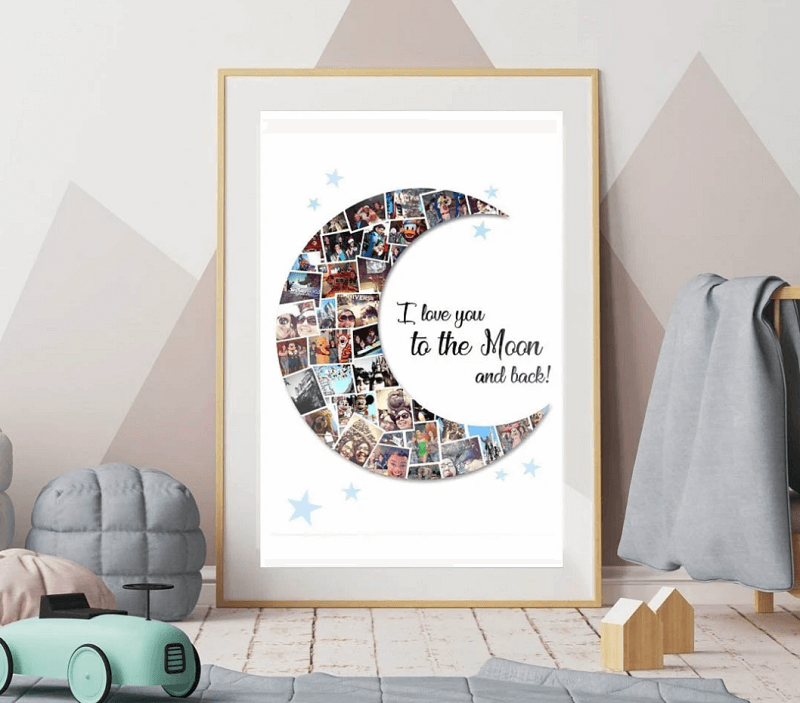 13. Cute photo collage ideas
Babies are like blooming flowers in a house. You can save your memories by capturing their adorable moments in single frames or collages. Make cute pic collages with photos of your newborn baby and share all the wonderful moments with family and friends.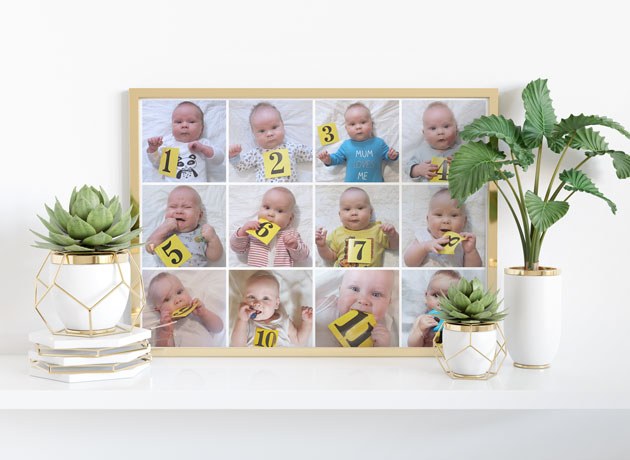 14. Cool photo collage ideas
Using a world map to DIY photo collage is a cool way. You can print a world map and paste photos on it. Or create your photos in map-shaped collages using Fotor's free photo collage maker.
15. Interesting photo collage ideas
One of the interesting image collage design ideas is to turn the collage into a beautiful lampshade. Turn on the lights at night and you'll see your favorite photo on the perimeter of the circular lampshade. It adds a warm glow to your room on a beautiful night.
16. Aesthetic photo collage ideas
Aesthetic pic collage is the best and perfect choice, especially for girls. Even children will love such a colorful and beautiful display of pictures. You can collage all the beautiful moments you captured to decorate your room.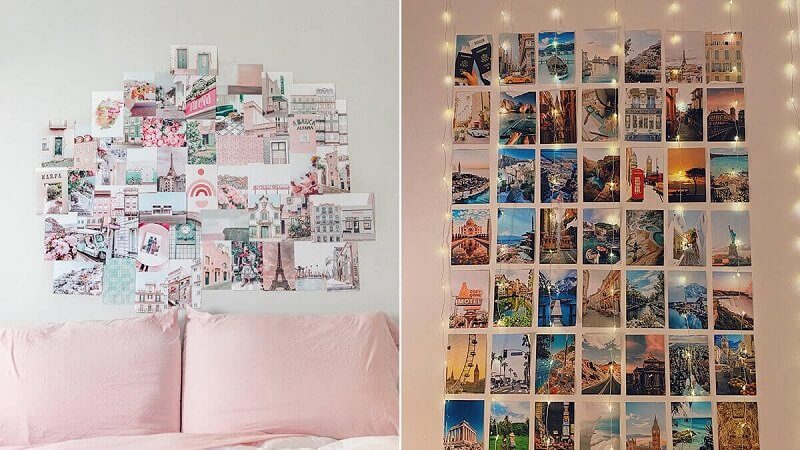 17. Alphabet and numbers collage ideas
Alphabet photo collages and numbers picture collages are a great way to collect and showcase all your photos. Add these letter or number collages to your walls to add energy to your space.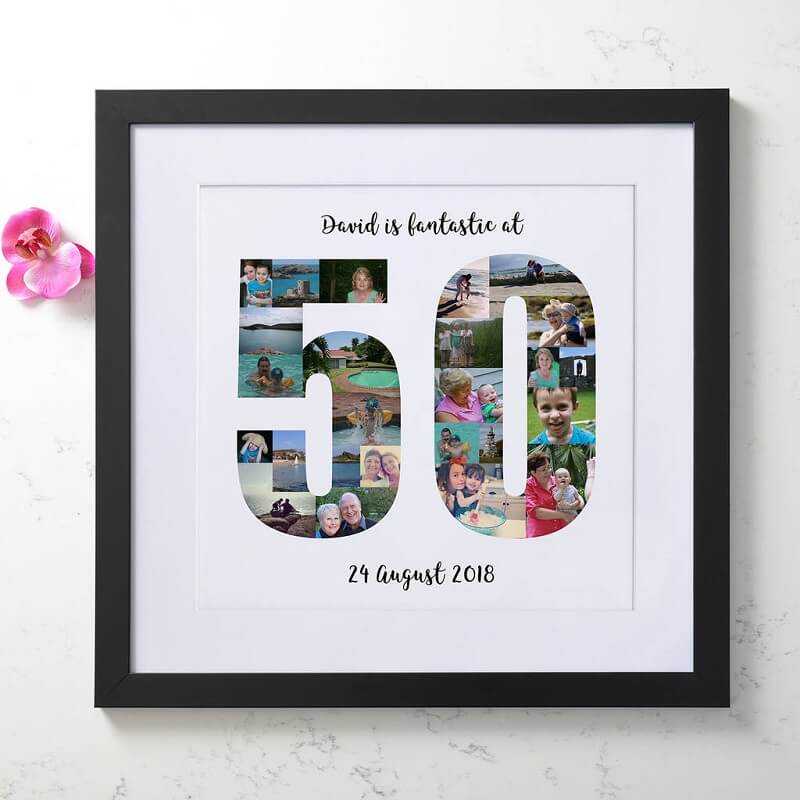 18. Photo collage board ideas
Clipboards are a fun alternative to regular frames because they make it easy to change photos. Buy a photo collage board and use pushpins to pin photos on it. You can use irregular image sizes and shapes, and choose to use different pin colors. Plus, it can be wrapped in fabric to match your decor.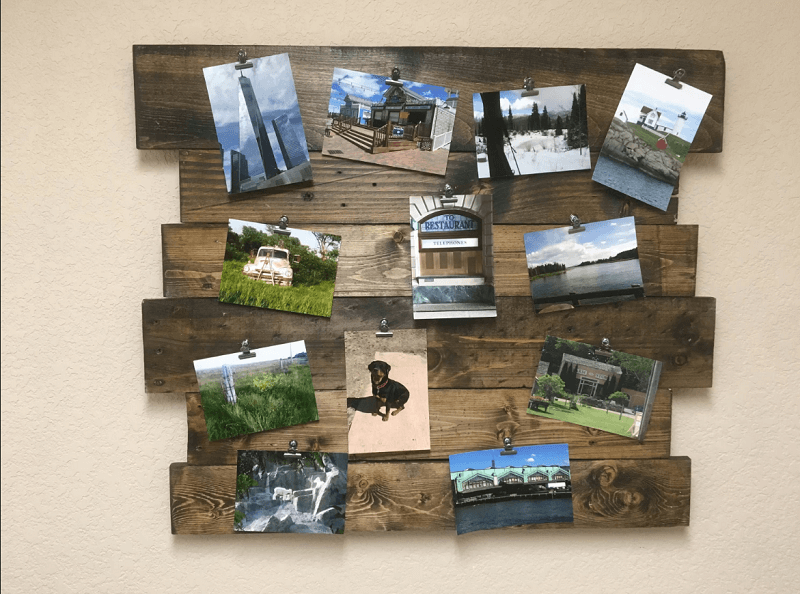 How to Make Attractive Photo Collages?
Picture collage can display many photos at once. It is a great way to showcase the most beautiful and memorable moments of your life. Create attractive photo collages to instantly catch your visitors' eyes and share your sweet memories with them. Also, take this opportunity to express your love for your family and friends.
1. Remove cluttered backgrounds from photos
A cluttered background can affect the beauty of your photos. Use background remover to remove clutter from your photos and make your photos look cleaner overall.
2. Crop the image
Be more creative with photo collages made with photos of different sizes. Use the crop tool to crop photos into different sizes or shapes. Then collage them together to make your photo collages more attractive.
3. Retouch your photos
Showcasing your beautiful selfies on the photo wall is a must. Use retouching tools to remove blemishes and wrinkles on your face, slim your face, and more, making your selfies more beautiful.
4. Add filters to your photos
Different filters can give people different feelings. Let your landscape photos have different looks by adding filters to your photos. Combining pictures with different filters into a photo collage can make your photo wall more beautiful.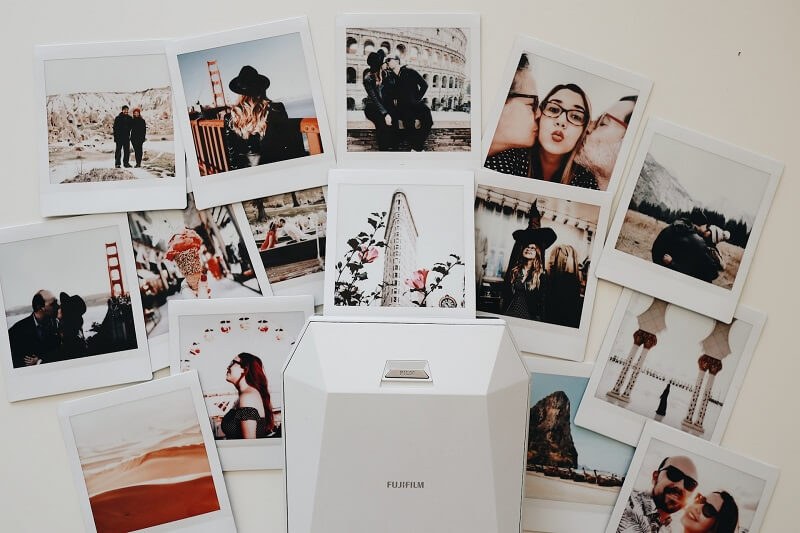 5. Use collage templates
Fotor's photo collage maker has different templates for photo collage, including classic, funny, and aesthetic. Use these templates to quickly create a great-looking pic collage. Don't need to brainstorm. You can get great photo collages directly by using pre-made templates.
Summing Up
We have introduced the 18 best photo collage ideas for your room decoration. Whether you want to make a collage for your bedroom or baby's room, you can find brilliant collage ideas here. Use those ideas and provided design tips to create an attractive pic collage - time to start.