2. BeFunky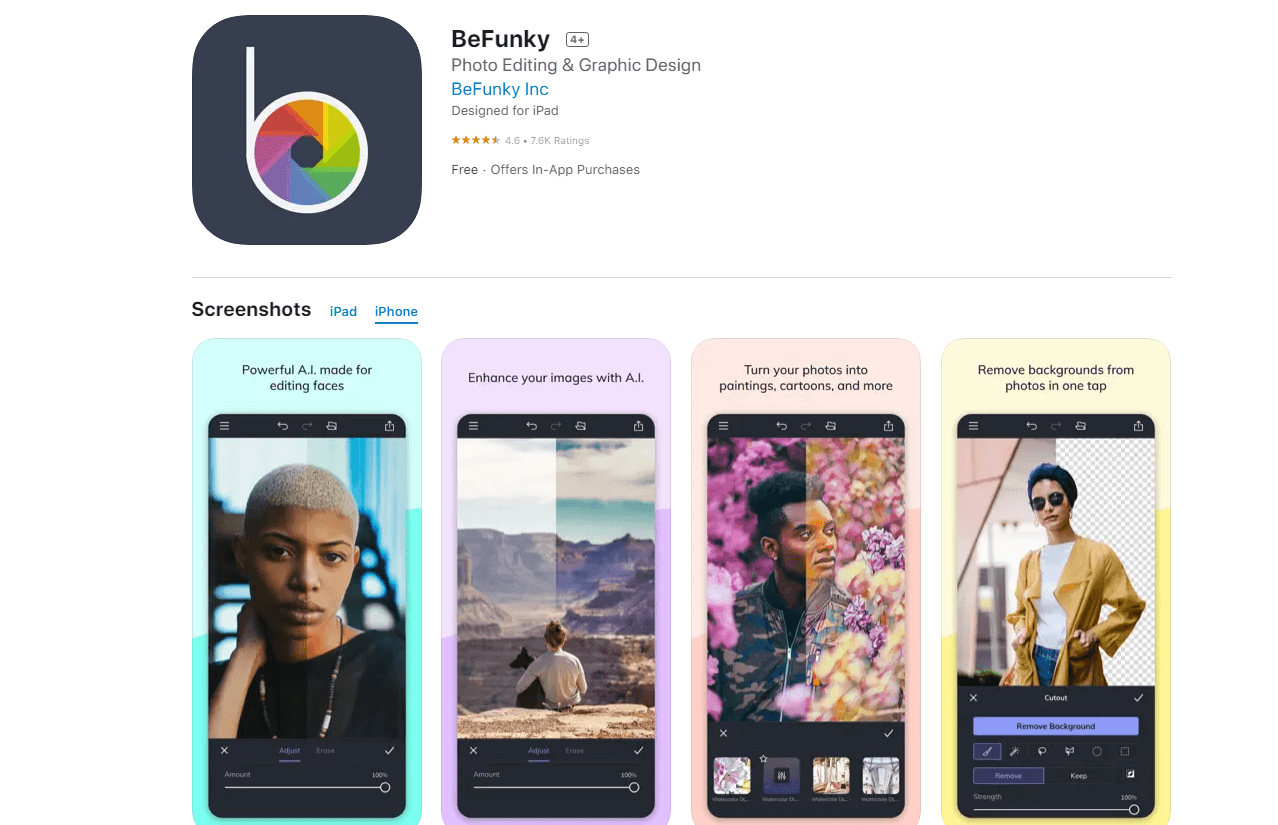 BeFunky is a fun photo collage tool. It offers tons of templates and a simple interface. Whether you want to merge 2 or multiple photos, you can use it to quickly get the effect you want.
It can combine up to nine pictures at a time and is your rare good assistant. In addition, built-in text, backgrounds, and stickers can also make your collage photos more special.
Key Features:
• Edit the images in your collage without having to leave your collage.
• Customizable collage layouts and free pre-set collage templates.
• Re-edit your collages anytime. Easily add or replace images, edit text, and change the layout of your saved collage project.
3. Canva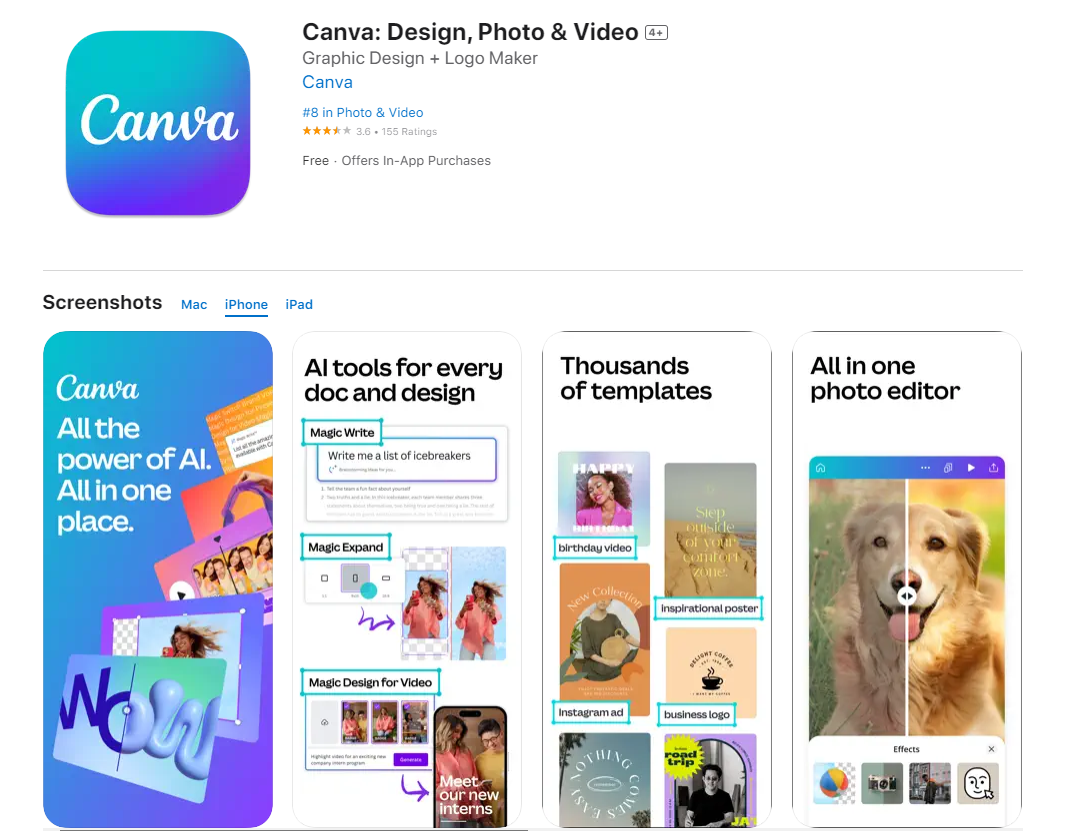 Canva is one of the best free online collage makers. And it's also available for any mobile devices. There are no complicated operations. Just add photos to the grid provided and you can quickly combine images together.
In addition to ordinary grids, Canva also provides special collage methods, such as polygon collage, letter collage, etc. These will give your merged photos a rich design and give people a refreshing feeling.
Key Features:
• Easy to create photo collages and customize.
• Upgrade your picture collage with special effects, like placing borders, playing with fonts and color, overlaying images, and adding illustrations to your template.
• Many beautifully designed collage templates used for free.
• Access millions of stock photos and illustrations.
4. PicsArt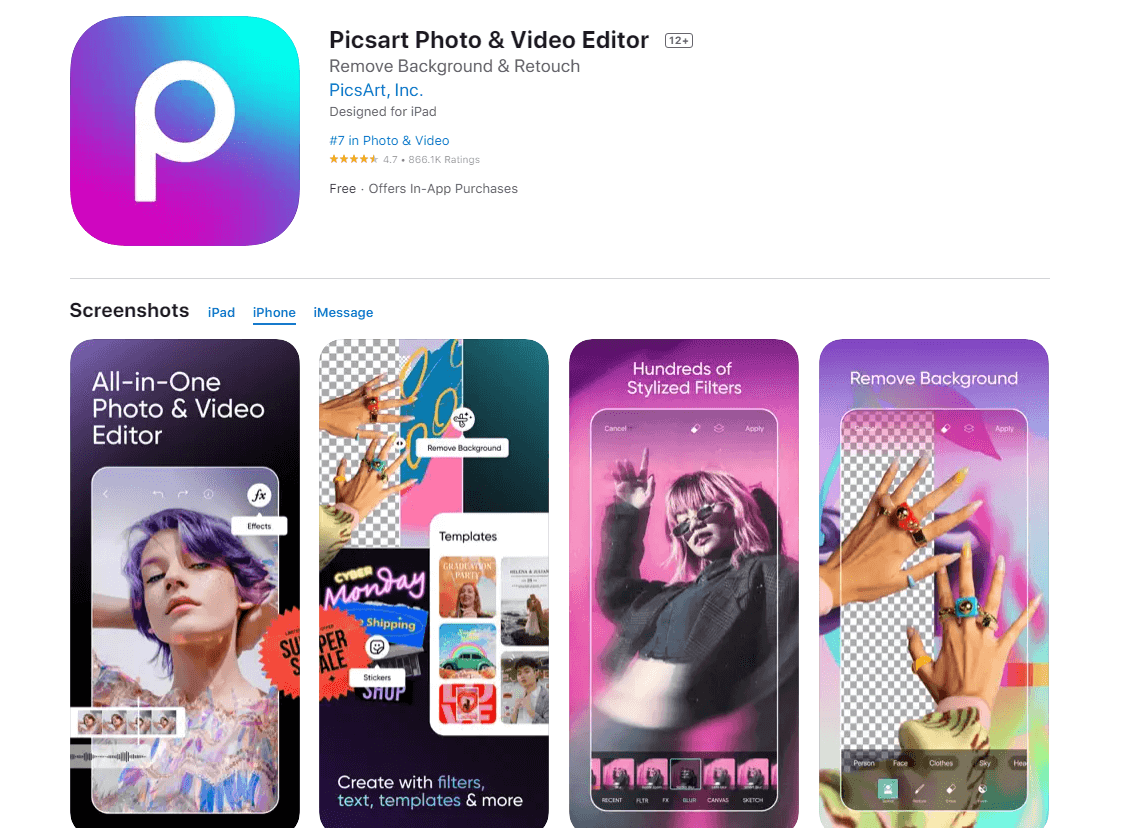 PicsArt is a great iPhone collage app. With millions of free pictures and excellent picture editing tools, it makes your picture collages even better. To date, PicsArt has over 1 billion mobile downloads.
It is definitely one of the most popular photos combining software. Moreover, most importantly, it can not only merge photos together but also supports combining videos.
Key Features:
• Design photo collages with grids and frames.
• A wide collection of pre-designed templates for any occasion: family, birthday, wedding and love-themed collage.
• Take photo collages to the next level with free collage editing tools. Remove an object, or enhance photo quality with AI.
5. Pic Stitch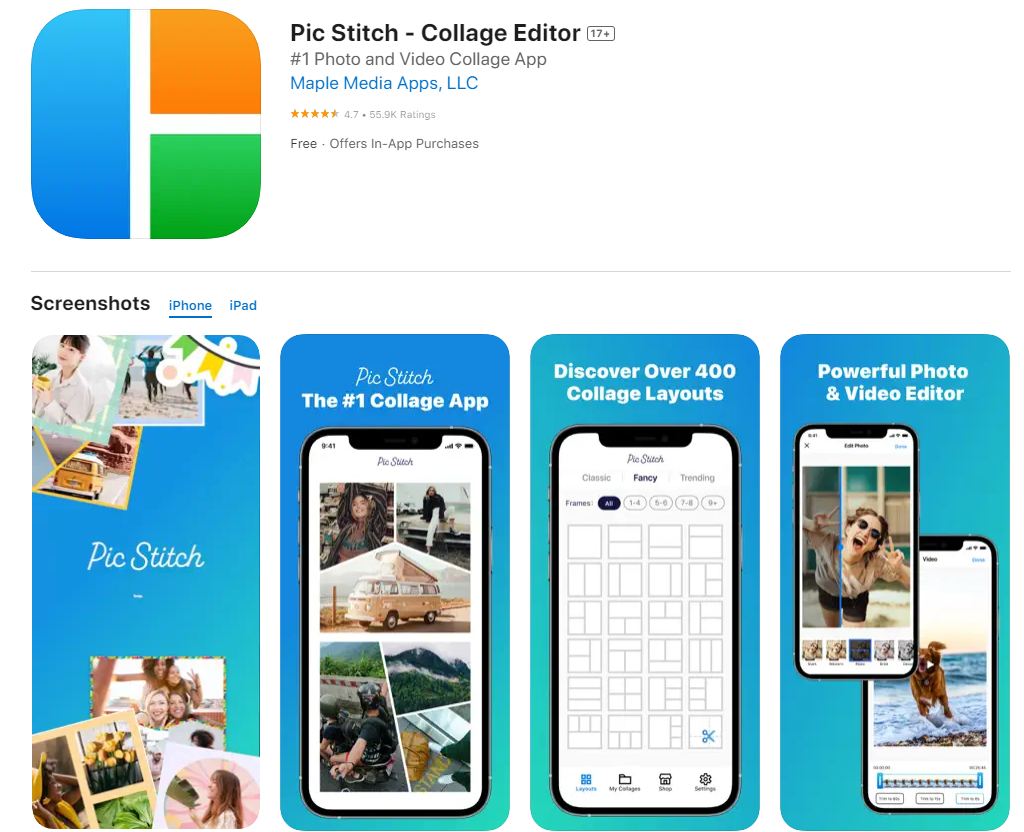 As one of the most popular collage makers for iOS, Pic Stitch offers users 300 collage layouts and 15 aspect ratios. No matter how you want to combine several images together, using Pic Stitch can do it on your iPhone.
It has an intuitive and easy-to-use interface that simplifies everything, allowing users to quickly get merged photos and share them on social media platforms.
Key Features:
• 375+ different collage layouts to easily and quickly combine photos on iPhone.
• 25 filter packs to enhance your collage photos.
• Employ 20+ border packs & customize layouts to design unique photo collage.
• Works with photos and videos.
6. PicCollage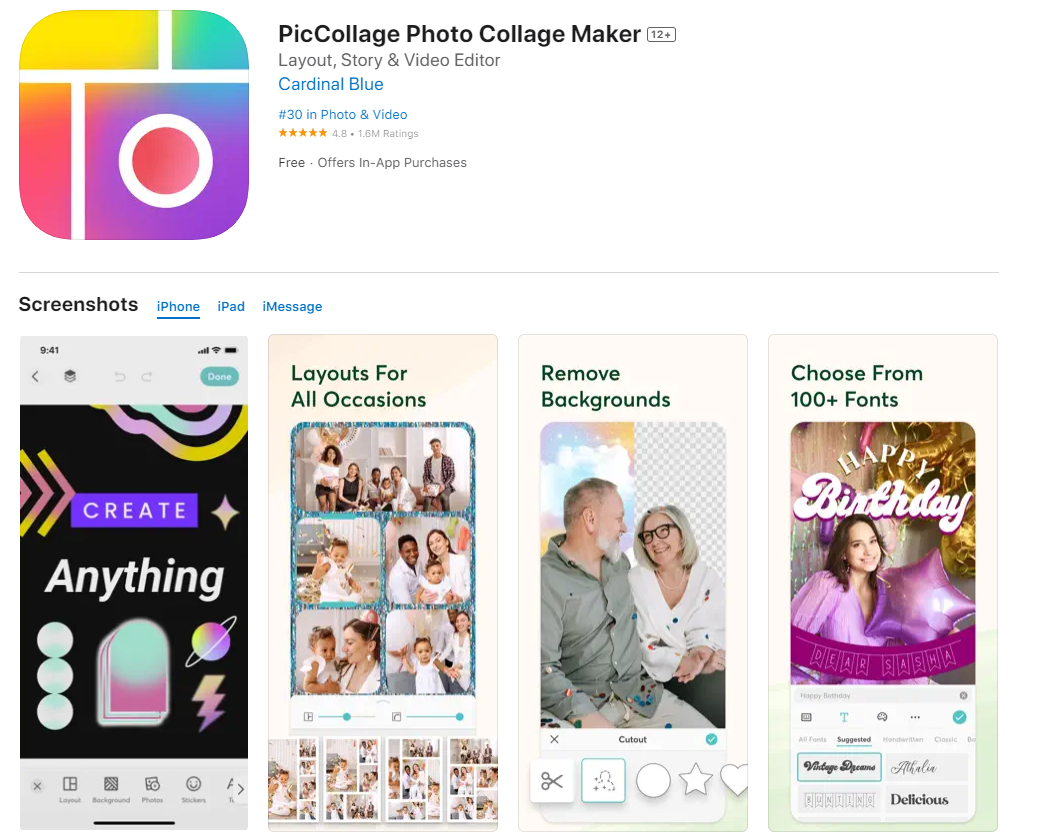 The PicCollage collage-making app for iPhone has many features. It helps users create photo collages that impress you. Photo, GIF, and video merging can all be done with it.
No more need for another software. Choose from over 60 different templates and aspect ratios.
Key Features:
• Edit photos and videos easily - filter, cutout, retouch.
• Use ready-to-use layouts, grids & animated templates.
• Personalize your photo collages with fonts, stickers and doodles.
7. Photo Joiner
Photo Joiner has a range of different collage-making options. It can meet almost all your needs for merging pictures. In addition to editing the picture, you can also change the size and color of the border. With a built-in stitch tool, it can join photos together vertically or horizontally.
Key Features:
• Add fance effects to enhance your photo collages: adjust contrast, brigthness, saturation, etc.
• Customize photo borders, add text and captions to your photos.
• Crop/adjust your collages with 13 preset sizes or use your own custom size.
8. Photoshop Express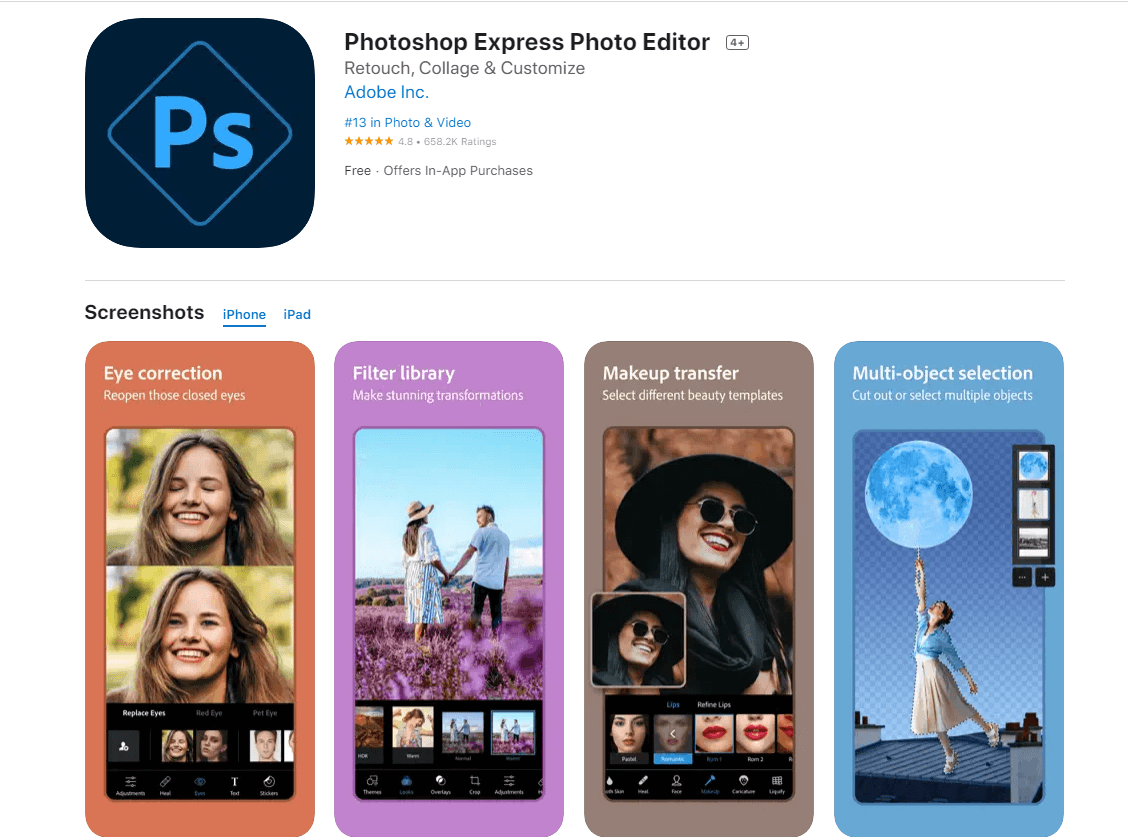 In addition to combining pictures together, Photoshop Express also allows you to edit photos before merging them. Remove the photo background, add your favorite filters to the photo, crop the image, and more. These editing functions make your final image collage very beautiful.
Key Features:
• Ready-to-use photo grid layouts make it easy to create an amazing photo collage or digital scrapbook.
• Abundant photo customization tools to upgrade your collages. 
• Upload & share photos easily: upload images from multiple source formats (including raw and TIFF); share photos on various social media platforms.
How to Combine Photos on iPhone with Fotor
Using the Fotor's App to merge photos on your iPhone is your smartest choice. It's simple and fast. Only takes 1 minute, everything has to be done.
1. Download and install the Fotor's App from the APP store.
2. Open Fotor, and register and log in to your account. Note that we offer a 3-day free trial.
3. Clicking on "collage" will bring up many templates. There are classic templates and magazine templates.
4. A classic template is a simple white border. Using them you can freely combine multiple photos in different ways.
5. Magazine templates are picture collage styles designed by professional designers. With them, you can reduce your design time a lot.
6. Just choose a magazine template, replace the pictures in it, and you'll have a stunning combined picture in no time. If you are not satisfied, you can click the store icon below. Here you can find more templates for merging images.
7. Choose your template and upload the photos you want to combine.
8. Drag the image to adjust the display area of ​​the image in the template.
9. When satisfied, click the "Save" button. After that, you can find the combined photos in your mobile phone album.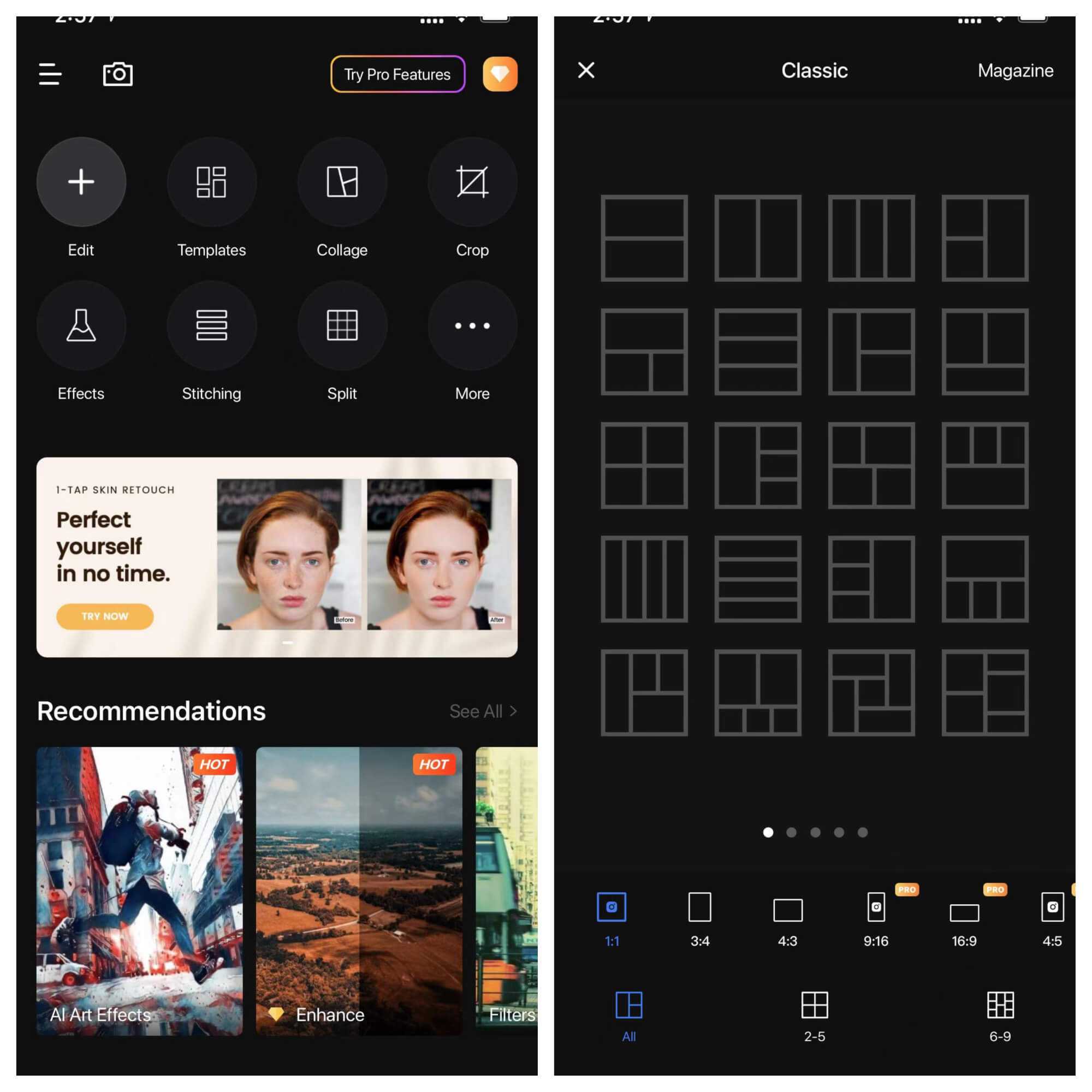 FAQs
Can I combine photos by Andriod?
Yes. The collage makers we introduced also have the app for Andriod. Fotor also has Andriod app. Download the app, and log in to your account.
Then select the template or frame you like, and upload your images. You have merged the images together.
Can I merge photos on the iPad?
Like the iPhone, the iPad has a built-in automation tool - Shortcut. You can use it to combine pictures. Also, all iPhone photo collage apps work on the iPad.
Just find your favorite tool on the APP store and download its APP. Then you can merge the images on the iPad.
Summing Up
Combining photos on iPhone is very easy. There are mainly two ways. Use the shortcut app that comes with your iPhone or download a collage app suitable for iOS. Whichever method you choose, you can quickly merge your photos together.