The 2 ways mentioned below only support simple photo collage design, so you can try a professional photo collage app to create more photo stitching possibilities. Here you can use the Fotor to combine images on iPhone and iPad.
There are more than 20 photo collage sizes that you can choose to make qualified picture layouts for different platforms, including Instagram stories, Twitter posts, Pinterest, YouTube Thumbnail, Facebook posts, and much more photo grid sizes. Moreover, you can find various photo stitching designs and styles under every photo grid size.
More than that, you can use its prominent "Magazine" photo collage to create aesthetic picture layouts. There are thousands of well-made photo collage templates for you to use, and you can choose from various themes, like travel, holiday, love, mood board, wedding, and more. Plus, all these templates are customizable and you can personalize the photo collage templates as needed, such as changing image color, changing backgrounds, adding stickers, etc.
Now download Fotor's photo collage and follow our tutorials below to check out how to create a collage on iPhone using Fotor app.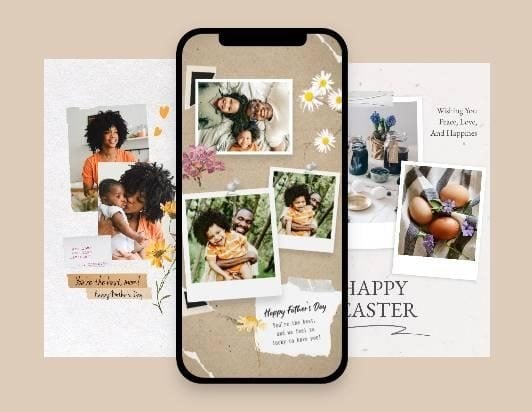 Open the Fotor app, and tap the "Collage" icon on the homepage.
Scroll the screen from right to left, and choose the photo grid size you like.
Then, tap the photo grid design you want, and add the image to the template.
You can change the pattern, margin, space, and more basic settings as needed under the basic collage mode.
Alternatively, if you choose the "Magazine" photo collage template, you can change the background color, add text, or use its free design sources to perfect your design.
Preview and download your photo collage to your local photo library.
Conclusion
In this blog, we have shared the 3 easiest ways to help you make a photo collage on iPhone. You can use the iPhone Shortcuts app, Google Photos app, or the professional Fotor photo collage app to create photo collages on your iPhone.
The first two ways are easy to help you create simple photo grids, however, you can use the professional photo collage app to create your own aesthetic photo collage on Instagram, Tik Tok, Facebook, and other platforms. Hope you find this blog helpful!