The overlay tool is a powerful and user-friendly feature within the Fotor photo editing app, designed for both iPhone and Android users. This innovative tool allows users to combine multiple images, creating visually stunning and unique composite photos with just a few taps. With an array of customization options, including resizing, repositioning, and adjusting the opacity and blending modes, Fotor provides users with the creative freedom to develop their own distinctive style.
Additionally, Fotor offers a wide selection of preloaded stickers and graphics, which can be overlaid onto images for an extra touch of flair. It is ideal for photographers, social media enthusiasts, and anyone looking to enhance their visual storytelling.
Key Features:
Easy-to-use interface.
Two ways to superimpose images (by using the Overlay tool and the Double Exposure tool.)
A wide range of editing features.
Rich design resources and templates
How to Overlay Photos on iPhone with Fotor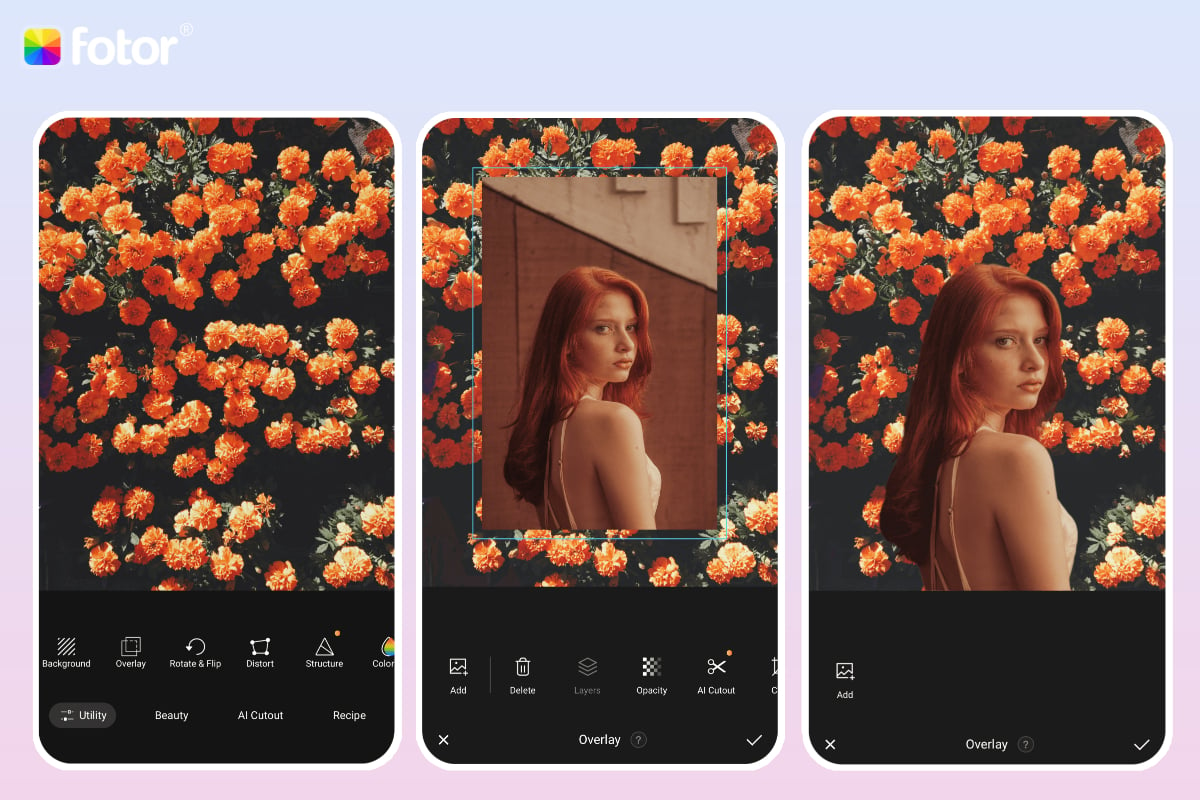 It is easy to merge two images with the Fotor app:
Firstly, open Fotor on your iphone.
Tap "Edit" on the home page, then select a photo from your album that you want to edit (as the bottom layer).
Next, select the tool "Overlay" > "Add" to add the photo you want to superimpose to the first photo.
Adjust the transparency, orientation, and etc. of the top image as needed, you can even use the "AI Cutout" tool to remove the background of the photo with one click.
When you are satisfied with the result, tap "√" and return you to the main screen, and then tap "Save" to download the photo to your local album in high quality.
How to Use the Double Exposure Tool for Creative Images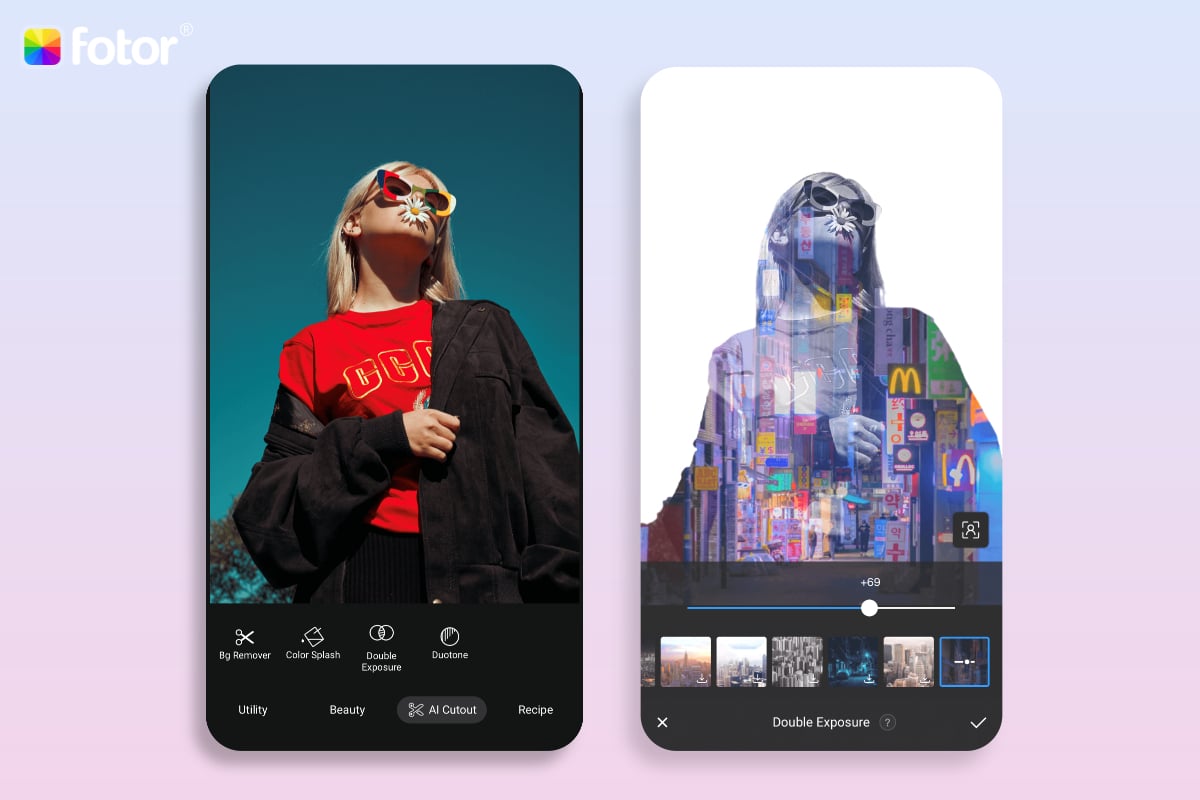 In addition to using the overlay tool to merge photos, Fotor also offers a powerful AI double exposure tool that allows you to quickly generate creative blending effect for your photo.
Open the Fotor app on your phone.
Choose an image from your album that you want to edit.
Select the tool "Double Exposure" from "AI Cutout" tab. After a few seconds, Fotor will automatically remove the background of your photo.
Next, you can add your own image or the preset image provided by Fotor to blend with your original photo to create a stunning effect.
Finally, don't forget to save your creative image.
2. Snapseed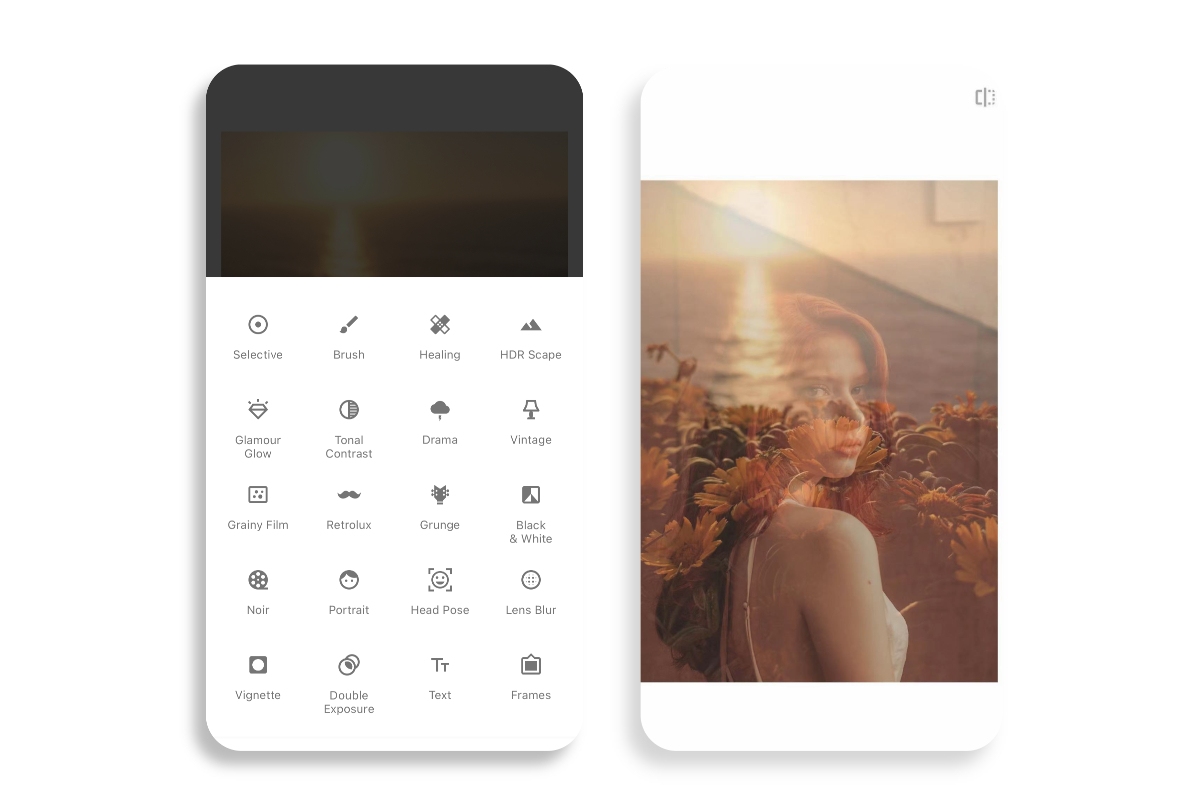 Snapseed, a robust photo editing app by Google, provides a plethora of tools to elevate and modify your images. Among its features, the double exposure tool stands out, allowing users to create artistic, layered compositions by merging two photos.
With Snapseed's double exposure tool, you can effortlessly achieve a surreal, dreamy effect or a captivating visual story by overlaying images in various ways. The tool provides numerous blending modes and opacity settings, allowing you to fine-tune the final result to your liking.
Key Feastures:
User-friendly interface
Multiple beauty features and blending effects
3. Pixlr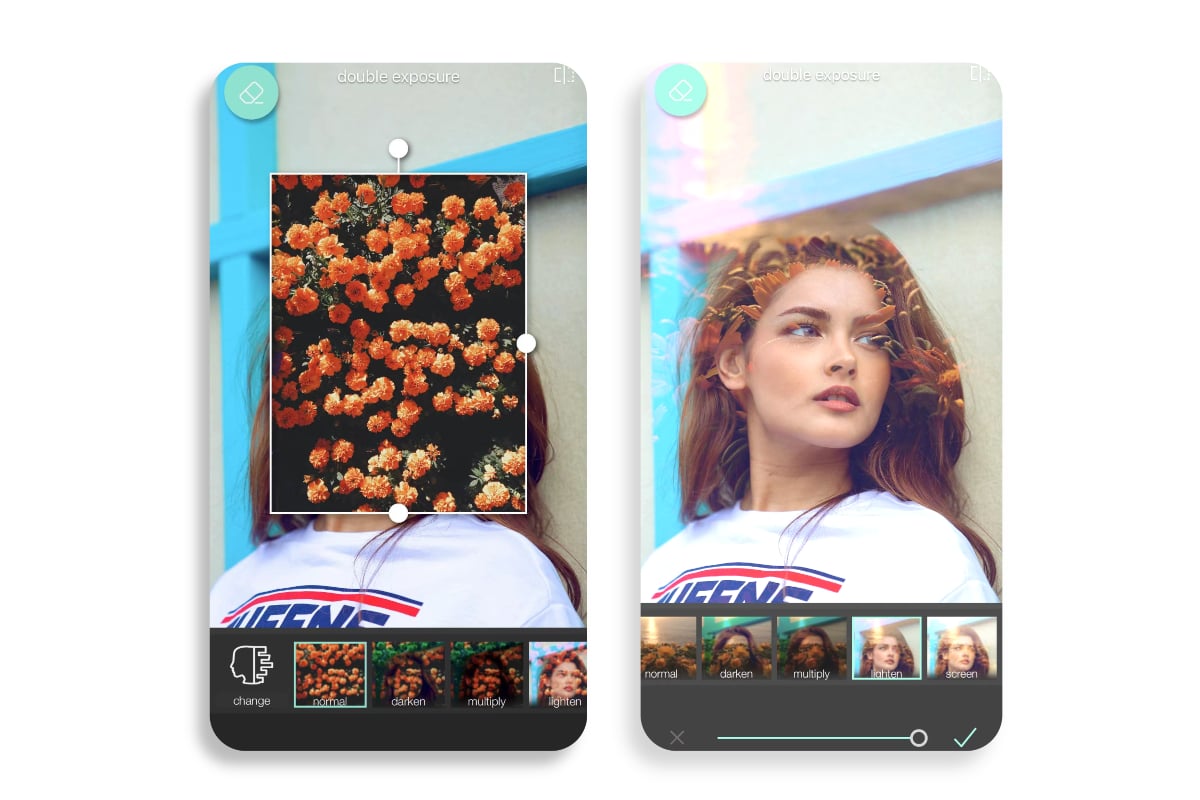 Pixlr offers an impressive selection of stunning photo effects, overlays, and filters for creating unique images. The app includes beautification tools for removing blemishes and red-eye, applying color splash, and using Focal Blur to highlight specific subjects. Pixlr's double exposure feature enables blending multiple effects with adjustable transparency, and the app also provides textured and stylized overlays. However, Pixlr lacks features like cutout or background removal tools, requiring users to download the separate Remove BG by Pixlr app.
Key Feastures:
Numerous stylized filters and overlays
Aesthetic editing tools
Blur and splash effects
4. Photo Blender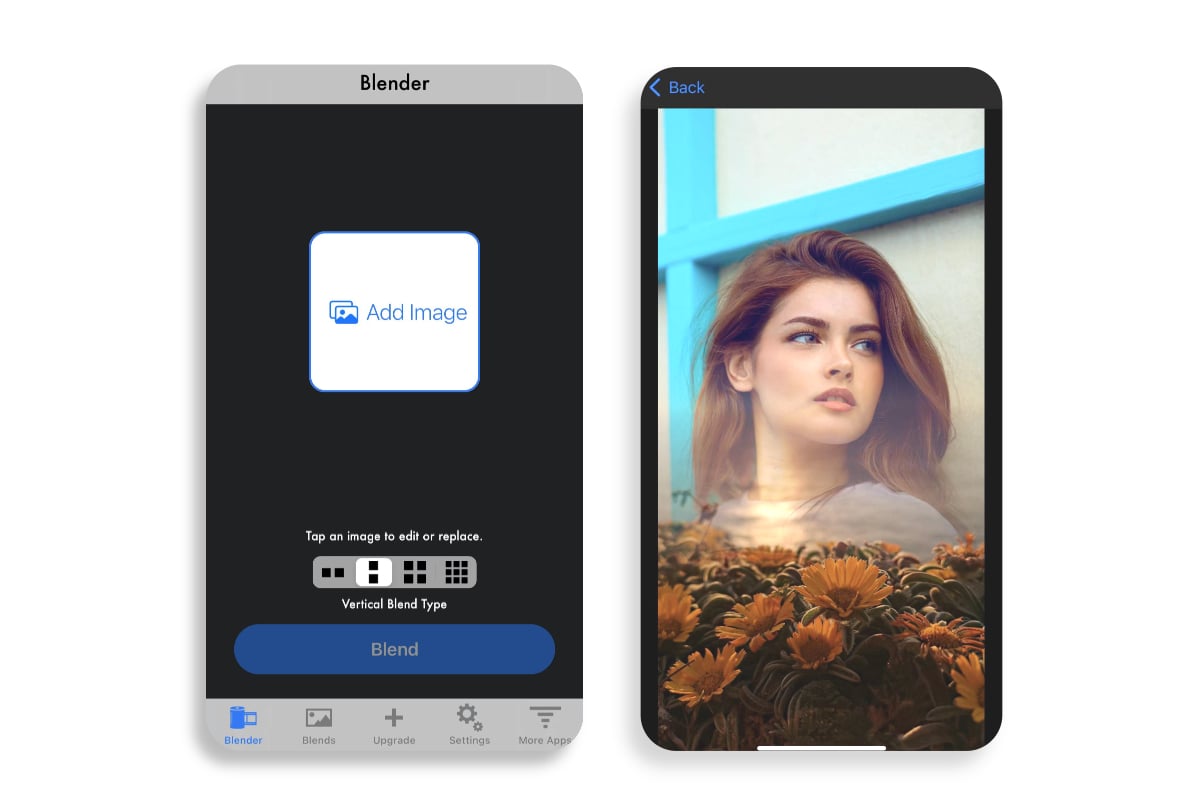 Photo Blender, a versatile app for scrapbooking, collage-making, and photo overlays, enables users to create striking double-exposure effects. With a single tap, two photos can be effortlessly blended, offering numerous layout choices. While Photo Blender includes cool filters, it lacks options for adding textures or overlays such as snow, leaves, or rain. The app supports collages with up to nine photos but only merge two images simultaneously.
Key Feastures:
Combines two images with a single tap
A wide range of photo effects to choose from
Tips for Creating Stunning Overlays
Creating stunning overlay photos requires a combination of creativity, attention to detail, and technical know-how. Here are some tips to help you achieve the best results.
Choose the right software: Select an editing tool that suits your needs and skill level. Some online photo editors like Fotor offers good options for beginners.
Plan your composition: Before you begin, envision how you want your final image to look.
Select high-quality images: HD images will make you get a better result.
Use suitable overlaying modes: Experiment with different blending and overlaying modes such as Multiply, or Overlay to see which effect works best for your images. These modes control how the two layers interact with each other.
Conclusion
In conclusion, overlay apps are an invaluable tool for anyone looking to elevate their photography skills and create captivating images on their iPhone.
In this blog post, we've explored some of the best options available, and provided a step-by-step guide for you to learn how to overlay photos on iPhone. With a little practice and experimenting with different apps and techniques, you are sure to find the perfect combination of features that suit your creative vision.