If you think it's time-consuming to create watermarks in software, then you can't miss the best way to watermark photos - Fotor's online free watermark maker. Whether it's a text watermark or an image watermark, Fotor lets you handle it all in seconds. It's worth mentioning that Fotor can add watermarks in bulk, and all of them will give you the best quality results right away. Here are the steps on how to add a watermark online.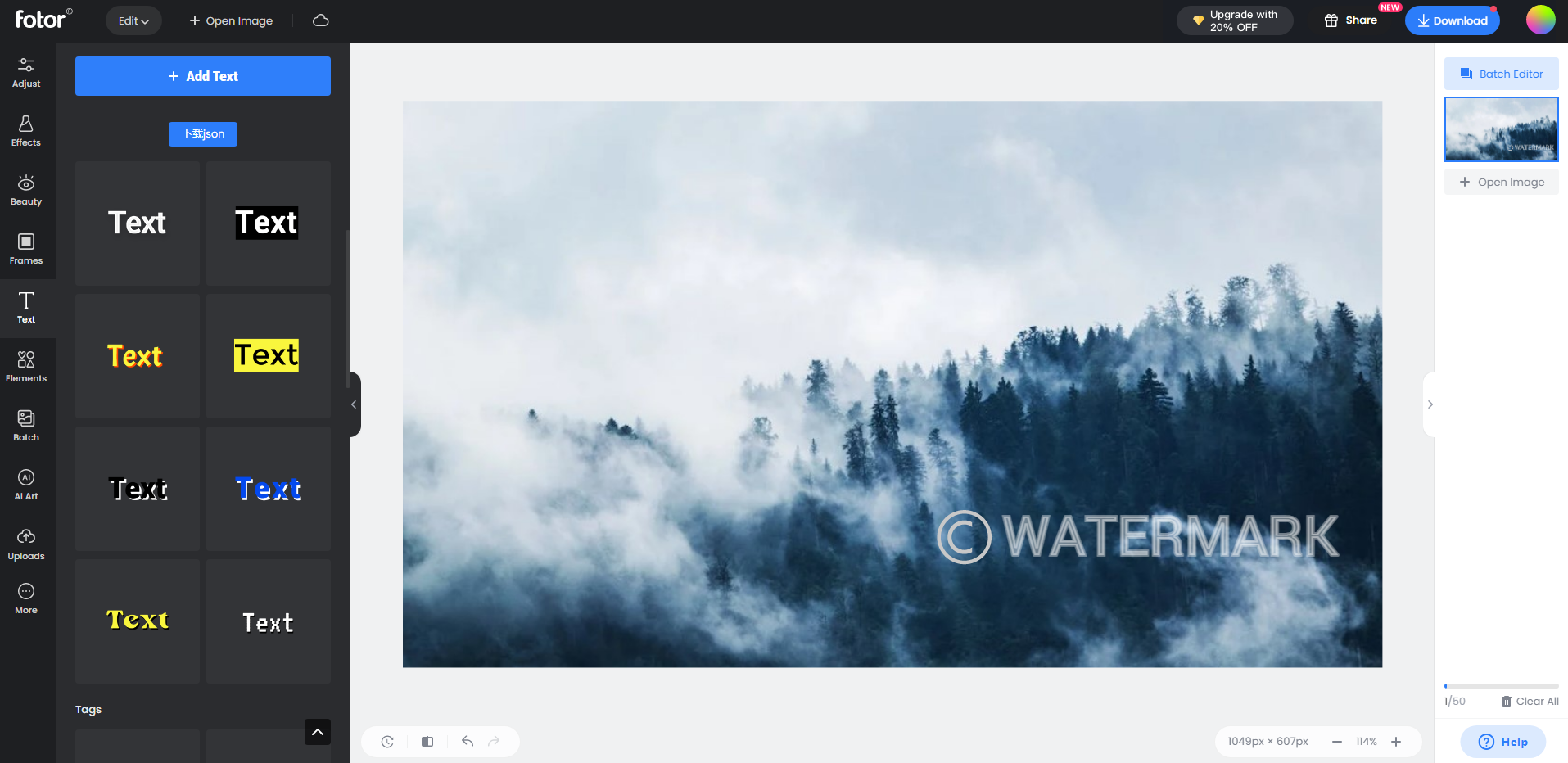 Upload or drag and drop the images that you want to create a watermark for in Fotor's watermark maker.
Click on the Text on the left toolbar and enter the text that you want to apply as the watermark. Optimize your text watermark by adjusting the text fonts, sizes, and colors.
You can also try to upload your logo image as your watermark. Try Fotor's transparent png maker to make your logo file transparent and apply your transparent logo png as your photo watermark.
Download your newly watermarked photos.
2. How to Make a Watermark for Photos in Photoshop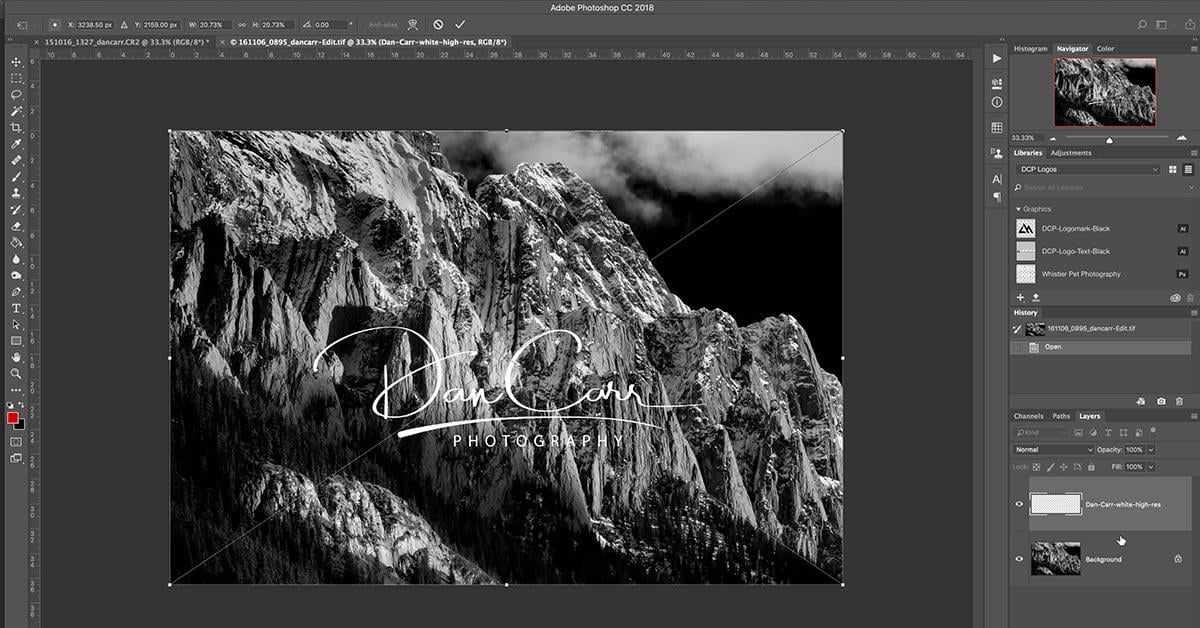 Once you have completed your work in Photoshop, you can make and add your signature at once to your work in Photoshop by making a textual content watermark or an emblem using the steps we share below.
Start with a new file. You can choose the large canvas, which means you can make a watermark in high resolution and there won't be pixelation when you apply or print it.
Make your signature watermark. If you want to make a digital signature or a handwritten script, you can use the pen tool to make it. Also, you are free to use different brushes to get ink or watercolor effects for your digital signature.
Create the text watermark. Click the "T" button to start your text watermark design. After the Type tool pop up, you can enter your text and adjust its fonts, size, transparency, and more.
After making a watermark, try to add your watermark to any image file you want. Firstly, open your photo in Photoshop, select Windows, then click on the Library to find your new watermark layer, which you need to add to the photo PSD. You can adjust the size and placement as needed and save your file.
3. How to Do a Watermark in Word
If you have done your report or other document content material production in Word, it is time to add your studio or personal signature watermark on them. You do not have to go to other software to watermark files, because in Word you can make and apply the watermark. Below we will share the exact steps for you.
Click on the Design to find the Watermark on the dashboard.
There are pre-set watermarks for you to choose from. You are free to apply the DRAFT, CONFIDENTIAL, OR DO NOT COPY.
Still, if you want to make a new watermark, you just need to tap on the newly popped-up box and select Custom Watermark, where you can insert image or logo watermark and text watermark as you like.
4. How to Make a Watermark Logo in Excel
For personal experimental data or important company data, it is very necessary to add your logo watermark in your Excel. Name and time text watermarks are a must, and even personal or company logos can be converted into watermarks and added to the Excel file, and you should make sure that every page is marked with a watermark.
Click on Insert on the top toolbar to select Header&Footer.
Then you can insert your logo watermark file by clicking on the Picture in the Header&Footer Elements.
And in the Header, you can see the inserted picture. At this time, you should tap anywhere outside the header to preview the watermark.
To format the picture watermark, you should select inside the Header instead of the outside area. In this step, you need to tap the Header&Footer to select the Format Picture. And you can have more customizations on your picture watermark, such as cropping the picture, changing the image size, or changing the color of your image.
Remember to click on OK to save your customized options and apply your watermark.
5. How to Add a Watermark in PowerPoint
When you are preparing for a presentation, you can add a watermark to your or your team's report file. In this section, we will share the steps of how to add a transparent watermark or logo watermark in PowerPoint.
If you want to make a watermark in PowerPoint and apply it to all the slides, what you should do first is click on View to choose the Slide Master. Then you should switch to the left thumbnail pane and select the Slide Master.
And you should click on the Insert to select Text Box. In this step, you need to drag and drop the text box on the Slide Master and enter the watermark text in it.
Rotate the text box to change the alignment of your text watermark. Still, try to have more customizations on your text fonts, styles, and sizes.
Lastly, remember to exit the Slide master and there will be a text watermark on all your slides.
6. How to Make a Watermark on iPhone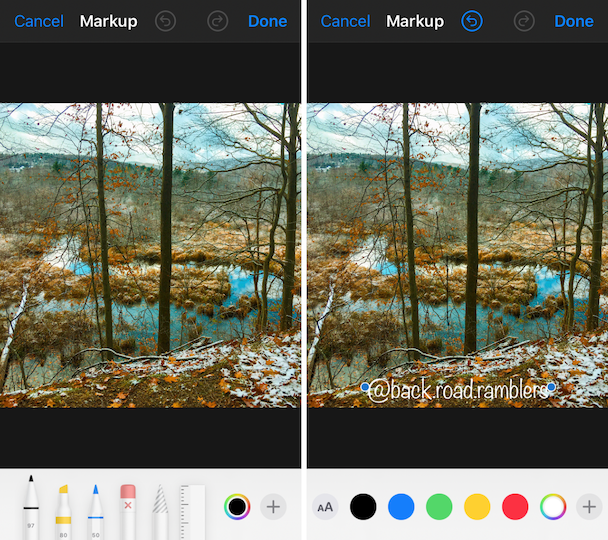 Actually, you are allowed to make a watermark for your snapshot on your iPhone. If you are looking for that, be sure to check out the most detailed steps we've shared with you below!
Open the photo that you want to make a watermark and tap Edit
Then tap on the Markup icon in the top-right corner of the screen. Here, you are free to choose the way you want to add the watermark.
You can make the text watermark or digital signature by tapping the "+" icon in the buttom-right corner of the screen. Adjust the placement of your watermark as needed.
Tap Done to save yoru watermarked photo to your Camera Roll.
7. How to Make a Youtube Watermark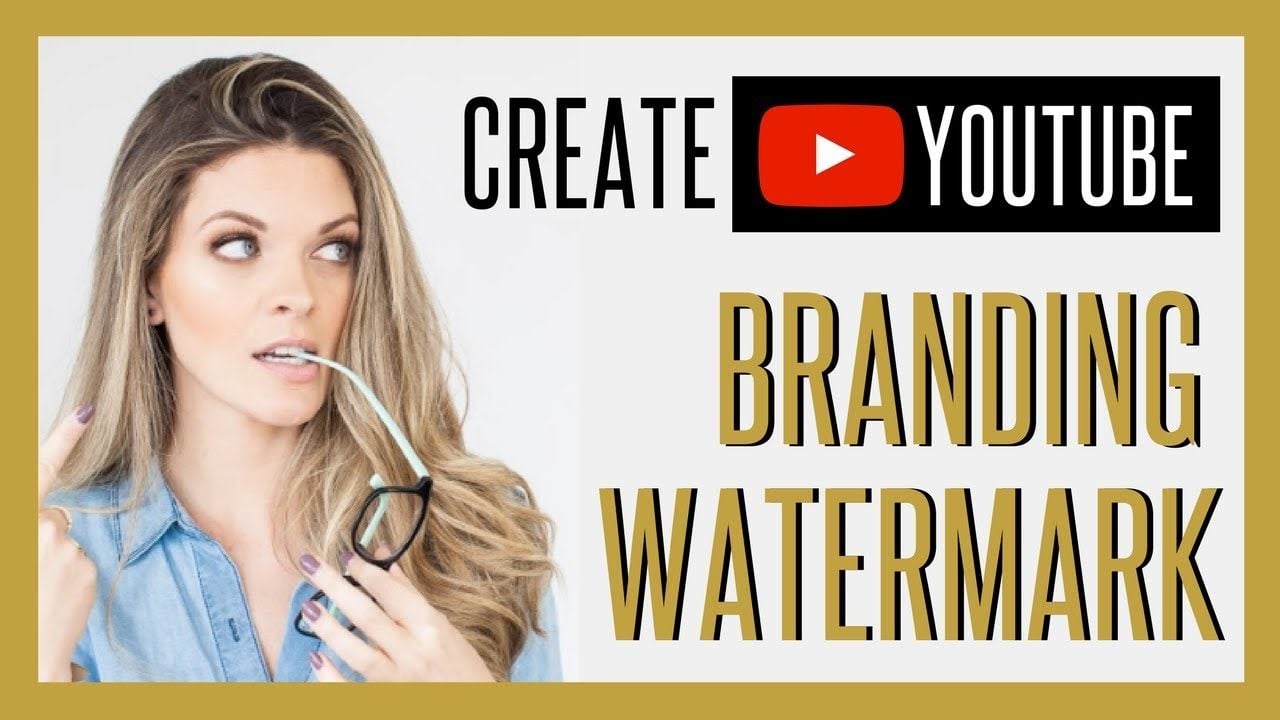 As a YouTuber, you want your videos to be widely spread, provided your videos are not stolen by others. If you want to protect your video's intellectual property and increase your visibility at the same time, you can choose to add a watermark to your YouTube video production, follow our steps and give it a try!
To make a YouTube watermark, you need to enter your YouTube Studio and select "Customisation" on the left dashboard.
In the Customization, click on the "Branding" icon tab
Then click on the Upload icon to upload your image as the YouTube watermark in the Video Watermark section
Finally, you can customize the display time as needed.
Conclusion
In this blog, we share with you a list of different ways to make a watermark, so that you will be confident in how to make a watermark no matter what the situation is. From Photoshop to online batch watermark creator for photos, you'll have the exact steps at your fingertips. Still, you will know how to make a Youtube watermark easily. In addition, we have also shared the ways to add watermarks to your working files, so you can try them all. We hope you find this blog helpful!