Available for: iOS & Android
Fotor is a one-stop photo editing tool. With this powerful and intuitive app, meme creation has never been easier. Whether you're a seasoned meme connoisseur or just starting out, Fotor provides all the features you need to craft witty memes in minutes.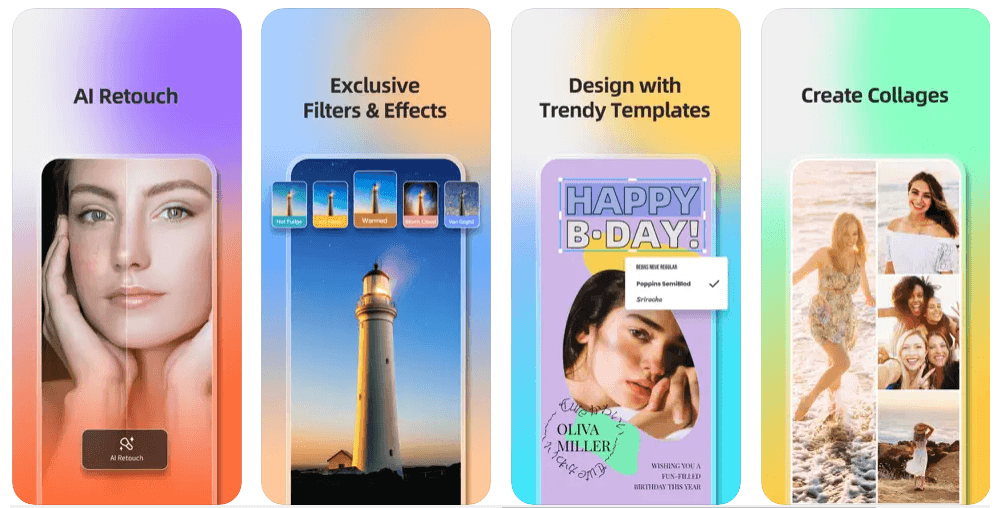 The Fotor meme maker app offers a user-friendly interface that allows you to import images, add text, and customize your memes to perfection. Choose from a wide range of meme templates and popular meme formats, or create your own from scratch. The app also provides an extensive collection of stickers, fonts, and filters to add that extra touch of creativity to your memes.
Not only does Fotor make meme creation a breeze, but it also seamlessly integrates with social media platforms, allowing you to share your meme pictures with the world effortlessly. So, whether you want to brighten up your social media feed or engage in a friendly meme battle with your friends, the Fotor meme generator is your ultimate companion.
Key Features:
User-Friendly Interface
Powerful Editing Tools
Rich Customizable Design Elements
Collage Templates
Advanced AI Tools
2. Memes.Com & Memes Maker
Available for: iOS & Android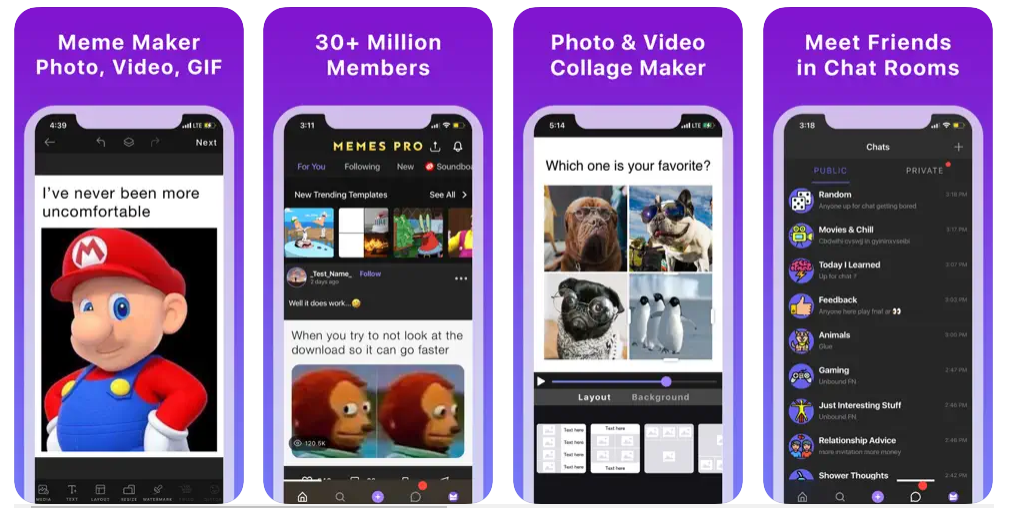 Memes.Com & Memes Maker is a user-friendly and versatile meme creation tool that offers a wide array of humorous meme layouts. It empowers you to unleash your creativity by allowing them to upload your own images and incorporate amusing quotes and other text elements.
What sets this tool apart is its exceptional ability to not only facilitate the creation of photo memes but also generate memes in GIF format and even video memes! This feature opens up a whole new realm of possibilities, enabling you to create dynamic and entertaining memes that go beyond static images.
Key Features:
Video and Gif Meme Maker
Trending and Popular Frames
Photo Import
Text Editing
3. Meme Generator
Available for: Android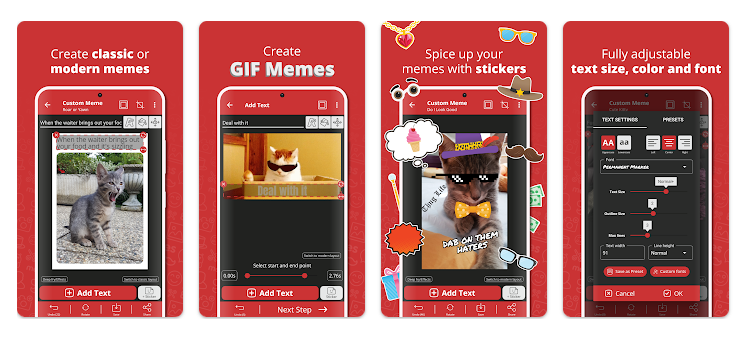 Meme Generator app is a popular tool that allows you to easily create your own text memes. The Meme Generator app offers a vast collection of meme templates, including various popular meme formats, giving you a wide range of options to choose from.
With just a few taps, you can customize captions, personalize text styles, and even incorporate your images, resulting in unique and shareable memes. It's a convenient and easy-to-use tool for meme enthusiasts, whether you're looking to entertain your friends, participate in meme trends, or simply express your creativity.
Key Features:
Vast Meme Template Collection
Customizable Text and Captions
Sharing Options
4. Mematic
Available for: iOS & Android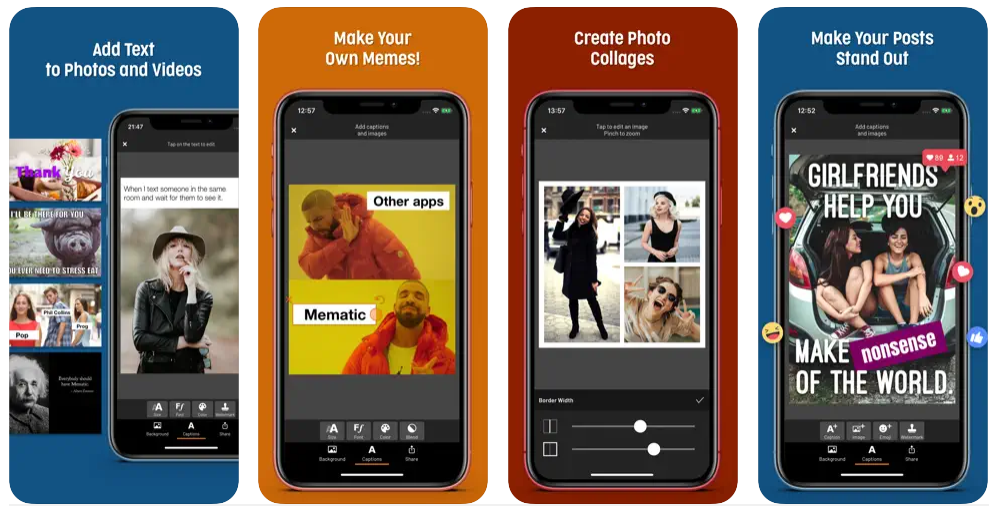 Mematic is a user-friendly meme maker app. With this app, creating memes becomes a breeze.
One standout feature of Mematic is its custom meme generation, which allows you to use images from your device's camera roll as backgrounds for your memes. This feature provides ample flexibility and customization options to personalize your creations. Once you've finished editing, Mematic makes sharing your memes a breeze. The app seamlessly integrates with popular social media platforms like Facebook, Twitter, Pinterest, Tumblr, and even allows you to share via email.
Key Features:
Simple Interface
Collage and Layout Templates
Customizable Text
5. GATM Meme Generator
Available for: Android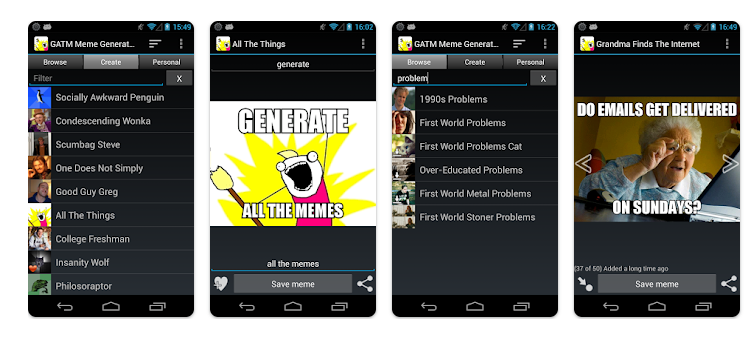 GATM Meme Generator is a dependable meme app for Android, it is designed to provide you with the tools they need to create and customize the latest meme pics.
The app offers a seamless browsing experience, allowing you to explore a variety of pre-built memes and easily add your own text. Moreover, it provides the flexibility to upload personal images, enabling the creation of unique and personalized text memes. Once your meme is ready, the GATM Meme Generator offers convenient sharing options, allowing you to share your creations effortlessly across multiple social media platforms.
Key Features:
Extensive Meme Collection
Regular Updates
Easy Sharing
6. Meme Fun
Available for: iOS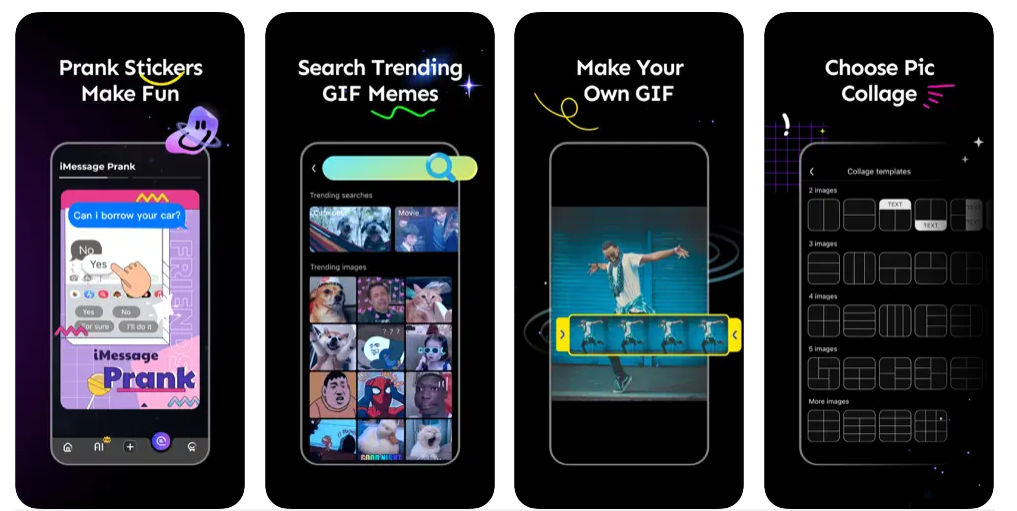 Meme Fun stands out with a diverse range of categories, including celebrities, cartoons, animals, rage, advice, and more, users are provided with a wide selection of options to choose from. These categories are further divided into sub-categories, ensuring that you can easily find appropriate meme pics for any given situation or theme you desire. And it offers hundreds of meme templates, ensuring a diverse range of options for meme creation.
Furthermore, you have the freedom to customize memes by adjusting text size, font style, and making meme collage. Whether you're looking to express your creativity or find the perfect meme for any situation, Meme Fun provides a comprehensive platform for meme enthusiasts.
Key Features:
Customizable Meme Templates
Memes Collage
Easy-to-use Text Tool
GIF Memes
How to Make Memes?
It is easy to make a meme online with Fotor, as it offers a range of features such as customizable text, diverse templates, and more.
Here are steps to create a meme picture in the Fotor app:
Open Fotor on your iOS or Andorid device.
Search for the keyword "meme" in the template center, and select one from the meme templates to customize, including text, font, size, orientation, etc.
You can also upload your own photos to make your own meme from scratch.
When you are done editing, click "Save" to download the funny meme to your album and share it with your friends and family!
Conclusion
These 6 meme maker apps offer convenient ways to create memes on the go. With their diverse features, extensive template libraries, and user-friendly interfaces, you can easily unleash your creativity and participate in meme culture. Whether you're an iOS or Android user, there's an app suited to your needs.
So, download one of these apps, express your creativity, and entertain your friends with hilarious and engaging memes wherever you are!