Procreate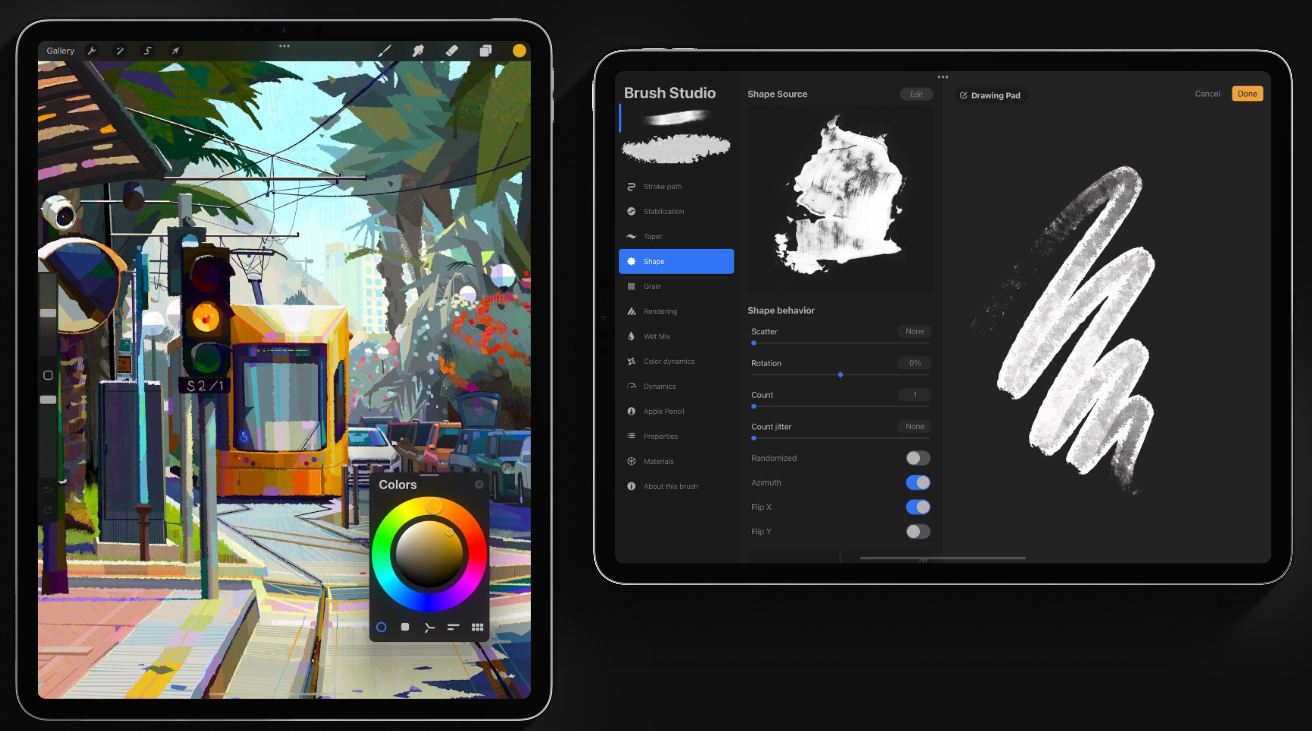 Procreate stands as a titan in the realm of iPad drawing apps. Known for its impressive array of brushes, intuitive interface, and powerful tools, Procreate is a good choice for both beginners and professionals. The app's responsiveness to the Apple Pencil's pressure and tilt sensitivity delivers a highly realistic drawing experience. From the color picker to the brush size, there are so many options to help improve your workflow. Plus, Procreate's color library is like no other with its ability to create your own palettes, color options and even color recommendations. From sketching to detailed illustration, Procreate's fluidity and versatility set a high standard for digital art creation.
Key Features:
Ultra HD canvas with support for 8Kx16K
Customizable frame-by-frame animation
100+ personalization options for brushes
A full-featured layering system
2D and 3D coloring and designer tools
Pricing:
Adobe Illustrator

Adobe Illustrator is a professional-grade painting app widely used by designers and artists for drawing on iPad. While it comes with a subscription fee, it offers an extensive set of features and integration with other Adobe Creative Cloud applications. Adobe Illustrator excels in creative drawing, creating vector-based graphics, providing powerful tools for precise drawing, typography, and image editing. It supports seamless integration with other Adobe products like Photoshop and InDesign, allowing you to work seamlessly across different platforms. If you are looking for industry-standard iPad drawing app with advanced capabilities, Adobe Illustrator is a top choice.
Key Features:
Pen, Pencil, and Brush tools to draw naturally
Smart Delete, Simplify Path for pinpoint editing
A comprehensive typing toolkit with 18,000+ fonts
Drag and drop colors for diffused color blending
Supports file sync and Photoshop import
Pricing:
Adobe Fresco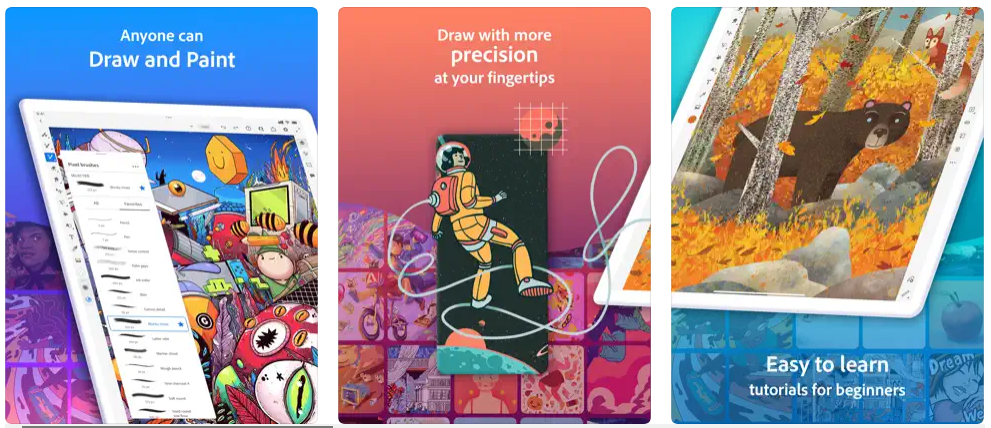 Adobe Fresco is a good digital drawing app for iPad and unique fusion of raster and vector capabilities, making it an excellent drawing app for artists who enjoy exploring both styles. It offers an extensive range of brushes, including live brushes that mimic the behavior of traditional media. This app also caters to the needs of digital painters, thanks to its realistic watercolor and oil painting effects. The incorporation of Adobe Creative Cloud ensures that your work is accessible across devices and can be easily shared with collaborators. Everyone can leverage the Adobe tool to discover the joy of painting and drawing, from animators to illustrators, sketches to artists.
Key Features:
Natural and expressive Live Brushes
Seamless integration with other Adobe software
Customizable tools and settings
Pricing:
Affinity Designer

Affinity Designer is one of the best drawing apps for iPad for beginners. It has gained acclaim for its desktop version, and its iPad iteration continues to impress. This vector-based app boasts a feature-rich toolkit, enabling artists to create intricate designs with ease. Its robust set of tools includes vector brushes, layer effects, and precise pen tools. Affinity Designer's ability to handle complex designs makes it a preferred choice for illustrators, logo designers, and graphic artists.
Key Features:
Optimized iPad gesture control for a touch-focused experience
Knife too, shape builder tool, and vector wrap
Unlimited artboards with linked symbols and constraints
Flow text, zoom at 120fpsm and live pixel preview
Pricing:
One-time payment for $18.49
ArtWorkout

ArtWorkout is a good iPad drawing app, which combines drawing and entertainment, making it an engaging option for those looking to enhance their artistic skills. The app offers step-by-step tutorials for various drawing styles and subjects, making it an excellent choice for beginners. Through its gamified approach, users can develop their skills while enjoying the process. Using ArtWorkout, new artists can easily learn through bite-size pieces in a stress-free manner. Apart from 500+ lessons, it offers drawing tips and tricks, useful for both kids and adults. While it might not be as feature-packed as some other apps, ArtWorkout's unique approach makes it a noteworthy contender.
Key Features:
Stress-free, easy to learn, bite-size pieces
Suitable for kids and for adults, for beginners and pros
Interactive courses in Doodling, Sketching, Drawing, Painting and Handwriting
Pricing:
ArtRage Vitae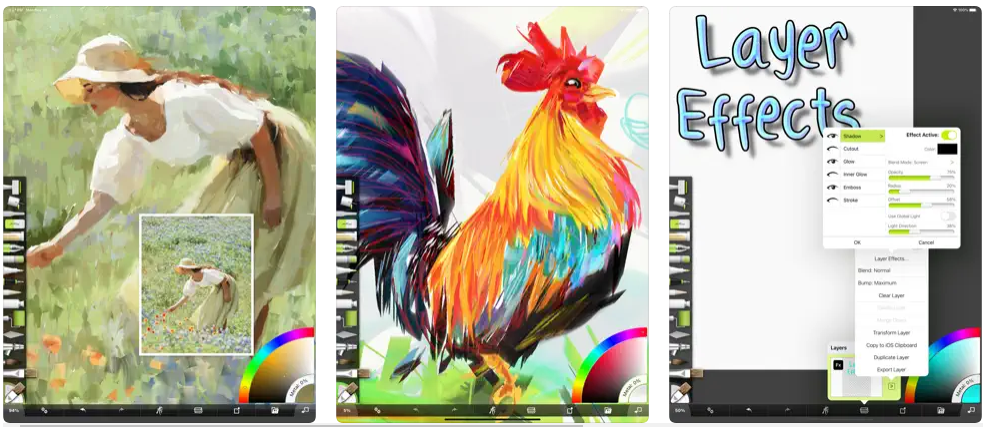 ArtRage Vitae is the newest edition of one of iPad first and longest-running digital painting apps. It brings the charm of traditional art mediums to the digital realm. With a focus on natural media simulation, this app replicates the texture and behavior of real-world tools like oil paints, watercolors, and pencils. The app's interface is designed to mimic a physical canvas, offering a tactile experience for artists who want to explore digital art while retaining the organic feel of traditional materials.
Key Features:
4096 x 4096 Canvas resolution for all devices
Unlimited layers with visibility control and standard blend
Airbrush, oil brush, paint roller, paint tube, glitter tube, and crayon
Texture and color control
Pricing:
Concepts

Concepts, an excellent iPad drawing app, stands out for its infinite canvas and versatile toolset, making it a favorite for artists who enjoy brainstorming, sketching, and ideation. The app's vector-based system allows for precise line work, while its fluid interface encourages free-flowing creativity. Concepts' adaptability makes it suitable for various creative endeavors, from architectural sketches to character design. With all its abilities, this is a drawing app used by some of today's leading companies, including Disney, Philips, Apple, Playstation, and Google.
Key Features:
An infinite canvas with optional paper types and grids
Realistic pens, pencils and brushes that flow with pressure, tilt and velocity or create your own
A tool wheel or bar you can personalize
HSL, RGB and COPIC color wheels
Editable vector-based sketching – move, organize and edit the tool, color, size, scale, smoothing, opacity; transform or nudge lines to shape them
Scale and measurement tools that calculate real-world dimensions
Pricing:
$10 / month or $8.33 / month billed annually per user
Linea Sketch

Linea Sketch is one of the best drawing apps for iPad, which focuses on simplicity and elegance, providing a streamlined platform for artists who want to capture their ideas quickly. The app's minimalist design belies its capabilities, offering a range of brushes and tools for effortless sketching and note-taking. Its user-friendly interface and distraction-free environment make it a preferred choice for artists who prioritize spontaneity and ease of use.
Key Features:
Pricing:
Linea Monthly Subscription: $0.99
Linea Yearly Subscription: $9.99
Linea Full Purchase: $29.99
Autodesk Sketchbook

Autodesk SketchBook has stood the test of time as a reliable digital drawing app. With a comprehensive set of brushes, customizable brushes, and a clean interface, it caters to artists across skill levels. The app's symmetry tools and perspective guides are particularly useful for creating balanced and accurate compositions. Autodesk's reputation for quality software further solidifies SketchBook's place among the best drawing apps for iPad.
Key Features:
A full complement of brush types
Brushes are highly customizable so you can create just the look you want
Guides, rulers and stroke tools support precision when you need it
Layers with a full complement of blend modes deliver the flexibility to build up and explore drawings and color
Purpose-built for sketching, the interface is clean and unobtrusive so you can focus on drawing
Pricing:
Conclusion
In this post, we have shared the 10 best drawing apps for iPad for creative drawing. Whether you're a professional illustrator, a hobbyist, or someone eager to explore the world of digital art, the 10 drawing apps discussed above offer a diverse range of options to suit your creative aspirations. As the digital art landscape continues to evolve, these iPad drawing apps empower artists to bring their visions to life with unprecedented ease and precision.