Fotor's AI image generator is a user-friendly and powerful tool, it enables you to leverage AI to create visually appealing designs and artwork. This AI-driven solution to streamline the design process and empower users to generate creative images with ease.
The most remarkable feature of Fotor's AI text generator is that it is perfect for novice users. No editing or design skills are required, just enter the text of your desired artwork in as much detail as possible and you can easily and quickly create stunning artwork such as AI anime characters, AI avatars, AI backgrounds, 3D illustrations, and more with the help of artificial intelligence. Fotor will bring your vision to life in seconds. Try it now!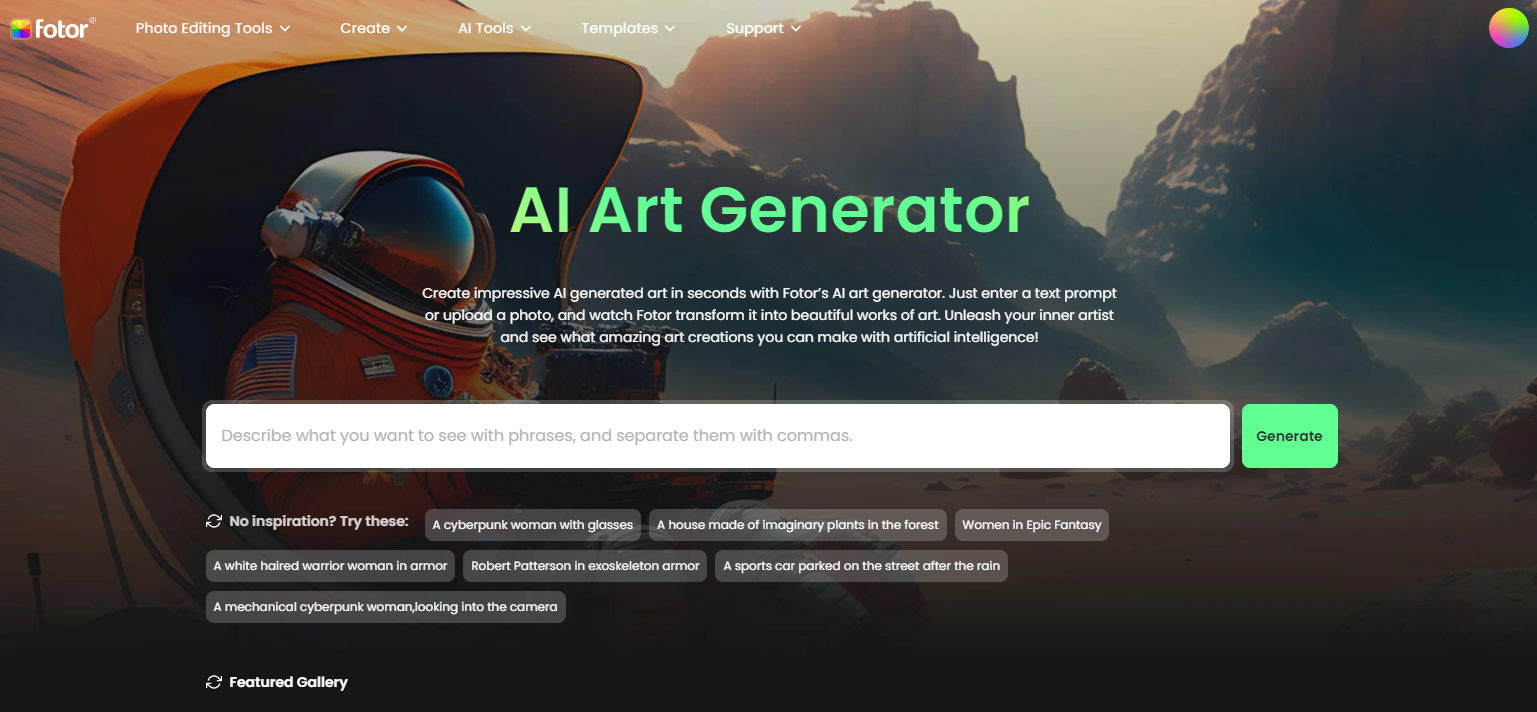 Key features:
User-friendly interface
Two generation mode (text-to-image and photo-to-image)
Various AI effects to choose from
Rich design elements and editing tools
2. DALLE-E 2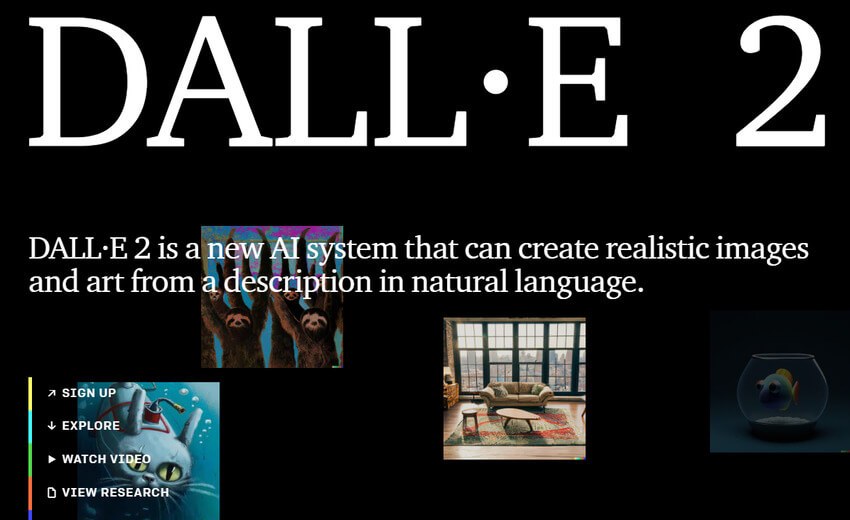 DALL-E 2, an advanced AI image generator tool developed by OpenAI, generates high-quality images from textual descriptions and has a wide range of applications.
To use DALL-E 2, simply input the text, and the tool will generate a series of images based on your description. It can be utilized for creating illustrations, digital art, concept visualization, user interface design, and generating new ideas for businesses. One of its standout features is the paintbrush, which allows users to add intricate details to images, such as shadows, highlights, colors, and textures. With DALL-E 2, the creative possibilities are virtually endless.
Key features:
Generate from text and images.
A broader range of artistic styles and interpretations.
Support for editing and adjusting the generated images.
High-quality image generation
3. NightCafe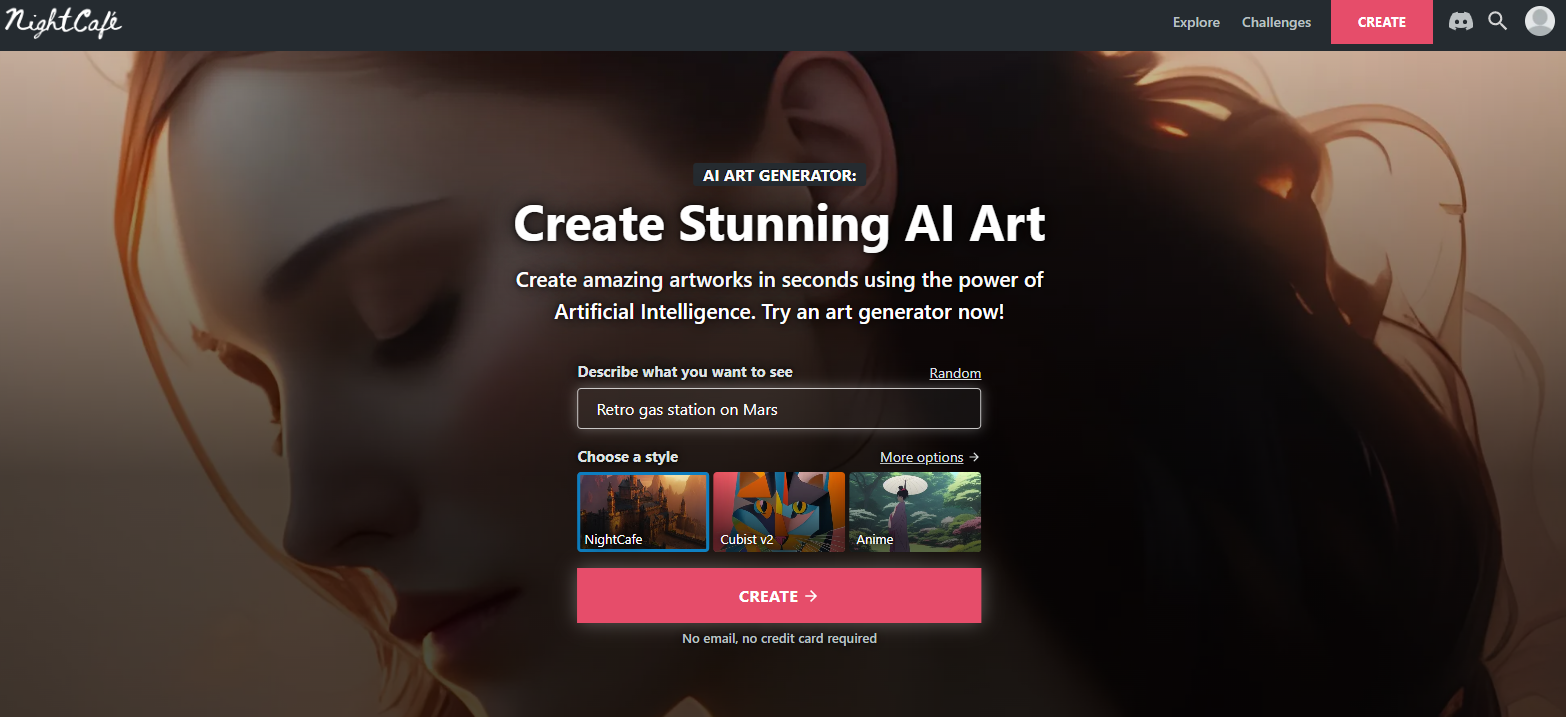 NightCafe stands out as a prominent player in the realm of AI-driven art generators. Renowned for offering a wider variety of algorithms and options compared to its counterparts, it is remarkably user-friendly, catering to both beginners and experienced users.
This AI art generator operates on a credit-based system, featuring an ample free tier that allows users to explore its capabilities. Additionally, users can acquire more credits by actively engaging in the community, which promotes collaboration and interaction among its members.
Key features:
Acquire credits through community involvement
Numerous interactive elements and a lively, supportive community
Download all your images in bulk
Video generation
Purchase a printed version of your artwork
4. Midjourney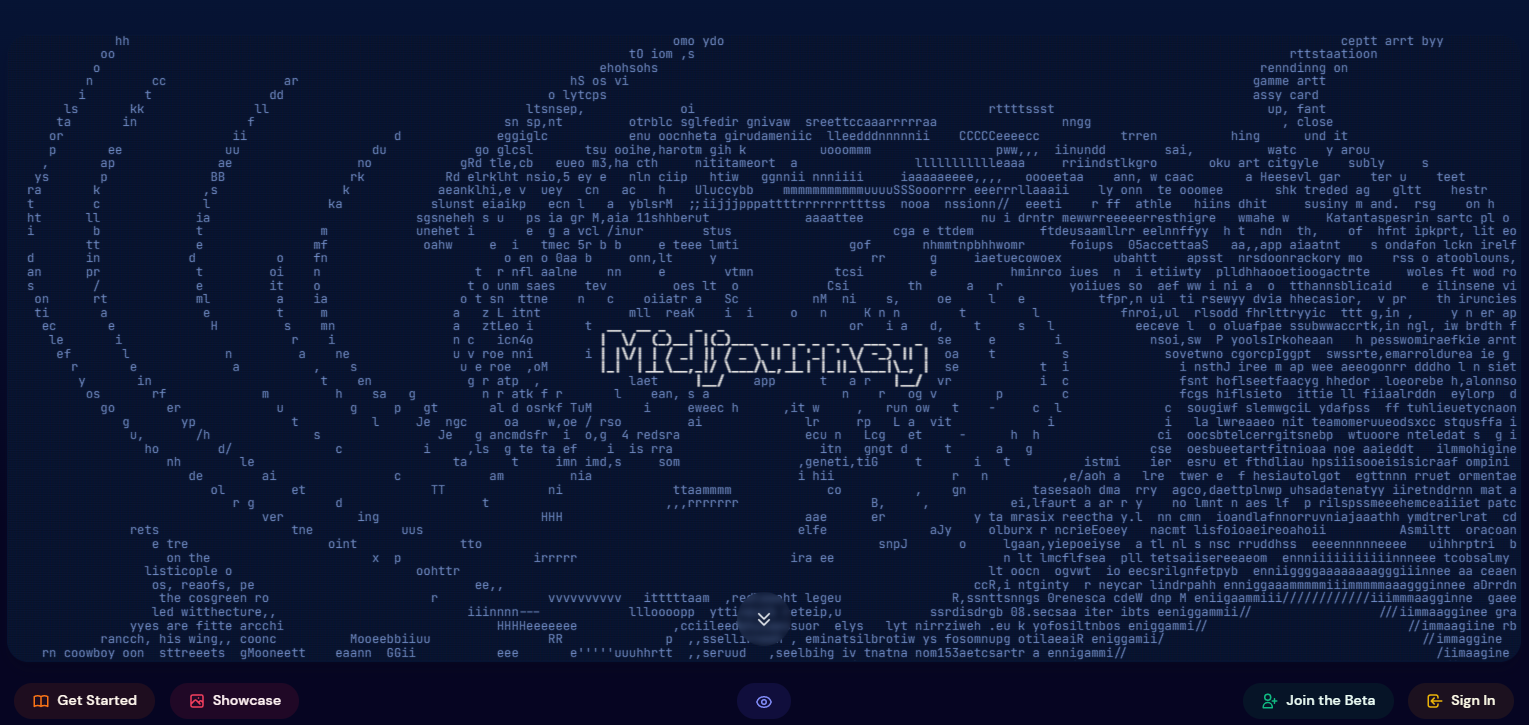 It is not the only AI tool on the market that performs creative art and design. But it is one of the most developed ones. Midjourney is known for its aesthetically pleasing images, it has gained popularity among designers and artists due to its distinct aesthetic and high-quality output.
The tool is remarkably user-friendly, requiring users to simply input a detailed description of the desired image, and swiftly generate the envisioned result. It is particularly attractive to those involved in the creation of science fiction literature or art, who require a more artistic touch. Unlike other AI image generators that focus on photo-based outcomes, Midjourney is more of a painting tool.
It is worth mentioning that, Midjourney runs on Discord. To be able to use Midjourney, you should have a Discord account first.
Key features:
Multiple variants available
Trainable AI models
Utilizes discord, you can see others' inputs and outputs in the Discord chat
Highest-quality AI art output
Creates art for a variety of uses
5. Craiyon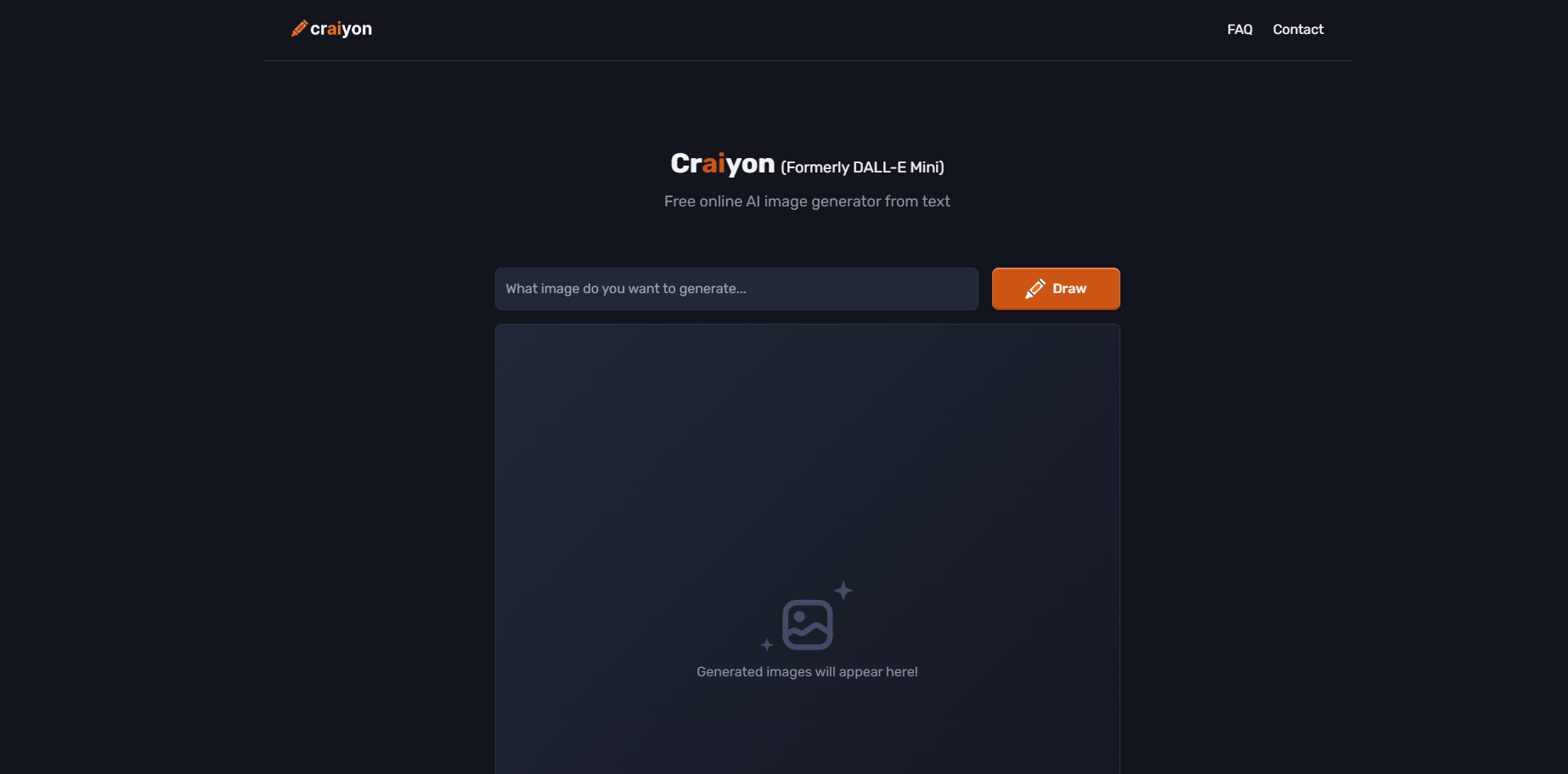 Craiyon emerged as one of the pioneering AI art generators in the market last year. Utilizing DALL-E Mini technology, this tool generates images from straightforward text input. Be it a Picasso-inspired creation or a cyberpunk style, Craiyon can produce these visuals using basic verbal instructions. The tool can be employed for various purposes, such as advertising, promotional campaigns, or designing artistic effects.
Distinct from many AI image generators, Craiyon offers image generation at no cost. It presents nine outcomes for each prompt, enabling users to experiment until they achieve a satisfactory result.
Key features:
Easy-to-use interface
Free and open to use
No limits to images generations
Android app available
6. Hotpot.ai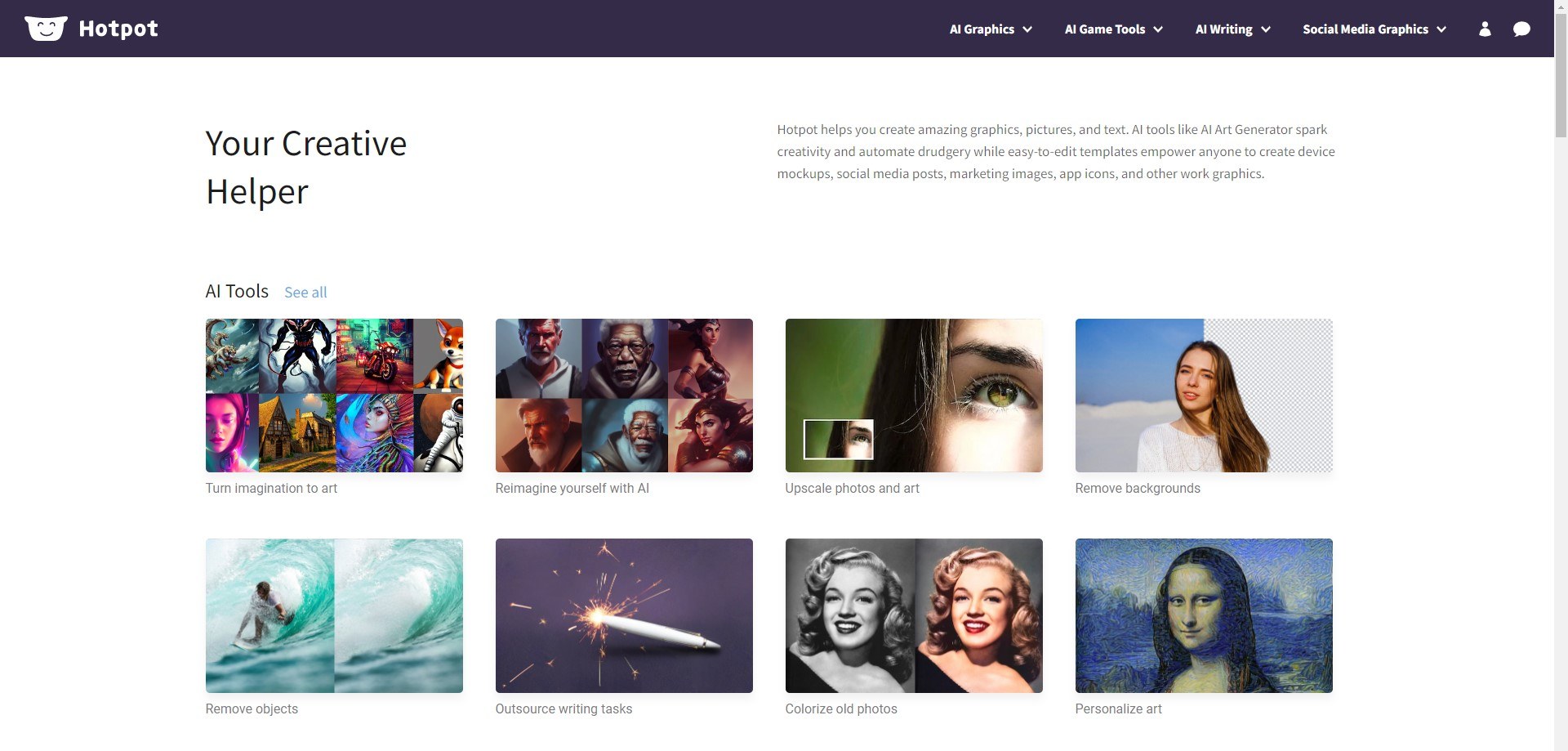 Hotpot AI is a versatile tool that assists users in generating eye-catching graphics, images, and text, fostering creativity and automating tasks. With user-friendly, editable templates, individuals can effortlessly design a variety of graphics, including device models, social media posts, marketing visuals, app icons, and more.
The text-to-image AI painting generator offered by Hotpot AI empowers users to produce captivating paintings, illustrations, and visuals. Simply provide a description of the desired output, and witness Hotpot AI transform it into a vivid creation. This innovative tool streamlines the creative process and enables anyone to generate stunning visual content.
Key features:
Good results
Generation speed is quick
Tons of styles to choose from
Conclusion
The fusion of art and artificial intelligence has opened up a world of new possibilities for creative expression and innovation. In this blog post, we present a collection of six potent AI art generators tailored for art design, allowing you to select the one that best suits your requirements. Whether you are a professional graphic designer or just a casual user who wants to have fun generating images, there is an AI image generator for you. We hope that this compilation of AI platforms proves valuable and beneficial to you!