Most Popular Instagram Filters
1. Clarendon
At the top of our list is Clarendon, which beloved for its ability to enhance colors and create a vibrant and lively atmosphere. Perfect for landscapes, fashion, and food photography, Clarendon is a go-to filter for many Instagram enthusiasts.
It adds a touch of brightness and contrast, making your images pop with stunning clarity. And it effortlessly lifts shadows, revealing hidden details and adding depth to your photographs. By doing so, Clarendon bestows upon your images a sense of vitality and vibrancy that truly makes them stand out in the crowd.
A notable aspect that may explain Clarendon's dominant position as the top filter choice is its convenient placement within the Instagram editing interface. As the default filter immediately following the Normal option, it becomes readily accessible and convenient for users who seek to enhance their photos effortlessly.
2. Juno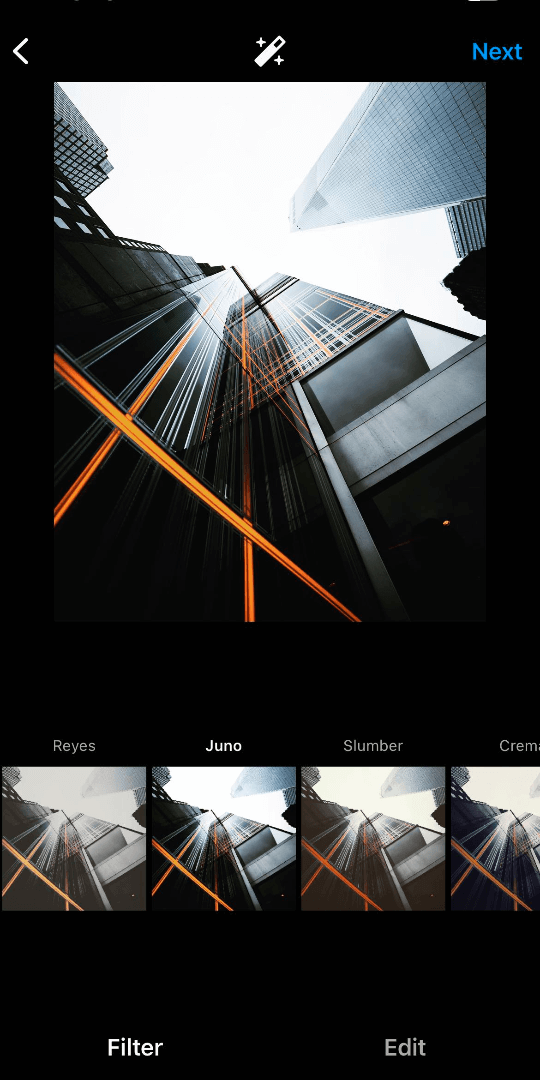 Due to its adaptability and capacity to enhance a variety of photographs, Juno has become incredibly popular among Instagram users. This filter is renowned for its delicate contrast and saturation changes, which provide a harmonious and visually attractive result. Juno gives your photos a compelling touch by boosting warm tones like reds and yellows, making them stand out from the crowd.
This feature is particularly useful when you want to create a cozy and inviting atmosphere in your photos. Whether you're capturing a sunset on the beach or a cozy coffee shop scene, Juno can add warmth and depth, giving your images a distinct visual appeal.
Moreover, Juno is not limited to still photos alone. It can also enhance the vibrancy of your urban shots, and making your urban scenes burst with energy and capturing the essence of city life.
3. Gingham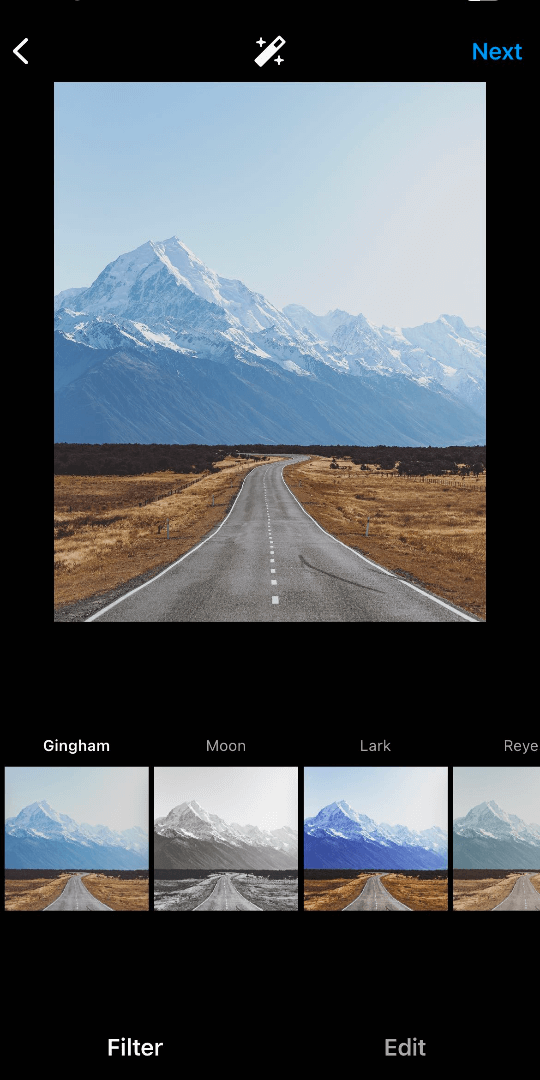 Gingham is one of the most popular Instagram filters known for its vintage and retro aesthetic. It works beautifully for various subjects, such as landscapes, nature scenes, cityscapes, fashion, and even portraits.
The Gingham filter applies a subtle wash of sepia tones to your photos, giving your photo a nostalgic and timeless feel. Your photographs will appear more warm and dreamy thanks to the filter, which also intensifies the highlights and adds a subtle fading effect. Gingham is often favored for its ability to create a cohesive and cohesive Instagram feed with a consistent vintage vibe.
4. Lark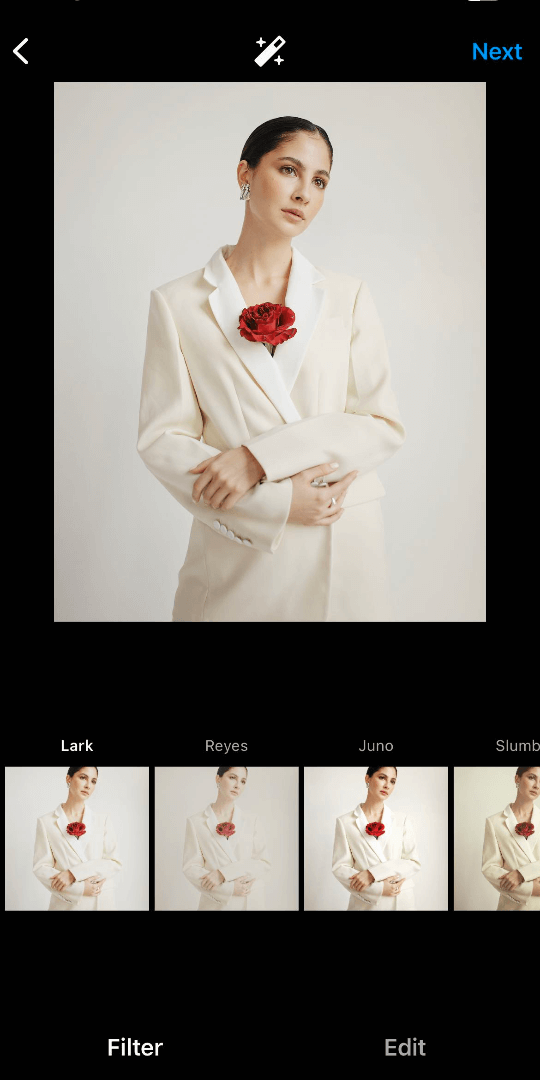 If you want to brighten up your photos or have some fading effect, this filter will be your first choice. Lark is an excellent Instagram filter that works well in a variety of shooting conditions, including low light situations. By increasing the exposure and adjusting the color saturation, Lark produces a unique visual impact. It decreases the saturation of reds, purples, and magentas, while simultaneously enhancing the saturation of blues and greens.
Whether you're exploring breathtaking mountain ranges, relaxing by the beach, or enjoying a scenic hike, this filter can enhance the allure of your Instagram posts, and providing a fresh perspective to your audience.
5. Sierra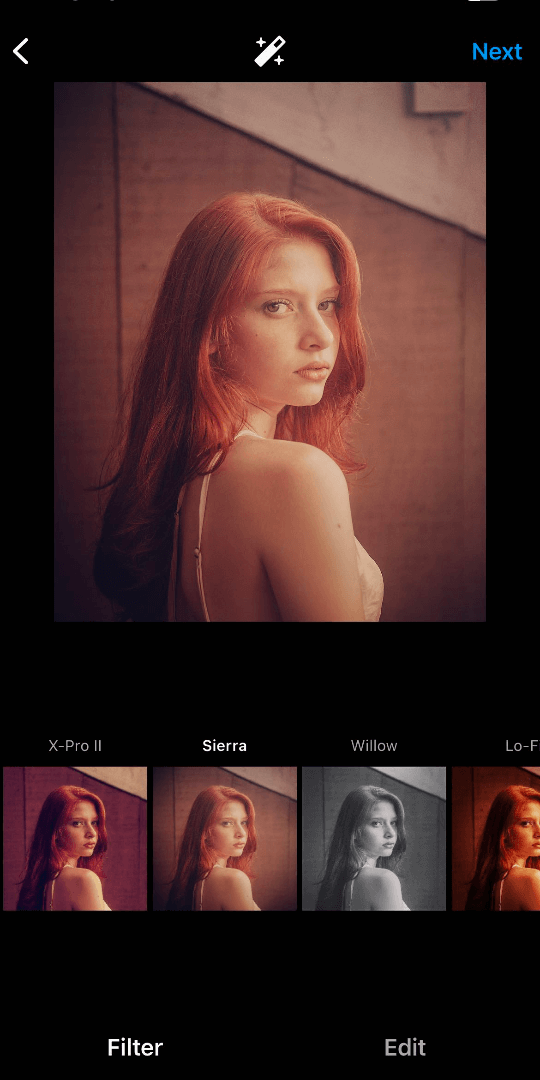 Sierra is similar to Gingham, it adds a warm, earthy tone to your photos and gives them a slightly faded and vintage look. This filter often increases the exposure, adjusts the saturation, and adds a subtle vignette effect to the corners of the image.
Sierra works best with images that have warm tones, such as golden sunsets, autumn foliage, or rustic scenes. The filter can add a touch of depth and moodiness to your photos, making them visually captivating and inviting.
6. Ludwig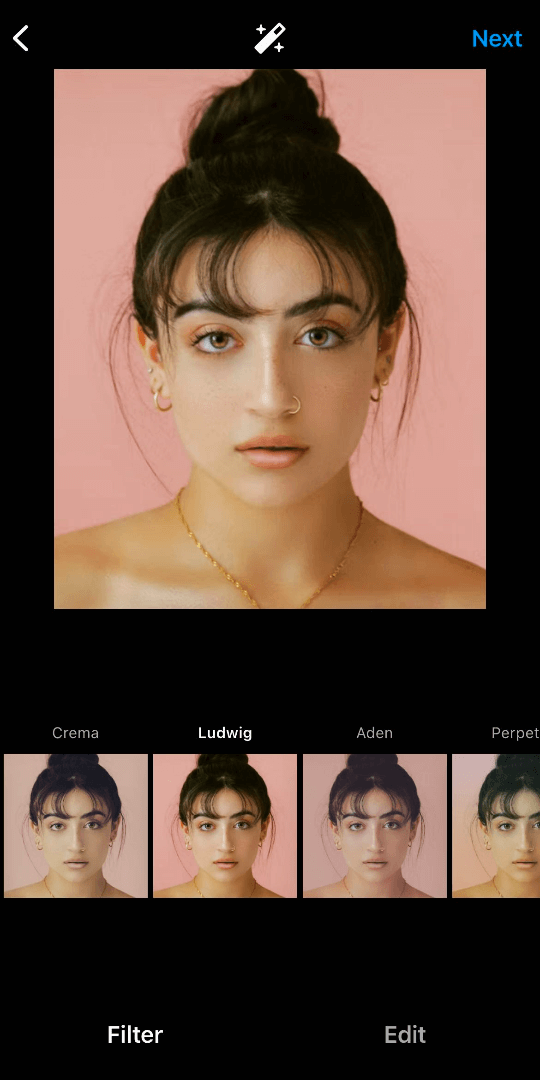 The Ludwig filter is a preferred option for fashion, lifestyle, and architectural photography because of its contemporary and timeless appeal. It adds a subtle but noticeable boost in brightness, saturation, and contrast, giving your images a clean and polished look. By giving skin tones a smooth and radiant look while yet keeping the natural characteristics and textures, it may also improve portrait photography.
How to Use Instagram Filters
Access your Instagram profile by tapping the top left corner of your screen on the profile picture, or simply swipe right from any point within your feed.
Scroll towards the bottom of the screen and swipe left to browse through various effects. For additional effects created by independent creators, continue swiping left and tap on the desired option.
Capture a photo by tapping once, or record a video by tapping and holding the capture button.
That's it!
How to Get Instagram Filters
While Instagram offers a range of filters and effects, customization options are limited, and users often find it challenging to achieve comprehensive photo editing and optimization solely within the app, filters alone may not suffice for the desired results. Fortunately, there is a solution that combines trending Instagram filters with powerful editing tools - Fotor.