Fotor's background remover uses AI technology to automatically identify the subject of the image and remove the background into a transparent background image, which you can replace background color- including add white backgrounds to photo, of course. Fotor also allows users to preview images with different backgrounds before saving the final version. With just a few clicks, you can change the background in photo to white online. No photo editing skills are required and there is no need to download any heavy software.
Here's how to use Fotor to change the background of a photo to white:
Open Fotor's background remover, Upload image or drag and drop the image you would like to edit.
After a few seconds, Fotor will erase the background from your images automatically.
Click on the "Change Background" option to add white background to photo. You can continue editing your image with multiple built -in tools until you are satisfied.
Preview and download your image in PNG format to get your desired white background picture.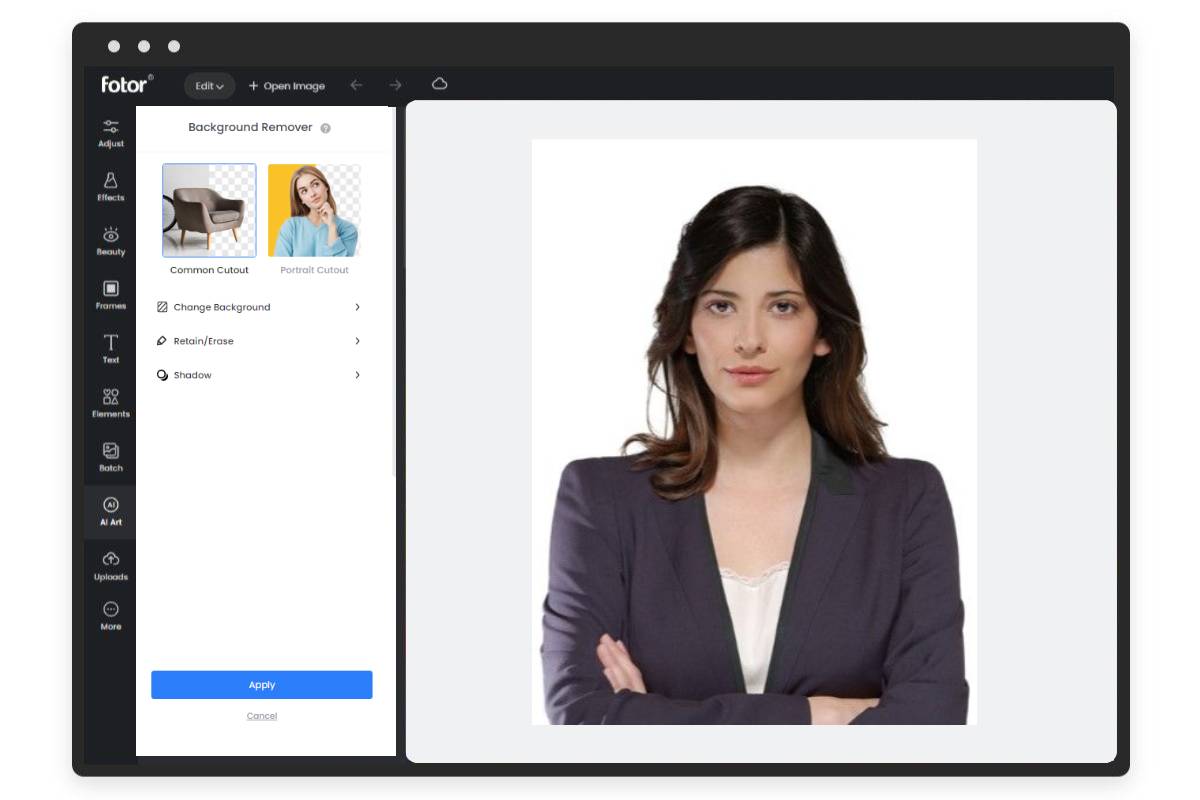 How to Change Photo Background to White With Photoshop
Photoshop is a professional image editor to change background in photo to white with Photoshop that allows precise selection and non-destructive editing, provides advanced editing tools, and offers a range of export options to share the final image.
Changing background of a picture to white with Photoshop can help give your photos a professional and polished look, create a consistent brand image, and give you more creative control over your images. It can also improve readability and allow you to remove unwanted objects or distractions from the background.
While there are many benefits to changing the background of a photo to white with Photoshop, there are some potential drawbacks to be aware of: Time and skill required, potential for inaccuracies, limited flexibility, and the cost of the software.
Below is the step-by-step guide on a simple way to use Photoshop to change photo background:
Open your image in Photoshop.
Select the Wand tool from the toolbar on the left side of the screen.
Click on the background area of your image to select it. If the wand tool selects too much of your image, you can hold down the Shift key and click on other areas of the background to increase the selection.
Once the background is completely selected, press the Delete key to remove it.
Click the New Layer button at the bottom of the Layers panel to create a new layer.
Select the new layer, choose the Paint Bucket tool from the toolbar, select white as your color, and click on the new layer to fill it with white.
Drag the new layer under your main layer.
Save your new image as a PNG or JPEG file.
That's it. This simple method is a great way for beginners to use Photoshop to remove the background of a photo and replace it with white. Note that depending on the complexity of the image, you may need to use other selection tools or techniques to achieve a more accurate selection.
Conclusion
A white background provides an even and neutral background without any distractions and is suitable for all types of photos. But when a photo has no background, how can you change it to white? Fortunately, there are 2 best ways to do this, including using an online background changer or Photoshop.
In this article, we have shared why you need a plain white background for your image, and how to change photo background to white with Photoshop and an online background changer! We hope this tutorial can be helpful to you!