Each face created by Fotor face generator is unique. You can create as many face portraits as you like and use them as you like. You can generate random faces to inspire creativity and use as profile photos.
Key Features:
Get 2 modes of AI-generated images: text-to-image and image-to-image.
Multiple art styles to choose from.
Preset various parameters of the generated image: scale, details, lighting effects, etc.
Free image tools to refine the generated AI artwork.
Trade the generated images as NFT digital artworks.
BoredHumans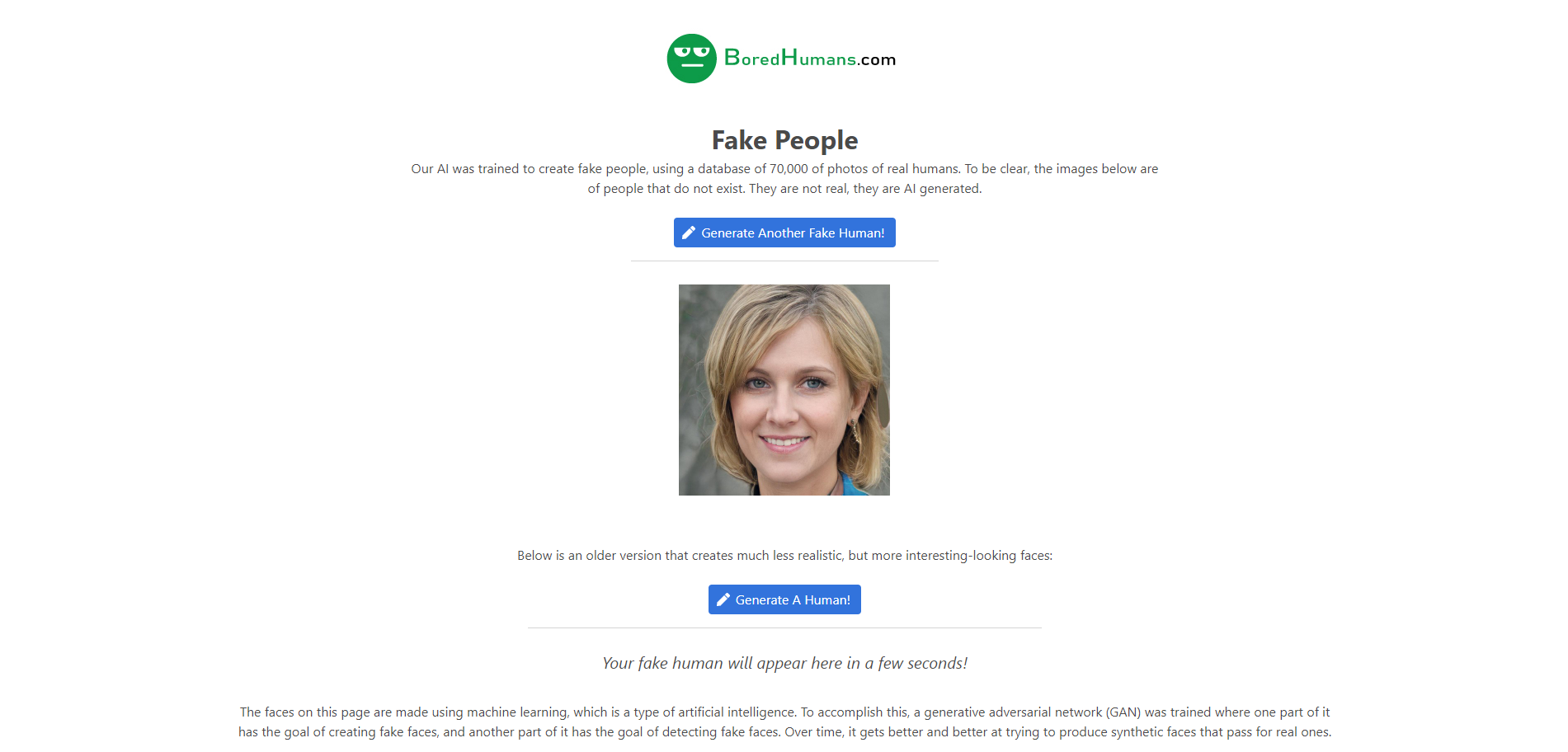 The BoredHumans website is an artificial intelligence based platform that offers many features and tools that are technically similar to random face generators as they use sophisticated algorithms and machine learning.BoredHumans Generator makes it easy for users to generate realistic faces with its powerful algorithms and machine learning capabilities. It takes information from a huge database of over 70,000 real human images to ensure that each output face looks as realistic as possible.
They offer features such as a lyrics generator, AI-based drawing, deep vacation videos, and more. In addition, you can also use their older models to create more interesting looking models, although less realistic than newer algorithms. BoredHumans' AI system can also provide you with other services such as generating AI that draws, AI that generates quotes for you, and AI that tells jokes. This program and website have a lot of content and you can take advantage of most of their services for free.
Key Features:
Delivers really good results.
It is free to use.
Easy to use and fast results.
Generate realistic human faces easily.
Database with over 70,000 real human images.
Fake Face Generator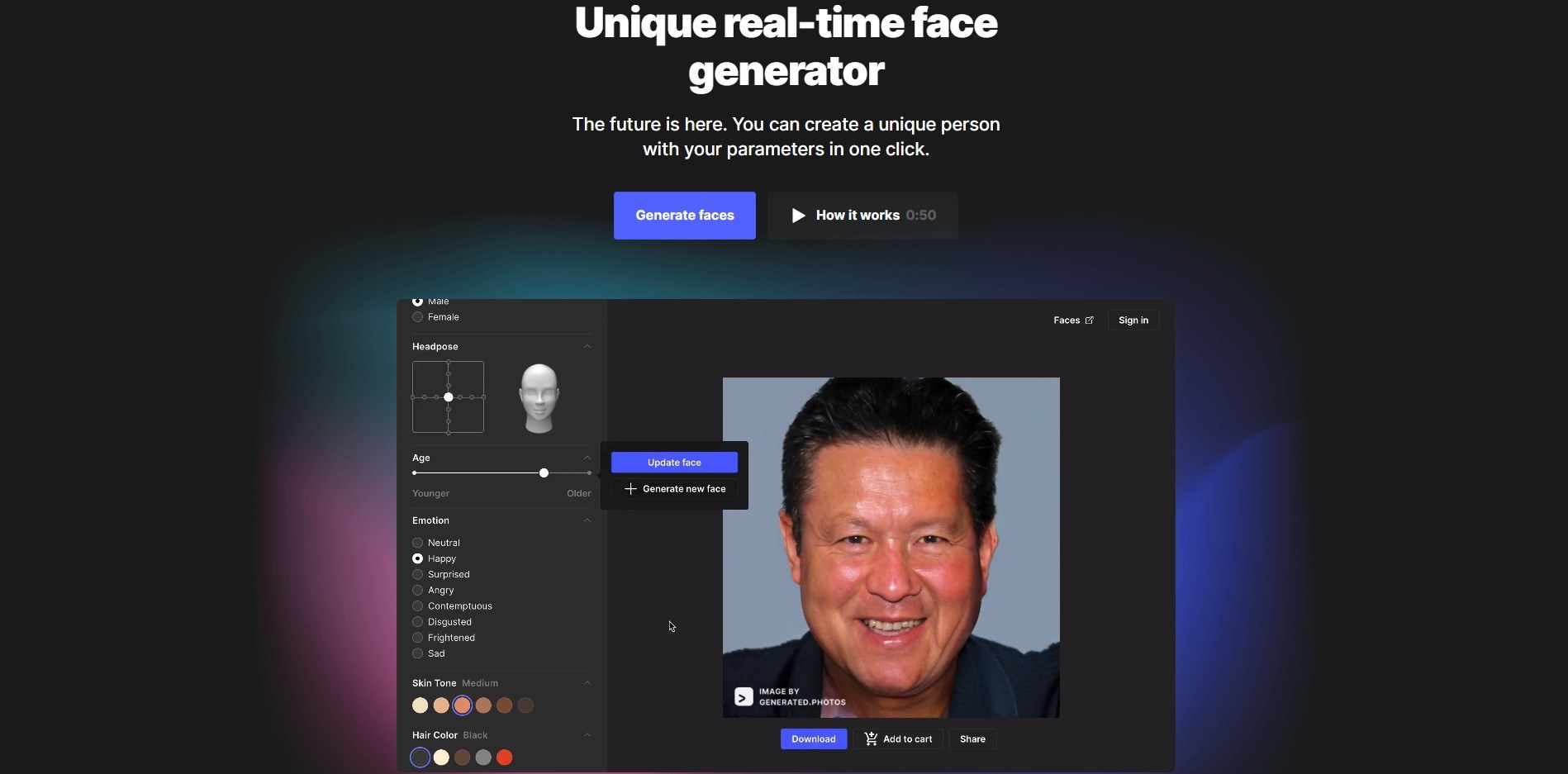 With the Fake Face Generator, anyone can create realistically generated faces on the go. By using artificial intelligence-based technology, this mobile application can provide you with a large number of random faces in a very short period of time. Generated faces come from all age groups, genders and styles - it produces random faces of men, women and children. You can use these images to overlay your profile picture, play harmless pranks on your friends, and much more.
With previous versions already released and more updates coming soon, this useful mobile tool offers plenty of opportunities to customize profile pictures, create artwork, and much more.
Key Features:
Helps to generate many images in a quick time.
Generated faces have a range of features.
Constantly updated with new versions.
Useful for profile pictures, artwork, etc.
May be unresponsive.
This Person Does Not Exist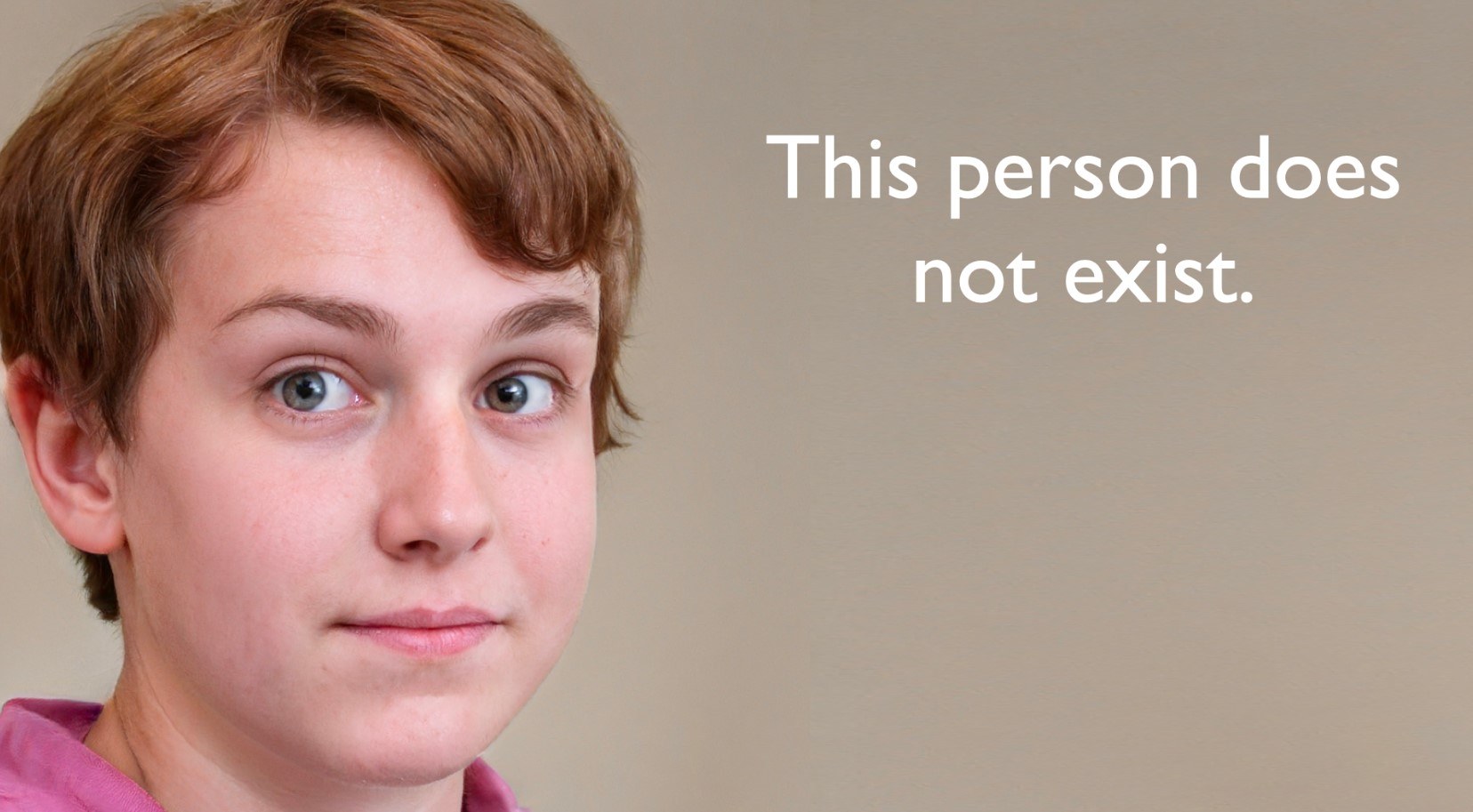 This Person Does Not Exist is an innovative tool that revolutionizes the concept of generating random faces by automatically generating faces every time we visit. Its signature feature is that it delivers realistic faces in seconds with just one click. But this app doesn't really offer any editing or customization options for the user, so it's best to use this app in case you don't need any specific kind of random face. The app just keeps generating images each time you click to refresh the faces. The site will create random faces of women, children and men on a rotating basis.
The technology uses various elements and facial features such as teeth, hair color, background and accessories to make the generated faces look more realistic. This sophisticated capability makes this tool truly compelling, providing users with a customized digital identity for their intended purpose at any given time.
Key Features:
Refresh option to change the generated faces.
GAN technology with two neural networks.
No customization options at all.
Marketing Tool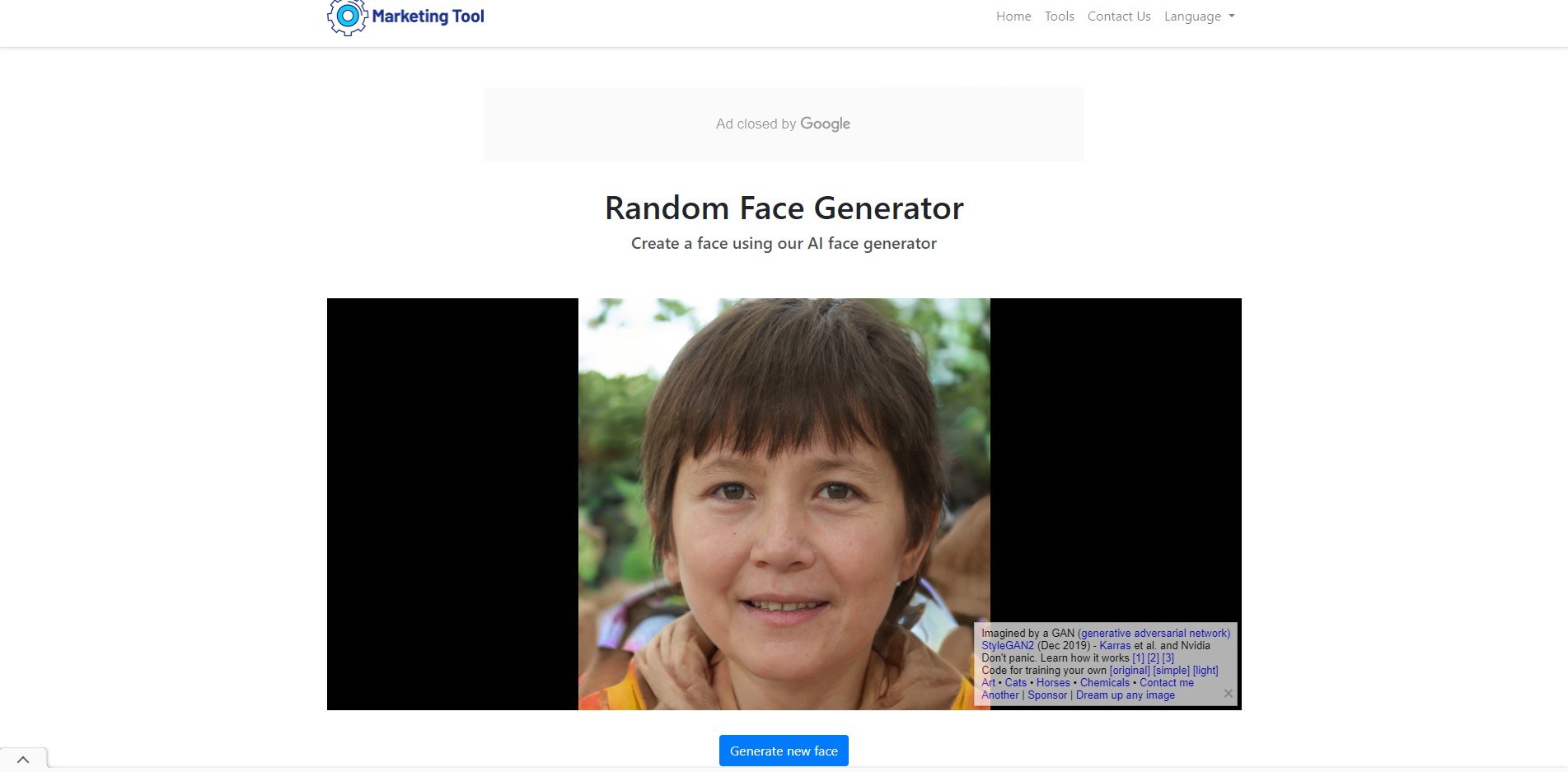 Marketing Tool provides a free random face generator that operates similarly to the previous tool in this list. However, the way to download images is a bit different here. You need to right-click on the image and then click "Save As" to download it. Below the image there is a "Generate" button which will keep generating new images when you click on it. The application uses a GAN based algorithm to create random faces.
After processing, it makes downloading your AI-generated faces a simple task. These images are highly versatile, so they can be used in many ways. The generator is the perfect tool for people looking for ultra-customized random faces. This cutting-edge technology uses the facial impressions and features of real photos to create natural faces without any artificial elements.
In addition, you are able to get over 1 million automatically generated fake faces with this tool, making it one of the fastest and most comprehensive processes on the market today.
Key Features:
Realistic photos of facial expressions and features.
Natural faces.
Nvidia's GAN.
Over one million automatically generated faces.
Need more editing tools.
Conclusion
Random Face Generator can be a great application to make some creative profile pictures or it can also be used as a simple entertainment tool. In this article we went over what a face generator is and when to use Random Face and introduced five of the best AI random face generators for you to choose from. We hope this article will be helpful to you.