Looking to keep up with the latest ways to give your YouTube channel that cutting-edge look?
Spice up your channel with all you need to know about making the perfect YouTube banner.
Read on to learn more about YouTube Banner Size as well as some design tips and tricks for creating your own YouTube cover.
Why are YouTube Banners so Important?
The YouTube banner or sometimes called the YouTube cover is the first thing people see when clicking on your channel.
We all know first impressions matter, especially on YouTube, where there are thousands of channels to compete with.
That's why you want viewers to instantly vibe with your channel. And the best way to do that is with an informative and eye-catching YouTube banner.
However, the most important reason for having an outstanding YouTube banner is because it represents your brand.
What are the YouTube Banner Size Requirements?
Nowadays, people are using all sorts of devices to view content online.
So, it makes sense that you need to make sure your YouTube banner size is compatible with all platforms.
For example, YouTube banners for a tablet, TV, or cellphone will have different YouTube banner size dimensions.
According to YouTube, the YouTube banner size requirements are:
Recommended: 2560 x 1440 px. (to fit TV size)
The minimum dimension for upload: 2048 x 1152 px with a minimum 16:9 aspect ratio.
At the minimum dimension, the safe area to ensure logos and text doesn't get cut off is 1546 x 423 px.
Maximum width: 2560 x 423 px.
Maximum file size: 6MB or smaller.
The handy picture below displays the YouTube banner sizes required for different platforms. Here you can see the different dimensions for tablets, cellphone, and TV.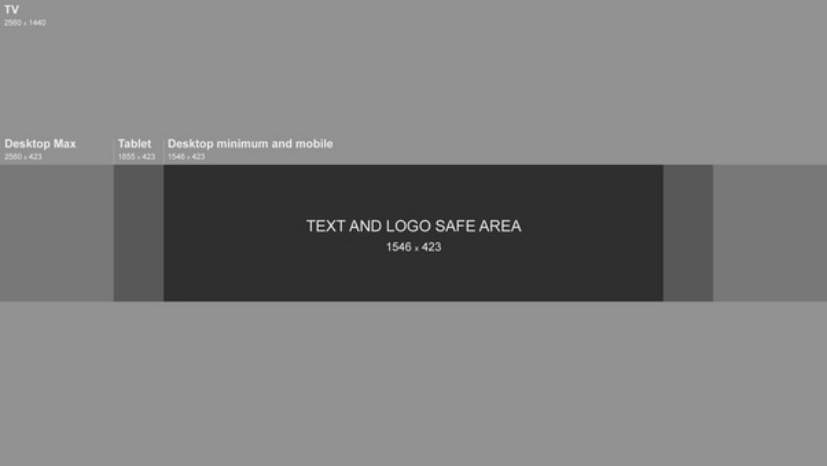 By following these guidelines, you don't need to worry about your YouTube cover looking out of shape.
6 Inventive and Awesome YouTube Banner Ideas and Examples
1. Geico Insurance

Geico Insurance constantly updates and changes its YouTube cover to promote its advertising campaigns. Here you can see their friendly mascot driving his car.
Geico knows that when you see this cute little gecko, you're thinking of them. No words are needed to get the message across here.
2. Bodybuilding.com

Bodybuilding.com's YouTube cover works so well because it offers two things.
One, it shows you their athletes working out and two, it shows you their merchandise. Anyone looking at this banner will instantly understand their brand.
3. Laura in the Kitchen

Laura's YouTube banner has a great way of showing you everything in a snapshot.
On the left, you can see a knife with her website's name on it. Here you can buy the products she uses in the show.
And on the far right, you can see the delicious food she is making. Easy to understand, right?
4. MotorTrend Channel

Popular TV show MotorTrend TV looked for new avenues to promote their brand and found just what they were looking for on YouTube.
They use their YouTube banner to promote their upcoming shows. And because changing the YouTube cover is so easy, they can update the banner whenever they want.
5. Yellow Brick Cinema

Yellow Brick Cinema is a YouTube music channel that offers relaxing music for you to fall asleep or to unwind.
Their YouTube banner has a perfectly chosen background with their logo and brand name directly in the center.
Placing this information in the center meets YouTube channel art size requirements and draws the viewer's attention to the most important aspect – the brand.
6. GameGrumps
GameGrumps give their audience hilarious gaming entertainment. And they are one of the most popular gaming channels of YouTube.
Their YouTube banner shows you everything they are about. They are fun, wacky, and here to give you a good time.
How to Make Your YouTube Cover with Fotor?