Pixlr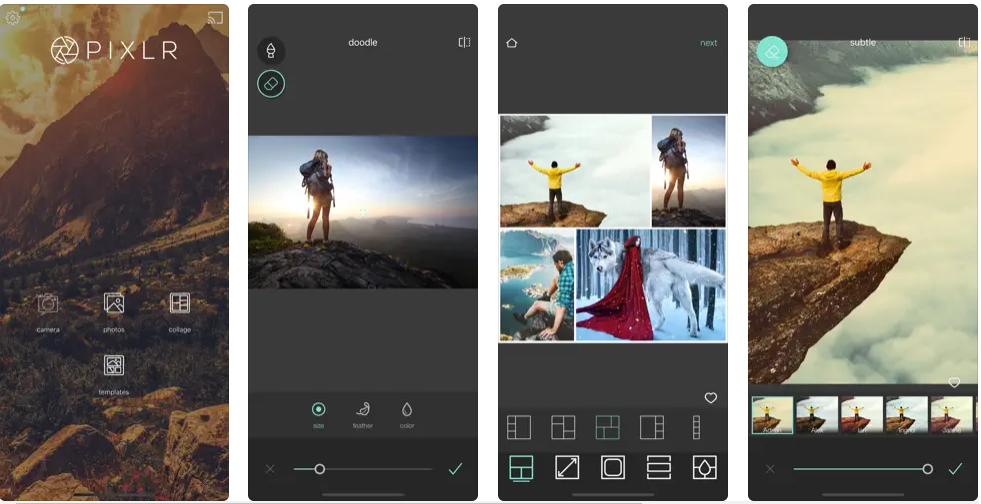 Pixlr is an all-around photo editing app that includes a reliable image resizing feature. With Pixlr, you can easily resize your photos by specifying the desired dimensions or by choosing from pre-defined aspect ratios. This photo resizer app supports both manual resizing and batch resizing, allowing you to process multiple images simultaneously. Pixlr also offers a wide range of editing tools and filters, making it a great choice for those who seek advanced photo editing capabilities along with resizing.
Available for: Adroid/iOS
Pros:
Basic Photoshop alternative
Also includes retouching tools
A user-friendly interface
Cons:
It tends to be buggy.
Pricing:
YouCam Perfect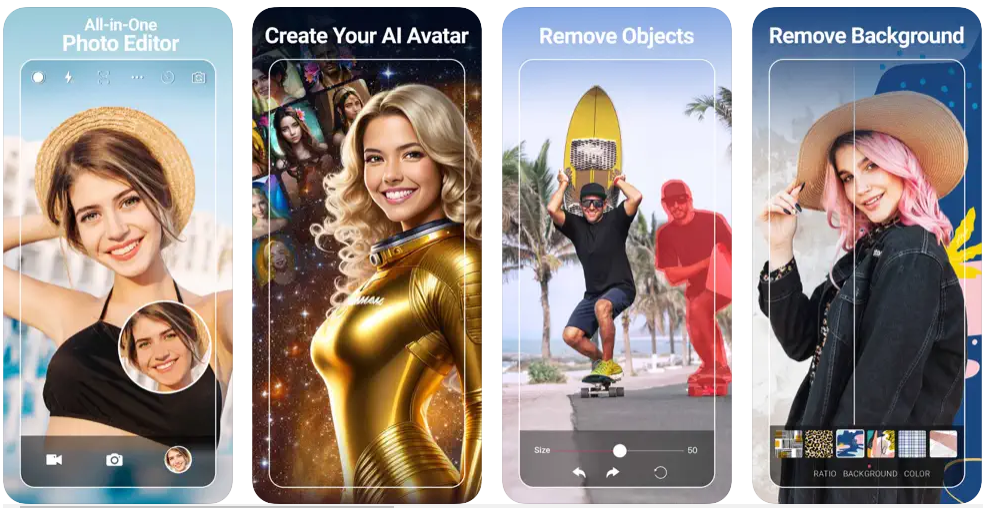 Primarily known for its impressive selfie-enhancing features, YouCam Perfect also includes a handy photo resizing functionality. The YouCam Perfect photo resizer app has all these size options for you, so you can resize your images in seconds. In just three simple steps, you'll have a photo that's ready to share on social media. This app not only allows you to resize your images but also offers additional tools to enhance their overall appearance. You can adjust brightness, contrast, and saturation levels, apply filters, add stickers, and much more. With its user-friendly interface and comprehensive editing options, YouCam Perfect is an excellent choice for those looking for an all-in-one photo editing and resizing app.
Available for: iOS
Pros:
All-in-one photo editing tools
One-tap image resizer tool
Provides specific settings for resizing
Cons:
Pricing:
Premium Version: $5.99 per month
Photo Resizer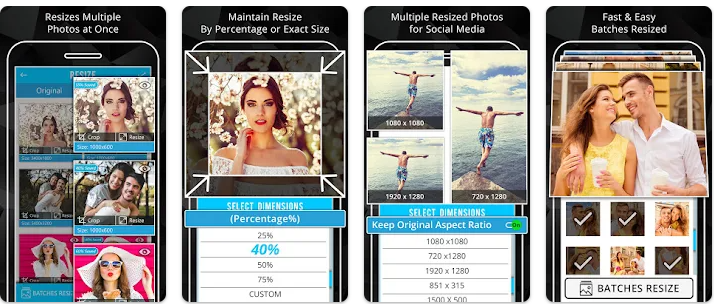 Photo Resizer is another powerful photo resizer app designed for efficient photo resizing. It has an easy-to-use interface that shows the details of both your original and resized photos for a trouble-free comparison. It provides many different settings, including dimensions and cropping, to resize files as required. Photo Resizer also supports batch resizing, enabling you to process multiple images simultaneously. If you're looking for a no-nonsense photo resizer app that gets the job done efficiently, Photo Resizer is worth considering.
Available for: Android
Pros:
Allows for original aspect ratio
Cons:
You can only email your finished photos
Pricing:
Picsart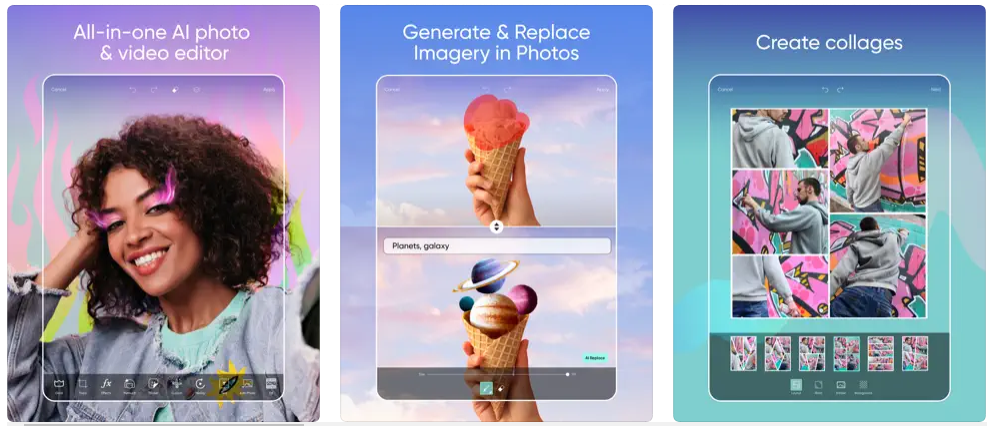 Picsart is a widely popular photo editing app that also offers a robust image resizing feature. Along with resizing your photos, Picsart provides a wide range of editing tools, including filters, effects, stickers, and brushes. The app's intuitive interface makes the resizing process easy and convenient, allowing you to resize images without compromising on quality. It has tons of features and even offers a photography community. Whether you want to share your photos on social media platforms or print them, Picsart's resizing capabilities will ensure your images are optimized for the intended purpose.
Available for: Android/iOS
Pros:
Has a large variety of features and editing tools
Offers real-time collaboration
The editor allows for the creation of multi-layered designs
Cons:
The 7-day free trial requires payment details to be entered
Too many ads on the mobile app
Pricing:
Photo & Picture Resizer

This is an easy-to-use photo resizer app that can enlarge and downsize photos without compromising image quality. You can choose from various predefined dimensions or specify custom dimensions to fit your requirements. The app supports batch resizing, which is particularly useful when you have multiple images that need resizing. With its focus on simplicity and efficiency, Photo & Picture Resizer is an excellent choice for those seeking a hassle-free photo resizing experience. Just select the picture and the desired resolution and your image will be ready to be sent or published.
Available for: Android
Pros:
Keeps both original and resized photos
Allows users to take photos within the app
Cons:
Not available for iOS devices
Pricing;
Image Size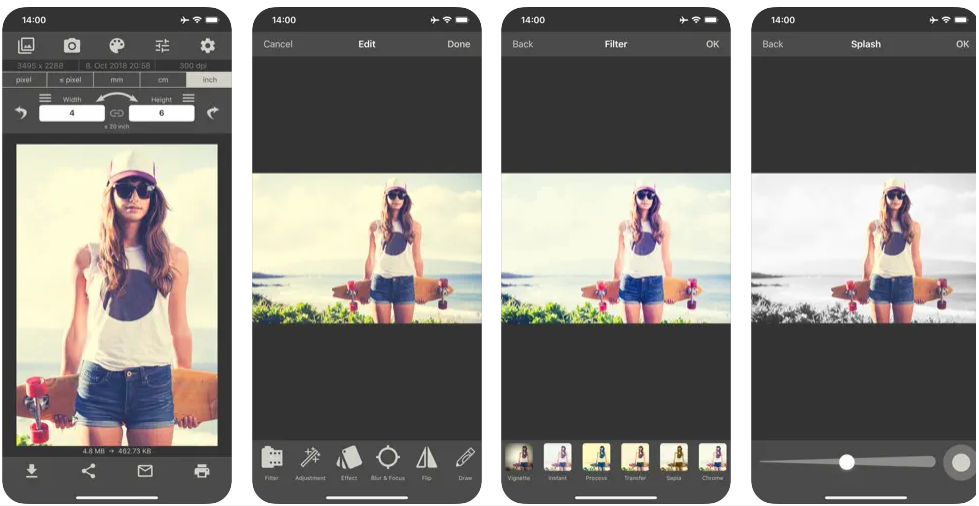 Image Size is a completely free mobile application designed for image resizing. This means it offers a bunch of quick and easy options, like the ability to select the type of measurement you prefer (pixels, millimeters, centimeters, or inches).
With this photo resizer app, you can simply tap on the chain icon between the width and height inputs in order to link the dimensions when resizing. Then, as you adjust the width, the height will automatically be adjusted alongside it (and vice versa).
Available for: Adroid/iOS
Pros:
A variety of possible sizes
Provides specific settings for resizing
Cons:
Pricing:
Conclusion
In this blog, we have talked about how to resize photos and shared 7 best free photo resizer apps for you to resize photo easily. The apps mentioned above offer excellent resizing capabilities along with additional features to enhance your photos. Whether you need to resize images for social media, websites, or personal use, these apps provide the flexibility and convenience you seek. So go ahead, choose the one that suits your needs, and take control of your photo resizing requirements with ease.