Fotor's filter collection includes various styles, such as vintage filter, black and white filter, cinematic filter, and Disney face filter, allowing users to experiment with different looks and moods.
One notable feature of Fotor is its AI-powered photo to cartoon feature. With just a single tap, you can transform your photos into animated versions using this anime filter feature. By uploading their photos, users can instantly obtain an animated representation of themselves
In addition to filters, the app offers editing tools for adjusting brightness, contrast, saturation, and other aspects of your photos. It also provides options for retouching photos, and removing blemishes, allowing users to create polished and flawless-looking images.
2. Instagram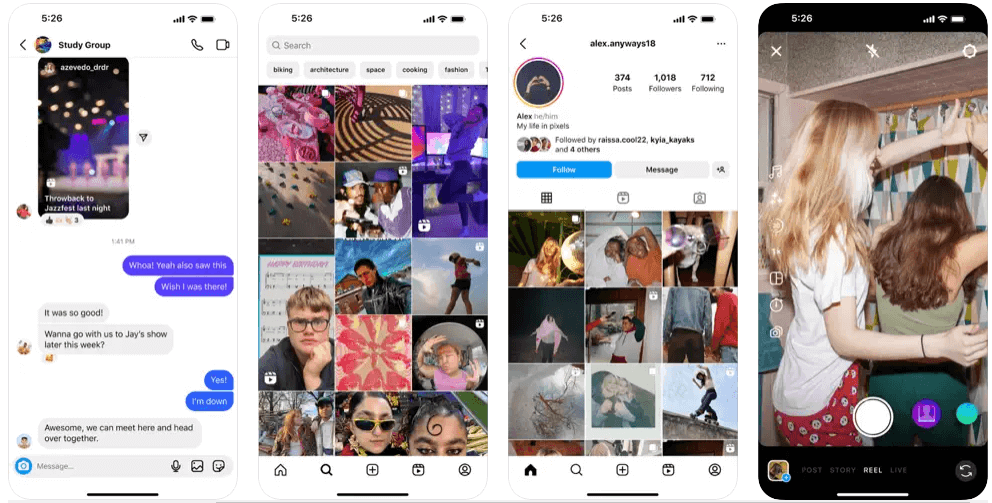 Available on: iPhone & Android
With its vast user base, Instagram had a significant advantage when it introduced face filters. It offers a diverse range of filters that users can apply to their selfies, allowing for creative and fun enhancements.
Upon opening the Instagram camera, users can swipe through a carousel of face filters located at the bottom of the screen. These filters range from subtle enhancements like smoothing skin or adding a soft glow to more playful options such as animal ears, virtual makeup, or animated effects. Instagram's face filters are designed to track and map the user's face accurately, seamlessly aligning the filters to create a realistic and engaging experience.
With regular updates and new filter releases, Instagram continues to expand its face filter collection, ensuring that users always have exciting options to enhance their selfies and make their content stand out.
3. Tiktok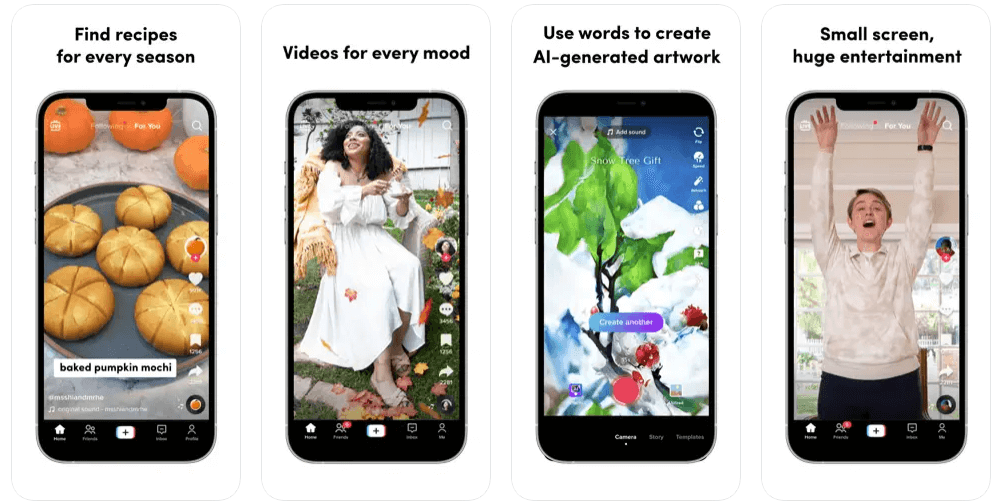 Available on: iPhone & Android
TikTok has earned its reputation as one of the most popular face filter apps, and it continues to captivate users with its impressive features and ever-expanding filter collection. The platform offers a wide variety of filters that allow users to effortlessly enhance their appearance or transform into captivating characters, ranging from cartoon figures to anime-style creations.
This diverse selection of filters provides endless opportunities for users to explore their creative expression and engage with their audience in unique and imaginative ways. Whether you're creating or watching videos, TikTok's entertaining and humorous content ensures a captivating and enjoyable experience for users worldwide.
4. BeautyPlus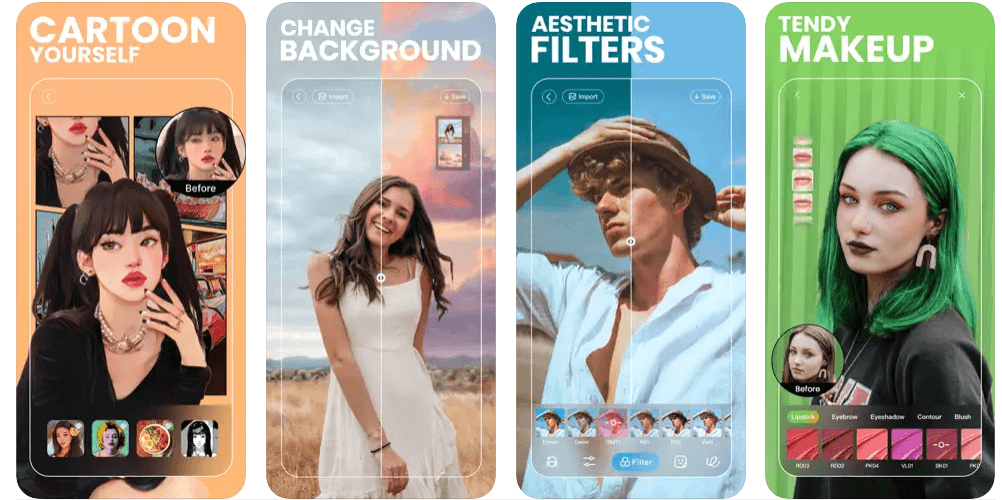 Available on: iPhone & Android
BeautyPlus is a popular face filter app that offers various features for enhancing and beautifying selfies. It provides a wide range of filters, effects, and editing tools to help users improve their appearance in photos and videos. The app allows users to smoothen skin, remove blemishes, adjust skin tone, apply makeup effects, and more.
BeautyPlus has gained a significant user base and positive reviews for its intuitive interface and the quality of its filters. Many users appreciate the app's ability to enhance their selfies and make them look more polished and attractive. The app also includes advanced features like object removal and photo editing tools, adding to its appeal for users who want to customize their photos further.
5. YouCam Perfect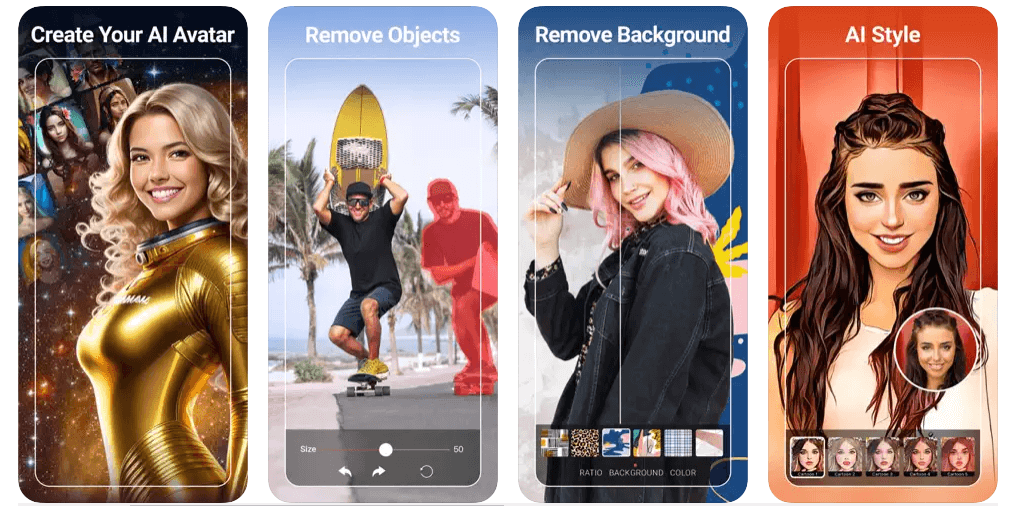 Available on: iPhone & Android
YouCam Perfect is not just a photo editor; it also provides real-time face filter options for perfect selfies on the go. It offers a wide variety of amazing face filters, including trendy accessories, makeup filters, and special holiday filters like Easter, Valentine's Day, Halloween, and more.
Once you select your desired filter, you can further customize your appearance by adjusting your makeup and hair colors. Additionally, the app allows you to edit the shape of your face, eyes, and lips in real time, ensuring that you always capture the most picture-perfect photo possible. With this app, you have all the tools to create flawless and stunning selfies effortlessly.
6. Snow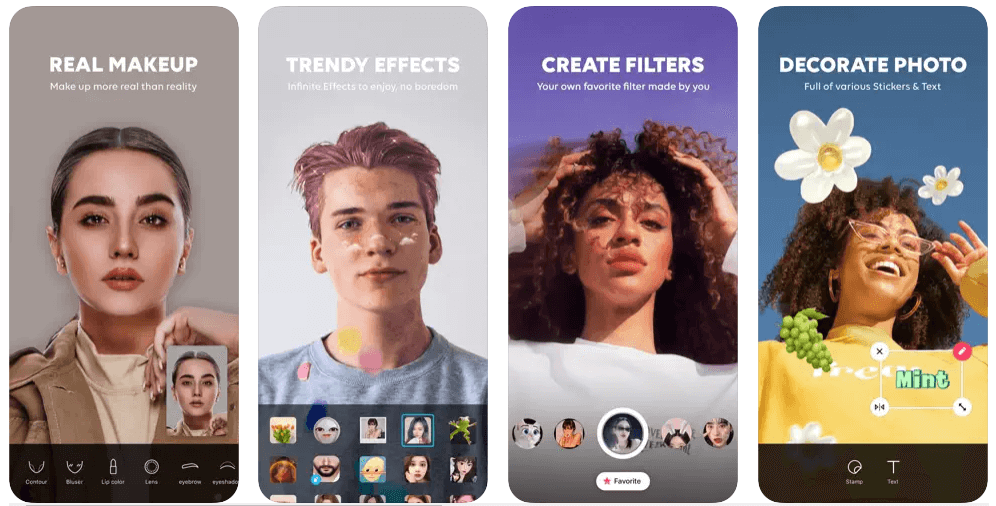 Available on: iPhone & Android
Snow is one of the best face filter apps. It allows users to transform their selfies and videos into captivating and entertaining visual experiences. With an extensive collection of face filters, Snow provides users with a diverse range of options to enhance their appearance, express their creativity, and add a touch of fun to their content. Whether you want to try out a glamorous makeup look, turn yourself into a cute animal, or immerse yourself in a fantastical world, the face filter feature in Snow has you covered.
Moreover, Snow's face filter feature is seamlessly integrated into the app's camera interface, making users can effortlessly apply face filters to photos and videos, and instantly share their transformed content with friends and followers.
7. Funveo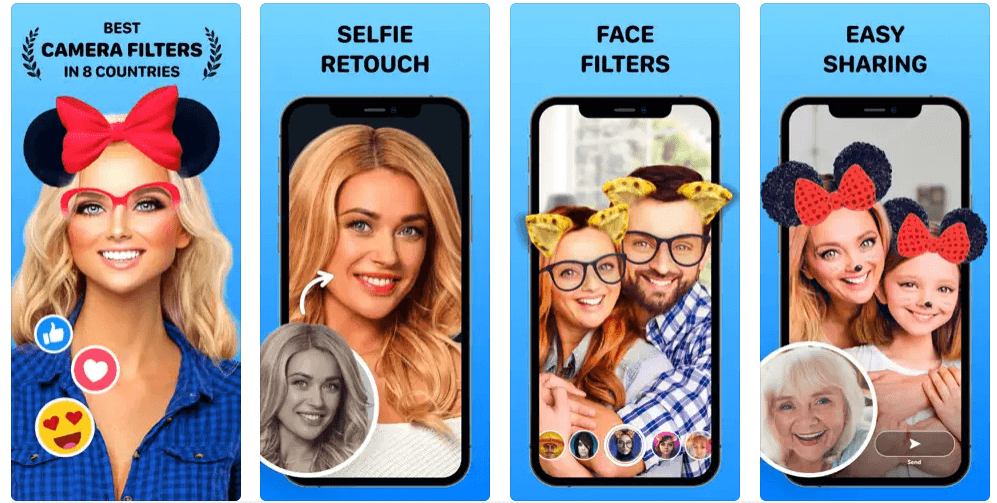 Available on: iPhone & Android
Funveo, a funny photo filters app, offers users a delightful array of face filters, ensuring a fun and engaging experience. Whether you want to transform into Santa Claus or a vampire DJ, the app has you covered. With its extensive collection of filters, voice changer effects, and entertaining masks, Funveo allows users to add creativity and imagination to their selfies, photos, and videos.
By instantly turning mundane conversations into vibrant experiences, this app provides endless entertainment. With regular updates that introduce new filters and masks, Funveo ensures users always have fresh options to explore.
Conclusion
This blog lists 7 of the best face filter apps for enhancing and beautifying selfies. No matter the one you choose, these apps offer endless possibilities for creating stunning photos.
Download one of these apps, have fun, and let your creativity shine through your selfies!