Fotor photo filter app is a powerful and accessible editing tool for mobile photography enhancement. It offers a broad range of adjustable photo effects and AI-powered filters, like vintage filter, and black and white filter, also it other advanced editing features, enabling users to transform their images with professional-grade quality. From face editing to background removal, users can refine their photos to their liking.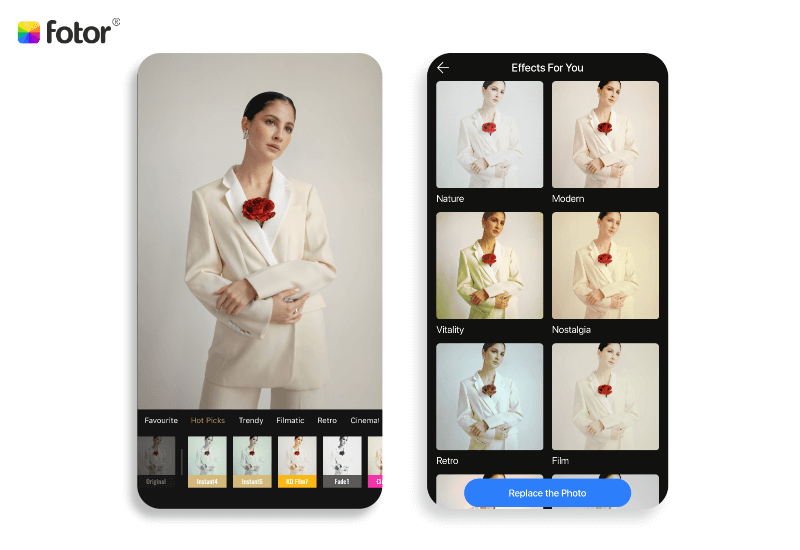 Beyond photo editing, the app includes a collage maker and some design templates for crafting posters, banners, and more. Despite its extensive features, the interface remains user-friendly and intuitive, making it suitable for both casual and professional users. In short, Fotor photo editor app is a comprehensive platform for creative visual expression.
Key Features:
Variety of Picture Filters
User-friendly Interface
Advanced Editing Tools
Ready-to-use Design Templates
2. Snapseed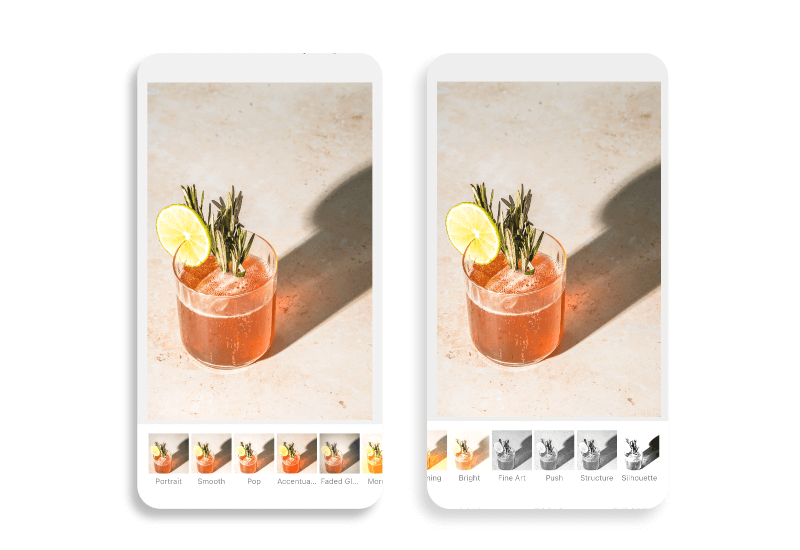 Snapseed's photo filter feature provides an impressive array of versatile filters, allowing users to experiment with various styles and moods. Key features include stackable picture filters for unique looks, adjustable parameters for fine-tuning results, and selective adjustments for precise control over specific areas of an image. With its advanced editing features, users can make changes without losing the original photo. Snapseed offers a flexible and powerful photo editing experience, perfect for those seeking creative freedom and professional-quality results.
Key Features:
Stackable Filters for Photos
Adjustable Parameters
Retouching Tools
3. VSCO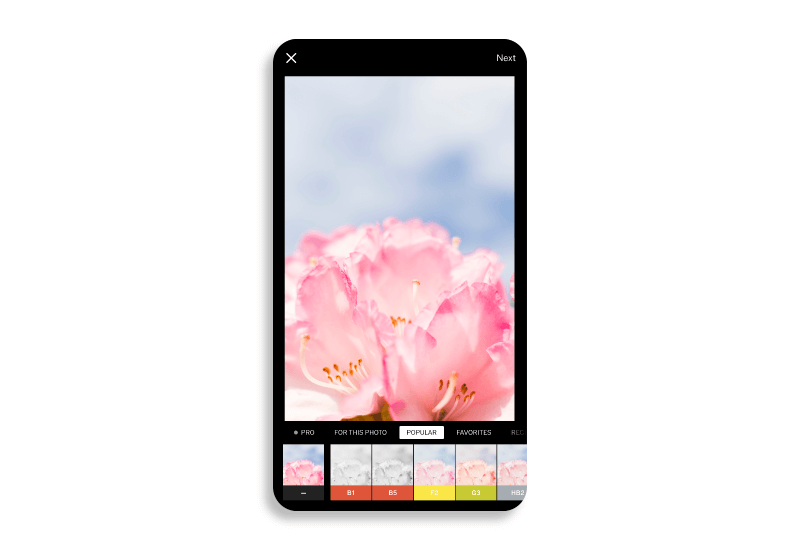 VSCO is a popular photo editing app and creative community, known for its signature film-inspired filters and diverse editing tools. With a sleek and intuitive interface, VSCO caters to both casual users and professional photographers. The app boasts a comprehensive collection of photo filters, ranging from classic film emulations to modern, eye-catching effects. Users can further refine their images with precision editing tools, such as exposure, contrast, and saturation adjustments. VSCO also promotes a thriving creative community, allowing users to share their work, discover inspiration, and connect with like-minded individuals.
Key Features:
Film-inspired Preset Effects
Advanced Editing Tools
DSCO Available (A tool for creating short, looping GIFs with VSCO's signature filters.)
4. Adobe Lightroom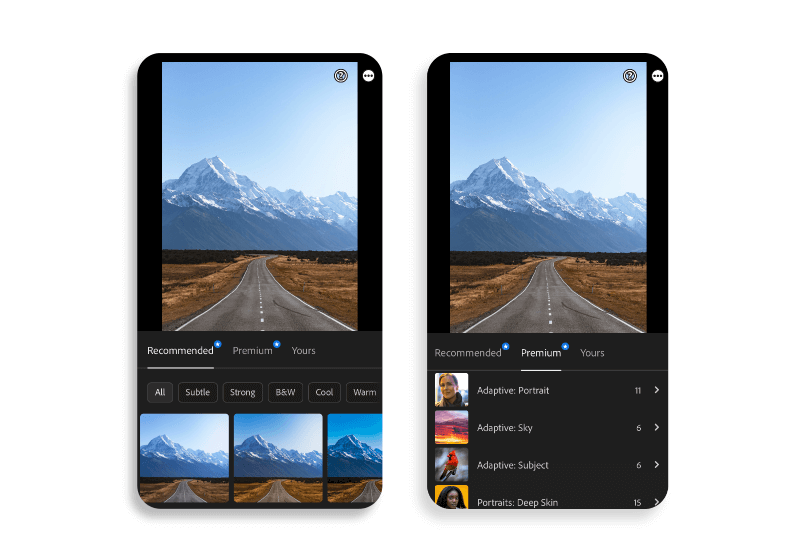 Adobe Lightroom is a powerhouse of a photo editing app, revered by professionals and photography enthusiasts alike. It stands out with its vast spectrum of photo filters and presets, emulating various artistic styles, film types, and lighting scenarios, and even allows the creation and saving of personal custom presets.
The advanced editing tools make precise adjustments to exposure, contrast, highlights, shadows, and color balance a breeze. With Lightroom's non-destructive editing philosophy, users can indulge their creativity without fear of losing original data. The cherry on top is cloud storage, offering seamless access to both original and edited files across devices.
Key Features:
Professional editing tools
Camera Feature
Tutorials and Interactive Edits
5. Instagram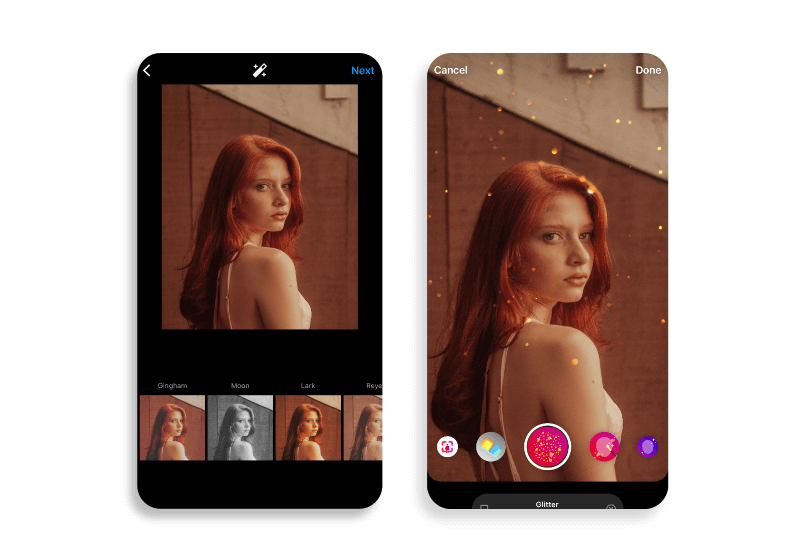 If you're looking for an app that takes photos, has a community environment and supports adding trendy filters, look no further than Instagram!
Instagram's camera filter and effect feature offers a variety of filters and effects that can instantly enhance and transform images before sharing them with the community.
Instagram continuously updates its collection of image filters, keeping the editing experience fresh and engaging. Additionally, Instagram offers unique features such as AR face filters, which overlay virtual elements onto the user's face or environment, providing a fun and interactive experience.
The app also includes basic editing tools, such as cropping, rotating, and adjusting brightness, contrast, and saturation, allowing users to refine their images further.
Key Features:
Photo Filters and Editing Tools
Photo and Video Shooting
Direct Messaging
Shopping
6. Canva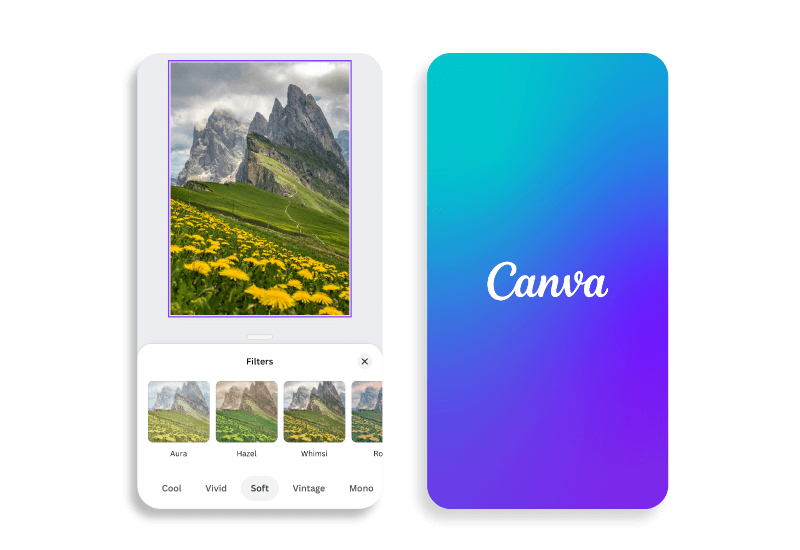 Canva's filter feature stands out as a user-friendly tool that enables effortless photo enhancement. It offers an array of preset filters for photos for users to apply to their images, resulting in subtle to dramatic transformations. Each filter's intensity can be easily adjusted, allowing users to fine-tune the effect on the photo. In addition to these filters, Canva provides basic editing tools, such as brightness, contrast, saturation, and tint adjustments, for further image refinement. Canva simplifies graphic design and photo editing, making it accessible even to novices.
Key Features:
Pre-designed Templates
Collaboration Feature
Printing and Publishing Options
7. Facetune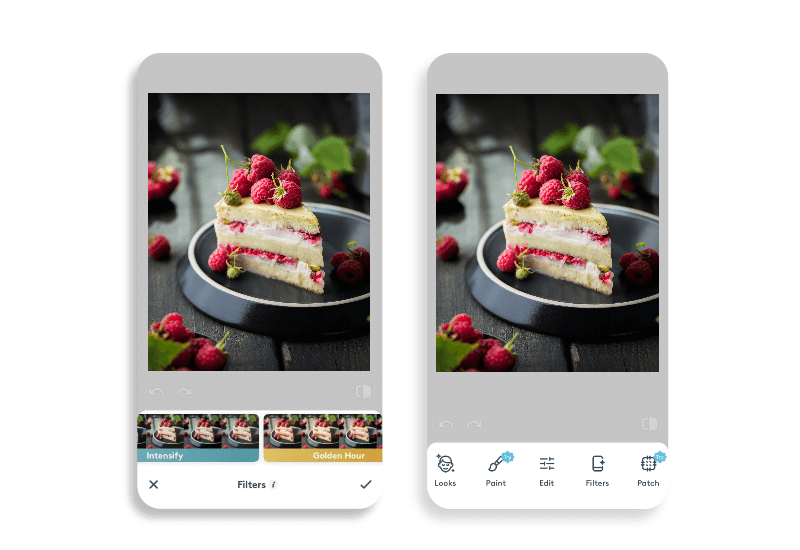 Facetune's filter feature is an advanced photo editing tool designed to refine your selfies and photos with a professional touch. It offers a range of customizable filters that can dramatically alter the look and feel of your pictures. Whether you're looking to enhance natural light, add a vintage touch, or create a vibrant, high-contrast effect, Facetune's filters are easy to apply and adjust to your liking. Additionally, it allows users to modify individual aspects such as brightness, contrast, and saturation, giving you complete control over your photo's final appearance. It's like having a mini photo studio right in your pocket.
Key Features:
User-friendly Interface
Extensive Editing Tools
High-quality Results
Conclusion
In this blog, we have presented 7 best photo filter apps, highlighting their key features and providing examples. Feel free to explore different apps to discover the one that suits you best. Cheers to effortlessly creating breathtaking visuals with just a few taps!