When applying for a US visa, what troubles travelers and applicants most is getting qualified and accepted visa photos. There are many US visa photo requirements you must meet before submitting your physical or digital visa photos.
In this blog, we will share the US visa photo requirements and mark what you should pay attention to in your US visa photos. Besides, we will share an online visa photo tool to simplify your visa photo-making procedure. Let's dive in!
U.S. Visa Photo Requirements
Visa Photo Size: You should make sure that your US visa photo must be 2 x 2 (51 x 51 mm) inches square.
Visa Photo Age: Your US visa photo must have been taken within the last 6 months.
Visa Photo Background and Color: Usually, your uploaded us visa picture should be in color instead of transparent background. And generally speaking, the background photo color must be plain white or off-white as the passport photo requirements.
Visa Photo Lighting: Meanwhile, there must be no glares or shadows in your us visa photo.
Facial expression: The US visa picture requires a natural facial expression or a natural smile. Still, you must remember that the mouth should be closed and the teeth must not be visible.
Head Position: In your us visa picture, your head must be centered in the frame and should be neither titled nor turned in any direction.
Eyes: When you are taking US visa photos, you must face the camera and make sure your eyes are open and visible. No eyeglasses except for medical purposes.
Coverings: No head coverings except for religious reasons. Your headdress must not cover the face when you have coverings.
Outfits: You must be dressed in normal outfits. No uniform is allowed.
Requirements for Digital US Visa Photos
If you are applying for a US visa online, you must follow the digital US visa photo requirements.
Square photo
1200x1200 pixels
Colored digital picture
JPEG format
Less than 240Kb
Scan a physical photo into a digital format
Non-Immigrant Visa Photo Requirements
For those non-immigrant US visa applicants, you may be asked to provide and submit your physical and digital photos during the visa application.
You may be asked to submit a digital picture that conforms to the digital US visa photo requirements mentioned above when filling out Form DS-160 online.
Immigrant Visa Photo Requirements
For those immigrant applicants, your submitted visa photo must meet the above US visa picture requirements.
How to Get a US Visa Photo for Your Baby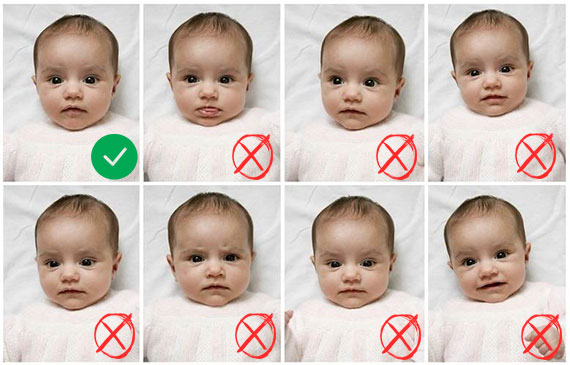 People of all ages need a valid photo to apply for a visa to the United States. If you are taking your babies or children along with the visit to the United States, you must apply for a US visa. You know that may be tough to get an acceptable visa photo for them, but you must help them to get a qualified US visa photo.
Baby or toddler alone in the image
Eyes open when shooting the visa photo
The baby can be laid down on a white sheet for the photo
No shadows on the face
The baby can sit in a car, but cover the seat with a white sheet
How to Make an Acceptable US Visa Photo Online
Now you have known there are many mandatory requirements for qualified and accepted US visa photos. It is time to start to make your own visa image online which saves time and money. Here you can use the visa photo maker to get a qualified visa photo easily and quickly.